Sickles' Eskew wins 2019 Saladino Award
BRANDON – It wasn't until senior Dylan Eskew was being presented with the trophy that the recent Sickles alum fully got his bearings as to what was happening Sunday night. The Gryphons' standout was led to believe his former head coach was driving him to an interview and was surprised to find himself in the midst of about 20 family members and friends in the cozy front room of a house in Brandon.
No it wasn't until, amidst the decades of baseball memorabilia, he was handed the three-and-a-half foot trophy and welcomed by the icon of Hillsborough County Baseball that Eskew started to grasp what was going on. That, he was the 2019 Tony Saladino Baseball Award winner.
He admitted his head was spinning a bit as he took in the baseball history around him in the home of Tony and his late wife, Bertha Saladino.
"This place is awesome, like Baseball Candy Land," Eskew said. "I didn't have any idea what was going on."
"When I saw all my family, coaches and friends and realized what was happening, it was just the best moment."
Eskew was surprised and honored to be named the recipient of the 49th annual Tony Saladino Memorial Baseball Award, presented annually to the outstanding senior baseball player in Hillsborough County as a memorial to Tony Saladino Sr. and to promote high school baseball.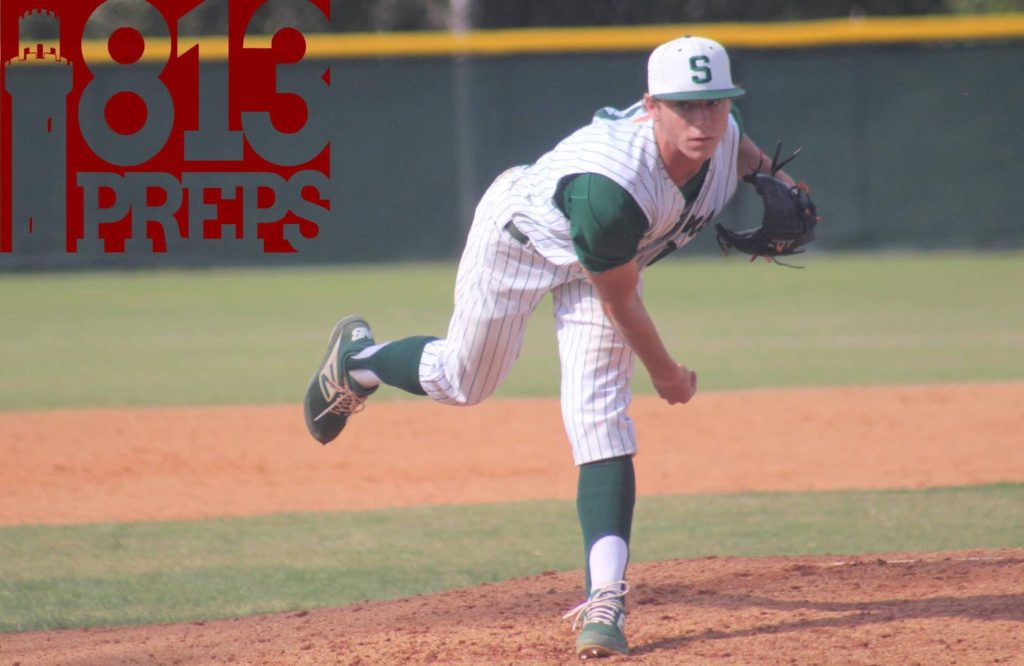 Th Saladino home, which has regularly hosted the event since Bertha suggested her husband establish the award to honor his late father in 1971. Eskew noted that he was humbled to be selected as the top senior out of a very talented group this season.
"There were a bunch of really good players out there (in Hillsborough County) this year, so to be selected as the 2019 representative is an honor and very humbling," Eskew said. "I have so much respect for all of the guys I played against, so I consider this my chance to honor those guys and to represent them too."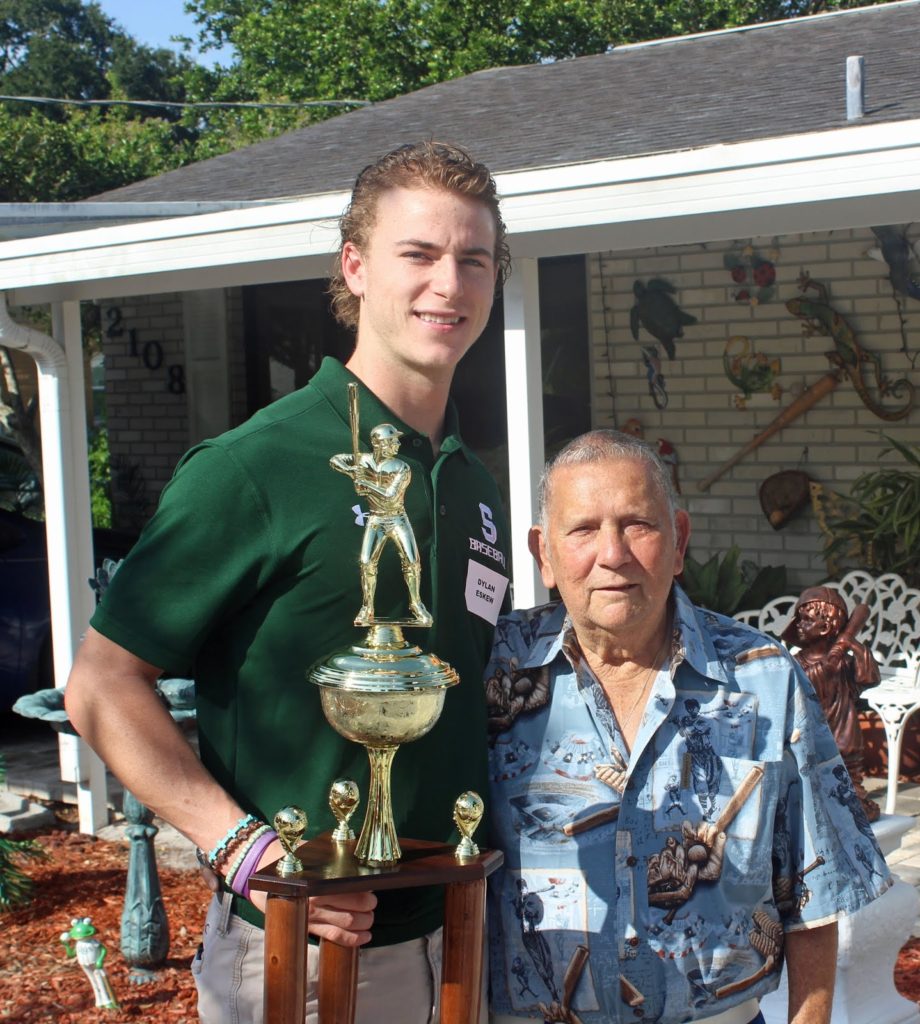 Eskew, who was also named All-813Preps Pitcher of the Year last week (click here to read that feature), established himself as the best two-way player in the county this season going 7-1 on the mound with a pair of no-hitters, an 0.47 ERA and 87 strikeouts, to go along with a .386 batting average, 26 RBI, 20 runs scored, seven doubles and six home runs.
A University of Miami signee, Eskew was selected in the 24th round of the MLB first-year player's draft at the beginning of the month by the Arizona Diamondbacks. He said that though he is still in discussions with Arizona, he is likely headed to Miami later this summer and looking forward to that challenge.
"It's going to be Miami," Eskew said. "Unless something drastic happens, I'm leaving for Miami in six days and I'm very excited, ready to go and can't wait to get started down there."
Eskew said that he was very appreciative of being honored with the Saladino Award, but also pointed to participation in four years of the spring break Saladino Tournament – including honors as the Hitter of the Tournament as a junior – as being significant to his high school experience.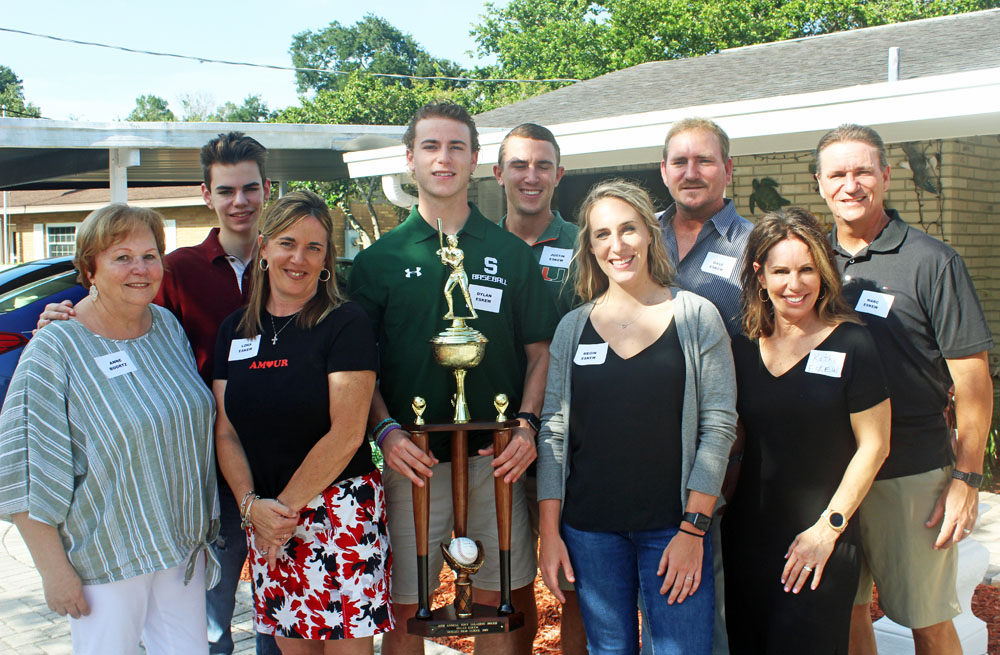 "The Saladino Tournament is like no other tournament that I've ever been involved in," Eskew said. "It is a complete family environment, and though we didn't win it, we learned about our team each year and it was a lot of fun."
Eskew becomes the first Sickles player to earn the award and joins a list of Saladino winners that includes former MLB All-Stars Tino Martinez (Jefferson) and Gary Sheffield (Hillsborough), former National League Rookie of the Year, the late Jose Fernandez (Alonso), and 2017 World Series champion Lance McCullers Jr. Last year's recipient was Jefferson's Robby Martin, now at Florida State, was named a Freshman All-American by Collegiate Baseball. 


"Running through the names of these (previous) winners and seeing so many household names is crazy," Eskew said. "I'm honored to be on this list and joining them now."
TONY SALADINO AWARD WINNERS
1971 – DAVIAN MENENDEZ (TAMPA CATHOLIC) & RICK FAULKNER (PLANT)
1972 – ANTHONY LAZZARA (TAMPA BAY TECH) & DAN BAZARTE (LETO)
1973 – MIKE HEATH (HILLSBOROUGH)
1974 – NICK RAY (ROBINSON)
1975 – JOHN SHOUSE (CHAMBERLAIN)
1976 – SAMMY SPENCE (BRANDON)
1977 – DANNY PICKERN (PLANT CITY)
1978 – LENNY FAEDO (JEFFERSON)
1979 – RICK FIGUEREDO (PLANT)
1980 – DAVID MAGADAN (JESUIT)
1981 – VANCE LOVELACE (HILLSBOROUGH)
1982 – RICHARD MONTELEONE (TAMPA CATHOLIC)
1983 – JOHN RAMOS (PLANT)
1984 – CHUCK DONAHUE (ROBINSON)
1985 – TINO MARTINEZ (JEFFERSON)
1986 – GARY SHEFFIELD (HILLSBOROUGH)
1987 – CHRIS MYERS (PLANT)
1988 – MIN PARK (LETO)
1989 – KIKI JONES (HILLSBOROUGH)
1990 – SALVY URSO (PLANT)
1991 – BRUCE THOMPSON (BRANDON)
1992 – TROY KENT (JESUIT)
1993 – TROY CARRASCO (JESUIT)
1994 – SCOTT GLASER (BRANDON)
1995 – MIKE VALDES (BLOOMINGDALE)
1996 – GREG HOWELL (BRANDON)
1997 – JASON ROMANO (HILLSBOROUGH)
1998 – JEREMY GOMER (DURANT)
1999 – RYAN GLOGER (JESUIT)
2000 – PAUL WILLIAMS (GAITHER)
2001 – RYAN ANDERSON (GAITHER)
2002 – JOSH SAWYER (BRANDON)
2003 – BRANDON McARTHUR (ARMWOOD)
2004 – RYAN STRAUSS (BLOOMINGDALE)
2005 – CALEB GRAHAM (GAITHER)
2006 – CARMINE GIARDINA (DURANT)
2007 – TOMMY TOLEDO (ALONSO)
2008 – ALEX PANTELIODIS (ALONSO)
2009 – ROBERT BENINCASA (ARMWOOD)
2010 – JAMES RAMSAY (BRANDON)
2011 – JOSE FERNANDEZ (ALONSO)
2012 – LANCE McCULLERS (JESUIT)
2013 – TYLER DANISH (DURANT)
2014 – ALEX FAEDO (ALONSO)
2015 – KYLE TUCKER (PLANT)
2016 – ANTONIO VELEZ (BRANDON)
2017 – DREW EHRHARD (WHARTON)
2018 – ROBBY MARTIN (JEFFERSON)
2019 – DYLAN ESKEW (SICKLES)