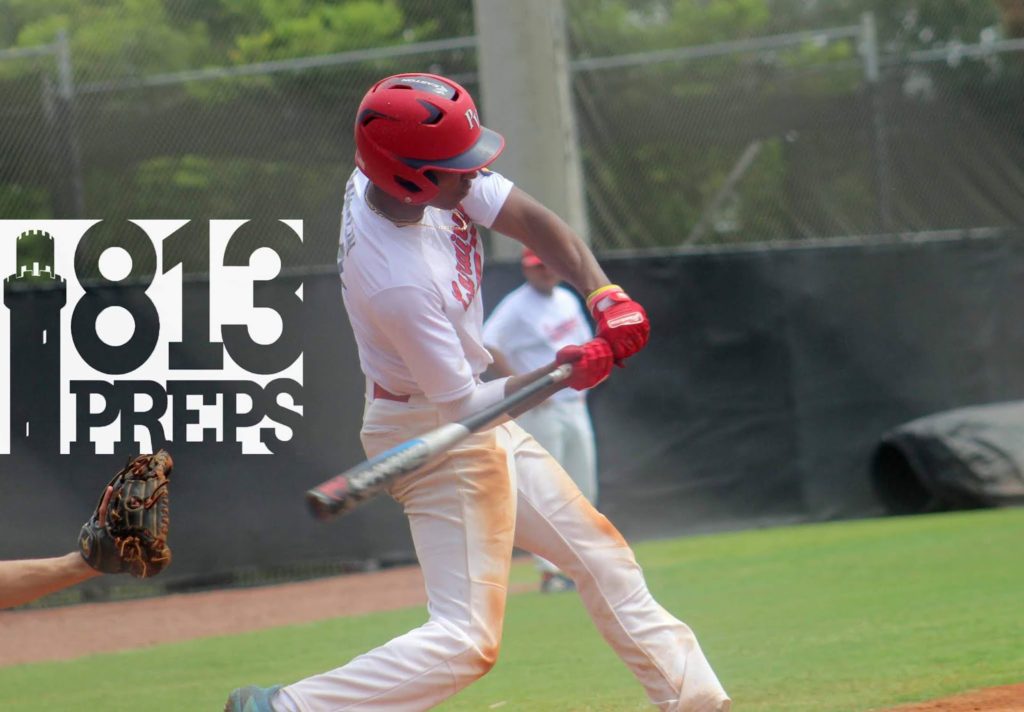 Ron Franklin starts his cut on a game-tying, game-extending solo home run in the seventh inning as Pedal Valves won the opening game of the American Legion Southeast Region Tournament.
** We will have a few more photos on our Facebook page in our Day 1 photo gallery on Thursday. Remember to check our social media for more information. 
By Bob Bellone
TAMPA, Fla. – The opening game of the American Legion Southeast Regional Tournament at the University of Tampa began with a 28-minute weather delay and finished with an extra inning. In between was a dramatic matchup of state champions.
Grayson Stewart was two outs shy of a complete-game victory for Alabama title winner Troy Post 70, when Ron Franklin pulled the Pedal Valves Cardinals even at 4 with a solo blast over the left-field fence.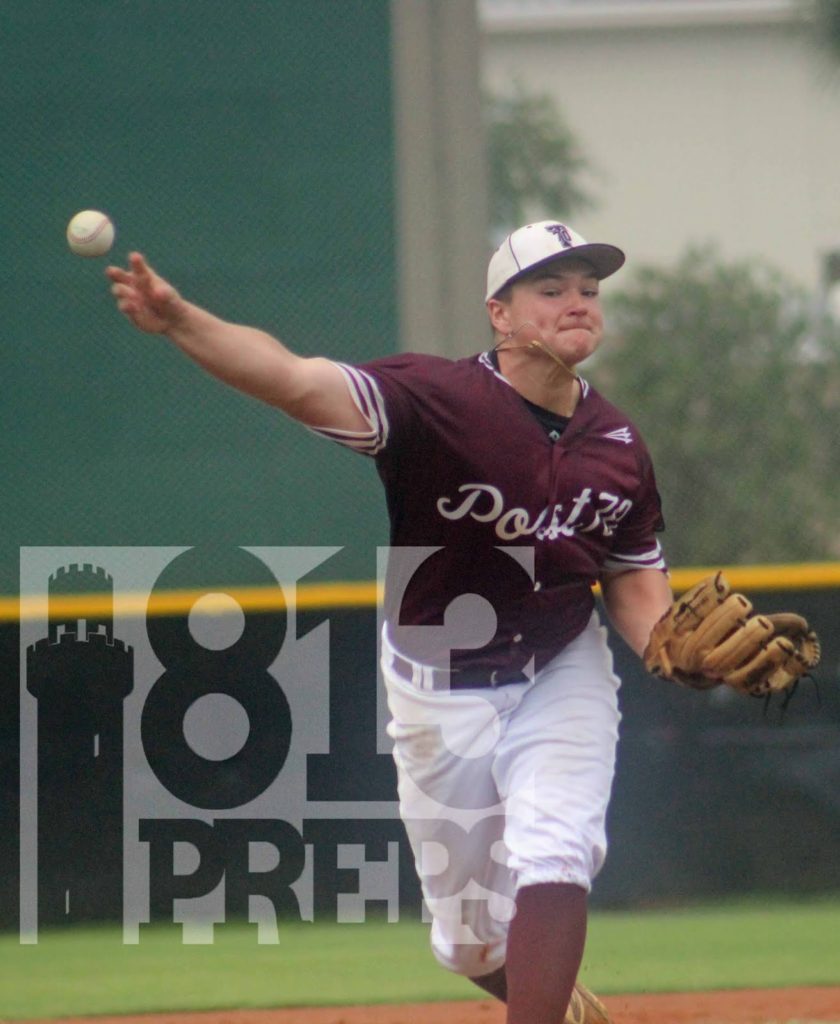 Troy starting pitcher Grayson Stewart.
Despite committing five errors, the Louisiana champs walked off with a 5-4 triumph an inning later after Jackson Ceman replaced Stewart on the mound.
T.J. Thomas, who allowed one earned run in three innings as the Louisiana starting pitcher, led off the eighth with a single and advanced on a Gavin Freeman bunt. After Nick Lorio was intentionally walked, Stephen Klein delivered the game-winner with a single to right.
"It was amazing," said Klein, who pitched four innings sandwiched between two stints in right field. "I was looking for a fastball right there, middle in, something to pull, and it happened."
It wouldn't have happened without Franklin.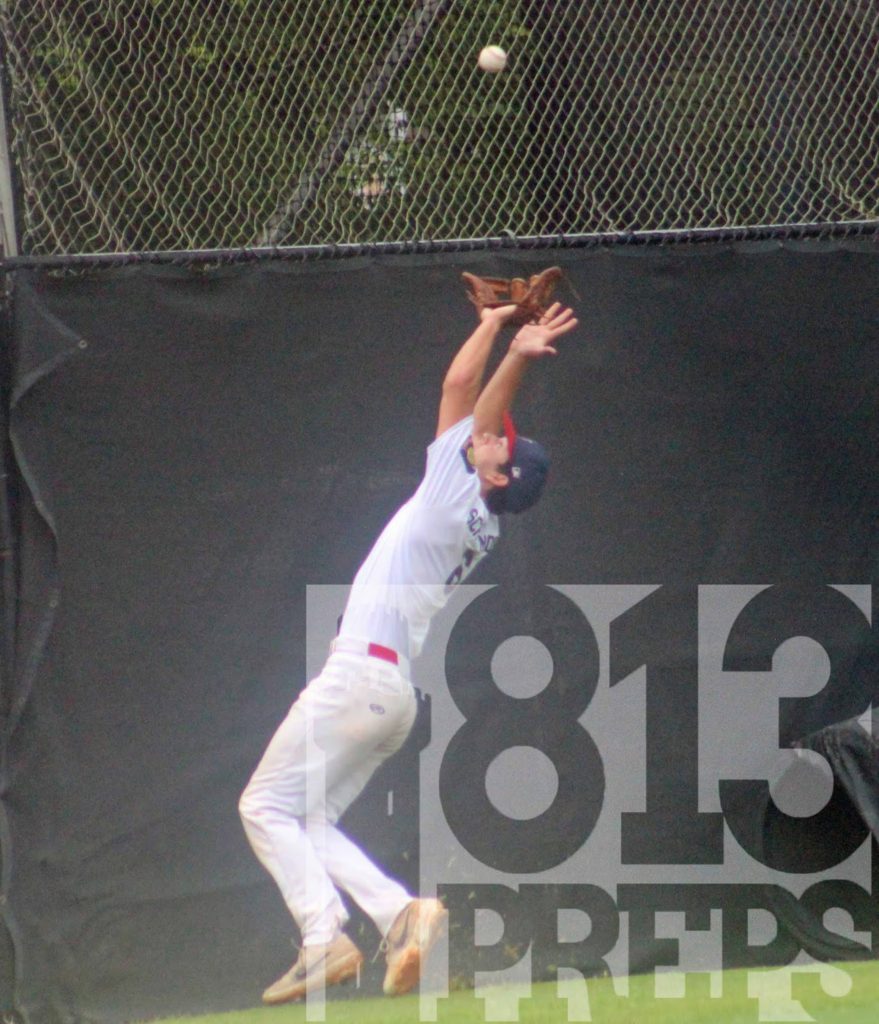 Pedal Valves 3B Avery Schexnaydre tracks
a ball in foul territory. 
"He gave me three back-to-back curveballs, so I just stayed back and hit it," he said of his game-tying and game-extending homer.
Alabama opened the scoring with a run in the top of the first inning. Joey Wozniak drew a two-out walk and scored on an opposite-field double by Coleman Wright.
The lead doubled in the third. Ceman reached on an infield error, stole second and crossed on a two-out double by Bryson Peavy. Louisiana pulled even in its half of the inning with consecutive doubles by Kolby Bourgeois, Kolby McWilliams and Thomas.
In the fifth, each team scored once in unusual fashion. Troy went up 3-2 when Wozniak singled off Klein – who moved from the outfield in a defensive shakeup in the fourth – and completed a frantic trip around the bases on a steal and a pair of throwing errors.
Pedal Valves promptly tied it again when Franklin drew a leadoff walk, advanced on a balk and crossed on a McWilliams single.
"To be honest, one of the worst games we've played this summer," said winning coach Danny Riehm, who has captured three state crowns since he launched the program in 2016. "Obviously, you don't win many games at this level with five errors. I wasn't real sure we were going to be able to overcome that, but thankfully we were able to."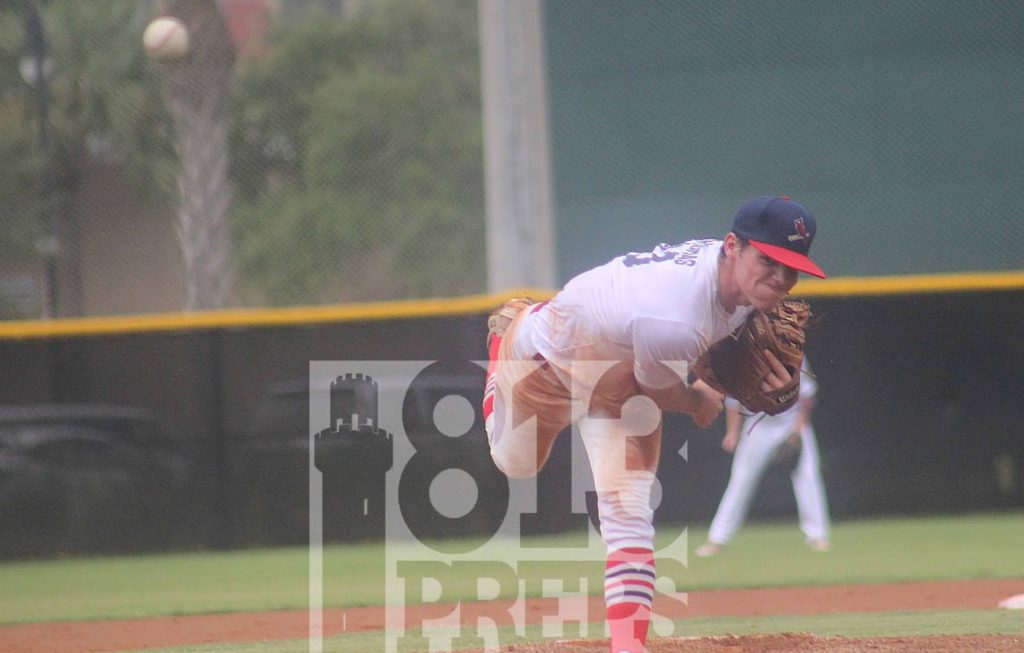 Pedal Valves TJ Thomas tossed three innings in a no-decision, also had an RBI double 

and scored the deciding run. 
Alabama coach Rush Hixon gave credit where it was due.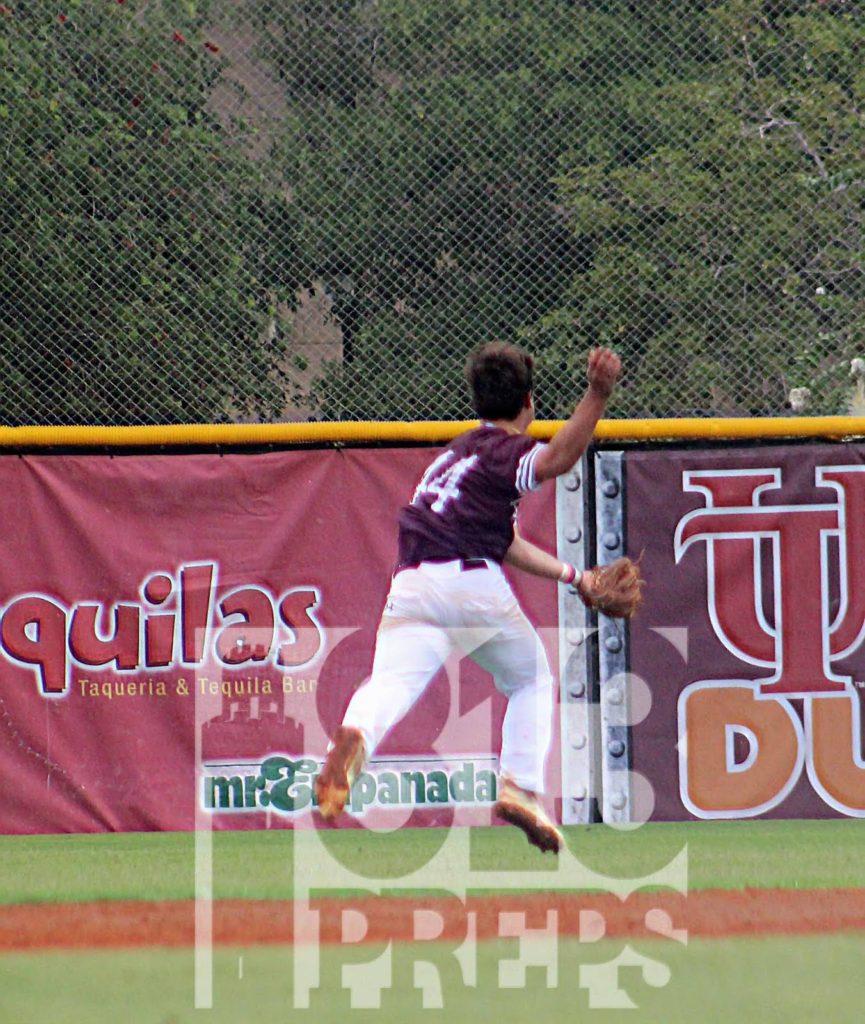 Troy SS Will Aaron made a great over-the-
shoulder catch, and doubled off a runner in the game. 
"The bottom of their order," he said. "Hats off to them. They killed us all day."
Though disappointed, Stewart will take a positive outlook into Thursday's elimination game.
"We're dogs," he said. "We're not going to quit. That's for sure."
– Bob Bellone, with nearly a half-century of experience in sports journalism, is in his second year with 813Preps.com.