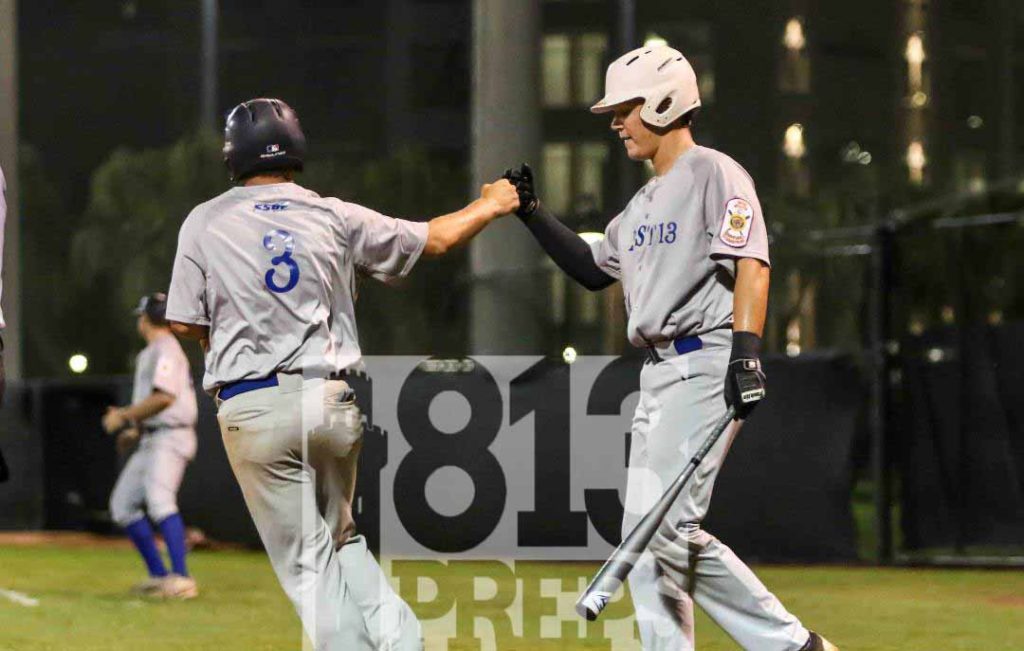 Tallahassee Post 13's Brod Pearce greets Aiden Driscoll-Sandusky at the plate after he scored a run in the Florida state champion's 3-0 win over South Carolina Greer Post 115 on Wednesday night. (Photo by Will Turner)
TAMPA – Call it a bit of a homecoming of sorts for Tallahassee Post 13 coach Wes Singletary. The Land O'Lakes alumnus is back in his hometown, vying for an American Legion Southeast Region Tournament Championship – the final one he will coach in.
Tallahassee has won five straight Florida Legion state championships, but never the regional championship.
"It ain't easy," Singletary said. "We've been short a pitcher, short two catchers, it's always something."
Maybe not this summer. Singletary believes he's got one of the most complete teams he's fielded since reviving the Post 13 baseball program nine years ago.
"This year? I'm not short anything. I've got all my guys, they've all been with me three or four years," he said. "It's a veteran squad, they've all been with me, they enjoy playing together and we wanted to make one last run."
Tallahassee started its quest towards the regional championship with a 3-0 victory over Greer (SC) Post 115 at the University of Tampa on Wednesday night.
Greer pitcher Josh Fenton got Tallahassee down to begin the game, but the bats came alive in the second against him. Sam Rudd lifted a ball deep enough to center to open the scoring on a sacrifice fly. Brod Pearce hit an RBI single to score Tease two at-bats later to give the Florida state champs a two-run cushion.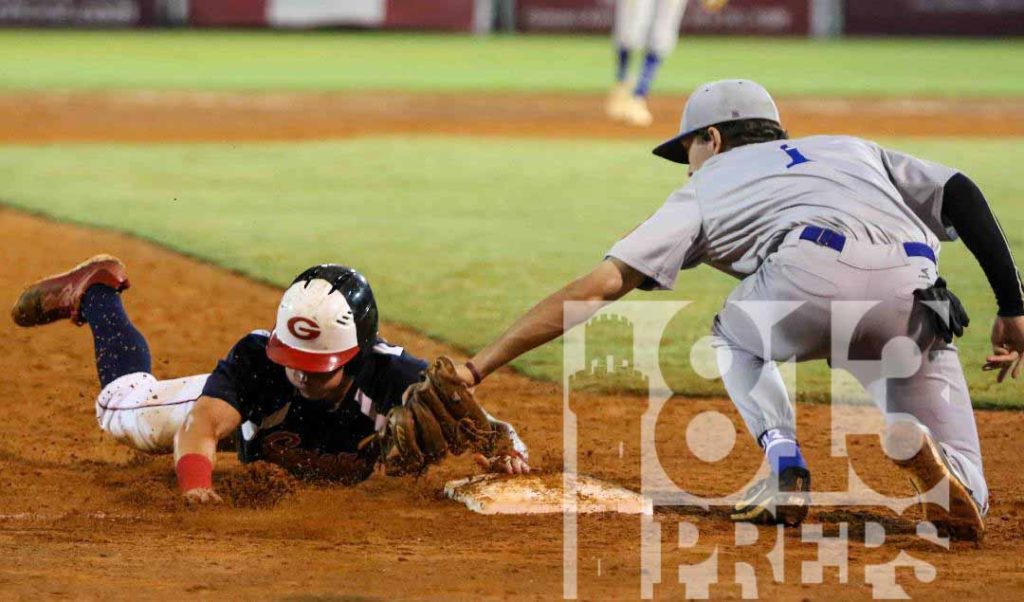 A Greer runner gets in just under Tallahassee third baseman Joe Ruth's tag. Ruth did however make a few great plays in the win, including a nice diving catch in foul territory in the third inning. 
Joe Ruth led off the Tallahassee third with a triple to the right-field corner, turning on the jets to take the extra base.
"I just went up to the plate hunting for the fastball, like I do every at-bat, trying to make something happen and I got a hold of one and good things happened," he said of the big hit.
Caleb Carter fired a line drive into left on the next pitch to send Ruth trotting home without a play. Tallahassee was limited to three baserunners over the final four frames but the early offense was enough. Pitcher Brad Lord went six shutout innings to make sure of that.
"Locating the fastball was the key, moving it in-and-out with the elevation and it kept them on their heels all game," Lord said.
In the fourth, Lord got out of a bases-loaded jam with two away after giving up a four-pitch walk in the at-bat before. Lord got Greer first baseman Tyler Perry to swing-and-miss to retire the side. In all, the righty stranded seven Greer runners.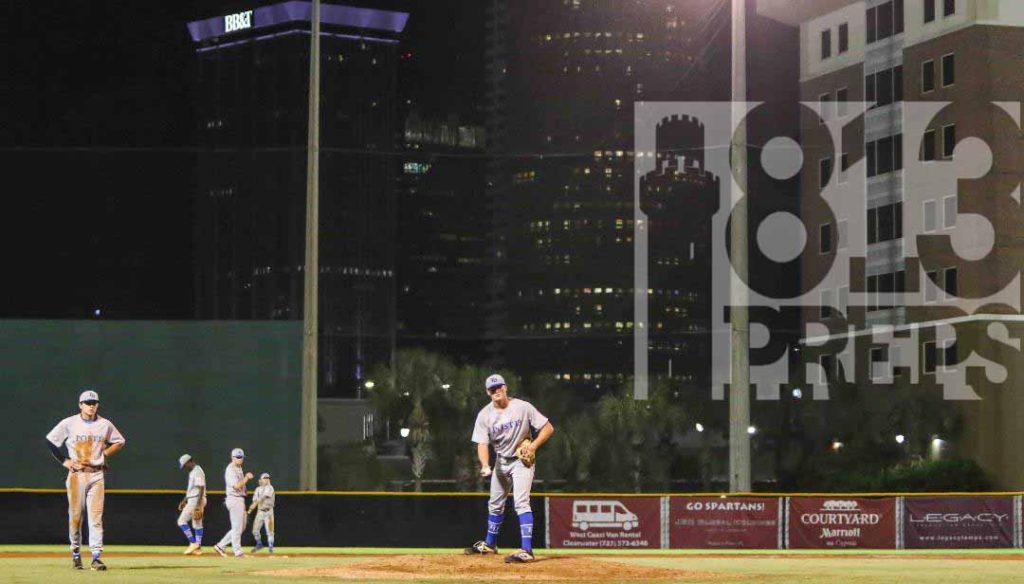 Post 13 starting pitcher Brad Lord warms up with the Downtown Tampa skyline as his backdrop in Wednesday's night game at the University of Tampa. (Photo by Will Turner).
JD Tease, a Florida State signee, came in to pitch the seventh for Tallahassee but was then quickly pulled after giving up a walk and a hit by pitch, allowing for Florida A&M's Jared Weber to pick up the final two outs.
Only the first step to a regional championship – one that would show the labors and dedication that the players have to the team. Four players (Ruth, Lord, Carter and Weber) all have a year of collegiate experience. According to their coach, four players drive upwards of two hours to practice with the team in preparation for the tournament.
Ruth alone travels from LaGrange, Ga. (a near three-hour drive) to practice and play with Tallahassee and Singletary one final time. Ruth's been with Singletary since he was 14.
"When I have to speak about him, I'm really speechless," Ruth said. "What he's done for me and my family and all of the guys on this team – he's so unselfish, he does it for the players and he's such a great coach, a great guy, like a dad to me."
Tallahassee will take on Tupelo (Miss.) on Thursday. Tupelo was a 4-1 winner over Fort Mill (SC) in a wacky, weather-filled game.
– 
Will Turner is a student at the University of South Florida pursuing a double major in mass communications and history. He is the owner of WTurnerProductions.com, a high school sports website covering the entire Tampa Bay Area. Follow Will on Twitter at @TBTurner813 and @WTProTampa.