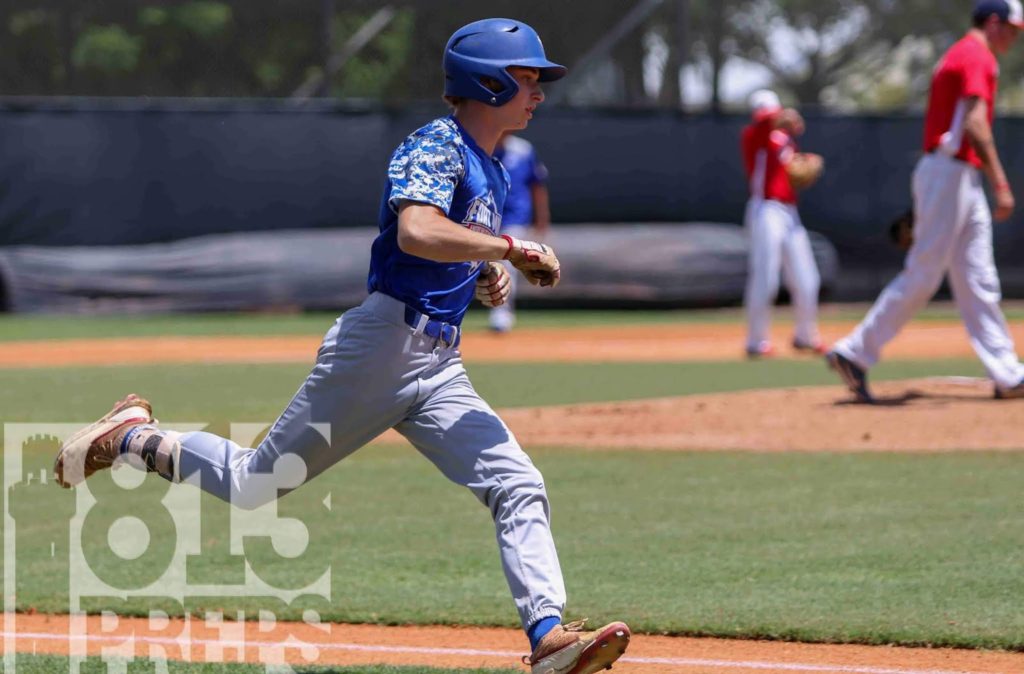 Fort Mill's Bradley Bott tallied four hits, four RBI and four runs to lead his team to a mercy-rule, six inning win. (Photo by Will Turner)
TAMPA – South Carolina Fort Mill Post 43's bats scored one run in eight hours on Wednesday afternoon in its first game of the American Legion Southeast Regional Tournament. After the marathon game was over, the team went back to their hotels knowing that Thursday brought a do-or-die challenge.
That challenge would come against a familiar opponent in Greer Post 115, the South Carolina state champion. The team that kept Fort Mill from a state championship.
In fact, Thursday's game was the fourth battle between the two teams in a mere ten days. It sure made for an interesting breakfast in the hotel.
"There was [a little tension] kind of, you could tell we were starting to stare at each other and get that going," Fort Mill second baseman Connor Rasmussen said.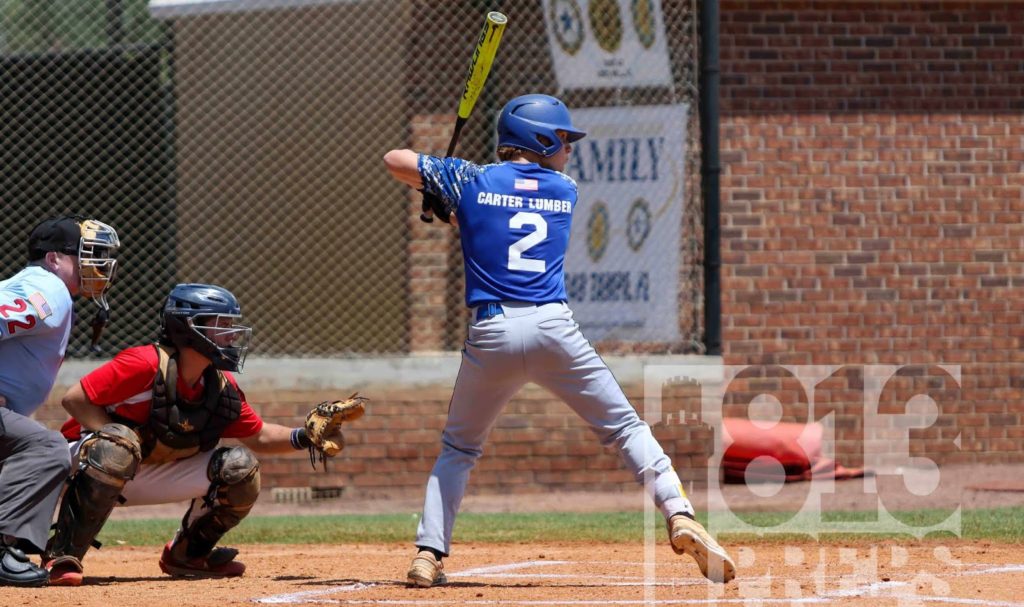 Connor Rasmussen's three-hit, five-RBI game helped lead Fort Mill to victory over its in-state rival. (Photo by Will Turner)
The state champions had a 2-1 advantage in the season series coming into the day.
That was before the Bradley Bott show came to the University of Tampa. Bott's four hits and four RBI powered Fort Mill to a 15-3 win over their fellow South Carolina foes in six innings. Add to that a big diving catch he made in right-center field, one of the best defensive plays of the tournament to that point.
"That was awesome," he said. "I just got a good jump off the ball – it was one of the best feelings."
Through the first two games, Bott was as hot as the scorching summer day the teams played through.
"Oh, 100 percent," the UNC Greensboro commit said, laughing when asked if he felt as hot as the Tampa sun. "It's so hot."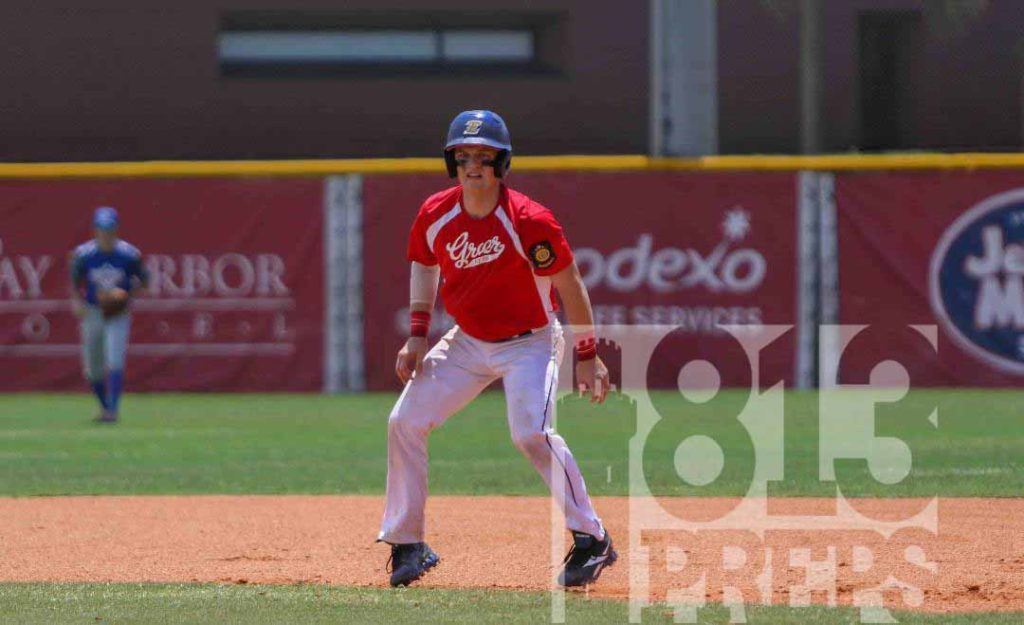 Greer's Joe Mershon was 2-for-3 with a run scored and an RBI. (Photo by Will Turner)
Maybe one that was just as hot as Bott was Rasmussen. The 15-year-old certainly acted older than his age against older, more experienced competition with a trio of singles and five RBI on the day.
"Our catcher, JT Marr, plays on the same high school team [Fort Mill HS] as Connor," Fort Mill manager Tom Skula said. "JT takes him in as a little brother. To be out here, playing in this tournament against guys at 18-19 years old is a testament to see how well he's been (playing). The sky's the limit for him."
Fort Mill jumped out to a 4-0 lead after the second inning on the strength of a two-run double from Bott and a run-scoring single from Rasmussen before Greer plated three in the home half of the third.
According to Skula, Greer had seen Fort Mill starter Jeff Maidhof twice in those ten days, so certainly there was concern when Maidhof labored through the third.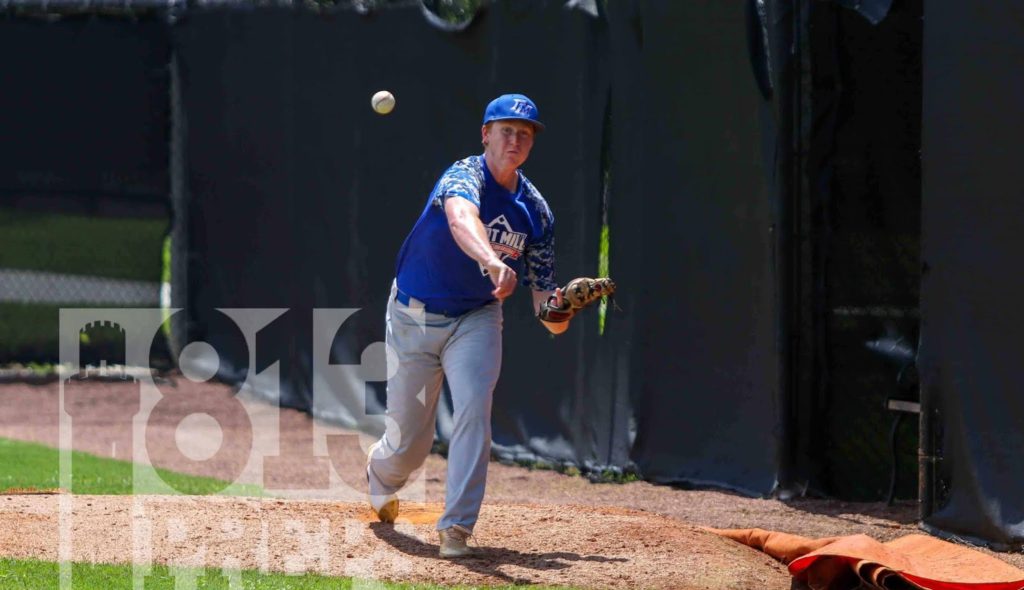 Fort Mill pitcher Jeff Maidof warming up prior to his start against Greer on Thursday. (Photo by Will Turner)
The 6'4 righty put those concerns to bed with a 1-2-3 inning in the fourth, following that up by allowing just a single hit in each of the final two frames.
"I thought he changed speeds real well and kept them off-balance," his coach said. "We were concerned in the first couple of innings when his pitch count got high. I'm very surprised he was able to pitch all six innings under 105 pitches today."
Meanwhile, the Fort Mill offense continued to hum, putting crooked numbers on the scoreboard in the fourth, fifth and sixth. A six-run sixth sealed the deal.
After a week of delays (both by bus and by rainstorm), interruptions and just plain tough luck, Fort Mill was able to just play baseball for two hours without anything intruding on that.
"It was fun for once, we could get into a rhythm," Bott said.
– Will Turner is a student at the University of South Florida pursuing a double major in mass communications and history. He is the owner of WTurnerProductions.com, a high school sports website covering the entire Tampa Bay Area. Follow Will on Twitter at @TBTurner813 and @WTProTampa.