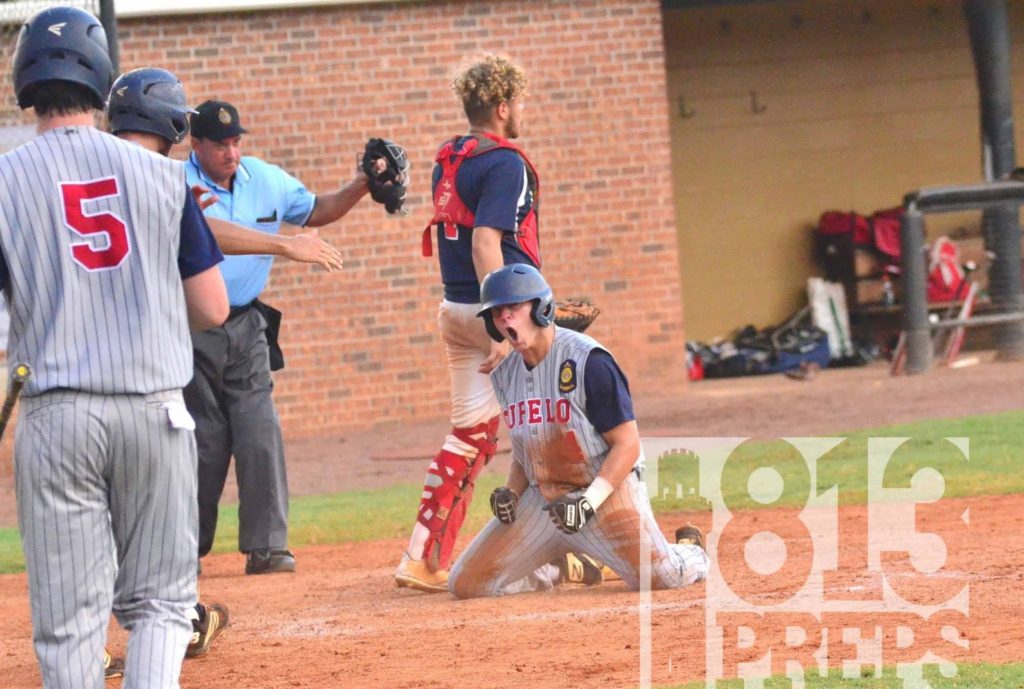 Tupelo's Chad Stephens never slowed down, capitalizing on two errors and scoring off his RBI single. (Photo by Andy Warrener)


By Bob Bellone
TAMPA, Fla. – West Tampa Post 248 finished its rollercoaster ride through the American Legion Southeast Regional Tournament with a 6-0 loss to Mississippi champion Tupelo on Saturday morning.
Right-hander Hammer Franks was one out shy of a complete-game victory when he was dispatched to right field in a position switch with Mack Scruggs, who needed only two pitches to finish off the hosts of the eight-team, double-elimination event at the University of Tampa.
"It hurts, it does," Franks said of his mound exit after issuing a pair of walks to load the bases with two down in the seventh. "I gave it the best shot I've got. I just couldn't fill up the zone that last inning."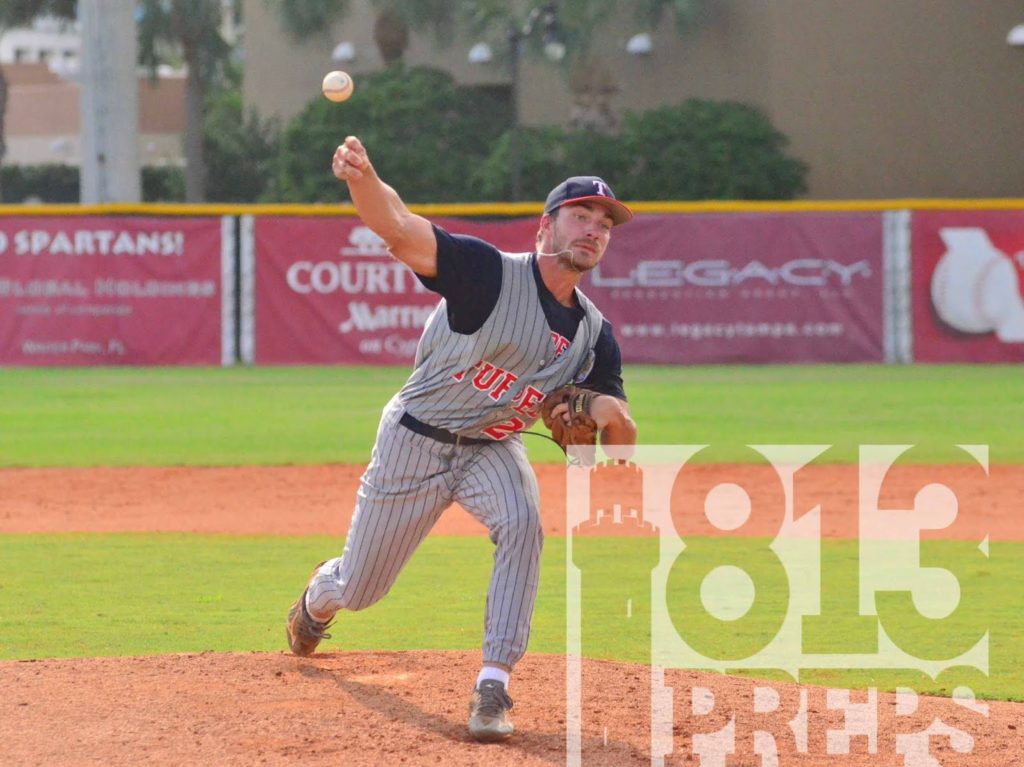 Tupelo starter Hammer Franks got through 6 2/3 scoreless innings of work helping advance his team to Sunday's semifinal. (Photo by Andy Warrener)
Franks drove in the only run he would need to protect when Tupelo (3-1) blew open a scoreless tie with five runs off Koby Fogg – who pitched five innings for West Tampa (2-2) – four of them on one frenetic play in the home fourth.
Shawn-Dalton Weatherbee led off with a double, stole third and beat second baseman Coltin Pizzio's throw to the plate off a Franks grounder. Ramsey Ivy followed with a double and Zac Gann was walked intentionally, loading the bases for the first time of three consecutive innings the 49ers would fill them up on West Tampa.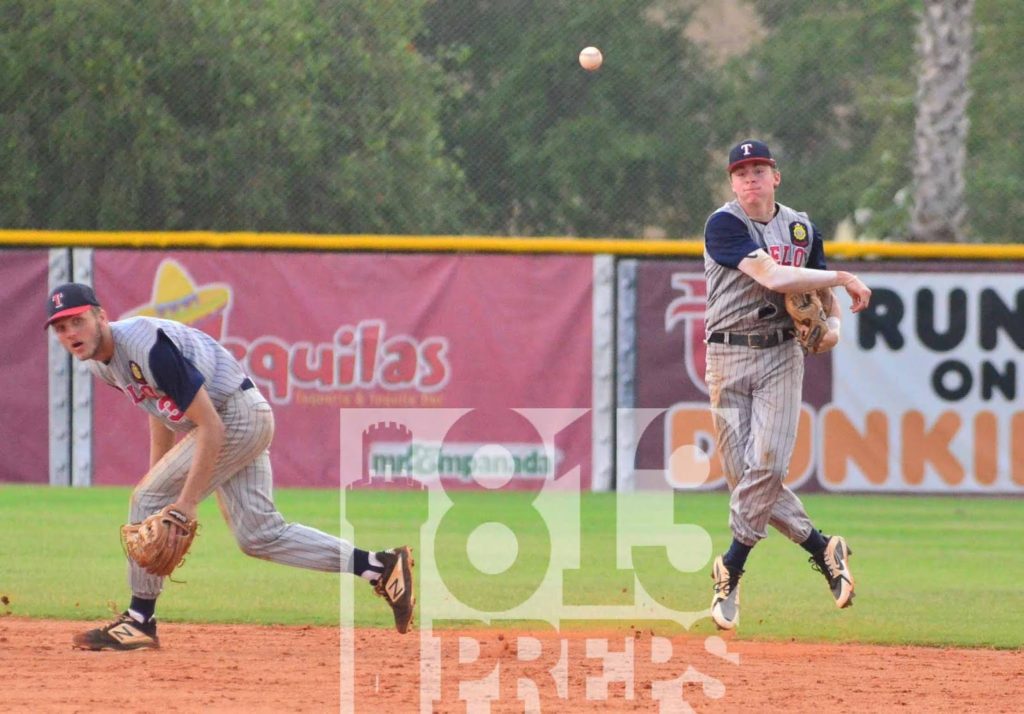 Tupelo SS Conner Davis put on a defensive clinic in the win. (Photo by Andy Warrener)
Chad Stephens followed with a two-run single that skipped past left fielder Bryan Rivera, allowing Gann to score from first. Meanwhile, Stephens rounded second and broke for third when he saw a relay throw by shortstop Jon Santos sail over the head of catcher Jose Santos.
Stephens didn't slow down until he reached home.
"When I looked up, both pitcher and catcher were back at the backstop and I just never let up," he said. "I just kept going."
So did Fogg.
"You can't let anything get to you while you're on the mound," he said. "You've got to stay focused. Anything that happened is in the past. Let it go. Go get the next guy."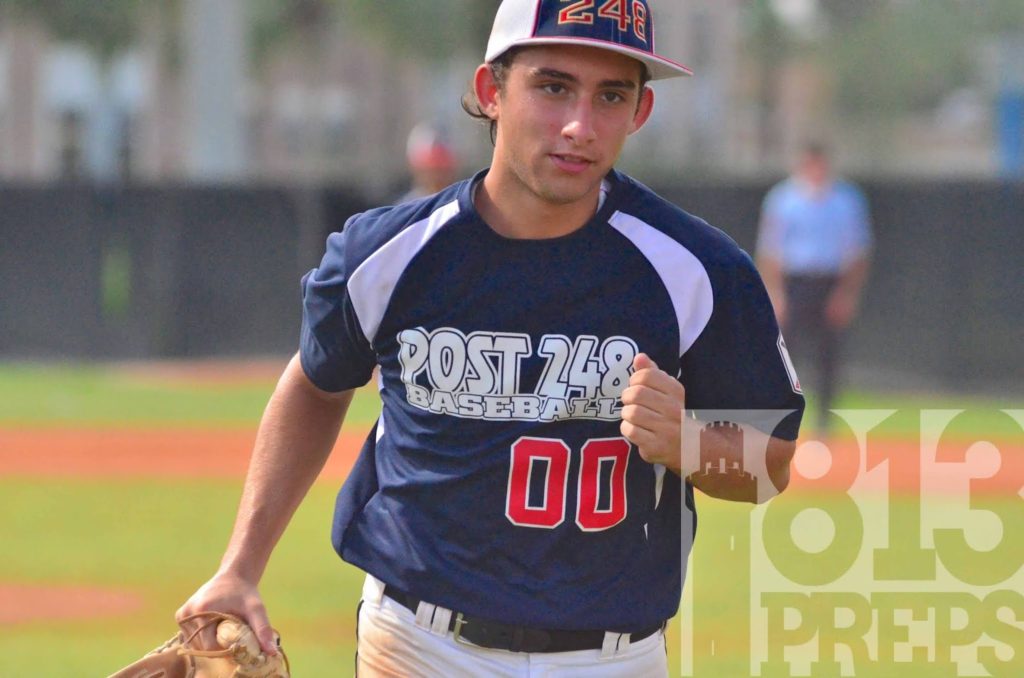 Post 248 starter Koby Fogg trots off after serving up a goose egg in the first inning. 
(Photo by Andy Warrener)
Post 248 coach J.J. Pizzio also handled the chaotic game-changing play with grace.
"It's what makes the game fun," he said. "Keep them running and make them throw baseballs."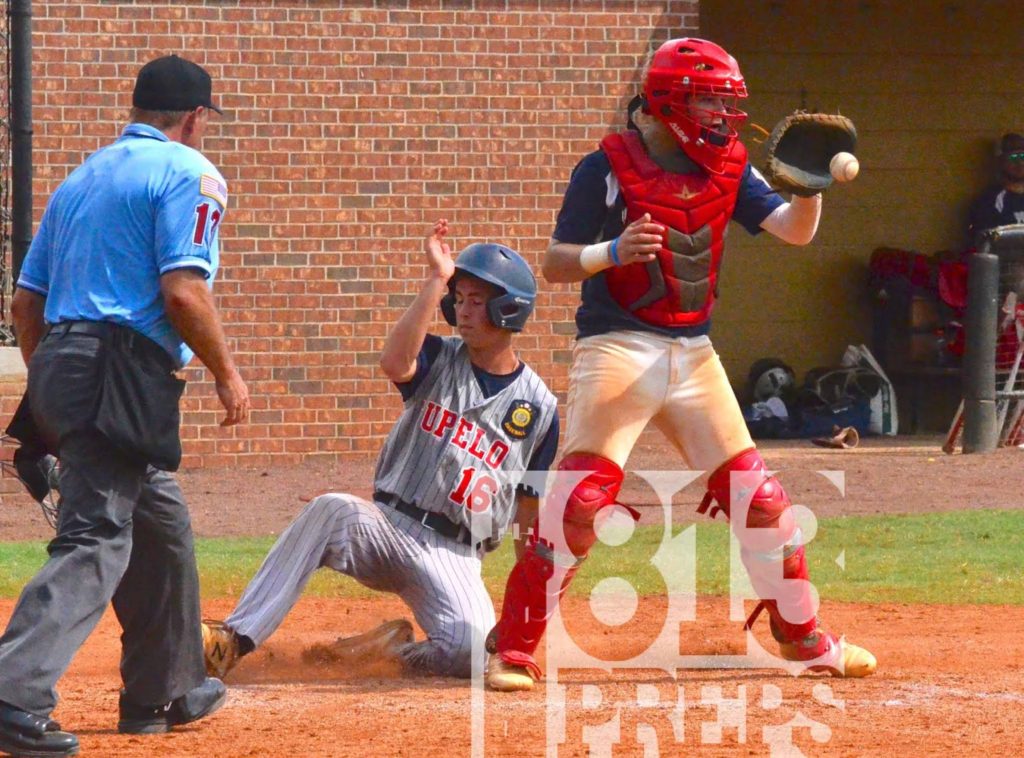 Mack Scruggs crosses the plate as Tupelo racked up a five-run inning. (Photo by Andy Warrener)
Tupelo will continue its tournament ride Sunday, needing victories against a pair of 3-1 state champions – Alabama Troy Post 70 and Louisiana Pedal Valves – to reach the eight-team World Series tournament next week in Shelby, N.C.
"Survive and advance," 49ers coach McKinley Holland said. "Our guys are going to give it what they've got, and that's all you can really ask at the end of the day."
– Bob Bellone, with nearly a half-century of experience in sports journalism, is in his second year with 813Preps.com.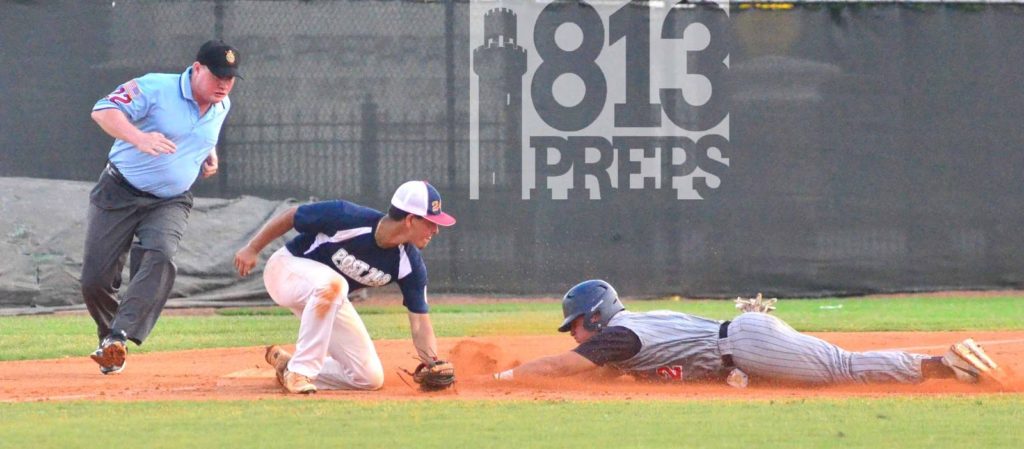 Post 248 third baseman Javy Hernandez tries to drop the tag on Tupelo's Shawn-Dalton Weatherbee. (Photo by Andy Warrener)