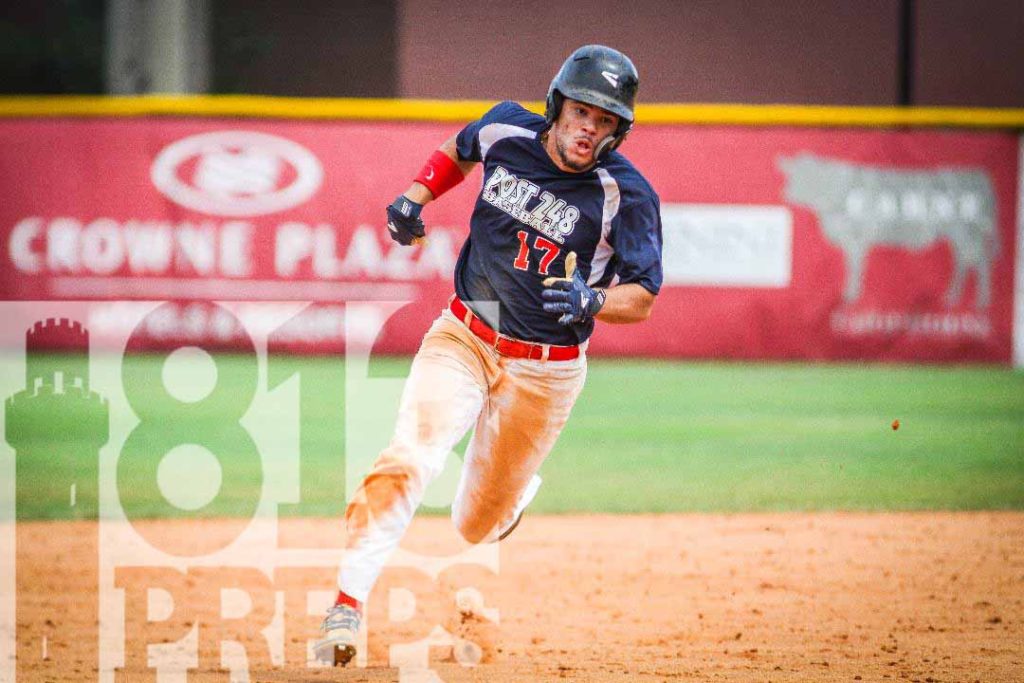 West Tampa Post 249's Bryan Perez makes the run to third base on Friday afternoon and was 3-for-3 with a homer and three RBI in his team's 10-6 win over South Carolina Fort Mills Post 43.
Photos and story by Mike Camunas
TAMPA — It wasn't the prettiest of wins, but West Tampa Post 248, the host of the American Legion Southeast Region Baseball Tourney at the University of Tampa Baseball Stadium, will take it.
"We swung the bat pretty good today," West Tampa coach J.J. Pizzio said. "It's a W, and we'll keeping moving on."
Indeed, West Tampa defeated South Carolina Fort Mill Post 43 by a score of 10-6 on Friday afternoon thanks to jumping out to quick 5-0 lead in the first and effective pitching by Ed Tarrant, who threw five innings, giving up four runs on four hits and struck out two.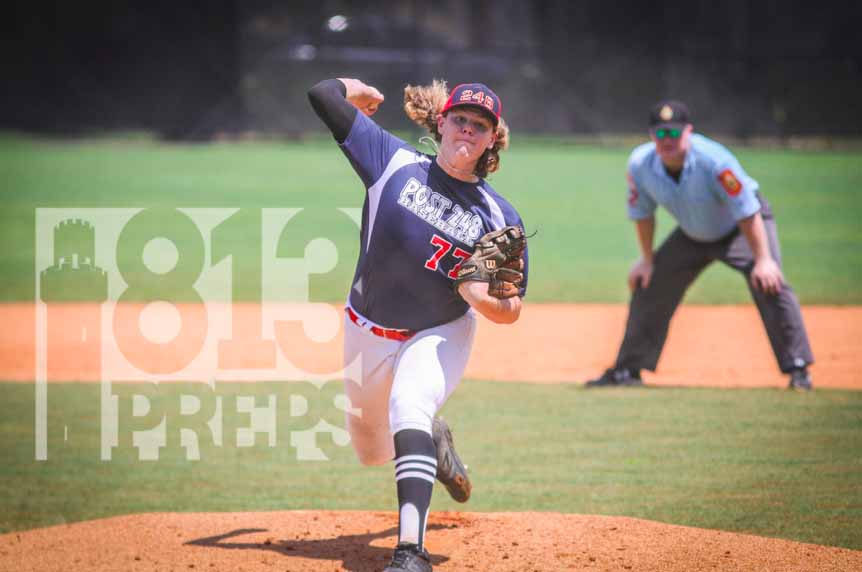 Ed Tarrant threw five innings and allowed four runs on four hits and struck out two on Friday afternoon.
But it was West Tampa's offense that wouldn't let off the pedal, racking up 19 hits, including four players (Coltin Pizzio, Javy Hernandez, Jorge Carrero and Bryan Perez) who notched three apiece in the game.
"I always like to get 19 hits" J.J. Pizzio said, "and you want 19 runs to go with it, but that team is good, too. That team swings the crap out of the bat."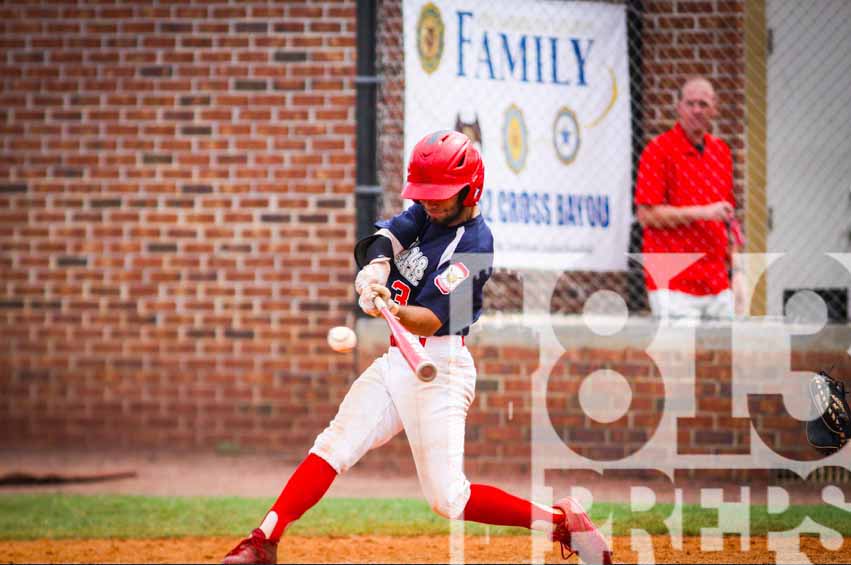 West Tampa's Jon "Chicalito" Santos makes contact on Friday afternoon.
Leading the way was Perez, who not only knocked in a dinger as an exclamation point, but had three RBI. His hot bat is spilling over from his high school season at Leto High School, where he mashed four homers, 22 hits, 21 RBI and a .265 average.
"We kind of slowed down after scoring five on them in the first inning," Perez said. "And they chipped away a bit, but then I had the homer — we just kept getting hits because the whole game we were making solid contact. Everyone was doing their job, so it was a good overall team win."
"Bryan's been doing that all season," his Leto High coach, J.J. Pizzio, added. "First his high school season and now into the summer season, so we're happy for him."
Fort Mill did get in its licks, including an RBI from Xavier Cumbee, who helped his own cause after coming in relief in the first inning only because he was not fully warmed up at the game's start.
"Their second guy was better," Pizzio said, "but at this time in the tournament, pitching is going to be pretty slim.
"And pitching doesn't have to be stellar," Pizzio continued, "if it's one thing I've noticed in this tournament is that every one of these teams swings the bat. (The) 1-through-9 (batters), they're all older and know what to expect. There's not a whole lot of fooling anyone out here."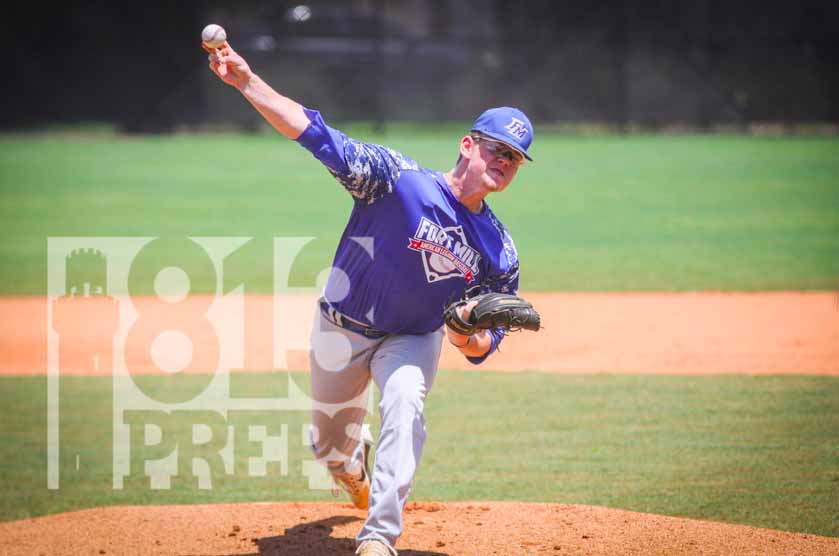 Fort Mill's tournament play comes to an end after going 1-2, but Post 43 had its best season in post history, finishing with a 23-6 record. 
And it was also West Tampa defense that got the team out of a lot of jams, especially from shortstop Jon Santos and second baseman Coltin Pizzio, who wrangled up most infield hits and turned a double play. Plus, reliever Michael Swanson closed out the game in spectacular fashion by making a sliding catch in first base foul territory for the final out.
"Our middle infield is very solid," Perez said. "We've got Chicalito (Santos) at shortstop and there's not much that gets by him and Coltin at second is very good, too. They're going to always be clutch for us."
– Mike Camunas is a longtime veteran journalist who is always seeking true stories, trained under J. Jonah Jameson and takes better photos of Spider-Man than Peter Parker. Follow Mike on Twitter @MikeCamunas