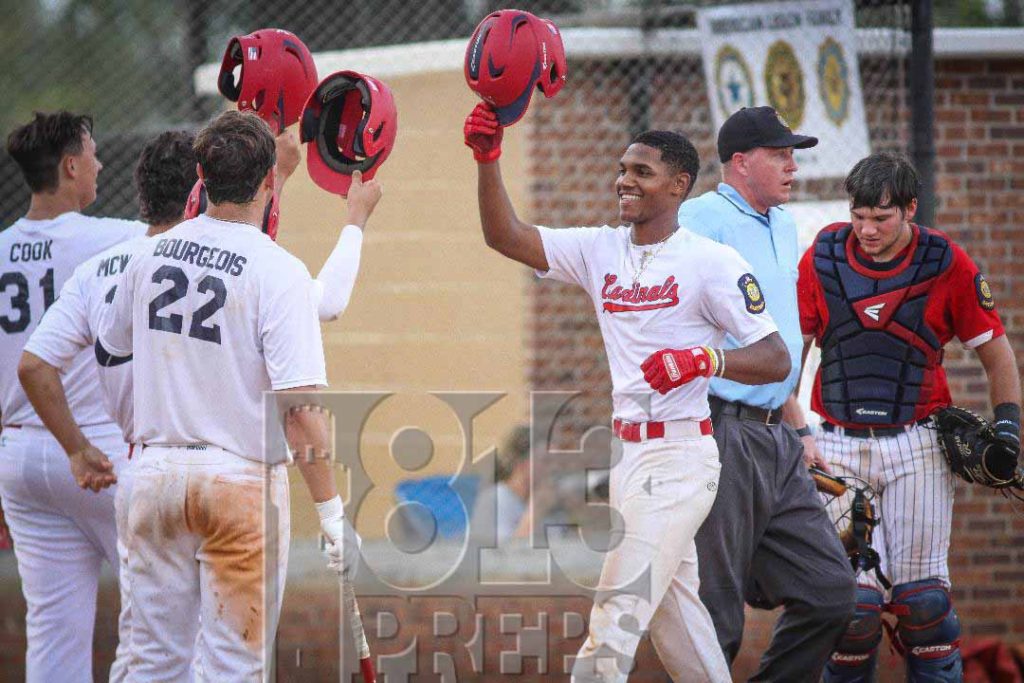 Pedal Valves infielder Ron Franklin celebrates with teammates after blasting a three-run homer in his team's 13-4 win over Tupelo. 
(Photo by Mike Camunas)
TAMPA — A slump followed Ron Franklin late in his summer season, but it definitely didn't make the trip to Tampa and the American Legion Southeast Region Tournament. The 6-foot-1, 175-pound Louisiana Pedal Valves Cardinals' infielder has been a big factor in his team remaining the lone undefeated squad left in the region field.
In Friday's final game of the day, after chipping in a run and RBI in the Cardinals breakfast win over West Tampa, Franklin crushed a three-run homer about 10 feet up the left field netting at the University of Tampa Baseball Field. He came just a few feet of doing it again later, settling for his second double of the game and picking up his fourth RBI as Pedal Valves won the winner's bracket game over Mississippi Tupelo 49ers, 13-4.
"I needed to step up big for my team to get past the things that happened at the beginning of the season," Franklin said. "I needed to get out of that slump. My team stayed on me and every time I struck out, they were there telling me to keep my head up. That is what I needed."
Tupelo opened the scoring in the first as Shawn Dalton Weatherbee hit a triple in the and then crossed the plate on a Conner Davis ground ball.
But then Pedal Valves starting pitcher Cory Cook found his groove. The 6-foot-2, 230-pound righty worked the next four innings of scoreless ball on the mound, only running into trouble in the sixth when Tupelo put up three runs to save itself from a mercy-rule finish. Cook was pulled due to reaching the pitch-count in the seventh, after allowing four runs, on eight hits with six strikeouts.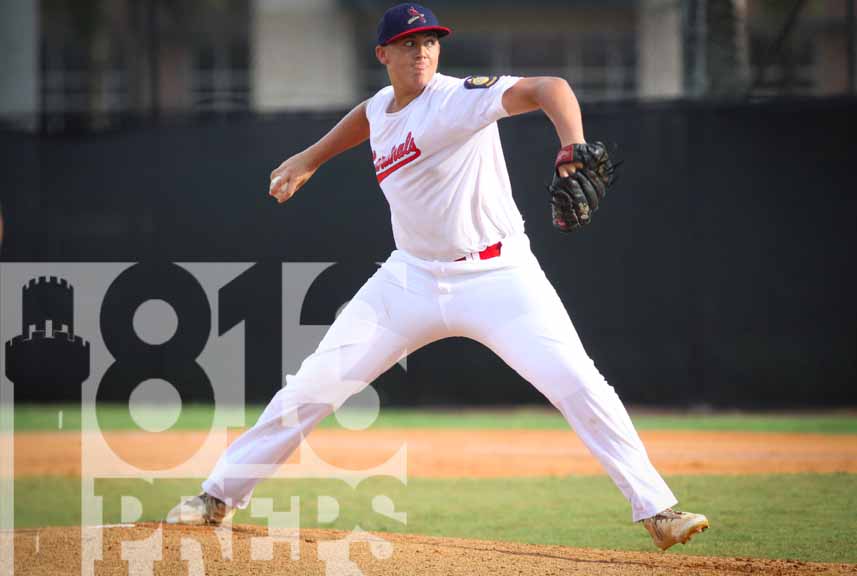 Cory Cook worked 6 1/3 innings and struck out six for Pedal Valves in victory. (Photo by Mike Camunas)
"(Cory) is really starting to step up for us," Pedal Valves coach Danny Rhiem said. "It seems like the bigger the moment lately, the better he's pitching and we love to see it out of him."
"When he's in the strike zone it is tough for the opponent, and that is what we saw today. We needed that because that is a heck of a Tupelo ball club over there."
Cook said he was determined, after allowing the late runs, to refocus and keep the lead from dwindling late in the game.
"Getting out of that jam after a couple of miscues, that was important to me," Cook said. "I stood out there and kept throwing. I did what I had to do."
Pedal Valves took control in the second with bases loaded, as Avery Schexnayder, TJ Thomas, Gavin Freeman and Stephen Klein each picked up RBI in succession as Louisiana's state champs scored four runs in the frame. Pedal Valves topped that in the fourth as it again loaded the bases to start the frame setting up Kolby McWilliams to plate a pair on a single.
"We got a few guys on base, and that is all this team needs," McWilliams said. "If we do that, when we get up there we know what we have to do and I was able to get things going before Ron put it away for us."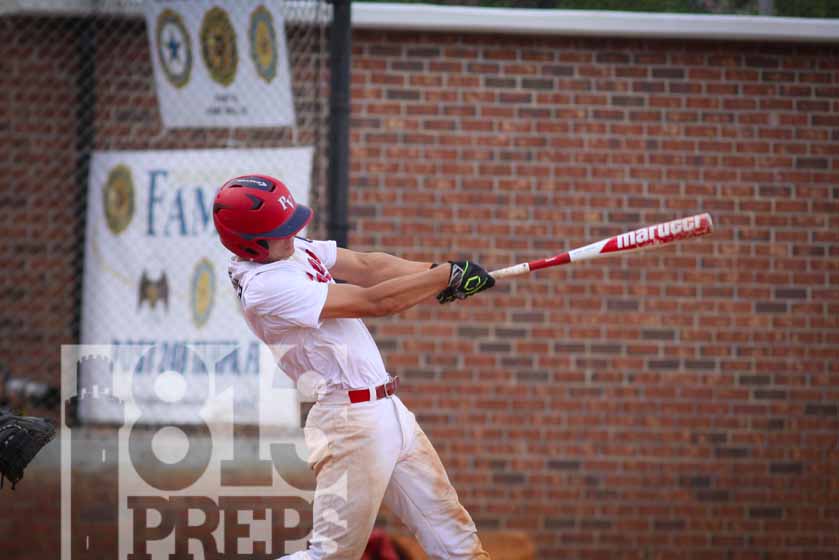 Pedal Valves Coedy Fonseca makes contact in his team's second win of play on Friday. 
(Photo by Mike Camunas)
Franklin immediately followed with his three-run homer (his second of the tournament after tying his team's opening win against Alabama Tory Post 70 on Wednesday in the seventh inning). For his team's three wins, Franklin is 4-for-8, with two homers, two doubles, and six RBI and runs each.
"(Friday's home run) felt good, but when I swung I kind of pulled off on it and didn't really get all of it," Franklin said. "It did feel good though."
The sixth-inning rally attempt from Tupelo (2-1 in the tournament) was highlighted by a two-run single from Chad Stephens.
Both teams remain alive in the tournament with games ahead on Saturday, with Tupelo (2-1) facing host West Tampa Post 248 at 9:30, and 30 minutes after completion Pedal Valves will face Alabama Troy Post 70 (2-1) in a rematch of both teams' tourney opener.