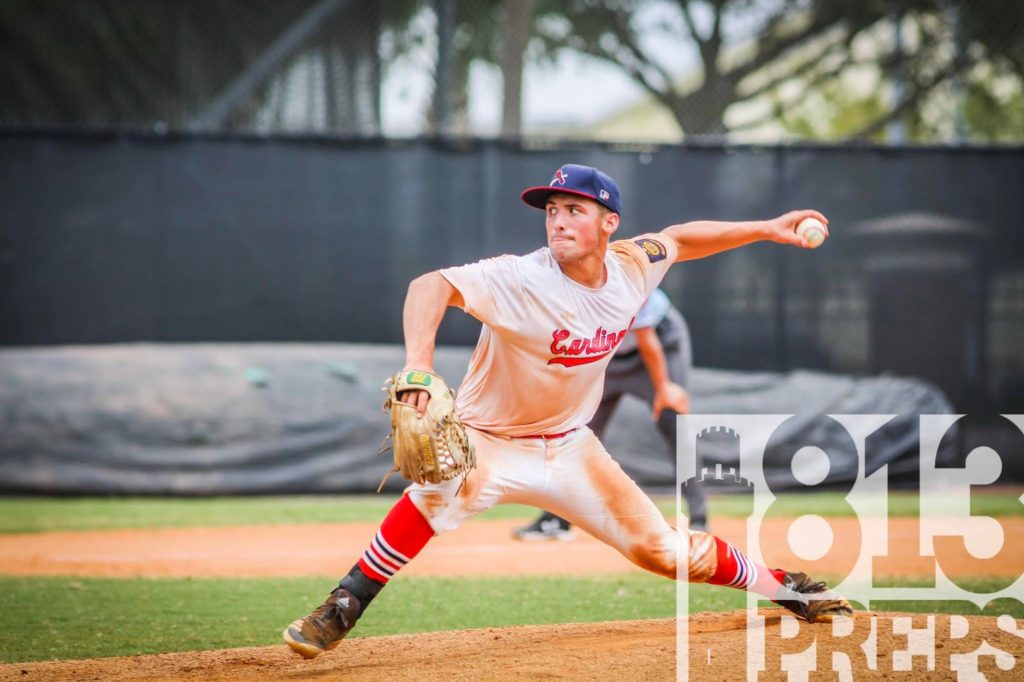 Pedal Valves lefty pitcher Stephen Klein overcame a tough pitch off his ankle in his third inning at-bat, returning to the mound and working six-plus innings to guide his team to a Southeast Region Title in Tampa. 


Story and photos by Mike Camunas
TAMPA — There was no way Stephen Klein was coming out of the game.
In the third inning, the 5-foot-9 southpaw for Louisiana Pedal Valves Cardinals took a painful-looking hit by pitch to his right ankle. As the starting pitcher in the American Legion Southeast Region Baseball Tourney Championship Game at the University of Tampa Baseball Stadium on Sunday afternoon, that could've been a vital blow to Klein. He was, in fact, keeping the Cardinals' opponent, the Mississippi Tupelo 49ers, at bay — shut out, even, and now Klein had a sore plant foot/ankle as a left-handed pitcher.
"There was no way I was coming out (of the game)," Klein said. "I wanted to finish this."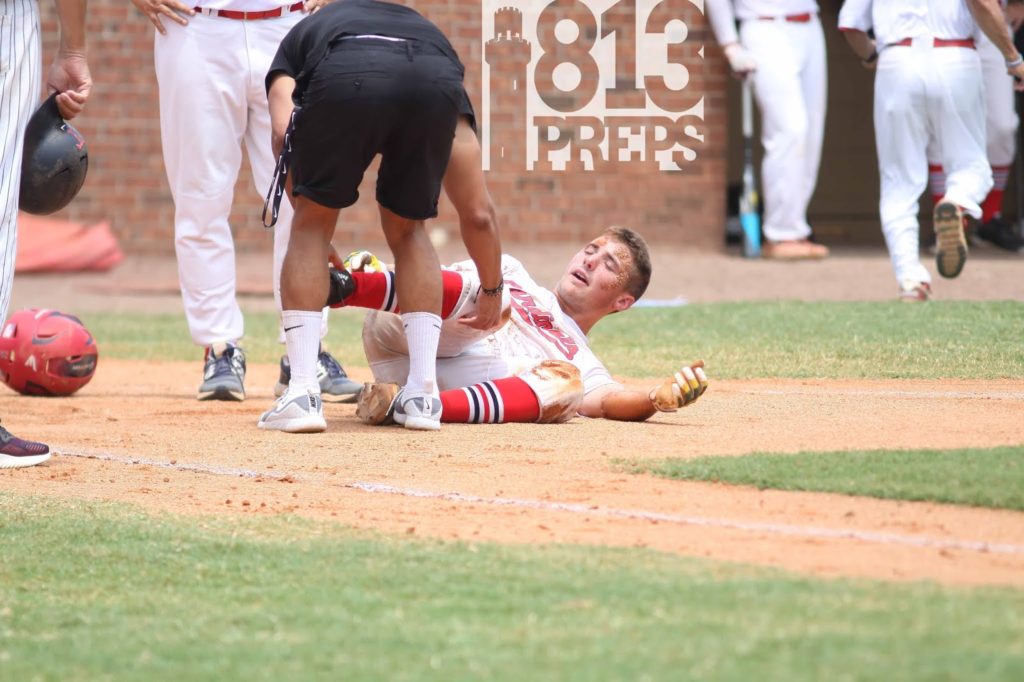 So, after a few moments on the ground and an examination by the trainer on site, Klein pulled himself up, dusted himself off and trotted to first base. He would then go on to pitch 6 1/3 shutout innings, allow just four hits and strikeout six — and hit a double in his next at bat — in Pedal Valves' 4-2 Championship win to propel the Cardinals to the Legion Baseball World Series in Shelby, N.C. later this week.
"It was like a punch right (in the ankle)," Klein, who then donned an ankle brace when he returned to the mound, said of the HBP. "But I knew I was going to stay out there, no matter what. … It was a good team win, and I'm glad we're going to Shelby."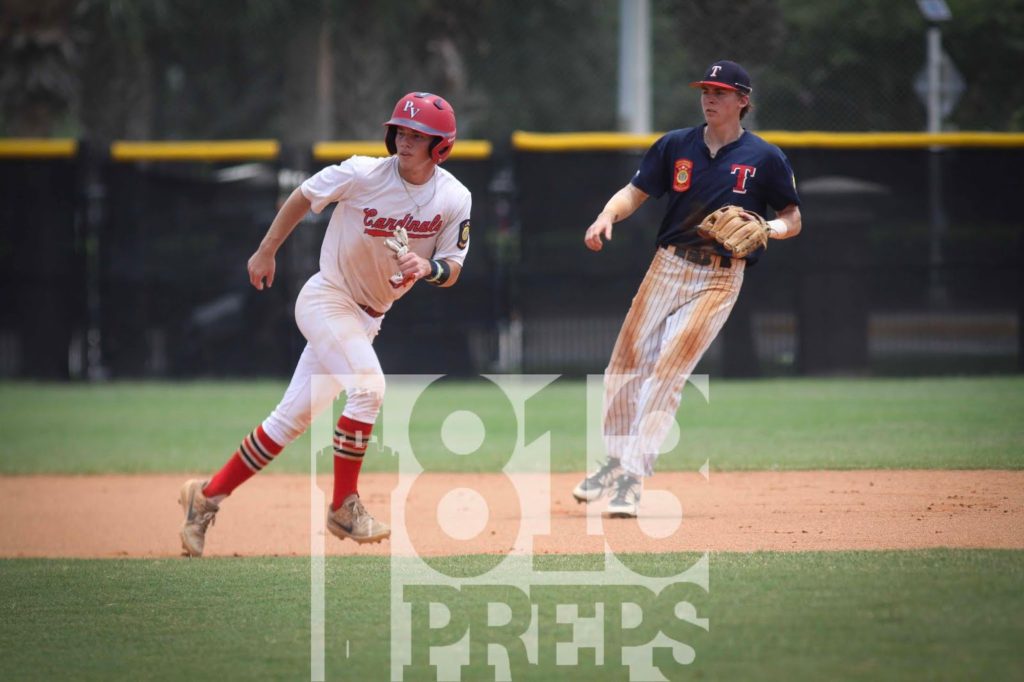 Pedal Valves runner Gavin Freeman retreats to second base as Tupelo SS Conner Davis trails behind him. 
Pedal Valves came out the gate storming, putting up a three-run spot in the bottom of the first thanks to two RBI by Gavin Freeman and one by Nick Lorio. Klein would keep Tupelo at bay until T.J. Thomas came on in relief and allowed a two-run single to Will Armistead, as both runs were charged to Klein.
"Well, we did find a way to keep it interesting, didn't we?" Pedal Valves coach Daniel Riehm said while clutching the championship trophy. "But, thanks to Steve and (our) defense and just keeping the focus, we're headed to Shelby."
— Mike Camunas (@MikeCamunas) August 11, 2019
Though when Klein was hit by the pitch, all of the Cardinals dugout and faithful held its collective breath.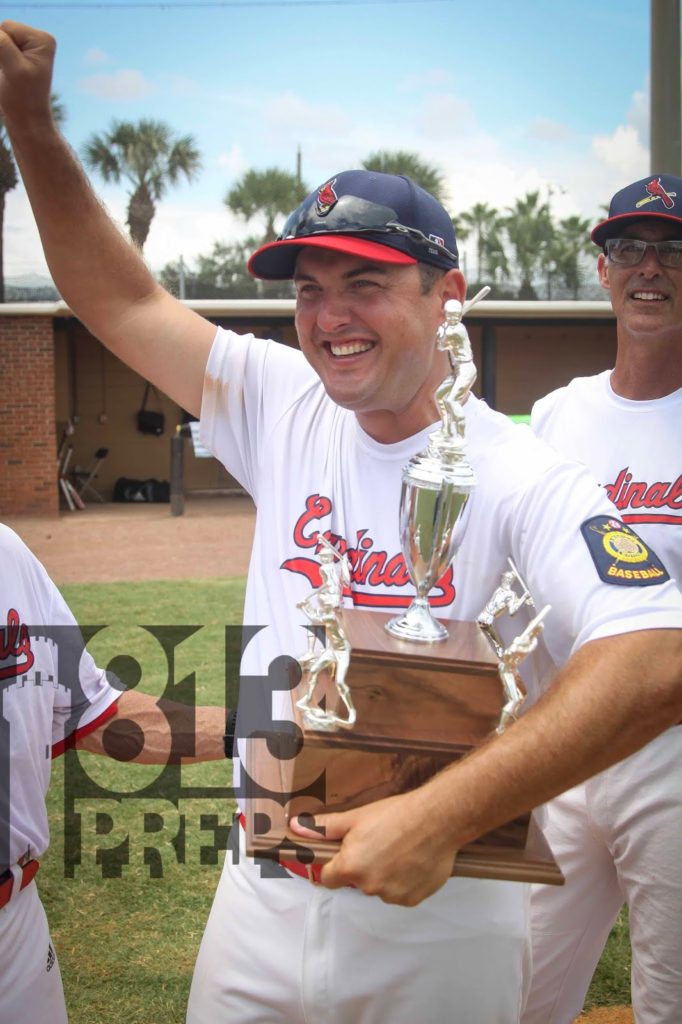 Pedal Valves head Coach Danny Riehm. 
"Yeah, I was like, 'Oh, no. Anyone, but Steve,'" Riehm said. "We don't want anyone to get hurt, but of course not your starting pitcher in the championship game. Though, yeah, there was no way he was going to let me take him out. He was in intense pain, but no, he did not want to come out."
Pedal Valves got a Sunday "bye" game, as Tupelo needed to defeat Alabama Troy Post 70 in a morning game to advance to the tournament final. It left Pedal Valves, a team lovingly dubbed the tourney's "Dirty Dozen" because the team brought just 12 players and kept shocking those in attendance with unprecedented underdog wins, running on fumes.
"Players, coaches, fans — we don't have anything left," a visibly exhausted 49ers coach, McKinley Holland, said after the game. "Our guys gave it absolutely everything they had. We came up short, and it sucks, but I'm proud of them, man.
"Look, man, everyone counted us out from the jump with just 12 players and everyone fully stocked. Our guys — absolute grinders — just dirtbags that knew how to get it done every game, and I could go to war with guys like that. I could not ask anything more from them because they gave it all for us."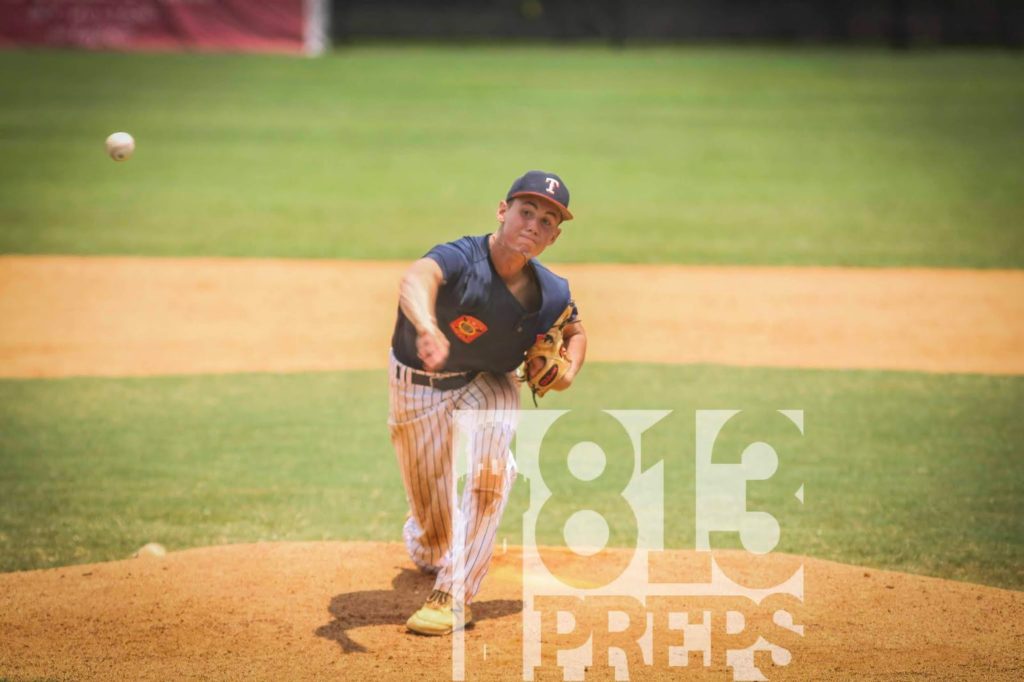 Mack Scruggs pitched five innings for Tupelo in the final game.
Tupelo came away with a semifinal win over Troy in the day's opening game, on the good side of a 4-2 win as a Shawn-Dalton Weatherbee RBI double keyed a three-run first inning to help advance to the championship, which took place about 45 minutes later.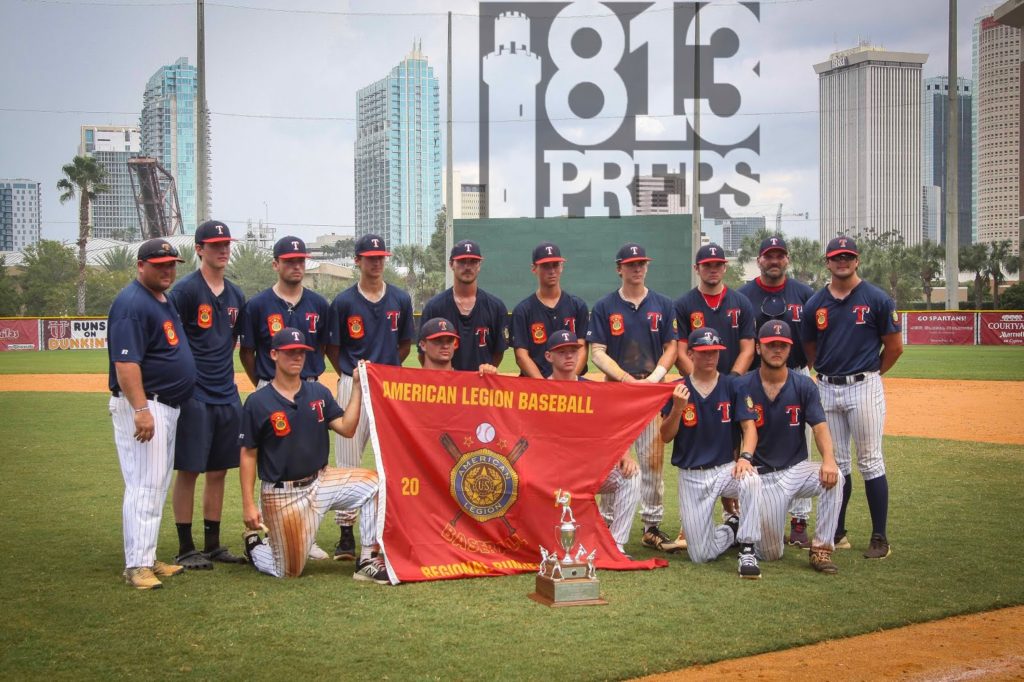 2019 Southeast Runner-up – Tupelo 49ers
Despite not playing two games in the span of six hours, Pedal Valves still needed a reality check. Riehm says there was a team meeting Saturday evening to "remind the guys that they were on the brink of history" and to make sure no one got complacent after grabbing the top seed of the three remaining one-loss teams.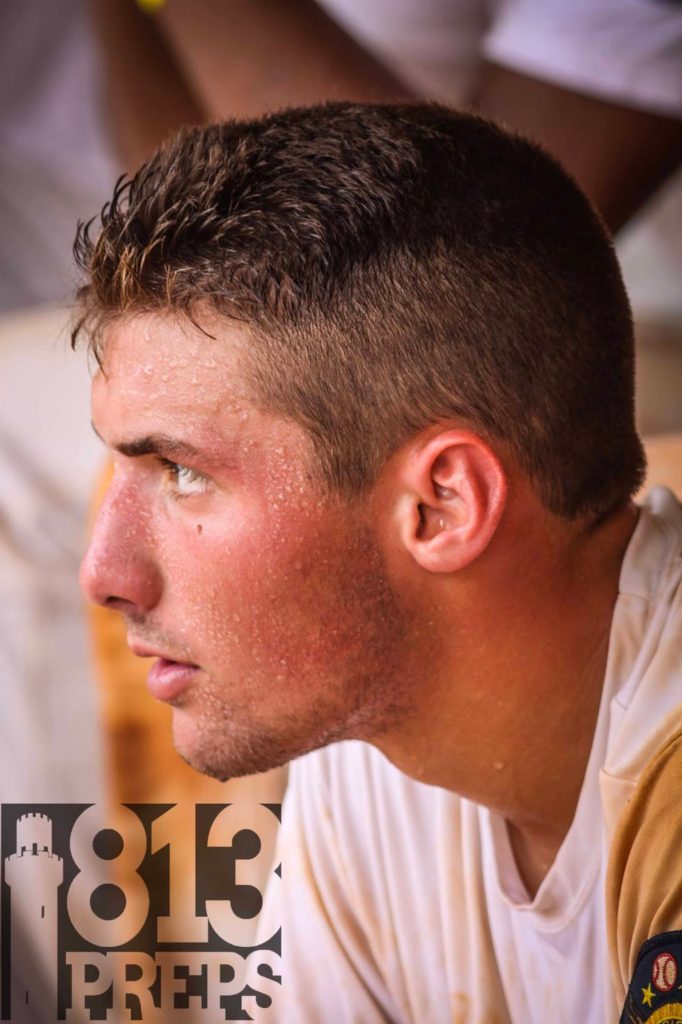 Klein on the bench during the game.
"Earlier bed checks, making sure they were staying in their rooms and focusing on the history that we could make and did make today," Riehm added. "Because they weren't getting complacent, but they we just wanted to make sure they didn't get ahead of themselves. But we've got great players and great guys, we just had to get things tight and get things ready to go again. I told them it was time to take the next big step as a program, which we did, and we're happy to be headed to Shelby."
Klein, uniform painted in orange clay, ankle barking in pain, sweat dripping from his brow, but a smile painted on his face as the tournament MVP, couldn't agree more.
"I told the guys," he said, "'We have one game. Just 27 outs, and we're going to show. Boot up, man. We're the Boot Boys who are gonna try and take (the world series title) home."
– Mike Camunas is a longtime veteran journalist who is always seeking true stories, trained under J. Jonah Jameson and takes better photos of Spider-Man than Peter Parker. Follow Mike on Twitter @MikeCamunas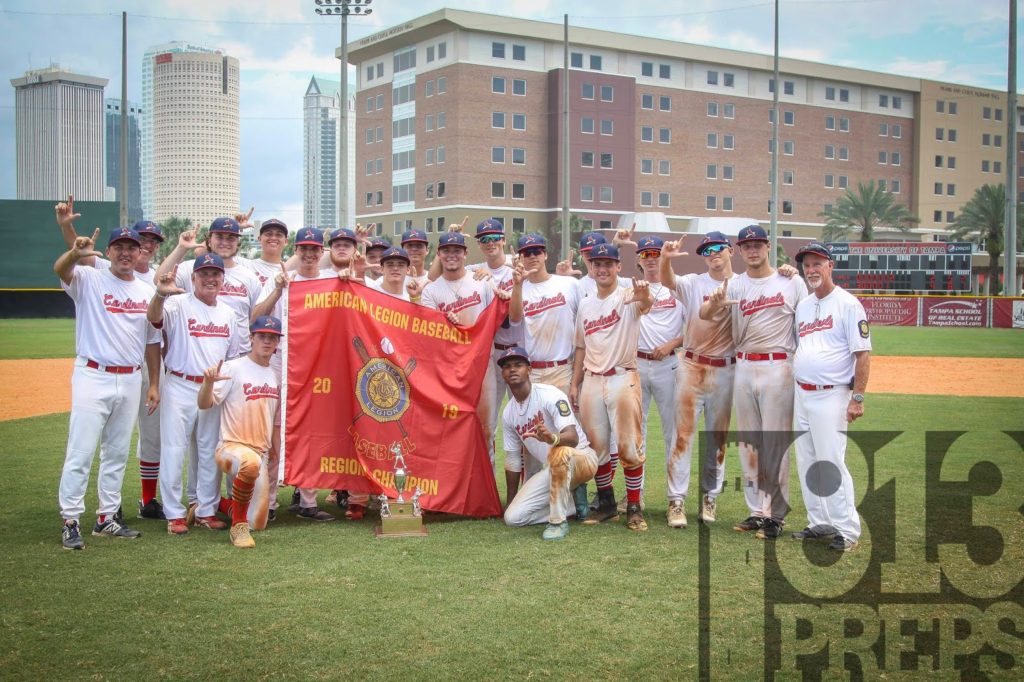 2019 Southeast Region Champions
The Louisiana Pedal Valves Cardinals