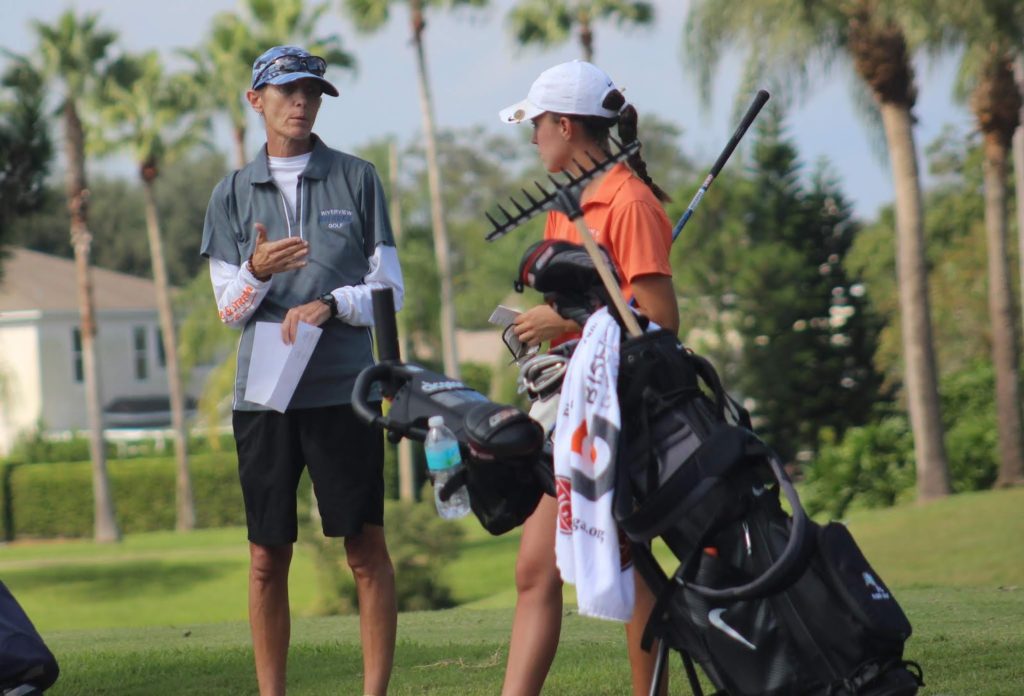 The Angela Slater Golf Classic is scheduled for Saturday, November 9 at Summerfield Crossing. The event is a fundraiser for the area high school softball scholarship established in honor of the longtime softball and girls golf coach. Slater, who passed away in 2016, led Riverview to state softball championships in 2000 and 2002. Seen here from 2015, Slater goes over the rules at the girls district golf tournament. (Photo by Jarrett Guthrie)
Staff Report
RIVERVIEW – Summerfield Crossings Golf Club will host the Angela Slater Golf Classic on Saturday, November 9th and is looking for competitors and sponsors.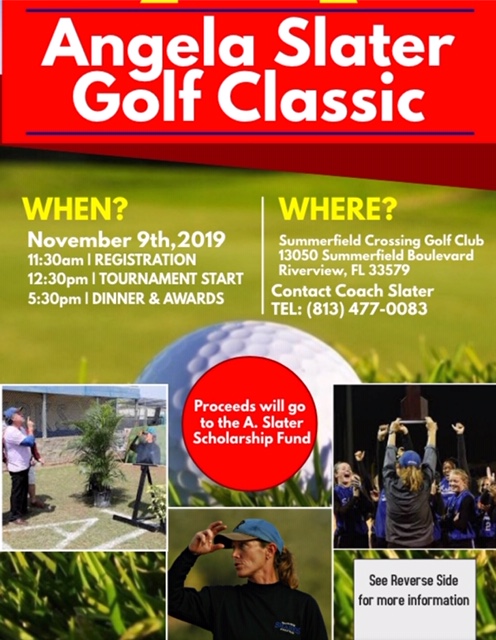 The event serves as a fundraiser for the Angela Slater Family Fund, established in 2018 as a memorial for the longtime Hillsborough County softball and golf coach. 
Slater won more than 500 games as a softball coach at Brandon and Riverview High Schools, including leading the Sharks to state titles in 2000 and 2002. 
In 2016, Slater passed away after a lengthy battle with large cell neuroendocrine carcinoma, an aggressive form of lung cancer.
Her husband Ron Slater, who served as Mrs. Slater's assistant softball coach for her entire high school coaching career, has continued on running the Sharks program since her passing.
The scholarship, awarded to recipients in the Hillsborough County high school softball community, has previously been awarded to Riverview alum Kaia LoPreste, now a freshman catcher at Florida State and Plant City alum Ashley Blessin, who is a freshman pitcher for Marshall.
The golf tournament, which includes 18 holes, golf cart and Italian dinner after the round, as well as a 50/50 drawing, a raffle, longest drive, putting and closest to the pin competitions, begins with registration at 11:30 am with the round to follow at 12:30 pm, and dinner set to start at 5:30. 
If you are unable to attend, there are hole sponsorship opportunities and raffle items for non-participants, and the scholarship fund is seeking members of the community looking to contribute. If interested contact Ron Slater at (813) 477-0083.