Staff Report
A new year needs a new look. A few keen observers have noticed some big changes to our site lately, but we thought it was time to up our game here at 813Preps.com so this is our official announcement debuting our new website design.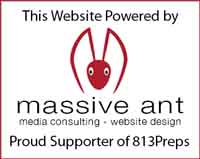 Looking to kick off our fourth high school baseball coverage season, it was time to  leave behind our old blog format and put together a proper website. We were INCREDIBLY lucky to find a partner in the community to help us out in Massive Ant, a local media consulting and website design firm.
We can't thank the team at Massive Ant enough for all their support in getting our new site, designed, launched and hosted.
Our past still has a home on our site
A new website and host unfortunately means our old Twitter and Facebook posts from previous years won't direct you to the old stories, however, that doesn't mean they are gone. The team at Massive Ant were able to back up and archive our stories on the new site. You will notice on the home page (on the right sidebar under our sponsors on the desktop, or near the bottom of the front page on our mobile site) a dropdown for "Archives" and a "Categories." The Archives will be in chronological order, while the Categories will be split up in different ways, primarily searchable be the schools involved in the story. There is also a search bar where typing in names and dates should help you find our old stories. We've posted nearly 500 stories in three years,and you can still find them all here on our site!
What can you expect in the next few weeks leading up to the new season?
We are all set preparing for the 2020 high school baseball season, and our preseason coverage will kick off next week. Our team has been working hard the last few weeks, just as we know our student-athletes have been working hard to prepare for the season. We'll be changing things up for our preseason coverage this season from previous years. As the FHSAA has again redrawn districts and adopted a new ranking system run under the guidance of MaxPreps, we have decided to move away from the district-by-district breakdowns we've done in previous seasons, and instead we will be taking a look at some of the very talented area players in a more position-based format (i.e. "middle infielders," "corner infielders," "pitchers," etc.). We'll also bring you a quick look at the new faces joining (or in some cases returning to) the county as head coaches. And, we'll breakdown what to expect from the new FHSAA/MaxPreps ranking system, address the planned changes to the annual Tony & Bertha Saladino Baseball Tournament, this year marking its 40th anniversary, and much, much more.
Our Team is here for your team
Joining our editor Jarrett Guthrie on the coverage team this season will be staff writers Bob Bellone and Andy Warrener, while Mike Camunas also returns and takes on a bigger role in helping with our social media and multimedia coverage. We have also added longtime area prep sports reporter Brandon Wright to the team and will have a few more new faces added to our roster throughout the year. So if you see us at games, come chat with us! We welcome you to talk tips to breaking news, good stories or even just a friendly hello.
We can't wait for this baseball season to start and hope you enjoy what we do as me as we enjoy doing it. See you soon!