Larkins has a half-century of love for the game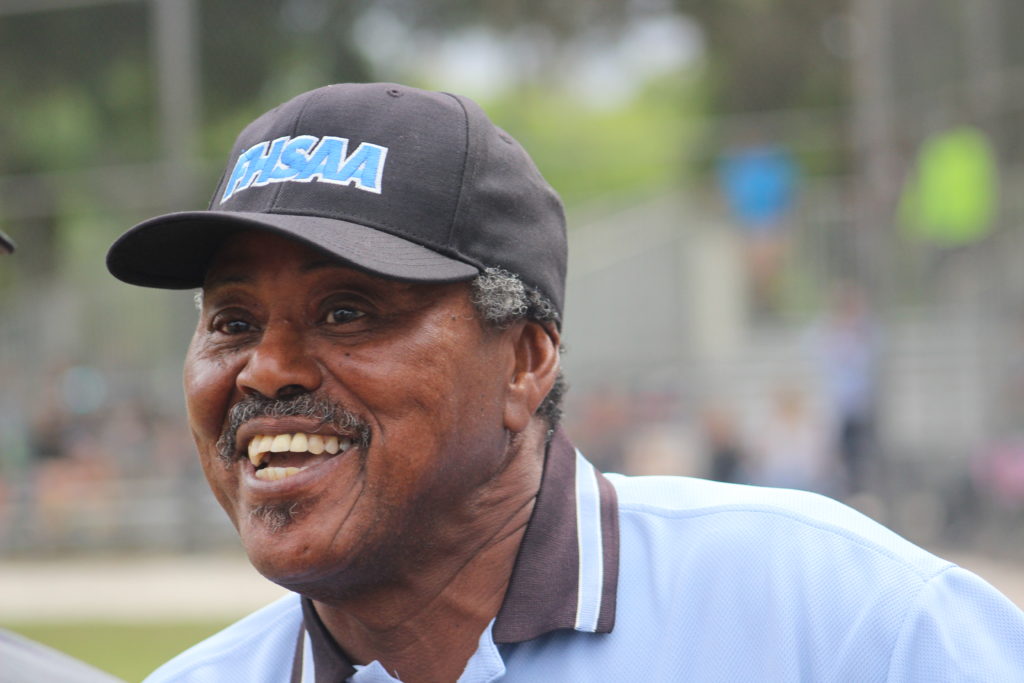 By Jarrett Guthrie
TAMPA – "Alright now, what do you say?" shouts a big voice from an even bigger personality as a wide grin leads the way for umpire Willie Larkins as he enters the field.
Larkins, 73, is first and foremost a baseball fan, someone who truly loves the game, and it shows quickly as the master craftsman goes to work on the diamond. Spending 50 years as a baseball official in Florida, many of those in Hillsborough County with the area's West Coast Umpires Association, Larkins is dedicated to improving himself and sharpening his skills. He takes immense pride in the respect he has been shown for decades by fellow officials, coaches and players.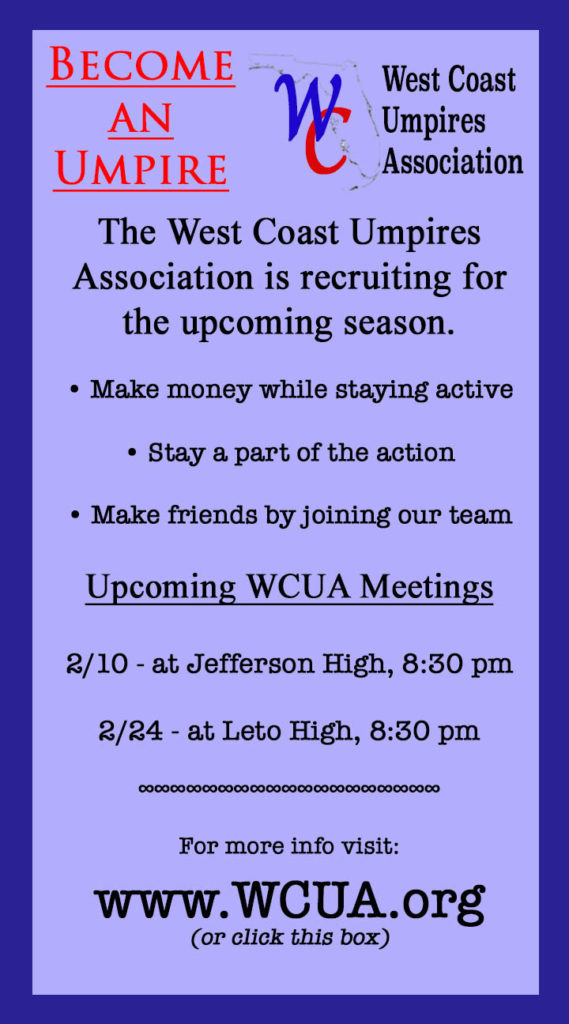 "You look forward to it each year, that time of year starts creeping up and you get excited," Larkins said. "You'll be walking around the mall or something and see an old player and they say, 'Hey, Willie. Good to see you. You were the best umpire.'
"That's it for me. To get to do something for this long and have it still give back to me like that, well that's what it's all about."
Larkins said he still considers himself a student of the game and hopes he never stops finding ways to improve as an umpire.
"I'll go out there and umpire two games in a day and then sit down and watch a game on television, even though it makes my wife mad," Larkins said. "When I watch a game, I'm looking at the umpire and see what they are doing, because if you don't want to constantly improve yourself and get better then you might as well get out of the game."
In 1966, Larkins was working a dish-washing job for around $1 an hour during a summer break from college, when Winter Haven parks and recreation director Reuben Williams suggested he start umpiring games in the city's newly formed Little League program.
"He said we are going to need umpires in June, you'll get a chance to make some extra money, and we'll pay $10 for the guy who works the plate and $8 for the guy on the bases," Larkins said, adding with a big laugh, "I said, 'Heck, can work all the plates?'"
Larkins grew up playing football as a center and as a third baseman in baseball. After college, he spent two years as a youth coach in his home state of Connecticut before moving to Tampa and coaching football at Middleton under legendary Tigers and Hillsborough High multi-sport coach Billy Reed. But in the offseason, he found himself drawn back into umpiring. This time it stuck.
"The fun and camaraderie of working with these [other umpires], going out and eating after, that's what has kept me in it," Larkins said. "A lot of the guys I started working with moved on to softball or started retiring, but I always had a love for baseball, so here I still am."
Larkins has also called games at the collegiate and minor-league levels and worked major-league spring training games. In 1981, Larkins was behind home plate for the first-ever Saladino game, as well as that tournament's championship, and at least one game in the following 38 years of Saladino play. He said he doesn't want that streak to end and plans on officiating games in this 40th year of the tournament as well.
"Obviously, Willie is super knowledgeable of the game, but the most important thing about him is he's never lost his love for being out there and be a part of the game," West Coast Umpire Association president Matthew Nall said. "He doesn't miss games, he will not shy away from any games. Willie is good enough to do any game in the county, but he's just as happy to be out there for the two worst teams as he is for the marquee game on a given night."
"He's ever the servant to the game of baseball because he just loves it so much and you can see it every time he is out there."
King's Jim Macaluso said he first met Larkins as a player in the PONY League organization-run Thoroughbred Division (for ages 17-20) nearly 50 years ago. Over the years Macaluso, who begins his 45th season as the Lions' head coach in two weeks, said he has come to consider Larkins a close friend. This friendship, though a factor in the coach being pleased to see Larkins set to officiate one of his games, is only a small part because he says the ump's consistency and abilities are second to none.
"The first thing I'd say about Willie Larkins is he is a very, very good official," Macaluso said. "After 50 years, I'd still take him as an official every game. We've got after it a couple of times, but he's got this way where he smiles at you and gives you a minute or two to rant, then he'll say, 'Alright coach, are you ready to play?'"
"And on the other hand, he's not afraid to, the next inning, come over to you in the third base box and say, 'I might have missed that one, coach.' It's a sign of a great official that he is able to handle himself in those ways."
Macaluso said he isn't surprised that after a half-century there is no quit in Larkins, because he knows how much he loves the game. But more importantly, according to the coach, the game loves Larkins.
"The players love him," Macaluso said. "Year-in and year-out, Willie goes out of his way to learn their names, once they are a sophomore or junior he'll be out on the field and say, 'Billy, how you doing tonight?' or 'Fred, have a good game tonight, kid.'"
"All of that goes into making a top-flight official, even after a few times our parents know him by name. That is because of all the little things that he does so well. When parents like you, coaches like you, the players like you, and I know the other officials respect him, that is four groups of people now, that's everything. He covers it all."
Another thing of huge importance to Larkins is the hope that former players in our area consider following in his footsteps and get involved in the game as an official. Right now, the West Coast Umpires Association (WCUA.org) is recruiting for the upcoming high school, Little League and youth baseball seasons (the WCUA serves as the primary officials for Hillsborough County Schools and youth leagues at Palma Ceia, Bayshore, Forest Hills, Interbay and Citrus Park). Larkins said the most important thing is to stay involved, give back to the game, and work hard to make the players' experience special.
"Have a level head, have a love for the game, don't do this for just money, do it 'cuz you love it," Larkins said. "It makes me feel good to have been a part of this game. That has got to be your reason to do it."
Macaluso said he hopes the area baseball community recognizes how special Larkins' commitment to the game and its players have been and that he has certainly been appreciative.
"I consider him a good, close, personal friend," Macaluso said. "And on behalf of high school baseball, I would just like to say a big, big thank you to Willie Larkins for what he has given to the game."
Larkins said there is no trick to earning the reputation he holds – work hard, have pride, be respectful and, of course, always wear a big, proud smile.
"When you go out and do your best and the coaches know you did your best, that's what it is all about," Larkins said. "When the coach who lost the game comes up and tells you that you did a good job, that's the thing that really makes you proud."