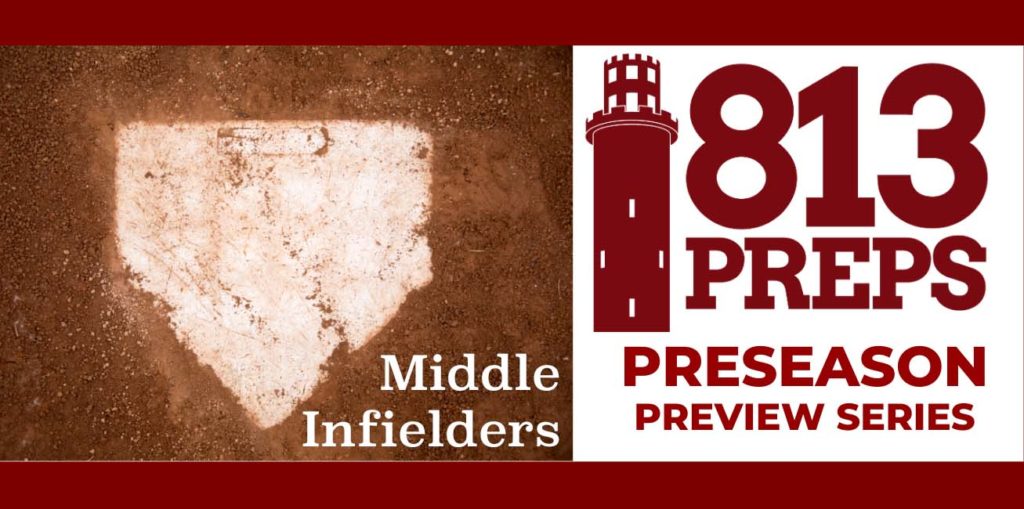 Editor's note: Our preseason coverage has changed up a bit this season as the FHSAA has realigned the district, making our normal district previews a little bit obsolete with so many out-of-county teams mixed in with our Hillsborough Co. programs. So instead, we have decided to break things down a bit, by position/position groupings and highlight a diverse selection over the next week. Please be advised, these are not a preseason all-county list. We'll save that for the end of the year. Instead these features will be a short breakdown of players who will be crucial to their team's success. In short, let's save the e-mail's about how wrong we are, the #slepton hashtags, and the lit torches and pitchforks at least until we release our preseason rankings next Monday. Much love, JG.
Next up we highlight the turn-two, infield wizards, heading up-the-middle with second base and shortstop (but let's be honest, mostly SS's) …
Cade Afeld, Newsome, 2B
The Wolves top of the lineup will again be sparked by senior Cade Afeld. The speedy second baseman scored 26 runs last year and stole 10 bases, while also having great range on the field and a solid arm. Newsome head coach Dick Rohrberg said Afeld is the leader on the field with a competitive streak that is unmatched, adding, "he never stops battling out there."
Trey Bacon, Sickles, SS/RHP
With a vacuum attached to his left hand and a hose affixed to his right, Trey Bacon has been coming through big-time defensively for the Gryphons for three years. His fastball that has been clocked at 90, which also makes the Tallahassee CC commit a value on the mound. Last year Bacon hit .333, scored 22 runs, walked 18 times and swiped 18 bags.
Donovan Garcia, Steinbrenner, SS
A four-year producer for the Warriors, the Flagler College signed (along with twin brother Griffin) Donovan Garcia will be relied upon heavily for Coach John Crumbley and his team. A 16-9 season and region playoff appearance for the Warriors was keyed by Garcia, who led the offense with a .368 average and 18 RBI. A versatile defensive player, who has also seen time in the outfield in previous years, Garcia will spark the top of Steinbrenner's offense.
RJ Gutierrez, Leto, SS
A devastating knee injury halted a scorching sophomore season at the plate for the Falcons shortstop, which saw him hit .379, with 13 RBI, 18 runs scored and 15 stolen bases in just 20 games in 2019. Fully healthy, Gutierrez is expected to be a catalyst for a Falcons team that has made back-to-back state semifinal appearances. Master-tinkerer coach JJ Pizzio may be spending extensive time in a dark room strategizing about his pitching rotation, but he won't have to worry too much about a scrappy, free-swinging, speed-to-spare offense with a healthy RJ back in the lineup.
Adam Haidermota, Robinson, SS
Batting atop the Knights lineup and a leader for his team under first-year coach Alex Barron, Adam Haidermota will be key moving to shortstop full-time this season. The new coach describes his senior captain as "hard-nosed and aggressive on the field," while adding that he has a great swing at the plate that seems to avoid slumps. Transitioning from second base to shortstop this season, Haidermota will serve as the on-field general for a team that should be very strong this season.
Brennan Hyde, Chamberlain, SS
Most of Brennan Hyde's junior season was derailed by Tommy John surgery, but he didn't miss a beat when he returned for the final two weeks of the season, going 5-for-11, with five runs scored and a double. Speedy, with great range and smooth hands Hyde will be a nice piece for first-year Chiefs coach Popeye Cole to work with. Hyde stood out at the 2018 Underclassmen All-Star Invite, and though the injury held him back last season, some coach at the next level is going to get a late steal in him.
Macallister Jorgensen, Riverview, SS
New to Riverview this season head coach Matt Stallbaumer admitted he didn't know much about Macallister Jorgensen, who was injured a bit during the fall. That changed the moment Mac got back in the mix this preseason. Jorgensen is an impact player with a calmness and skill for the game, making him a lead-by-example role model for younger players according to his new coach. A University of Tampa signee, Jorgensen earned All-813Preps first team honors last season, hitting .400 with 31 runs scored, 18 RBI and nine doubles.
Grady Maguire, Wharton, 2B
A four-year varsity player, who has been used everywhere in the field except pitcher and first base for the Wildcats, senior second baseman Grady Maguire will be an experienced leader and will be a part of one of the best up-the-middle groups in the county, partnering with shortstop Zach Ehrhard. Maguire is expected to have a "breakout season" according to Wildcats head coach Scott Hoffman. If he produces numbers similar to last year's .329 average, 24 RBI, 19 runs, six doubles and two home runs, "breakout" will be an understatement.
Dante Portillo, Bell Creek, SS
After leading the Panthers in hits (25), runs (28) and stolen bases (22), junior Dante Portillo was ridiculously efficient at the plate, having struck out just two times last season. He'll slide down from leadoff to second in the order this season and his coach Frank Burke said he hopes that ignites the hitters behind him while upping Portillo's RBI totals this season. His coach calls him the leader on the field defensively and he will support a young pitching staff with his defense.