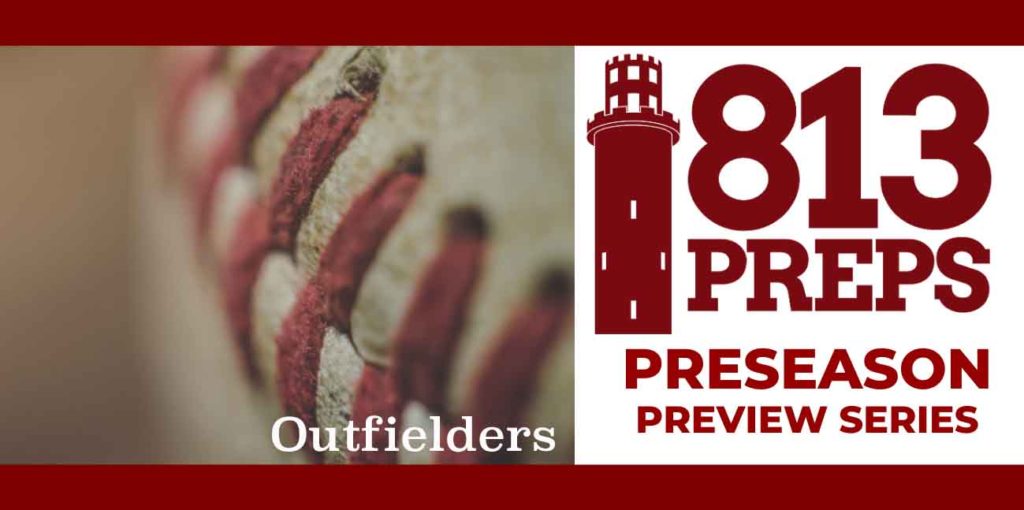 Editor's note: Our preseason coverage has changed up a bit this season as the FHSAA has realigned the district, making our normal district previews a little bit obsolete with so many out-of-county teams mixed in with our Hillsborough Co. programs. So instead, we have decided to break things down a bit, by position/position groupings and highlight a diverse selection over the next week. Please be advised, these are not a preseason all-county list. We'll save that for the end of the year. Instead these features will be a short breakdown of players who will be crucial to their team's success. In short, let's save the e-mail's about how wrong we are, the #slepton hashtags, and the lit torches and pitchforks at least until we release our preseason rankings next Monday. Much love, JG.
The green grass patrolling, crow-hopping, laying out specialists that make pitchers breathe easy, next up in our position previews are a collection of impact outfielders …
Damien Breton, Leto, CF
Junior centerfielder Damien Breton will be the last man in an excellent, up-the-middle defensive crew for Leto this spring. Breton fits in very well with the aggressive approach at the plate that has been the Falcons calling card under coach JJ Pizzio. Last season he hit .347, with 20 runs scored, 18 RBI and 11 stolen bases. Pizzio called Breton his "most complete athlete" for the state semifinalists last year, and made a seamless transition from the infield to the outfield, where he'll remain in 2020.
Jac Caglianone, Plant, OF/LHP
Plant junior Jac Caglianone showed some pop at the plate last season, driving in 19 runs and hitting a pair of home runs, while he also made a handful of appearances on the mound, posting a 0.78 ERA. The University of Florida verbal commit will be relied upon heavily at the plate, in the outfield and on the mound for a younger-than-normal Panthers squad this season. Head coach Dennis Braun, who has seen his share of sluggers come through South Tampa, says, "Jac has a chance to be a monster."
Tyler Castelli, Armwood, CF
Armwood senior Tyler Castelli led the way for the Hawks offense last year with a .403 average, 21 RBI and four home runs. He returns to patrol centerfield for Armwood and was praised by head coach Bobby Mondoux for his leadership as a communicator, and his ability to come through in clutch situations. Signed to play baseball at Embry-Riddle Aeronautic University next season, Castelli should be a big producer on a team that returns a solid rotation and 11 seniors this year.
Chris Chambers, Sickles, CF
Senior Chris Chambers biggest impact for the Gryphons last season was primarily as a speed-up runner, where he scored 18 times. However, is usage this season will see a massive uptick as he has grown on the field. He had a breakout summer on the travel ball circuit – including earning MVP honors in the Prospect Wire Florida State Championship. Chambers has committed to play at Thomas University (Thomasville, Ga) next season. He'll lead off for a Sickles team that should be a powerhouse in the county this season.
Jaiden Duarte, Jefferson, CF/LHP 
The Dragons junior uses his speed well and is excellent at tracking fly balls, but it's his arm's development that has coach Daniel Gonzalez excited saying, "his arm has gotten incredible." Not only will this help in the outfield, but the Dragons will also rely on the lefty on the mound this season. Last year, he scored 19 runs and stole 11 bases, and his coaches are looking for him to improve on his 16-hit season in 2019.
Dominic Gonnella, Bloomingdale, LF
Bloomingdale senior Dominic Gonnella is a beast of an athlete, and is a two-sport standout who is committed to play running back next year at North Dakota State. He hit .325 last year with 15 RBI and 19 runs scored. He'll hit third in a stacked Bulls lineup, behind Brock Wilken and in front of Colby Shelton and Jackson Hobbs, who also had more than 15 RBI each last year. According to coach Kris Wilken, Gonnella goes "on a tear and they can't get him out." Couple that with his speed that allowed him to steal 12 bases last season and a plus arm in the outfield, Gonnella is poised for a big year.
Renzo Gonzalez, Alonso, CF/P
An All-813Preps first teamer last year, Alonso junior Renzo Gonzalez hit five home runs, drove in 15 and scored 28 times, while putting up a .376 average. He's fast on the bases, makes good reads in the outfield and will be called upon to shove on the mound (11 appearances, 3.16 ERA last year). The Miami verbal commit will be the leader of the Ravens offense and be a nice partner to Sam Drumheller on the mound.
Alex Haire, Berkeley Prep, CF
Berkeley Prep's Alex Haire missed some time last season with an arm injury, but is back healthy for his senior season and brings it defensively in centerfield. In 2018, we recognized Haire on our inaugural All-813Preps "Defend10" team. Last season the injury affected him at the plate, though he did score 18 runs for his team. However, as a sophomore he hit .354 and scored 24 runs in 2018. Coach Richie Warren said Haire has a "plus arm and plus speed," that the makes a coach happy to "release him into the outfield and watch him run down everything hit out there."
Tony Watson, Tampa Catholic, OF
A consistent presence for the Crusaders over his career, Tony Watson is a highly athletic player who this year is moving from middle infield to the outfield for his team. A vocal team leader, Watson's start to the baseball season is on a bit of a hold as the multi-sport standout is currently helping his district champion soccer team in the region playoffs with 28 goals and 23 assists for the 20-1-2 Crusaders. TC baseball coach Ty Griffin said Watson's baseball IQ is "off the charts," and that his speed, especially his first step makes him a terror on the bases. Watson hit .361 as a junior, with 12 runs, 14 RBI and added 11 stolen bases.