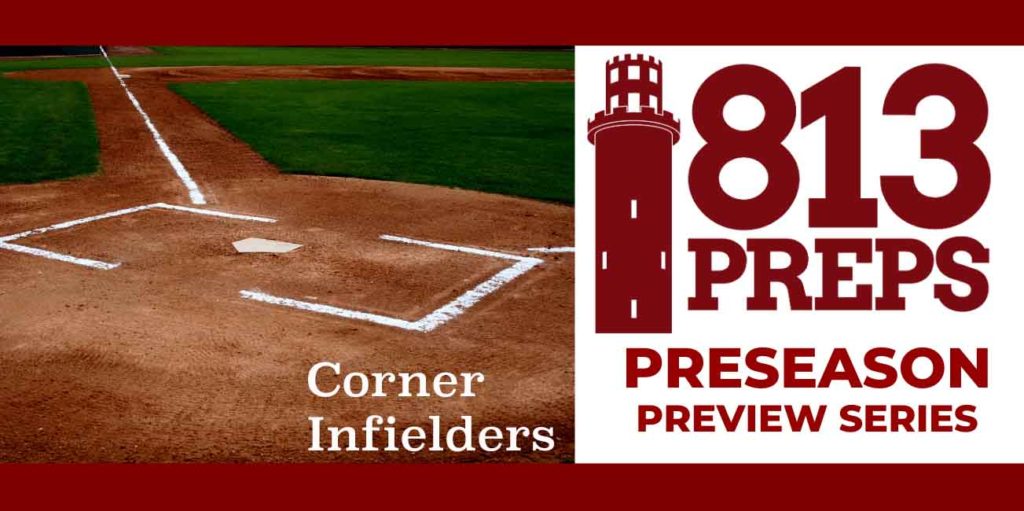 Editor's note: Our preseason coverage has changed up a bit this season as the FHSAA has realigned the district, making our normal district previews a little bit obsolete with so many out-of-county teams mixed in with our Hillsborough Co. programs. So instead, we have decided to break things down a bit, by position/position groupings and highlight a diverse selection over the next week. Please be advised, these are not a preseason all-county list. We'll save that for the end of the year. Instead these features will be a short breakdown of players who will be crucial to their team's success. In short, let's save the e-mail's about how wrong we are, the #slepton hashtags, and the lit torches and pitchforks at least until we release our preseason rankings next Monday. Much love, JG.
The bunt-charging, foul ball-snagging, dirt-scooping men on the edges of the infield – next up we focus on a group of area first and third basemen …
Brady Burgess, Hillsborough, 3B/P
Terriers junior third baseman Brady Burgess has put in a lot of hard work since last season and is slated to be a heavy-lifter for his team this spring. At third, at the plate and on the mound, a young Hillsborough team will need him to be the spark that 2019 grads Terence Doston and Juan Jaime-Nunez were. Burgess was 2-0 on the mound a year ago with a 3.23 ERA and will hit in the meat of the lineup this season.
Cole Cothren, Plant City, 3B
Last-year's Hillsborough County hitting leader with 42 hits and a .467 average for the state champion Raiders, Cole Cothren will be called upon to be a leader at the plate again this year. Cothren cuts an imposing frame at the plate at 6-foot-7, 210-pound, has fast hands that help him out on the field as well, and a strong arm. May see time at first base as well for Plant City.
Jose Figueroa, Tampa Bay Tech, 3B
The Titans leading returning hitter and now a senior captain, Figueroa hit .275 last season with five doubles. His biggest value a season ago was in his flexibility as he played all nine positions on the field at some point. TBT coach Brett Goodrich said that surrounding team depth has improved this season and that will allow Figueroa to have a more consistent spot at third. With a high baseball IQ, expect Figueroa to be the leader on the field for the Titans.
Jackson Hobbs, Bloomingdale, 1B
Jackson Hobbs' unselfishness and reliability wherever he was needed on the field last season made him invaluable for the Bulls last year. His solid defense in four different positions in 2019 earned him earned him our attention as we selected him to our All-813Preps "Defend10" team, after he committed just one error all year. Hobbs was no slouch at the plate either, hitting .312, with 17 RBI, 16 runs scored and a pair of doubles, and a stable role at first base and another year in a lethal lineup could even see bigger numbers this spring.
Steven Hotinski, Wharton, 3B
A huge jump from sophomore to junior year, saw Wharton's Stephen Hotinski jump .150 points in average to .352 last season, along with 24 runs, 19 RBI and five doubles. He will be a part of one of the most seasoned defensive infields for the Wildcats this year. Hotinski came to Wharton as a pitcher (a role he could see again this year), but stepped into the role at third very well. Coach Scott Hoffman said it's hard to get baseballs by him and that he has great movement – and always helps to get hot-corner tips from Wade Boggs.
Willie Jackson, Gaither, 3B
Gaither third baseman Willie Jackson is a dual-sport athlete, who also played linebacker for the Cowboys, and is expected by coach Nelson North to have a big season this year. North said he has a big swing and, "drops bombs." Last season, Williams produced 12 runs and 11 RBI, with five doubles.
Javy Quintana, Durant, 3B
Cougars third baseman Javy Quintana had a strong varsity debut season last year, hitting .309 with 11 RBI. Now a junior he'll be middle-of-the-order guy for Durant this season. He also has some experience as a middle infielder with a strong arm.
Ethan Sillart, East Bay, 1B
East Bay junior Ethan Sillart may not be the biggest name around the county, but according to his coach Cody Crouse, Sillart is "in my eyes the best defensive first baseman in the county." The Indians are looking to surprise some people this season and Sillart will play a crucial role in this. He has smooth hands and Crouse said he also expects to see big improvements at the plate as well.
Brylan West, Freedom, 1B/3B/RF
Freedom lost 13 seniors from last season and this season has 13 sophomores and freshmen on the roster. So, senior co-captain Brylan West will be looked upon as a leader for the Patriots as a key returner. Coach Tripp Merrell said West, "has the potential to be a county-leading hitter," while being a "moving piece" on defense. West hit .317 last season and also has some experience on the mound, that may be another need for this team.