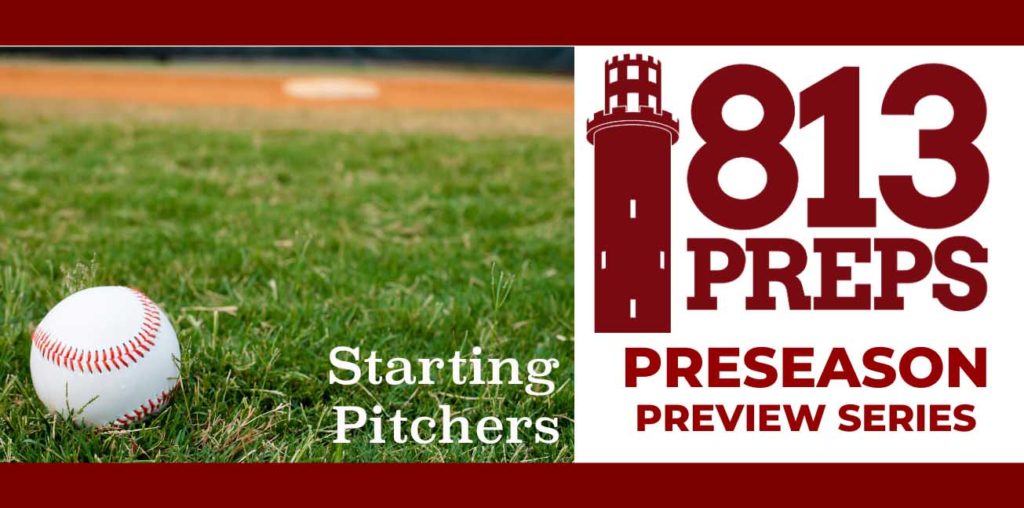 Editor's note: Our preseason coverage has changed up a bit this season as the FHSAA has realigned the district, making our normal district previews a little bit obsolete with so many out-of-county teams mixed in with our Hillsborough Co. programs. So instead, we have decided to break things down a bit, by position/position groupings and highlight a diverse selection over the next week. Please be advised, these are not a preseason all-county list. We'll save that for the end of the year. Instead these features will be a short breakdown of players who will be crucial to their team's success. In short, let's save the e-mail's about how wrong we are, the #slepton hashtags, and the lit torches and pitchforks at least until we release our preseason rankings next Monday. Much love, JG.
The Ace, fire-baller, hurler, bulldog, they get all the attention or shoulder lots of the blame, our biggest preview of the preseason, but just a tiny fraction of the arms that will be toeing the rubber this year …
Bryan Boully, Strawberry Crest
Big righty Bryan Boully (6-foot-2, 205 pounds) made 10 appearances for the Chargers last season and posted a 1.27 ERA and 14 strikeouts in 11 innings. This season his usage will see a big uptick as he is penciled in as the No. 1 for Strawberry Crestt. Boully, a junior, is verbally committed to Florida Atlantic.
Ryan Bradarich, Brooks DeBartolo
Senior lefty Ryan Bradarich returns to lead an experienced Brooks DeBartolo pitching staff after posting a 1.96 ERA and 45 strikeouts in 39 innings last season. The Nova Southeastern-signed Bradarich has focused on his strength and athleticism since last season according to Phoenix head coach Frank Scimeca, which will only add to his abilities as a leader. His coach added, "(he) relentlessly pursues each outing as if he were trying to throw a perfect game."
Ian Brown, Berkeley Prep
For the last two years, righty Ian Brown has been a heavily relied upon figure on the mound for the Buccaneers. Though not a fireballer, Brown is an incredibly savvy pitcher who mixes his pitches and produces on the mound. Last season he made 14 appearances, going 7-3 with a 1.36 ERA and 53 strikeouts, and began the year with a five-inning no-hitter against Carrollwood Day.
Zach DeVito, Newsome
An All-813Preps first team selection last season, Newsome senior Zach DeVito went 6-1, with a 1.09 ERA and struck out 53 in 2019. A Tulane commit, DeVito will again be paired with Cole Stallings as the Wolves have a nice duo to rely upon starting things off on the mound. Wolves coach Dick Rohrberg said DeVito, "does whatever it takes to win," and, "enjoys going at hitters directly and has no fear of any challenge in front of him."
Sam Drumheller, Alonso
Ravens senior Sam Drumheller made 10 starts last season going 6-1, with a 1.36 ERA. The 5-foot-10 lefty is a Florida Atlantic signee and pounds the strike zone, where he sat down 61 hitters with punchouts last season. Last season's complete-game, four-hit shutout win over Newsome included a dozen strikeouts.
Austin Grause, Gaither
Gaither junior Austin Grause had a steady year on the mound last season going 3-3, while posting a 1.84 ERA and 57 K's. But head coach Nelson North admitted that his commitment to the team and taking on a big role as starting shortstop (due to other player injuries) may have taken its toll. This year, Grause will lead things on the mound, while serving his team as first baseman when not on the bump. North said he expects this to pay off on the mound for the USF verbal commit: "Shortstop, just at practice is so much throwing. So, last year we did him a bit of a disservice. But that's the kind of kid he is, he'll do anything for you. And this year he's going to have a great year on the mound."
Marcos Herrand, Brandon
Brandon was a young team last year and inexperience was a bit of a problem, because of this Marcos Herrand's W-L record of 3-8 bore the weight of this. However, viewing just that number is unfair to the hard-throwing righty, who coupled that record with a 1.89 ERA and 79 strikeouts in 55 innings. The Hillsborough Community College signee will again be the workhorse on the mound for a more experienced Eagles team, and will also need to contribute at the plate.
Brayden Heidel, Steinbrenner
Brayden Heidel produced well on the mound for last year going 7-2, with a 2.51 ERA and 32 strikeouts for a region qualifying Steinbrenner. The Saint Leo commit returns as the Warriors No. 1 this season and will also mix in some at first base. The right-hander was an All-813Preps second team selection last season.
Sean Hermann, Durant
Durant's Sean Hermann was 3-4 on the mound as a sophomore last season, but has a big fastball and posted a 3.23 ERA, with 55 strikeouts to just 10 walks. Verbally committed to USF, Hermann was joined by two, experienced senior starters last year, but will be relied upon as the lead guy for this season's Cougars.
Kenny Keller, Robinson
Another player who will be shouldering a bigger load after the departure to senior leadership from last season, will be Robinson lefty Kenny Keller. Keller, a senior and Embry-Riddle commit made 12 appearances for the Knights last season, going 4-1 with a 1.83 ERA and 17 K's. Knights coach Alex Barron lauds Keller's "polish and command," saying his strengths as a leader has the coach relying on him as "almost an extra coach out there."
Camden Minacci, Jesuit
Camden Minacci has a big fastball, tons of polish and is a whirl of action on the mound. His success last year included a 12-1 record on the mound, a 1.12 ERA (which included not allowing an earned run in his first seven appearances), and 85 strikeouts helping his team capture the Class 6A state championship. The Tigers had one inning thrown last season by a senior and we could feature any number of Jesuit arms in this section, but the Wake Forest signee has earned all the attention he gets. A tireless worker off the field, who never settles and is always looking to improve – so any fears that Jesuit may be complacent this year should be eschewed with a perfectionist like this leading the staff.
Zan Rose, King 
There is always a bit of up-and-down cycles in high school baseball from year to year, but last season's 7-18 record was a tough one for the usually strong King Lions. However, Zan Rose was a reliable bright spot last year and will return to lead things from the mound as a senior. Rose went 5-3 last season with a 1.99 ERA, while striking out 65 batters to just 13 walks. He's battling a little bit of an injury, so his season start will be a bit delayed, but we expect him to be a top performer on the mound by season's end.
Tommy Turkett, Seffner Christian
Seffner Christian's Tommy Turkett has grown up with the Crusaders program … and we mean grown up. At 6-foot-5, the lefty strikes an imposing figure on the mound and has a fastball consistently in the mid-80s. Head coach Sal Giardina said Turkett has worked hard since last season and, "has matured so much as a player this past year." His coach said he's worked to improve his curveball, but Turkett also adds much as a leader and will serve as one of the Crusaders captains. He is signed to play next year at Florida Southern.
Danny Vassallo, Carrollwood Day
Carrollwood Day will be a very young team with not too much on-field varsity experience. That means senior leader Danny Vassallo will have to carry a huge load this year. Vassallo went 5-3 in 2019, with a 1.90 ERA with 57 strikeouts. He threw six innings of a no-hitter (with c/o 19 alum Blake Hooker finishing it in the seventh), only to follow up with a complete-game, perfect game two starts later. The Florida Tech commit also hit .328 with 17 RBI and will be the key piece in the offense for the Patriots this year.
Colby Welch, Tampa Prep
The FHSAA tinkering with the districts did little for Tampa Prep, as the Terrapins go from contending with 2019 Class 4A state champions Calvary Christian, to contending with 2019 3A state champions Lakeland Christian this year in the new 3A-District 7. However, Tampa Prep returns a number of good players including senior pitcher Colby Welch. The right-handed Welch was 4-1 last year, with a 2.72 ERA and 34 strikeouts, while walking just seven in 38 innings. He is committed to play next season at Springfield College (Mass.).
Jarod Wingo, Plant City
What you get in Plant City's Jarod Wingo is just a flat-out competitor. Nothing fancy here, he brings it, you try to hit it. Good luck. He had five wins in eight starts on the mound last season, including a complete-game win as the Raiders claimed the 2019 Class 8A state title. He struck out 54 batters last year, while also playing great defense at second base, scoring 14 times and driving in 11 runs. He'll head up a solid pitching staff and man the middle infield when not on the mound.