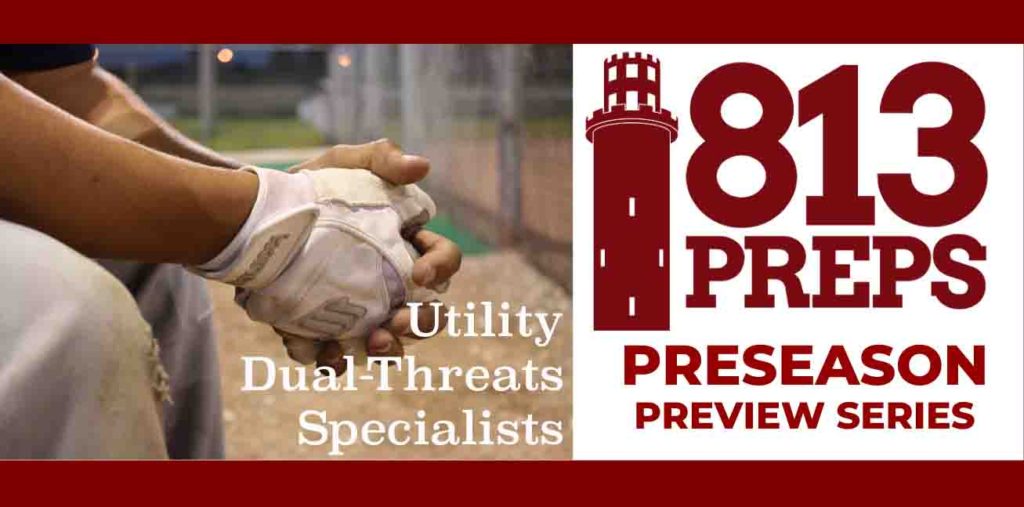 Editor's note: Our preseason coverage has changed up a bit this season as the FHSAA has realigned the district, making our normal district previews a little bit obsolete with so many out-of-county teams mixed in with our Hillsborough Co. programs. So instead, we have decided to break things down a bit, by position/position groupings and highlight a diverse selection over the next week. Please be advised, these are not a preseason all-county list. We'll save that for the end of the year. Instead these features will be a short breakdown of players who will be crucial to their team's success. In short, let's save the e-mail's about how wrong we are, the #slepton hashtags, and the lit torches and pitchforks at least until we release our preseason rankings next Monday. Much love, JG.
Today we look at the Swiss-Army Knives, the key cog, the finishers, we close out our Preseason Position Preview series by looking at the Utility men, Dual-Threats and Specialists …
Chase Centala, Sickles, P/1B
So, why wasn't Sickles' Chase Centala listed with the pitchers yesterday you are asking yourself? Simple. His production at the plate and his dealing on the mound epitomizes the "dual-threat" category we had planned for our final position preview. Centala hit .519 last season with 18 RBI and six doubles, while striking out just three times in 66 plate appearances. On the mound, he went 7-1, with a 1.47 ERA and 61 strikeouts. Centala is a University of Florida commit, takes over the No. 1 role on the mound and will man first base on other days.
 Tyler Dowdy, Plant City, P/1B/DH
Hey C-Rod, did you really think I was gonna forget about Big Country? Tyler Dowdy had a breakout year for state champion Plant City last season hitting .368, with 24 RBI, nine doubles and six home runs, including the game decider in the Raiders region final win over Seminole, and a pair of home runs in the state semifinal game against Hollywood McArthur. The 6-2, 240-pound Dowdy also went 6-1, with a 1.92 ERA and 57 strikeouts last season and was named to the All-813Preps First Team. He is signed to the University of West Florida next season, but this year will be relied upon at first base and as the Raiders No. 2 starter.
 Trevor Finan, Armwood, RHP/UT
Armwood's Trevor Finan will be crucial for the Hawks this season taking on the role as the staff ace after posting a 3-3 record and a 1.02 ERA last season with 50 strikeouts. He'll also be a big contributor at the plate after leading his team in at-bats a season ago, posting a .306 average, including nine doubles, 15 runs scored and nine RBI. Hawks coach Bobby Mondoux said the West Point-bound senior is a great leader who, "is not afraid to speak up and challenges his teammates to get better every practice."
Jeremy Galen, Riverview, C/3B/OF
Jeremey Galen will be tasked with a lot of roles for the Riverview Sharks this season from working behind the plate, manning the hot corner and patrolling the outfield. Galen's versatility defensively will make him a valuable commodity for first-year Sharks coach Matt Stallbaumer. "Galen will hold as much importance as anybody on this team, because he is being asked to do so many things from catch, to play third, to possibly play in the outfield. His versatility will be crucial to our success," Stallbaumer said … Galen is no slouch at the plate either, as he produced double digit totals in runs (16) and RBI (13) last season, as well as eight stolen bases.
Colby Fanning, Strawberry Crest, 2B/3B/UT
Labeled by head coach Eric Beattie as his "ultimate utility man," Colby Fanning had 19 hits last season and is a scrappy hitter with a great approach. However, his biggest asset for his team is not only playing wherever he is asked, but doing it so well all over the field. A second baseman, third baseman, wherever-he's-needed adaptability makes Fanning key to Crest's success this year.
Seth Gingrich, Lennard, SS/RHP
With Lennard losing 12 seniors from last year the Longhorns are going to be looking for a leader on the field. Seth Gingrich should shoulder a good amount of that load. Longhorns coach Kenned Duran said Gingrich, "has worked for everything he has gotten," and is a leader on and off the field. He will lead the Longhorns staff on the mound and serve as the defensive leader at short as well. Gingrich has signed to play at the next level at Penn State-DuBois.
Ryan Lowder, Steinbrenner, OF
Wait, an outfielder doesn't fit the utility or multi-position category, what gives? Steinbrenner senior Ryan Lowder falls into the category of specialist – and that specialty is getting on base. At the plate, Lowder is both aggressive and patient, but also fearless. In 2019 he reached base 52 times, with 19 hits, 14 walks, reached three times on errors and was hit by a pitch a state-leading 16 TIMES, all of which resulted in 20 runs scored. He added two home runs, six doubles and 11 RBI at the plate last season as well.
Turner Thompson, RP, Jesuit
There is perhaps no more valuable "specialist" in the game than the guy who's hand a coach can place the ball to finish things off in the final inning, a closer. And with a plethora of talented pitchers to turn to, Jesuit coach Miguel Mendez knows he's got his guy in senior Turner Thompson. The 6-foot-2, 210-pound right can bring it with a low-90s fastball and an attack mentality on the hill. Last season he had three saves, made 14 appearances, posting a 2.45 ERA, with 35 strikeouts in 20 innings. Menendez said the Tulane signee, "handle(s) the pressure of pitching at the end of games. He has the stuff and mindset you want to close out games."