TAMPA – A debilitating back injury not only took Berkeley Prep's Davis Childers off the baseball field, at one point the ailment even forced him from the classroom. But there was one thing the injury couldn't take from Childers – his spirit.
Childers and his family went through grueling months of doctor's visits, eventually receiving a diagnosis of a PARS stress fracture of the L-5 vertebrae on the right side (defined by the American Bone Health Organization as usually occurring in the lower back and results from repetitive hyperextension, or bending backwards, and rotation activities). Childers returned from the injury the next fall, only to have it happen again, this time the stress fracture was on both sides of his spine.
After hearing a multitude of plans and fluctuating "likely" outcomes from treatment, Childers and his family found a doctor, Donald Corenman in Vail, Co., who performed surgery to place a titanium screw and cable in his spine and placed him into an awkward and heavy metal back brace for four months.
The end result meant missing his junior season with the Buccaneers baseball team and also forced Childers to withdraw from that school year, as doctors said even the slightest injury, an accidental collision of shoulders walking in the hallways, a too-excited-moment from a classmate, or any other nudge could prove catastrophic to recovery.
It also meant there were days where Childers couldn't leave bed, where pain kept him from family events and friends, and because of not being able to attend classes put him behind his fellow classmates, who he had joined at Berkeley Prep in eighth grade and graduated last spring.
"I couldn't go back to school, I tried but the pain was still there," Childers said. "It was hard to sit at school, I couldn't carry a backpack, or carry a laptop, so we made the tough decision to withdraw from school and try to repeat my junior year."
Even though Childers was advised to stay away from school while in the back brace, followed by five months in extensive physical therapy, he couldn't completely abandon his team and the school's athletics program he dearly loved.
"It took a lot out of me," Childers said. "Knowing that baseball was something I loved and having that taken away, I really didn't know what to do."
Buccaneers head coach Richie Warren said Childers couldn't stay away entirely and he would often spot his player down the fence line watching his team, away from the rest of the crowd.
"He always showed up for practices and games even though he wasn't allowed to be in school," Warren said. "He stayed far away, in a big, limiting back brace, but he was always there, showing up because he understood there was something bigger.
"He never felt sorry for himself, he's always tried to use this in a positive way and that's the kind of kid he is, he finds the good in everything. Just showing up for your team and your school, that's what a leader does."
Through the injury, his teammates also never let Childers forget he was a part of their family and that he was in their thoughts.
"Once he went down, we had to rally around him and though we weren't able to see him in school, we wanted him to know he was absolutely a part of this team," Berkeley Prep senior Ian Brown said. "We wrote him cards after his surgery, and now he and I have lockers right next to each other and we have become great friends."
Eventually after the tremendous care from his doctors and the successful surgery by Dr. Corenman, Childers found himself physically getting stronger. He returned to school for his second run at his junior year in the fall of 2018. Still unable to play baseball, Childers found a new way to lead and support the Buccaneers athletic program as co-president of Berkeley Prep's Spirit Squad.
"This is actually my second year helping run the Spirit Squad," Childers said. "I help setup pep rallies, and try to get people out to as many sports as possible."
For the school's athletic director Bobby Reinhart, Davis' attitude and commitment to his school has been impressive.
"Even at times when he wasn't able to participate, he has been one of the people who is always rallying our student-body to get out and support our teams," Reinhart said. "So, there is this incredible selfless side to Davis as well, you just really want to go to bat for a kid like that."
In the summer of 2019, Childers started to feel dramatically better, pain and stiffness began to subside, and despite at least one local doctor saying he'd never do so again, Childers returned to the diamond, bat and glove in hand.
"I didn't play in a game until the first regular season game last year," Childers said. "It definitely took some time to get back used to live pitching, but really that was my first real year playing varsity baseball and I kind of consider that my freshman year."
Childers played in 28 games last season, and due to a Florida High School Athletic Association rule that states once a student-athlete starts their ninth-grade year they have four years to participate in varsity level athletics, he didn't know if last season would be his final in a Buccaneers uniform.
Fortunately for Childers, the FHSAA has stipulations in place for medical hardships, allowing qualifying student-athletes to appeal to a board and schedule a hearing before the committee but only after he becomes ineligible. After last season he and his parents, and Reinhart went to work filing the lengthy written appeal, sending documents, x-rays, and medical reports. And after being granted a hearing, Childers spoke before the committee, pled his case and was unanimously granted a fifth-year of eligibility.
"Davis is like a lot of Berkeley kids, a really classy young man who has never been in any sort of trouble," Reinhardt said. "Davis is a very easy kid to want to fight for because of the way he handled all of this, not being able to walk with his original class, not being able to be a part of his team, he faced it all with real maturity and that is what makes him so special."
Not only has he returned as a hitter, Childers has re-assumed his role as catcher, taking a pounding behind the plate and being a leader on the field again. He is also one of the team's captains this year.
"This has taught me a lot of patience, but it has also taught me that you can learn a lot, sitting back and watching," Childers said. "Sitting back watching, I started to see the right situations to try this or the other, and it taught me patience. That's something I'm trying to pass on to my younger teammates."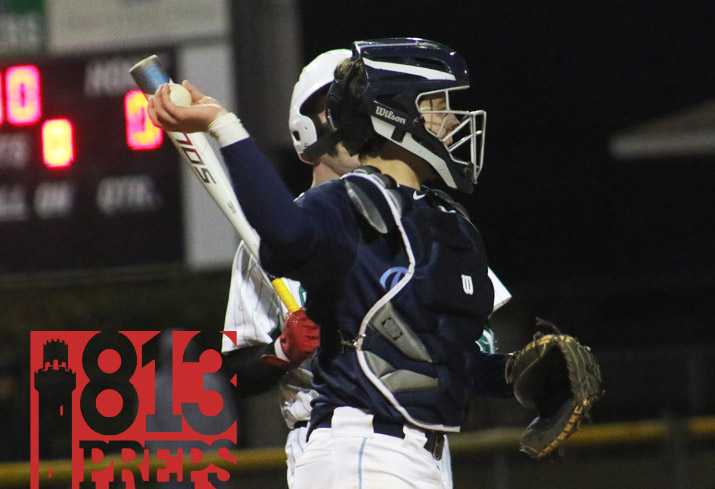 Brown, a starting pitcher for the Bucs, said obviously on the field he has a close relationship with his catcher Childers, but moreover as a person Brown said: "He's probably the best person I know. He's never said a bad thing about anyone, the most supportive person I know. I could walk four-straight, and he might yell at me a bit to get me back into it, but he'll also say I'm doing great and I've got this. I know he is always right there with me."
For Childers, one more season with his teammates at Berkeley Prep means everything, but with strong grades, solid extra-curriculars, and hopefully, a good senior season, he hopes his baseball career can continue at the next level. But through it all, Childers never let his injury, the resulting recovery and missing out on playing and graduating with his classmates, sour his attitude.
"I believe God gives His toughest battles to His strongest warriors," Childers said. "So, I knew if I fought, and kept pursuing my goal to play baseball for this team and Coach Warren, that I'd make it back out here."

News and Notes from around the 813
Family legacy important for Hillsborough's Urso: Hillsborough sophomore Sal Urso Jr. had a big day Saturday as the Terriers defeated Plant 16-8, with Urso knocking a pair of hits and two RBI on offense, and also tossing four innings of one-run baseball in relief to earn his second save of the season.
However, it was being on the field at Plant, where his father Sal had been a standout winning a state title with the Panthers in 1988 and was 13-0 for the state runner-up team in 1989, where his uncle Joe has his jersey retired, and where his cousins 2019 grad JD, and current Panther Preston Urso play, that added special significance. Sal and Preston even got to square off in the game, as Sal drew a walk in a showdown against his cousin.
"I had a showdown with his brother (JD) last year, but this was a fun one," said. "It's fun to pitch or hit against your family, and to come out of here with a win – it's great."
For his part, Preston stranded the runners in his one, scoreless inning of work for the Panthers.
Leto's mad scientist Pizzio back in the lab: Last year, Leto head coach JJ Pizzio went viral with a video he posted to social media of a "Table T" hitting drill he developed and uses to work on his hitters swing plane. To this point the original video, posted in May of 2019, has been shared across a number of social media sites and has more than two million views. Ever the innovator, Pizzio has now refined the drill, which is just one of a number of drills he uses, features a flat plane to teach a level swing and staying in a plane to promote a, "to it, and through it" approach. See the original video and the new one here:
The Original post made on Twitter, and also shared on Facebook:
Robert Gutierrez 2021 Leto Falcons SS .379 BA on the Table Tee…
we have used it for over 10 years..
It Works "To it and Through it"
Phase 1 of 3 pic.twitter.com/D81dEE27Ss

— CoachPZO (@LHSBB17) May 4, 2019
And the new and improved drill:
TABLE T version 2.0 little more launch, staying inside the baseball, driving through the baseball at a good plane not to steep and To it and Through it…Thanks ..Leto Falcons Baseball

Feel free to share and comment pic.twitter.com/0zcrbXt6SG

— CoachPZO (@LHSBB17) February 23, 2020