Staff Message: Coaches, we hope to bring you coverage on a weekly basis and hope to highlight as many athletes as we can. But your participation with the coaches who are already dedicated to producing these articles is needed. From results, to photos, to getting us in contact with your players, we need your help. You can tag us on Twitter: @813Track (click here) with potential story ideas or email our coverage coordinator at Benjamin.J.Henderson@gmail.com
By Bill Jenkins
TAMPA – A turning point of sorts for Jesuit vaulter Anson Rowe, a wake-up call to the crucial need of attention to the little things and a development of the relentless work ethic that the Tigers senior now identifies as his biggest strength, took a journey nearly entirely across the United States.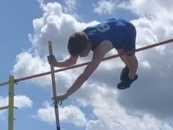 "We drove from Tampa to Des Moines, Iowa, through all those corn fields, over 1300 miles, for me to compete at the Junior Olympics, 21 hours of driving," Rowe said, "and I no heighted."
The Junior Olympics competition between Rowe's sophomore and junior year, and the disappointing personal result inspired a new dedication to his training and his chosen event.
Rowe is the "third Rowe in a row" to attend and compete at Jesuit. His father David was a standout soccer player for the Tigers graduating class of 1980, and his grandfather Joe was a member of the 1956 State championship football team. So, with a tinge of the Tiger Blue and White already coursing through his system it was no surprise that Anson decided to go out for the track team his freshman year. He wasn't initially a pole vaulter, but after watching Thiago Braz of Brazil soar to an Olympic record and gold medal in 2016, Rowe decided, "that looks kind of cool, I think I'll be a pole vaulter!"
His career began with a vault of 2.59m, followed by an interesting PR of 3.4m achieved inside the Avenues Mall at an indoor meet in Jacksonville. Rowe qualified for the state meet as both a sophomore and a junior, winning district titles in both 2018 and 2019. In this year's Steinbrenner Invitational, Rowe set a PR of 4.45m, bested only by the current overall state leader Kyle Murawski of George Jenkins, who is also the #3 ranked vaulter in the county. Rowe's vault of 14' 7 ¼" perches him atop the 3A state rankings and 19th nationally.
Rowe is excited about attending college, his preferences are Georgia Tech or UF, but his 4.58 GPA and passion for chemistry make academics his main focus as he looks forward to  continuing his educational endeavors (Rowe has never gotten a grade lower than an A). He definitely would like to vault collegiately, but his unyielding work ethic on the runway began in the classroom long before his first vault approach. Rowe's determination to achieve excellence in whatever he sets his mind to should go a long way in achieving his goal of becoming a Jesuit school record holder and settling in to a chem lab on a university campus.
The sky is literally the limit for this young man who appears to have his feet firmly planted in the air.
Area Round-Up
News and notes from Western Hillsborough track and field: Robinson's Ethan Geiger continues his tear through the distance races. Geiger ran a four second PR in the 800m at a dual meet on Tuesday. His time of 1:55.9 has him a scant .11 from being the state leader in the 800. This is on the heels of running a nation leading time of 9:06, 3200m at the Steinbrenner Invite … Sowande Walker of Alonso not only won the Steinbrenner Invite but also landed himself in the No. 1 spot in the Hillsborough County and at No. 2 in the state rankings, with a throw of 48.29 meters … Meghan Hughes of Academy of the Holy Names ran 2:21.01 in the 800m at the Calvary Christian Invite and is second in 2A … Plant's distance teams, coached by Roy Harrison (G) and Mike Boza (B), also occupy a number of places in the 4A state rankings. The girls 4×800 ranks first; Keith Gibson is ranked second in the 3200m and fourth in the 1600m; the boys team 4×800 is fourth; Mary Ellen Eudaly rank fourth and fifth respectively in the 1600m and 3200m; Margaux Shelton is ranked fourth in the high jump; sophomore Ryan Maney ranks sixth in the 800m; and 400m runner Avrel Jean sits seventh in the girls 400m.
News and notes from Central Hillsborough track and field: Middleton junior Quewanna Morris had never run the open 800m prior to this season. She debuted in the event at the Steinbrenner Invite and ran 2:24.90. She is ranked 14th in the state for 3A … Tiana Thomas of Blake had her second-best triple jump ever at a quad meet at Leto. Her mark of 10.5m (34' 5.5") ranks second in the county … John Mckenzie of Seffner Christian had a lifetime PR at the Steinbrenner Invite in the 1600. The senior, who was fifth at the 1A state meet for cross country, ran 4:31.91 and is third in the event in the state for 1A.
News and notes from Eastern Hillsborough track and field: Plant City's Austin Albright has started his junior campaign with a couple of PRs. Albright has run 14.97 in the 110m hurdles and 40.65 in the 300m hurdles over the first couple of weeks. He is ranked first in the county in the 110 and the 300 … Newsome had several fast performances in the 3200 during their quad meet at Spoto last week. Macarius Wright ran 9:20, Carter Stuhlmacher ran 9:51, Ashleigh Primacio ran 12:13, and Megan Wells ran 12:23 … Brandon freshman Ayva Bigord has staked her place in the high jump very quickly. She cleared 1.47m (4' 9.75") at a quad meet at Lennard without missing once. She is tied for fourth in the county.
Week 2 Track & Field Power Rankings
Editor's Note: These rankings are based on athlete rankings in the county that go 16 places deep. If an athlete is ranked first in the county, they get credit for 20 points. An athlete ranked ninth earns 10 points (all the way down to one point for 16th). This is in an effort to reward all around team depth vs having a couple of studs. Rankings accurate as of 2/26/20.
Boys:
1. Newsome (279 Points) – The Wolves hang onto their top spot thanks to some key performances at the Spoto Quad Meet. Newsome's 4 X 100, which is composed of John Arnone, Lamar Fredrick, Jose Rodriguez and Deandre Perez, is ranked 12th in the state for 4A after being 25th last year.
2. Steinbrenner (277 Points) – The Warriors have closed the gap on Newsome thanks to Josh King and Zach Harrington running 4:27 in the 1600. Aidan Bitter leads the county in three events.
3. Hillsborough (246 Points) – Fourth place finish at the Steinbrenner Invite. Angel Mendoza, Herman James, Jordaan Bailey, and Demarion Hopkins make up the fastest 4 X 400 in the county.
4. Jesuit (226 Points) – The Tigers were the highest finishing Hillsborough County team at the Steinbrenner Invite and have the strongest jumps crew in the county. Keller Agliano is third in the county for long jump and eighth for triple jump.
5. Berkeley Prep (187 Points) – Winners of the 20-team Calvary Christian Invite by 107 points. Logan Guzik is fourth in the county in the 110 hurdles and second in the 300 hurdles. Michael Jones is third in the state in 2A for shot put after his toss of 15.72m (51'7).
Honorable Mention: Wharton, Alonso, Robinson, Lennard, Plant
Girls:
1. Steinbrenner (269.33 Points) – Finished third at their own invite, but have taken over the top spot thanks to the performance of Jacquelyn Abanses. The junior is in the top three in the county in the 800, 1600, and 3200.
2. Newsome (258.7 Points) – Dominate at the Spoto Quad Meet last week, winning by 66 points. Keleigh Scallon and Emma Solis provide a one-two punch in the 800. They were joined by Kendall Hughes and Lillian Cowley to run the second fastest time in the 4 X 800 for 4A.
3. Hillsborough (253.7 Points) – Runner-up for the second straight week, this time at the Steinbrenner Invite. Jayla Troupe complimenting their sprint crew by being ranked third in the shot put
4. Plant (212 Points) – While distance is their calling card, they have also had contributions from their sprints. Avrel Jean and Claire Rain have both gone under 60 seconds for the 400.
5. Wharton (205.5 Points) – Laid low last week with a dual meet in preparation for their home invite this week. McKenzie Connor leads the county in the 100 hurdles.
Honorable Mention: Riverview, Academy of Holy Names, Berkeley Prep, Alonso, Lennard