Gaither's dugout watches as Frank Perez stands in (Photo by Andy Warrener).
By Andy Warrener
Staff Writer
TAMPA – It was a mismatch on paper but the visiting Wiregrass Ranch Bulls gave the Cowboys all they could handle taking the lead in the third inning and adding to it in the top fifth, but a string of four hits by the Cowboys in the home fifth, snatched back the lead and reliever Colin Jackson finished strong to preserve the 5-4 win.
The Cowboys (5-1) broke through in the second inning after a double-steal put runners on second and third and AJ Graham walked to load the bases. A sacrifice fly from Ben Vazquez cashed in Willie Jackson and an RBI single from K'Wality Williams, that stayed just inside the chalk on the third base line, brought Austin Grause home.
The Bulls (2-5) came back strong in the top third, when lead-off hitter Bobby Boser drew a walk, Chris Lebron singled to setup an RBI single from Dillon Lewis. Derek Baker ripped a line drive to centerfield to load the bases with no outs. Gaither catcher Jacob Choe blocked a pitch in the dirt with his chin to delay the first Wiregrass run, but it would come in on a Gaither attempt at a double play. The Cowboys got the force at second but an overthrow to first let two more Bulls run in. That was enough for Gaither skipper Nelson North and he tapped Colin Jackson to come on in relief. Jackson got a strike out to end the inning but the damage had been done. Grause was on the shelf and the Bulls were up a run.
Colin Jackson was steady in relief and didn't get into trouble again until the fifth when Dillon Lewis destroyed a ball that hit the right-centerfield wall for a double. Baker would follow with a single to right but a bad throw from the outfield let Lewis make it all the way home for a two-run lead. The Cowboys dug in and Jackson got a strikeout and the infield turned a 4-6-3 double play to keep the Bulls lead at two.
Then the Gaither bats woke up. K'Wality Williams led off the bottom fifth with a single and Frank Perez smashed a ball to left that got past Wiregrass leftfielder Mitch Ferrera.
"I was thinking fastball," Perez said. "It was a 2-1 count and I knew it was coming, so I got on top of it."
Once the ball got past Ferrera, Williams would score and Perez knew he had a shot at his first triple of the season.
"All I could see was the back of the left-fielder's jersey, so I went off," Perez said. "I knew we needed a spark, somehow. I knew we would come through in the clutch – we had some other big hits that helped us out, too."
Indeed, they did. Ruben Espinal singled down the third-base line to drive in Perez, stack the hit streak to three and tie the game at 4-4. Three batters later, Grause, who was never really on the shelf, playing as both starting pitcher and the DH, broke the tie. Grause singled to right to send Espinal home and take the lead back permanently.
"It was a big stress-reliever (to drive in the go-ahead run)," Grause said. "But that's why we have so many great players on the team. There are nine other guys to back you up. That's what good teams do, guys pick you back up."
Colin Jackson, who was a pitch away from being pulled, finished strong setting the Wiregrass hitters down in order in the sixth and giving up just one single to Baker in the seventh. Jackson struck out both the red-hot Lewis (2-for-3 with a double and an RBI until the last strike out) and Noah Johnson to retire the side and emerge with the victory.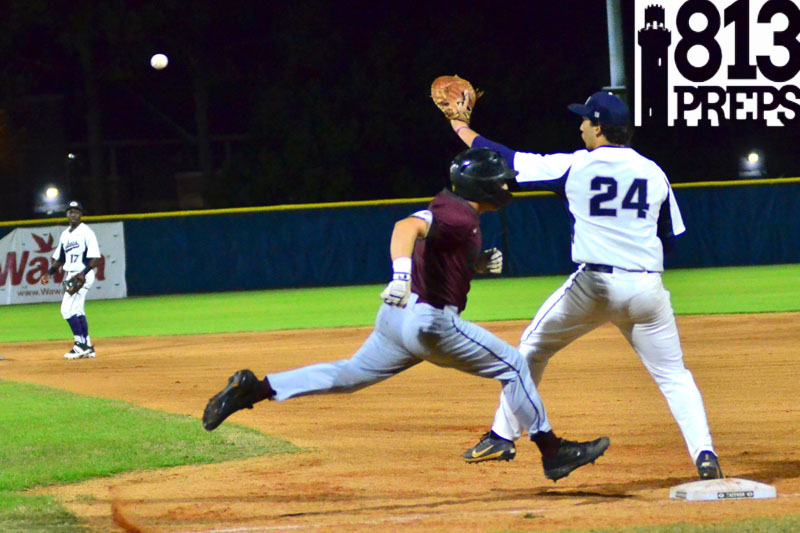 Jackson would finish with 4 1/3 innings of work, striking out seven and walking just one. Grause gave up three runs in 2 2/3 innings, but batted 2-for-3 with a walk and the go-ahead RBI of the game. Perez showed some power Friday night with two extra-base hits.
The Bulls did not bow their heads. They were content to have taken the Cowboys the distance.
"I'm proud of the way we played tonight," Wiregrass Ranch coach Marshall McDougall said. "We had eight hits and some hard-hit balls and we bounced back from how we've played the last couple of games."
The Bulls platooned Wills, Kyle Scrape and Costa and only gave up seven hits but the hits were timely. Baker was 3-for-4 for the Bulls at the plate.
–  Andy Warrener is a longtime area journalist and photographer. Follow Andy on Twitter at @jawarrener
Gaither 5, Wiregrass Ranch 4
WR 003|010|0 – |4|8|2
G     020|030|x – |5|7|3
W – C. Jackson (2-1); L – Scrape.
2B – Lewis (WR); F. Perez (G); 3B – F. Perez (G). Records – WR (2-5, 0-2 in 6A-9); G (5-1, 2-1 in 6A-9).