Staff Message: Coaches, we hope to bring you coverage on a weekly basis and hope to highlight as many athletes as we can. But your participation with the coaches who are already dedicated to producing these articles is needed. From results, to photos, to getting us in contact with your players, we need your help. You can tag us on Twitter: @813Track (click here) with potential story ideas or email our coverage coordinator at Benjamin.J.Henderson@gmail.com
By Bill Jenkins
TAMPA – Plant distance runner Alix Rubin has faced adversity before, but through struggles and even questions of doubt, she has remained focused on her goals and worked to achieve them.
When Rubin was in middle school she was diagnosed with a heart disorder and had to wear a Holter monitor for about a month. A scary situation for her and her family, but as any young person might, Rubin had concerns for a different reason.
"Being the vain 12-year-old that I was," she said. "I was not at all happy about carrying around a device with wires coming out of it."
Fast forward to this past fall, Rubin was left off the Panthers state roster in favor of another runner who Plant coach Roy Harrison thought would give the Lady Panthers the best shot at repeating as 4A State Cross Country champions.
Obviously devastated, Rubin still struggles with the "why" of that situation, as she did with the question of the heart condition. But being the thinker that she is (including earning the Class of 2020 salutatorian honors at Plant High with a weighted 10.4 GPA), Rubin, who said she is interested in a career in bio-medical engineering in the future, said her desire is to provide more patient-friendly solutions for issues like her Holter monitor – a type of ambulatory electrocardiography device, which monitors heart rhythm – and to be able to help others deal with those difficult "why did this happen" questions.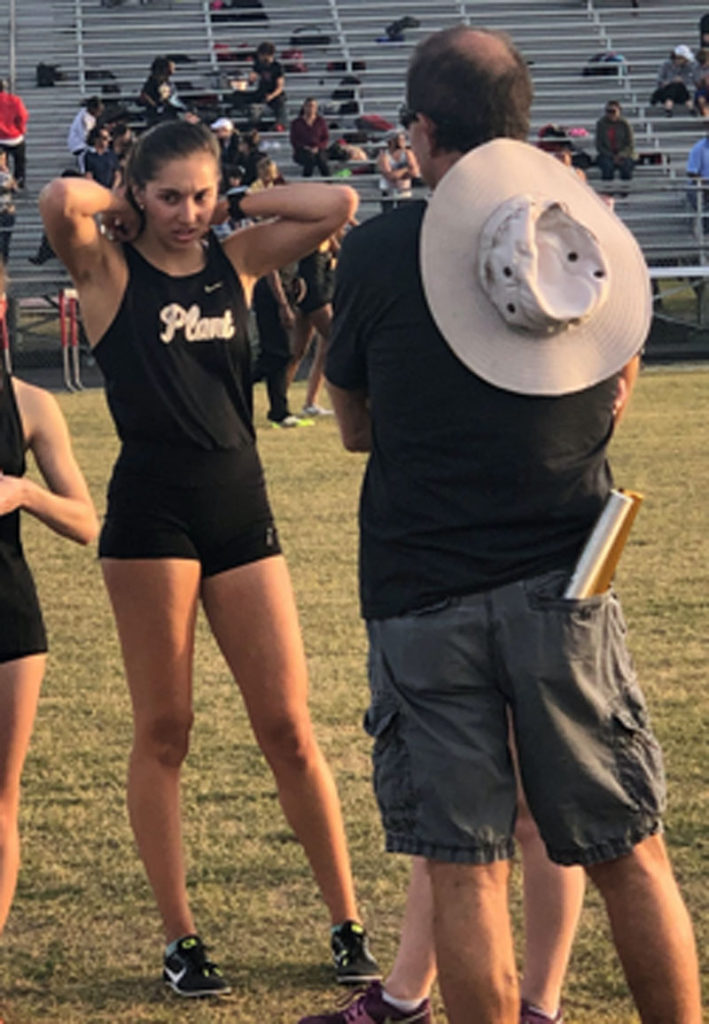 Her role as an executive board member of Cross Out Cancer – a local group that according to its website began in 2015 and is "composed of driven young high school students and cross country runners … seek(ing) to unite the Tampa community and make a difference in the fight against pediatric cancer at Johns Hopkins All Children's Hospital in St. Petersburg" – is certainly readying this her for just such a purpose.
Rubin's athletic career began at eight years old when she started swimming, which she would do competitively until her sophomore year of high school. At the beginning of her freshman year, she discovered a talent for running cross country and by her sophomore year, she was faced with the decision to choose one sport over the other.
"Coach Harrison told me I had great potential as a runner, but that I might want to devote all my efforts to either running or swimming," Rubin said.
At this point she became a full-time harrier, leaving the cool pool for the sweaty trails. The highlight of her running career came in 2018 when she helped lead the Lady Panthers to a record 11th state championship, all under the tutelage of coach Harrison.
But more important than striving to win a high school cross country race, Rubin has gone the distance in helping win the race against cancer. Her position as race manager for the annual Cross Out Cancer 5K and membership on the executive board of Cross Out Cancer has given her an opportunity to help others, to answer those "why" questions, and the funds raised over the past six years (to date Cross Out Cancer has partnered with John Hopkins to donated over $350,000) have helped young cancer patients and their families deal with the day-to-day challenges of the disease. Last year alone, COC presented a check for $80,000 to John Hopkins, to help pay for things such as a new air conditioning unit for a family, so that upon their arrival home from the hospital they had a  more comfortable environment in the Florida heat.
Rubin is indeed a solid cross country and track athlete, she is a scholar of great repute, having received only two B's during her secondary education career, but her true measure is her sincere desire to see others deal with their struggles in a way that would not leave them asking "why me?", but more so, have a way to use their struggles and experiences to benefit others. A far cry from that vain 12-year-old.
For more information on Cross Out Cancer follow the link: www.crossoutcancer.org
Area Round-Up
News and notes from Western Hillsborough track and field: Christopher Sheppard III of Carrollwood Day School had a huge jump of 13.19 meters in the Triple jump at Berkeley on March 5. He is now ranked first in the county and third in the state in 1A in the event … Josh King and Jackie Abanses are both ranked in the top ten 4A statewide of the 1600m & 3200m, with the Warriors distance standout Abanses also achieving a No. 6 ranking in the 800m … Alonso discus thrower Sowande Walker hurled a PR Wednesday night, with his toss of 51.84m landing firmly in the No. 1 spot in 4A state and #2 ranking in all classes.
News and notes from Central Hillsborough track and field: Middleton performed well as a team at the Nash Higgins Relays. In addition to first place finishes in the 4×400 and Sprint Medley relays they also got a big boost from David Dor, who finished second in the Triple Jump and fifth in the 110 hurdles.  The 4×100 relay team also ran to a fourth-place finish … Jahari Whyms of Brandon edged Adrian Wallace of King in the 100m, :10.86 to :10.87. Wallace returned the favor in the 200m by beating Whyms :22.15 to :22.45 … King's Jadaah Wingfield doubled in the 100/200 for two first-place finishes. The freshman dropped a huge PR in the 100m and ran a county leading :12.36. As a result of her efforts, the King girls are now ranked in the Top 10 in our power rankings.
News and notes from Eastern Hillsborough track and field: After the 100m hurdles at the Nash Higgins Relays, many coaches were looking around wondering who the winner – Newsome's Kacyee Martin – was. It was Martin's first recorded race of the season and there was no record of the junior from the previous two seasons. As it turns out, Martin recently moved to Lithia from Canada. According to Newsome coach Brian Sears, Martin hadn't run the hurdles yet because she was nursing an injury … Speaking of the hurdles, the shuttle hurdles were not contested this year at the Nash Higgins but Strawberry Crest would probably have done well had it been run. Emma Narvaez (:17.14), Kira McClard (:18.77), and Kylee Herndon (:18.94) all finished in the top eight of the open 100 hurdles … Lennard's Isiah Carlson is adjusting to life in Florida well. The senior moved to Ruskin from Illinois in the offseason and won the shot put at the Nash Higgins, despite minimal warm-up after rushing over from discus. Carlson has also won three of his four shot put competitions this year and is ranked 15th in the state for 4A. He is also 20th in 4A for the discus.
Week 2 Track & Field Power Rankings
Editor's Note: These rankings are based on athlete rankings in the county that go 16 places deep. If an athlete is ranked first in the county, they get credit for 20 points. An athlete ranked ninth earns 10 points (all the way down to one point for 16th). This is in an effort to reward all around team depth vs having a couple of studs … Note that starting next week, times over a month old (which will be times from the first week of the season) will not be counted towards the rankings in an effort to reflect the current state of each team. Rankings accurate as of 3/11/20.
Boys:
1. Newsome (301.5 points) – Back on top this week after finishing runner-up at the Nash Higgins Relays and winning the Spoto Quad. Athanasios Owens provides depth in the shot put to go along with six runners from Newsome who have run 10:00 or faster for the 3200.
2. Steinbrenner (268 Points) – Third place at Nash Higgins. If the javelin relay was contested, Steinbrenner would have had a good shot to win. Matthew Begg, Connor Coles, and Jacob Plennert are all ranked in the event.
3. Hillsborough (228.1 Points) – Winners of Nash Higgins. The Terriers showcased their strength in the relay events and are now ranked in the top eight in the county in the 4 X 1, 4 X 4, and 4 X 8.
4. Berkeley Prep (218.5 Points) – Winners of the Berkeley Tailgate Meet. Ross Miller can not only score in the javelin and discus, but he is also ranked in the county in the high jump.
5. Jesuit (215.6 Points) – Top ranked last week but down to fifth this week after laying low over the weekend. Sage Farhad showed that Anson Rowe is not the only pole vaulter at Jesuit who can score points.
Honorable Mention: Wharton, Lennard,  Alonso, Robinson, Tampa Bay Tech
Girls:
1. Newsome (315.38 Points) – Winners at Nash Higgins. Like their boys team, Newsome has great depth in the 3200 with three girls under 12:30 including Megan Wells. The debut of Kaycee Martin has further bolstered Newsome's spot in the county.
2. Steinbrenner (259.25 Points) – Finished just two points behind Newsome at Nash Higgins. Ryan Parsons set a PR last night in the high jump (1.56m/5' 1.25").
3. Wharton (240 Points) – Third place at the Cypress Creek Invite on Saturday. Florida Southern commit Jinia Johnson set a PR in the 1600 at Cypress Creek (5:27)
4. Hillsborough (219.25 Points) – Fifth place at Nash Higgins. Lailah Carr is ranked in all three throwing events.
5. Berkeley Prep (186 Points) – Winners of their Berkeley Tailgate Meet. Carsyn Martz had a PR of 2:23.22 at the meet.
Honorable Mention: Plant, Alonso, Academy of Holy Names, Riverview, King