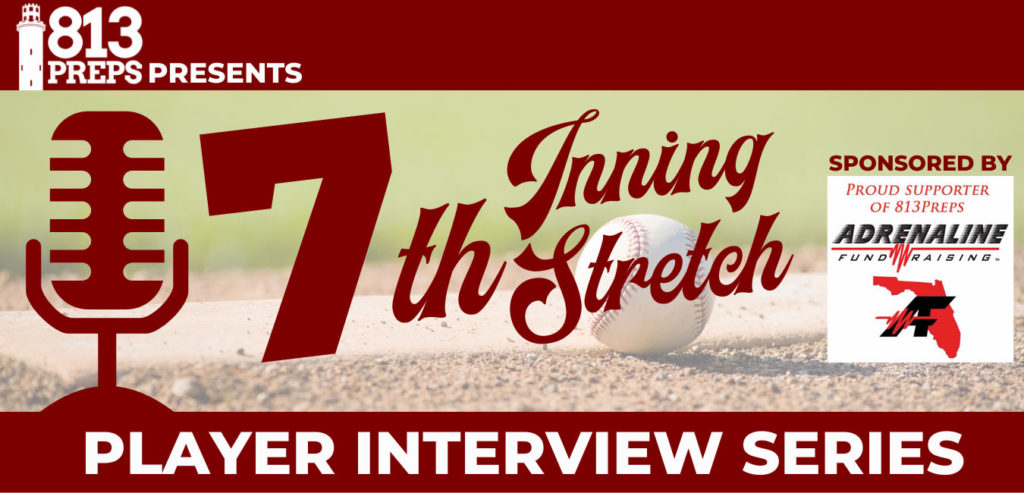 Editor's Note: While our season is at a standstill, our 813Preps team has been trying to produce positive content and through those efforts over the previous two weeks we have spotlighted players from across the county on Instagram and Twitter. This week, we decided to change our 813Preps Player Focus section a bit, bring it to the main site and get to know players a little more through a series of seven question Q & A's we're calling the "813Preps 7th Inning Stretch."
     We have chosen this rather than a slate of stories about what has been taken away from all of us, because we are all keenly aware of what we are missing. Instead, while we all stay safe, stay healthy and stay active during this time of social distancing, we have chosen to focus on the positive – what makes us love this game, what drives us and what motivates us. We hope you enjoy. Coaches – if you have an uncommitted senior who you think we should recognize, please reach out to our editor at jarrettguthrie@813preps.com.
We kick things off with a conversation between our editor and Berkeley Prep senior Ian Brown …
Ian Brown, RHP, Berkeley Prep
Ht/Wt: 5'11/185
GPA: 3.5
Up next: uncommitted; college interests
Player Focus Breakdown: Brown is a four-year varsity player at Berkeley Prep, who has compiled a 15-3 career record, with a 1.73 ERA and 97 strikeouts. He is 2-0 this season with 18 K's in 14 innings of work, with a 1.43 ERA and is a senior captain for the Buccaneers.
Coach's Thoughts: "Ian Brown is a competitor, a relentless worker and a leader, who was voted captain by his teammates. He is everything Berkeley baseball should stand for – a great student, great teammate, respectful towards others, and plays the game the right way. Before our season was paused, Ian was starting to get looks for D1 schools. The kid can flat out pitch, he's not afraid, he wants the ball in his hands with the game on the line. Ian can and will pitch at the next level. He is a great baseball player but a better human. He is the type of person I want my own two boys to be around and see what it means to be a decent human being. To show them how to look out for others before your own self. To show them how you are supposed to treat others. To show them how you can make a positive difference in the world." – Berkeley Prep coach Richie Warren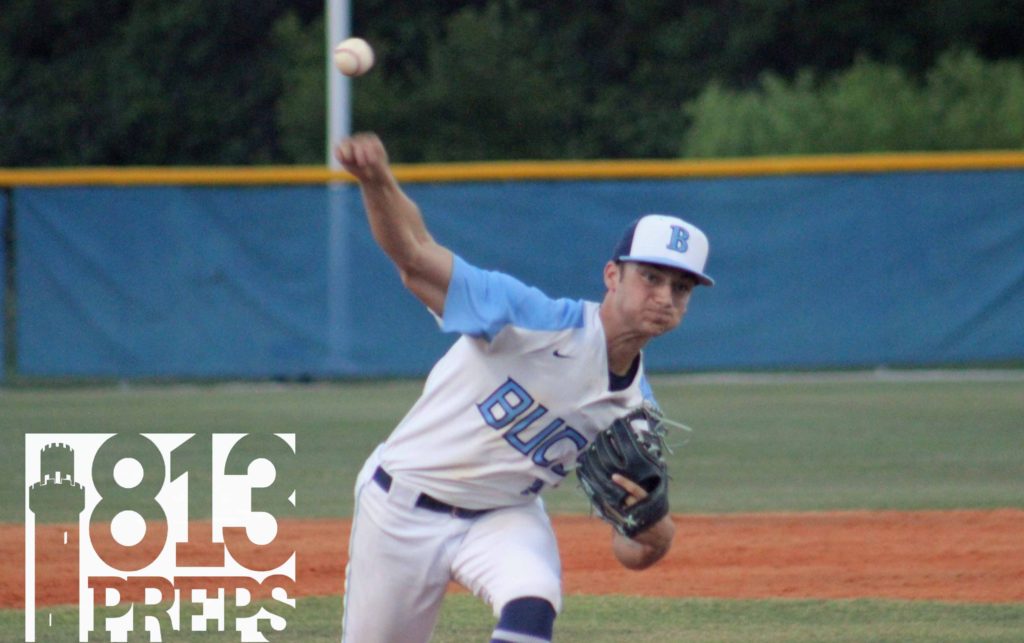 Jarrett Guthrie: What is your first baseball memory?
Ian Brown: My first real vivid baseball memory is the 2008 World Series and the Rays. My dad and mom took me and a friend to a game and I was about 6(-years-old). I don't remember exactly what happened in the game, but it is my earliest memory of falling in love with the game.
JG: Who has had the biggest impact on your life?
IB: My Dad (Stuart Brown), definitely. He's always been my biggest supporter through baseball, school, really anything I've ever wanted to do. He's always been there for me and always helped me do it.
JG: So, when you were young playing in the yard with friends, did you ever pretend to be a specific player?
IB: It switched a bit, but when I was really young, being a righty, I always loved Carl Crawford because he was No. 13 and that was my favorite number. I would try to swing like him, be as fast as I could, try and steal a base and get to third.
JG: I know now you're a PO (pitcher only), but what do you miss most about stepping into the batter's box?
IB: Getting on base. When I was hitting, I just wanted to get on base, wreak some havoc and find a way to get around and score. I was never really a power guy, I just loved getting on and working my way around.
JG: Starting pitchers don't really get the opportunity like hitters do, but if you had a choice, what would your walk-up song be?
IB: That's interesting, I haven't really thought about that. I think we were going to try and do pitcher walk out songs this year for the first inning after the National Anthem and everything. But turns out we started winning games, and we played one particular song after the anthem and we started winning (Berkeley was 11-0 when the season was halted) and that is (Blake Shelton's) "God's Country." So, if I had to go with one, I'm going to stick with what has worked and kept us winning, so I'd go with "God's Country."
JG: Here's one that might get you into trouble, who is the best catcher you've ever worked with?
IB: It's Davis (Childers) and it's not because he is the most talented, because I've worked with guys who should be top draft picks, but we have this really good connection. He knows what I want to throw, I know what he's thinking for the next count. And most of the time, we are both right. If we are wrong, we know each other well enough to know how to fix it. It's off the field too. We're really great friends and that connection carries over with me on the mound and him behind the plate.
JG: What would the opportunity to play at the next level mean to you?
IB: It would mean everything. Baseball and school are my whole life, and if I could have that continue for as long as possible that would mean everything. I've loved baseball for as long as I can remember, and I never see that stopping. Playing at the next level would allow me to keep doing what I love. Nothing would mean more than that.