Staff Report
There are so many unanswered questions while we all adjust to the situations we now face due to the novel COVID-19 pandemic, and many more questions that haven't even yet been asked. From our standpoint as a media outlet covering youth athletics, we have had many conversations about what is the right thing to do.
Do we publish stories about opportunities lost? Do we focus on what happened in a possibly shortened, but most-likely doomed 2020 season?
Honestly, we still don't know.
We have tried to focus on positives and to keep our collective spirits up by showcasing players on social media and others on our main site.
And we can't help but think we could be doing more for our Hillsborough County high school baseball family — especially for those upperclassmen who have lost incredibly crucial opportunities to be seen by those at the next level. This is a unique situation we are facing in the high school baseball world and the challenges ahead will be ones that even now we don't fully grasp.
However, what is clear is that the dynamic of recruitment — especially that of the collegiate levels of Division II, III, JUCO and NAIA — will face a dramatic shift this season, especially for the Class of 2020. The recruitment process for the uncommitted senior is going to be extremely limited. D2, D3, JUCO have already passed the rule allowing seniors and sophomores for JUCO to return academically and athletically in 2020-21 which will negatively impact the uncommitted senior.
For this reason, 813Preps has gladly accepted the invite to partner with Sickles coach Eric Luksis and Strawberry Crest coach Eric Beattie in planning a series of showcase events singularly focused on nearby colleges at the above-mentioned levels, providing an opportunity for still-uncommitted seniors and juniors to be seen by coaches.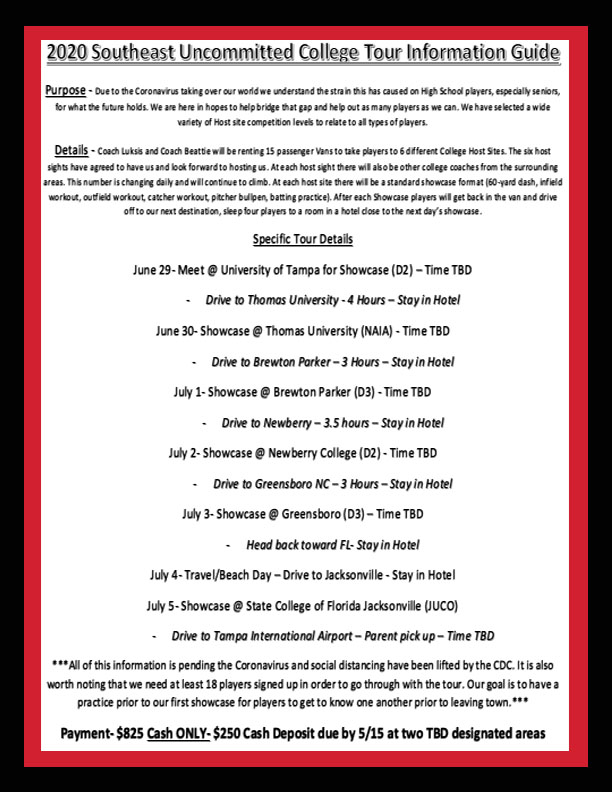 The hope is helping these student-athletes find spots to continue to play the sport they love, while also getting an education and building for their futures.
These two coaches understand how the process works and know there is still a window of opportunity for these players. Seeing the talent in the area, we are certain there are homes for these players, we just need to find them and quickly.
Ultimately, this tour is going to serve as a potential "last shot" opportunity. The longer we wait, the more difficult it's going to be.
The reason our site chose to be a part of this was simple: our goal from the start of four years ago has been to spotlight the hard work put in by our baseball athletes in Hillsborough County, to recognize how hard they work and help promote them in any way possible.
With the 2020 high school season likely over, we wanted to help find a way that this year's seniors have every opportunity to find spots to continue their playing careers. We were pleased to be invited to be a part of this tour.
For Beattie and Luksis, who both played collegiately at the University of Tampa — where our tour is scheduled to kick off from on June 29 — the reason behind this was simple.
"Playing college baseball was what molded us into the people we are today and was one of the best experiences of our lives. We want to give back to the community and hopefully give a player the same type of feeling in their lives. We understand this virus seems so unfair in so many ways, which is what led us to making the decision on what we can do to HELP the senior class who need a home, and support the junior class that lost the most important season of their high school career for recruiting. As coaches, we understand most baseball players and athletes have two goals athletically, winning championships and moving on to the next level. We take a lot of pride in trying to help these players achieve these goals before they leave high school." — Luksis and Beattie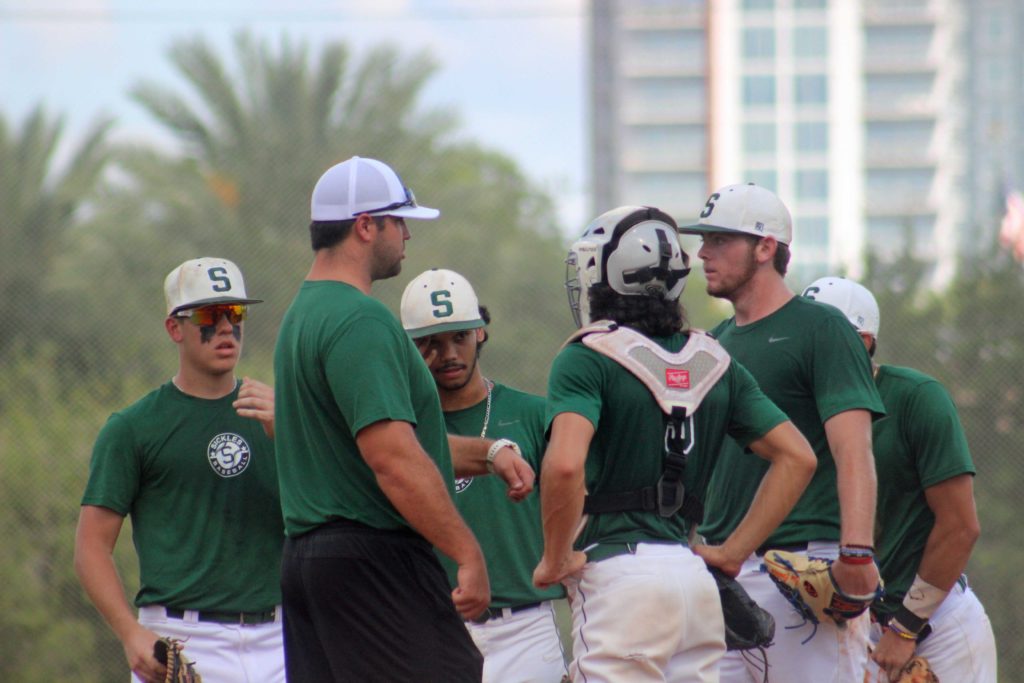 We have selected specific schools that are still in need of players. These schools WANT to come watch and are hopeful to sign some players on the tour. They are not there to get a small stipend for showing up, like how most college showcases work.
The price for the tour has been kept incredibly low at $825 (cash), with a $250 deposit to reserve players spots needed by May 15. This cost includes, travel expenses, hotels and costs pertaining to the showcase events. The price does not include food and individual player incidentals. 813Preps editor Jarrett Guthrie will be joining the trip and providing social media and video content, and player information to attending coaches and college scouts.
Obviously, with today's FHSAA announcement leaving the door open to the possibility the season will return and continue through June 30, things are still up in the air. If our wishes are fulfilled and the season does continue through June, any deposits made will be refunded in full.
If you have any questions, please reach out to Coach Beattie at eric.beattie@sdhc.k12.fl.us or coach Luksis at eric.luksis@sdhc.k12.fl.us.