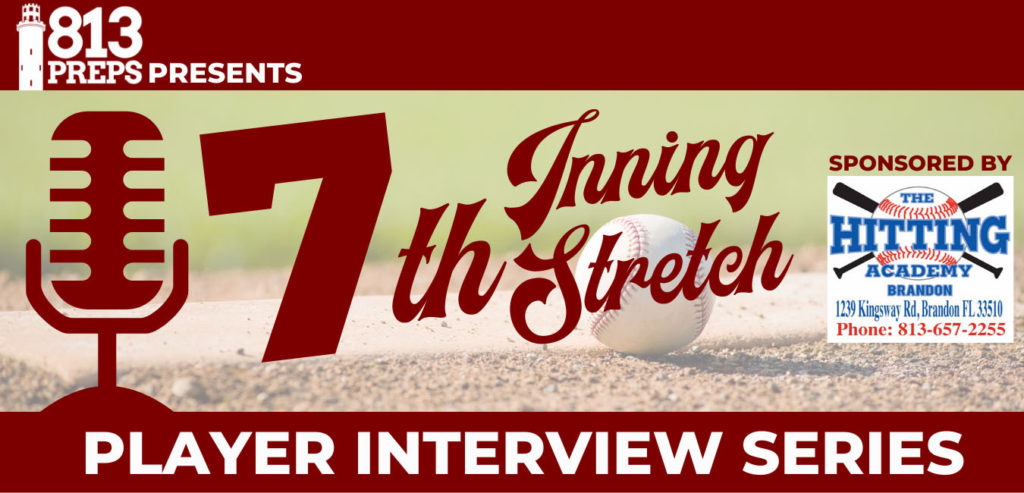 Editor's Note: While our season is at a standstill, our 813Preps team has been trying to produce positive content and through those efforts over the previous two weeks we have spotlighted players from across the county on Instagram and Twitter. This week, we decided to change our 813Preps Player Focus section a bit, bring it to the main site and get to know players a little more through a series of seven question Q & A's we're calling the "813Preps 7th Inning Stretch."
     We have chosen this rather than a slate of stories about what has been taken away from all of us, because we are all keenly aware of what we are missing. Instead, while we all stay safe, stay healthy and stay active during this time of social distancing, we have chosen to focus on the positive – what makes us love this game, what drives us and what motivates us. We hope you enjoy. Coaches – if you have an uncommitted senior who you think we should recognize, please reach out to our editor at jarrettguthrie@813preps.com.
Our 7th Inning Stretch series continues as 813Preps creative director Mike Camunas checks in with Chamberlain senior Brennan Hyde …
Brennan Hyde, SS, Chamberlain
Ht/Wt: 5'10/155
GPA: 5.4 (weighted); 3.6
Up next: Uncommitted
Player Focus Breakdown: Since becoming a team captain as a sophomore, Hyde has been one of the best players Chamberlain has had in recent memory. Despite missing most of his junior season recovering from Tommy John Surgery, he returned with four games left and went 5-for-11, scoring five runs. Hyde was also a standout at the 2018 Uncommitted Underclassmen Showcase that's run every fall by the Tampa Bay Sports Commission. Prior to the 2020 season being halted, the Chiefs were 1-6, but being led by Hyde, who hit his first two home runs of his career thru seven games. Hyde also participates in several extracurricular clubs at Chamberlain, including the art club, DECA (Distributive Education Clubs of America), PCA (Positive Coaching Alliance) and the Science Academic Club
Coach's Thoughts: "Brennan is a hard-working athlete, a leader on our team, and everything kind of revolved around him for us (this season). He has a great work ethic, always comes to practice with the mindset that we are going to get better today, then we were yesterday. He has great potential to be a star at the next level, and he is also a great student and leader in the classroom … He was someone I went to when I arrived to find out about a bunch of the other players. He was very helpful for me when I arrived and very instrumental in helping me adjust to Chamberlain baseball. I just hate that I only had him for just one year and I really wish that I had more than one year with him, because I really look forward to seeing how successful he's going to be in whatever he decides to do." – Chamberlain head coach Robert Cole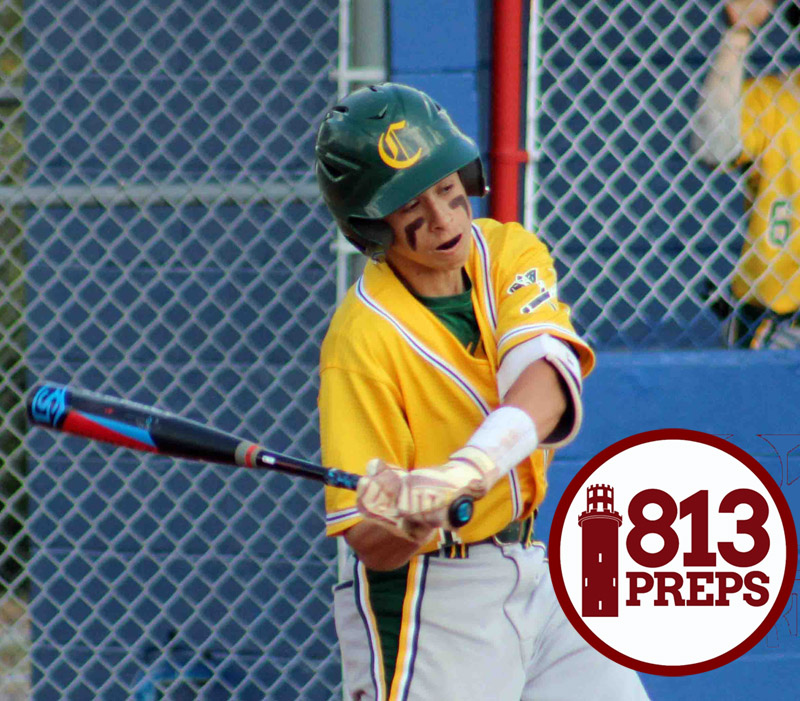 Mike Camunas: At Chamberlain, there weren't many wins to hang a hat on, but with the transfer rules, what was your thought in staying with the team rather than switching to a more competitive one?
Brennan Hyde: I could see the direction the culture of the team was going. My freshman year, it was okay, but I could see progress we were making and when I was made captain my sophomore year I could tell the culture really changed, and the players that were coming in, they bought into the culture. While we didn't have the wins to show for it, the work ethic and belief was there, that we could be a better team than we were the previous years.
MC: Run me through your junior year, not being able to play because of TJS.
BH: It was tough. Because I had a pretty good sophomore year [.batted .296 with team-highs in RBI (14) and doubles (6)], but come December, I got the news that I had torn my ligament and that was devastating. But I didn't dwell on it because I knew I had work to do. Throughout the process, I tried not to think about (not playing) and kept the end goal (of getting back on the field) in mind and just pushed through it. Yeah, I had a few mental breakdowns, but I had that one goal in mind and that allowed me to push through it. … I was really ecstatic (to get back before the 2019 season ended) and it just meant the world to me to be able to contribute in those last games.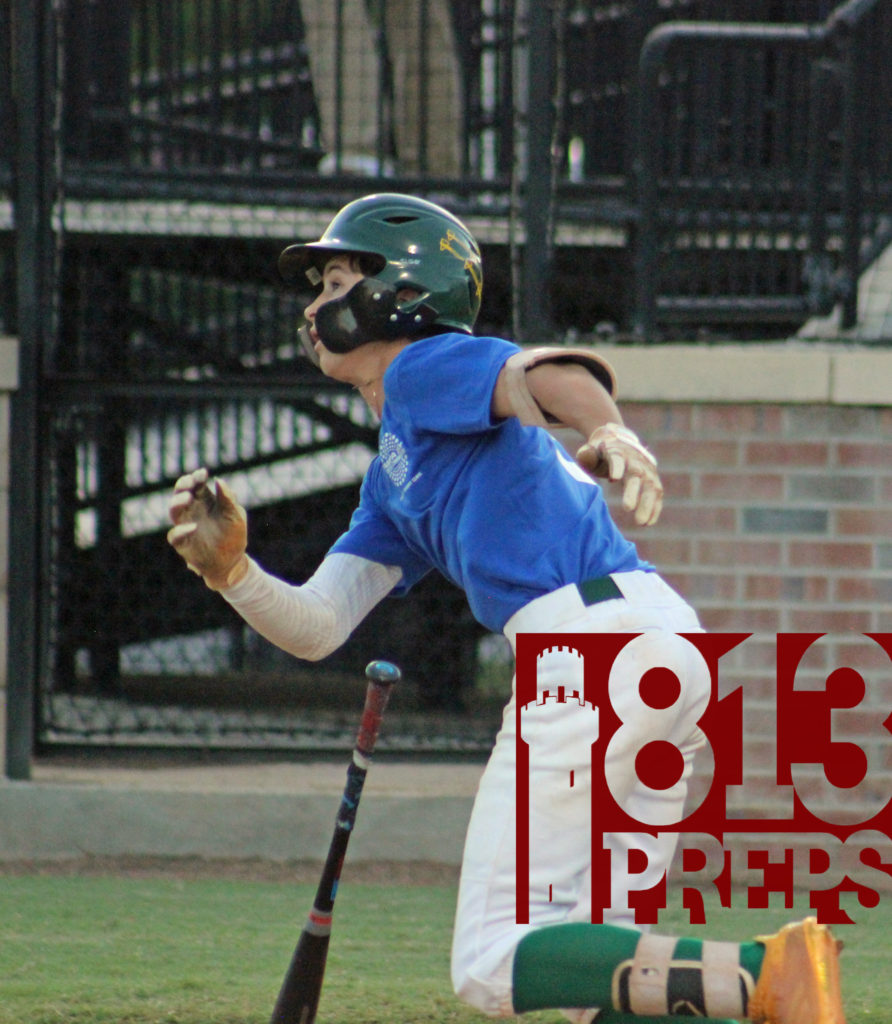 MC: Aside from playing, is there another job affiliated with baseball you might enjoy as a profession?
BH: I would love to be a sports agent. That's something I've really been interested in for a long time now. … I would like to be able to interact with the players and negotiate things for them.
MC: Did you ever pretend to be a specific player when you were very young?
BH: Oh yeah, there were a lot of them, but I always loved to pretend to be Evan Longoria. He was such an icon for the (Tampa Bay) Rays organization for such a long time and he just meant so much to the city — I just remember Game 162 (in 2011) and what he did in that game and I really wanted to be him.
MC: Do you have any favorites in the major leagues now?
BH: (Chicago White Sox shortstop) Tim Anderson and (Chicago Cubs infielder) Javy Baez. They make the game look fun. They don't care what anyone says about them — they just be themselves and play the game of baseball. I like those infielders (laughs).
MC: How are you handling online virtual school?
BH: It's going well. It's not too overwhelming and the teachers are being understanding and not really trying to kill us with schoolwork right now. It's good to keep the mind fresh and not stay away from school for too long because when you do that you forget a lot of it. It's good we're having some work to do to keep us busy, and, hopefully, we'll get back to school soon.
MC: What are you bingeing right now? Or maybe you're playing too many video games?
BH: Yeah, I have been playing a little bit of MLB The Show, but I just got into Netflix because I was never really a big Netflix person because I never really had the time for it with baseball and school, but I have been sitting here watching 'The Office' and been engaged in that show for quite a while now and it's very, very intriguing. … Oh, and I'm definitely Jim (Halpert). Yeah, the prankster.