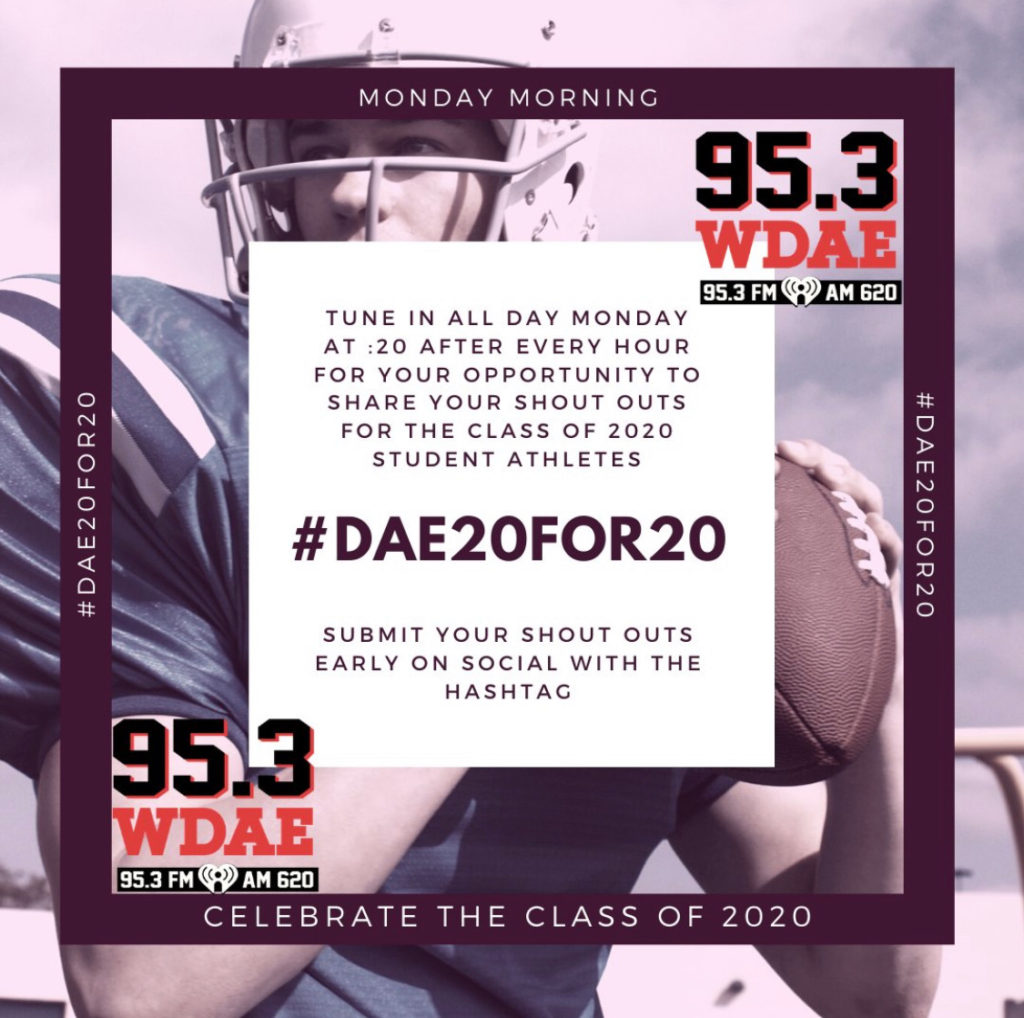 TAMPA – Bay Area radio station 95.3WDAE executive producer Jay Recher is sending out a call to high school coaches and athletic directors throughout the Tampa Bay area to take part in the station's planned #DAE20for20 celebration, Monday, April 20th. It's a call to shout out the high school senior student-athletes, who have had their final season taken away from them.
Recher serves as an on-air personality for his station, most recently as part of the Ron and Ian afternoon show. He has also been a dedicated youth baseball coach and instructor for the last decade, which included a stint as the assistant baseball coach at Freedom High.
Recher has always been a supporter and advocate for youth sports, especially local baseball in this community, and that was on display last May when he and the staff at iHeartRadio hosted a State Championship Tourney Send-Off for the four teams representing Hillsborough County at the baseball final four in Fort Myers.
And though the halting of all major sporting events throughout the world has caused the primarily sports-driven WDAE to pivot a bit, the station has maintained fresh and steady content for the last month.
But according to Recher, the loss of the spring season for high school student-athletes – especially the senior class – has hit extra hard.
"As a member of the media and from a baseball standpoint, we've followed some of these guys for three, four years now," Recher said. "Shoot, a guy like (Jesuit pitcher) Camden Minacci and some other guys, I've watched play since they were five or six years old."
On Wednesday Recher held an online video chat with around 10 area high school baseball coaches and shared the radio station's plan for next Monday.
"I think this is just the right thing to do," Recher said. "These kids are just such good people on and off the field, who work hard, so I felt like we had to do something for them."
WDAE will be offering the opportunity for area high school coaches to recognize senior student-athletes throughout the day on the station, which also airs on 620AM in Tampa.
The planned "shout outs" are set to take place throughout the day on Monday, April 20 at the 20-minute mark of each hour (starting at 6:20 a.m.) and continuing into the evening. The exception being between 9 a.m. and noon, when the station airs a nationally syndicated show.
Though Recher has strong ties to the baseball community, he said he wanted to make it clear that the station would welcome shoutouts from coaches or school administrators from any high school sport to reach out with information on their senior athletes.
The station is looking for shoutouts through phone, text or Twitter:
Phone: (888) 546-4620
Text line: 82945
Twitter: @953WDAE
Recher said that the messages, especially those to the text line and on Twitter need to begin with the letters "DAE" to make sure they are directed to the right place. For Twitter, adding the #DAE20for20 hashtag would also help them more accurately find the messages.
Recher said he and the staff at WDAE feel for the seniors in this situation and hopes that the small gesture of recognizing their hard work during their high school athletic careers can bring some joy during this tough time.
"I know this is not going to replace their 'Senior Nights' or their final game, but if we can salvage just a little bit and put a smile on their faces with some recognition," Recher said, "then we are doing our part."