A message from 813Preps editor Jarrett Guthrie
TAMPA – We are excited to announce that we will be partner with Prospect Wire and its National Showcase Director, Juan Fontela, in hosting the 813Preps Exposure Showcase powered by Prospect Wire at Carrollwood Day School on August 22, 2020.
Since the high school baseball season came to a sudden halt in March, and the future of what the 2020-21 athletic seasons is still uncertain, I have been focused on searching out ways to keep the student-athletes we cover in the spotlight.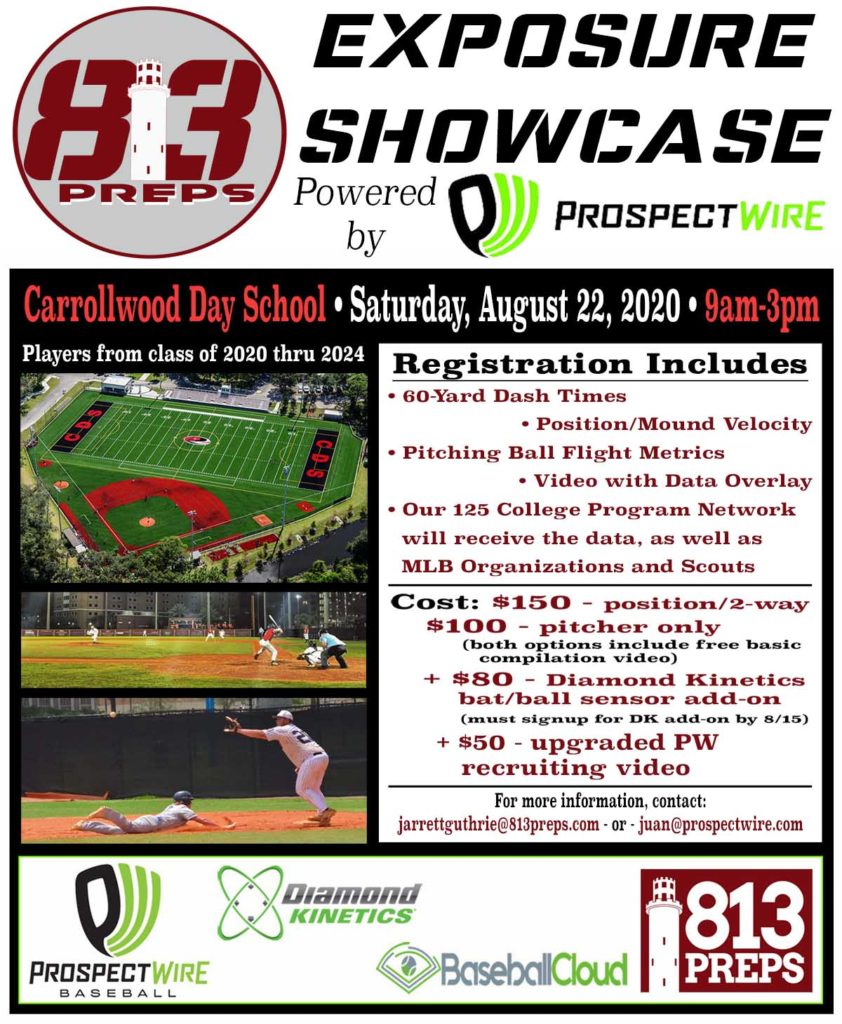 Although, the goal of 813Preps is unchanged as we endeavor to bring the most comprehensive media coverage of high school baseball in Hillsborough County, I also understand that right now the best way for these athletes to get opportunities at the next level may have to come from avenues outside the high school ranks.
Our No. 1 goal as a site is and always will be promoting players for the hard work and effort they put into the game. With that in mind I very carefully set out to find a way to facilitate recognition for players, while also keeping any event we sponsor as affordable as possible.
We were very lucky to find some partners to help us in those efforts, as Prospect Wire and its professional staff have cut us a big discount to run this one-day exposure camp for position/two-way players and pitchers, at the base cost of $150/$100, including 60-yard times, position/mound velocity, flight metrics, as well as a basic video highlight for each player.
Prospect Wire is also discounting its Diamond Kinetics bat/ball sensor add-on subscription to $80 (normally $110 retail), should participants choose to upgrade (click here to learn more).
See The Complete Picture

Every Swing
Every Session
Every Time #DataDontLie 🚫 pic.twitter.com/yIfaUlAeGI

— Diamond Kinetics (@DiamondKinetics) February 26, 2020

Prospect Wire is also offering an upgraded recruiting video for an additional $50.
Another huge help in keeping this event affordable is Carrollwood Day School, its head of school Ryan Kelly and athletic director Baker Mabry, who have allowed us use of the Patriots outstanding turf field and facilities.
Obviously, our hope is that we find a quick and safe way for things to return to normal for our students' academic and high school athletics careers, but we are also excited to partner with Prospect Wire in the hopes of getting players opportunities to continue their athletic careers at the next level.
We have included a link to sign-up for the event above, deadline for signups will be August 12th and we are very excited to see you there!
For any questions or any other information on the event please e-mail me: jarrettguthrie@813preps.com or Prospect Wire Director Juan Fontela at juan@prospectwire.com.