By Jarrett Guthrie
Editor
TAMPA – A pair of Bishop McLaughlin pitchers brought their absolute best on Wednesday evening as the Hurricanes' duo silenced the bats of Berkeley Prep, allowing just one hit and leading their team to a 3-0 victory in the George M. Steinbrenner Wood Bat Classic final.
Junior Augie Mojica pitched five, no-hit innings while striking out six to pick up the win on the mound, before handing the ball off to Isaiah Myles who finished things off.
The lone hit – a single – came off the bat of Berkeley Prep pinch-hitter Arthur Clark with two outs in the final inning, and Clark moved around to third. But Myles slammed the save home inducing a pop fly to second baseman Ethan Burkhardt to end the game.
The Hurricanes got on the board quickly as Drew Knight smashed a ground-rule double to left field and drove across Colby Ellis in the first.
Berkeley Prep starting pitcher Owen McElfatrick was dragged into deep counts by the Bishop hitters, and the Hurricanes added some insurance two innings later when Tanner Boccabello singled in two more runs.
Buccaneers senior Matt Mulfinger took over on the mound in the fourth, with a pair of runners in scoring position, but the lefty ended the threat with a strikeout and added two scoreless innings of relief. Highlighting the night defensively for the Bucs was a pair of runners caught attempting to swipe second by junior catcher Gunnett Carlson, and a diving stop and third out play by senior Johnathan Bruno in the third inning.
Berkeley Prep was 3-0 in pool-play including a 2-0 victory against Bishop McLaughlin on Saturday, and won its semifinal match over Tampa Catholic, 3-2, on Tuesday. The Hurricanes were the runner-up in their pool, but topped Mitchell 6-3 to advance to the championship game.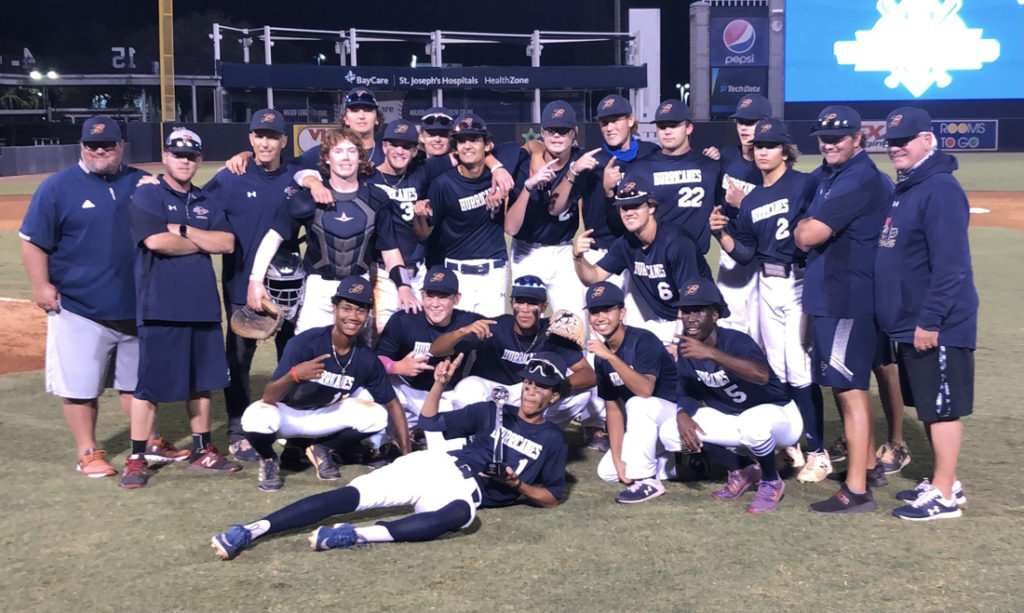 Our tour across the 813 has included a lot of great action out there from Fall Ball camps. We hope you are enjoying the BEST high school baseball coverage in our area, here on 813Preps.com. We love what we do, but to cover as much as we do takes tons of effort. So if you are able, we'd love if you'd consider supporting this independent journalism site. Contact our editor for advertising opportunities. Click here to learn more about purchasing digital copies of our photos.