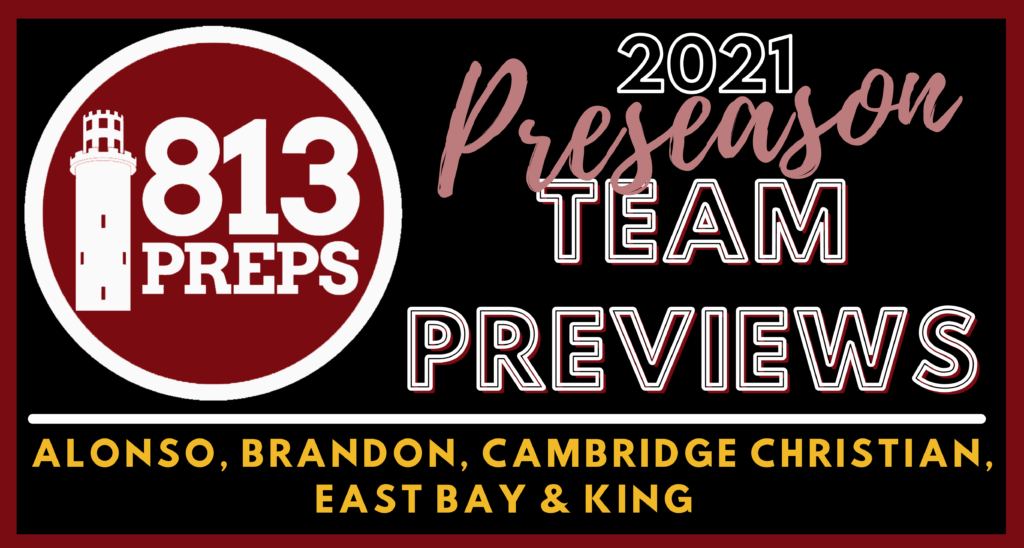 Over the next week we will be bringing you quick looks, expectations and our projections for our area Hillsborough County baseball teams for the 2021 season. Make sure to check back regularly as our preseason coverage steps to the plate with a look at five area programs: Alonso, Brandon, Cambridge Christian, East Bay and King.
By Jarrett Guthrie
Editor
••••••
Alonso
The Ravens likely can't wait to get to games that count to wash away the taste from a tough, 1-7 campaign last year. However, things will not be easy as a youthful Alonso finds itself in a monster district (7A-7) with strong teams to contend with. It'll be tough replacing OF/P Renzo Gonzalez, who will play his senior year in the Miami area, as well as the loss of 2020 pitcher Sam Drumheller among others. But Alonso has some good pieces in place for this season and we wouldn't count on the Ravens being in search of win No. 1 in game eight this time around. Senior Haile Daley will be a presence on the mound, senior first baseman Zen Hiatt will be a key member of the lineup, catcher Christian Del Campo, and outfielder Eric Young will be tasked to carry the water, while the younger players come along.
•••••
Brandon
The Eagles are a team that intrigues us heading into the spring after a 4-4 season last year where Brandon won the games they should have, but struggled some in games they could have taken. This year the team has a lot of strength on the mound, highlighted by senior righty Marcos Herrand, who had 104 K's in 71 innings for the Eagles, along with senior righty Tres Toledo, and lefty Esteban Tavarez. While the offense is also well-rounded with OF Kendal Spencer looking to build on his 14-for-23 season at the plate, and junior shortstop Daniel Santana providing good defense and a good bat. This is a wide-open district and the Eagles have a chance to see region play if they pick up a few more of those 50/50 games this year.
•••••
Cambridge Christian
After going 6-3 last season, this will be a young Lancers team, but one with some good leadership pieces that will hopeful give Cambridge Christian enough early on so as they come together later in the year they can find some success. Four-year varsity returner Josh Morin showed he can be a run producer the previous two seasons and Lancers coach Stephen Piercefield said he expects Morin and fellow senior Logan Lavandera to be the guys he's going to count on to show how things are done. Returning junior righty Julian Montes will be leading the way on the mound for CCS after going 2-0 last season, with lefty Zach McQuiston contributing to the rotation. Piercefield also said he has hopes for sophomore right-hander and outfielder Leyton Parmer can become a key producer right away.
•••••
East Bay
In one of the more ridiculous districts the FHSAA has imposed on Hillsborough Co teams, East Bay and Bloomingdale share conference play with Largo, Pinellas Park and St. Pete High. Mark it down, East Bay makes region play this season for the first time in far too many years. If you see a shadow coming from the south shore it may not be the TECO smoke stacks, but could be the Bay's Twin Tower No. 1 & 2 starters Manny Dooley (RHP, 6-foot-9, 290-pound) and Tanner Elizondo (LHP, 6-foot-7, 210-pound), who will lead the way on the hill – and they're just juniors. Nate Jackson also provides another good arm on the mound for starts, while Ben Potsic will be the first out of the bullpen with a lot of movement on pitches from the left side and a three-quarters slot. Returners Ryan Linne and Ethan Sillart are key on offense, and the addition of the versatile Jeremy Galen and OF Alek Mangual will be huge for the Indians this year.
•••••
King
After a 2-6 season in 2020, King will need to look to its handful of seniors as the Lions will face some challenges along the way. Luckily, King will have some veteran players to lean on in that department. Senior captains Christian Cabina (RHP/1B), Jonny Davis (RHP) and catcher Jacob Pena, along with other '21s Dontavious Johnson (LHP/UT) and David Twiddy (OF), who will be called to step up for the team. Cabina swings the bat well and has worked hard to be a contributor on the mound, Johnson has good stuff and competes on the mound and could be a nice leader with his pitching and hitting, while Davis relies on off-speed stuff and the Lions will utilize him situationally, as a starter, middle guy or closer.