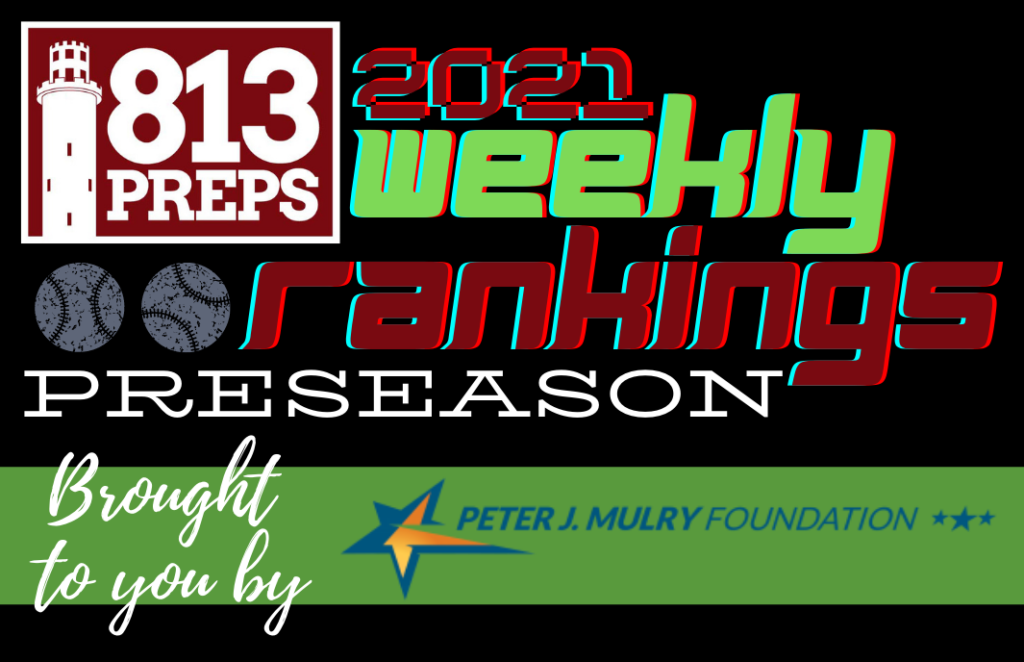 1. Jesuit
When we last ranked teams after just three short weeks of the 2020 season, the Jesuit Tigers were undefeated and sat atop our list. New year, new list, same No. 1. Jesuit returns a ridiculous offense with seniors OF BJ Graham (.296, 10 runs, nine RBI and two home runs), 3B Nick Rodriguez (385, 10 runs, eight RBI, three doubles) and C Cole Russo (featured in our BIG 15 list over the weekend) leading the way. On the mound, we are very excited to see who will assume the bulk of the attention in a stacked class, that although having some varsity experience, where overshadowed by the crop of 2020 senior hurlers. Senior LHP Dominic Castellano will enter the season as the "No. 1 guy" according to coach Miguel Menendez. Castellano, a UCF signee, was 2-0 last season, striking out 12 in seven innings. RHP Ryan Denison is a junior with a big frame (6-foot-4, 215-pound) who Menendez said has three strong pitches with an excellent changeup, and junior LHP Jamie Arnold will be another strong arm getting starts, while sophomore LHP Wes Mendes has a lot of buzz as well. The Tigers open up the season in the Largo Tournament against the host team tonight at 8:15 p.m.
•••••
2. Berkeley Prep
Lots of tough stories came out of a lost season, but instead of harping on what could have been for the 8-0 Buccaneers, head coach Richie Warren said he views that adversity to push his team, saying "last year raised the bar." We like to hear that, especially with the youth the Bucs had in 2020 and return for this year. Senior captain Jonathan Bruno returns to man third base after posting a .421 average and nine runs scored in 2020, and will be a key bat in the lineup. Senior Andrew DiMisa drove in 11 runs last spring, while juniors C Gunnett Carlson, 2B Anthony Castillo, and sophomore Cade Kurland (featured in our BIG 15 list) should all be solid producers. On the mound, the Bucs have a leader in lefty Will Parkinson, who was 3-0, with a 0.35 ERA and 28 strikeouts. Junior JT Quinn and senior Evan Parmer, as well as Owen McElfatrick will all have key roles on the bump for the Bucs. Berkeley Prep starts the season tonight against Bishop McLaughlin, a team the Bucs split with 1-1 in the Steinbrenner Wood Bat Classic – but the loss came in the tourney final, likely making the Bucs feel like they have something to prove.
••••• 
3. Wharton
Another team that was off to an impressive start last spring was the 8-1 Wildcats. Though the previous senior class was deep, Wharton returns a stacked lineup and some solid pitching and we think that will translate to a lot of success. This year's senior class features OF Dylan McDonald (.519, 14 runs and five doubles in '20; Saint Leo signee), SS Zach Ehrhard (Oklahoma State signee), C Frank Micallef (USF signee) and OF Tyson Sutton give the Wildcats an offense that will be crushing it all year. On the mound, junior RHP Ryan Fry (Miami commit) returns after a 2-0 showing last season, while senior lefties Michael Rivera and Riley Glover will also add depth on the mound. The Wildcats are the first of three teams from Class 7A-District 7 in this Top 10, with our No. 11 Steinbrenner and always dangerous teams Alonso and Palm Harbor in the mix as well. This should be a dog fight to the finish for Wharton. Coach Scott Hoffman said though he's excited he doesn't hesitate to remind his players, "On paper, y'all look great, but you have to go out now and do it." Our Creative Director Mike Camunas sat down with Hoffman and some of the Wildcats seniors for a video feature that you can check out by clicking here. The Wildcats open on the road against Newsome Tuesday night.
•••••
4. Plant
Another squad from 7A-7 Plant had a strange season in the abbreviated 2020 run, going 5-5 and we're banking on that lighting a bit of a fire under a strong senior class for the Panthers. Joining senior LHP/OF/1B Jac Caglianone in the heart of the lineup will be three-year starting 2B Matthew Ward (eight RBI in 2020) and 3B/OF Sam Meade (last year's leading hitter at .393) make for a formidable lineup. Caglianone will also be key on the mound, along with senior RHP Sebastian Martinez and RHP Brooks Bak who return as experienced pitchers. Coach Dennis Braun said junior RHP Tephen Montgomery has a chance to have a breakout season, and should be a player to watch for the next two seasons. Plant travels to Gaither tonight.
•••••
5. Durant
The Cougars have a lot of returning talent from a team that went 4-3 a season ago, with its top four hitters returning for their senior seasons. That offense keyed by a deep senior class 1B/OF Austin Sewell (.471, two doubles, two triples), OF Thomas Allen, OF Dean Hotz , 3B Javy Quintana, and OF Luke Scolaro, along with a junior Oscar Fernandez and sophomore C Dylan LaPointe should make a lot of noise in a Class 7A-8, which the Cougars led with a 3-0 record when the season ended. The pitching staff will lean heavily on senior and USF signee RHP Sean Hermann (a member of our BIG 15) on the mound. Unfortunately, the Cougars took a bit of an offseason hit, losing University of Tampa signed senior Alex Canney for the year, which would have given Durant one of the strongest No. 1 & 1A around. However, the Cougars have another reliable pitcher in senior P Zander Fisk, who posted a 0.00 ERA in six innings of relief last season. Durant hosts Freedom on Thursday to kick off the year.
•••••
T-6. Bloomingdale
I know what you're thinking here, "A tie? JG, isn't this a bit of a cop-out?" [JG: Nods vigorously] Uhhh, nah. I mean … probably not. This one was a bit too close to call for us, and with a Gm. 1 showdown between the Bulls and Sickles, we decided to let the settle it for us – and we'll be in attendance. To lose what Bloomingdale lost on offense in its c/o 2020, and to still be so solid at the plate is impressive. Junior SS Colby Shelton garners a lot of attention – and rightly so for the Clemson commit, who hit .440, with nine RBI, a triple and two home runs last spring – but junior OF Drake Harman was right on his tail in hits last season with a .393 average. Seniors 3B Wyatt Strickland and 2B Gabe Garrett should also add production to the lineup as well. On the bump, Stetson signee RHP Jack Owens leads a deep group on the mound, after going 1-1 last season, with a 1.91 ERA and 30 K's in 18 innings. Along with senior LHP David Eckaus (FIU commit), and juniors Chase Chappell and Jake Nolte the Bulls return an experienced staff to the mound.
•••••
T-6. Sickles
The Gryphons are another team with a deep and talented senior class, including a stacked group on the mound highlighted by seniors LHP Holden Wade and RHP Bobby Christy (2-0, 16 strikeouts and a 0.00 ERA in '20). Senior CF Kohl Robertson will be a key returner on offense and defense, while C Chase Conville has busted his tail in the offseasonto become a standout for the Gryphons according to head coach Eric Luksis. In the fall, we were impressed with the work and versatility of 3B/RHP Chase Jackson, while 1B Adrian Gutierrez and RHP Davian Garcia will also be key senior contributors. There is also some exciting underclassmen to watch here in OF Hayden Yost (Florida commit) and IF/RHP Thomas Bly (Louisville commit).
•••••
8. Gaither
The Cowboys were 6-1 in 2020 and are another team with rounded depth and talent at multiple positions. Keying things on the mound will be led by USF signee Austin Grause (who also will factor in at the plate and 1B) and RHP Colin Jackson, who had a bit of a breakout last season, posting a 1.43 ERA, going 3-1 with 26 strikeouts. Gaither took some lumps in the preseason losing starting 3B Willie Jackson to a hand injury for a chunk of the early season, while last season's starting catcher Jacob Choe will be limited to DH after an elbow injury. However, the offense will have some factors right away with senior RF Frank Perez returning after hitting .368 with seven runs scored, senior SS AJ Graham is someone Cowboys head coach Nelson North says he sees as a "pro-prospect" with a big lanky frame reminiscent of Gaither alum Oscar Mercado. Also set to be a key bat will be CF/LHP CJ Hanson, who should be a spark on the base paths as well. Sophomores OF Dominic Zarcone and UT David Gonzalez could be sleepers for the offense, and C Nico Dimillo taking over behind the plate will solidify the defense. The Cowboys host Plant tonight.
•••••
9. Strawberry Crest
[Cracks knuckles in a "let's start some sh!+" kinda way] So, we did NOT put the Chargers in the preseason Top 10 in 2018 or 2019, when they were district and region champions, nor did we have them in our preseason Nos. 1-10 last season. At the end of the first two of the seasons we were wr-wr-wr-wrong-ish (that was tough to type), let's see if we can amp things up here and now. Today, we place Crest firmly in the Top 10 with leaps and gains ahead of them to make and we can't wait to see it. Strawberry Crest has some strong leadership in senior 3B/P Colby Fanning, OF Alex Mussenden, OF Christian Bolt and OF Alex Mussenden; a horse on the mound in senior RHP Bryan Boully; young talent to watch like sophomore SS Arjun Nimmala; and some big jumps and expectations from coach Eric Beattie for versatile junior Ethan Pues. We listed Boully in our BIG 15 and Mussenden in our Dark Horse Dozen, but we're also banking on big things from Fanning, a three-year starter about whom Beattie said, "Numbers don't tell the tale. Colby is a huge 'moment' guy – when we need the big hit, he's the guy. He's high energy and makes every other player around him better." In a district ahead of hungry bubble teams Plant City and Leto, and young Armwood and Tampa Bay Tech teams with a "nothing-to-lose" attitude. This should be an exciting and challenging 6A-District 8 competition to watch. Strawberry Crest plays host to Lennard on Tuesday.
•••••
10. Newsome
After claiming a first-ever district title in 2019, the Wolves were cruising at 7-2 when 2020 came to an end. The Wolves lose a front-line ace to graduation in current Tulane player Zach DeVito, but picked up a returning arm in Fulton Lockhart (USF commit, who played last season at IMG Academy), to compliment returning senior RHP Chase Havener, who will be the No. 1 this season. On offense (and a defensive leader) we gave you a little insight into senior C Kelsen Johnson (.455, 7 RBI) in our BIG 15 section, but bringing some significant oomph to the lineup is junior SS Lucas Phelps, a strong hitter (.400, with two doubles) and solid speed at the top of the lineup (nine runs, four stolen bases last season. We liked what we saw from junior Evan Wainman in some fall action, and sophomore RHP Alex Philpott should also provide some steady mound-presence this season. A mixed district with Durant, Riverview and Lennard from the 813 will make for some great regular season matchups, while 7A-8's other teams Lakewood Ranch and Sarasota Riverview will be a tough challenge when tournament time rolls around. Wolves and Wharton tonight in Lithia.