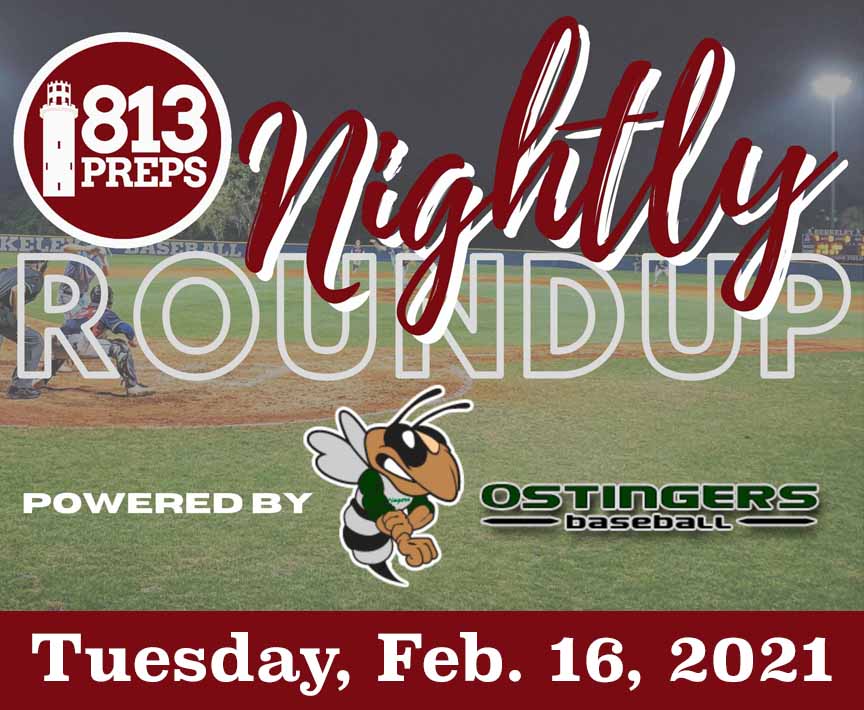 Carrollwood Day 10, Cambridge Christian 9 – Eight innings
Carrollwood Day erased a six-run deficit in the seventh to force extra innings winning the opener 10-9 in eight over Cambridge Christian. Some of the Patriots' younger players had strong first varsity games as DJ Pickett was 2-for-3 and stole FIVE bases, and eighth grader Christian Clarke was 2-for-4, with two runs and two RBI.
First Varsity Game in da books‼️ Blessed to have the opportunity to showcase my talents on the field?
Went 2-4/ 2 RBI / 2 Runs /
1st to Home clip?⬇️. @Mmetcalf32 @813Preps pic.twitter.com/APrZu18Lcb

— christian clarke (@Clarkeupnext) February 17, 2021
Records – CDS (1-0); CCS (0-1).
•••••
Tampa Catholic 10, Brooks DeBartolo 3
Tampa Catholic jumped out to a solid lead in the first as Tyler Whitfield and Andrew Salzman picked up singles to lead things off and senior MJ Bundick drove them both across. Whitfield (2-4) scored four times, Mundick (double) drove in four, while Salzman also doubled in his three hit game. Anthony Malzone earned the win for the Crusaders, tossing four innings and striking out four. For the Phoenix, Austin Stirling had a pair of hits and an RBI, while Nick Tomsich and Tyler Polidoro each had RBI in the game.
BD 000|210|0 – |3|7|4
TC 410|104|x – |10|9|1
W – Malzone (1-0); L – Polidoro (0-1).
2B – Salzman, Bundick (TC). Records – BD (0-1); TC (1-0).
•••••
Strawberry Crest 4, Lennard 3 – Eight innings
The Chargers got a Game 1 test from the Longhorns, but a strong relief outing from Luke Richardson (4 ip, 0 H, 5 K) allowed Strawberry Crest to stay in it and take the extra-inning win. Senior Colby Fanning led off the eighth with a triple and was cashed in on Arjun Nimmala's double to left in the walkoff. Fanning had three hits and scored twice in the win. Jace Raburn scored twice and stole a pair of bags for the Chargers. For the Longhorns, Jaylin Tose doubled, scored a pair and drove in another in the loss, and Keith McClain had Lennard's other RBI on the night.
@ColbyFanning5 leads off the inning with a triple and Argun N. drives him home with this walkoff. Crest wins! @813Preps pic.twitter.com/m2Kh99UadF

— Strawberry Crest HS Baseball (@baseball_crest) February 17, 2021
L    010|200|00 – |0|0|0
SC 100|020|01 – |0|0|0
W – Richardson (1-0); L – Alaniz (0-1).
2B – Tose (L); Nimmala (SC); 3B – Fanning (SC). Records – L (0-1); SC (1-0).
•••••
Alonso 6, Jefferson 2
Alonso's Zen Hiatt had a solo homer, an RBI sac fly and an RBI single to key the Ravens offense in a home win; Christopher Morgan had a double, an RBI and scored twice, while Keenan Rutledge had a two-hit game and scored twice, and Hector Montilla struck out seven in four innings earning the win, with Sammy Seplowe picking up the save. For Jefferson, Matthew Johnson struck out seven in the loss.
@Zen_Hiatt26 @UMoTownBaseball committ hits Solo shot for @alonsohigh to take the lead @813Preps @goraven7 @PG_Scouting #SpringBallHasBegun pic.twitter.com/MgssS9r0Hm

— travis daily (@iamtravisdaily) February 17, 2021
J 200|000|0 – |2|3|1
A 022|101|x – |6|7|3
W – Montilla (1-0); L – Johnson (0-1); S – Seplowe (1)
2B – Morgan (A); HR – Hiatt (A). Records – J (0-1); A (1-0).
•••••
Brandon 7, Armwood 3
Four straight RBI hits pushed Brandon's lead out far enough in the sixth to hold on for the win. Johnny De La Rosa started things off with an RBI double, followed by run-scoring singles from Ryan Santana, Daniel Santana and Kendal Spencer. Senior Marcos Herrand worked five innings, striking out eight before turning the ball over to Tres Toledo to finish things off. For the Hawks, Jacob Johns had an RBI double and Justin Corns had two hits in the game, while taking the tough loss, allowing one unearned and striking out six.
B 000|034|0 – |7|11|1
A 000|003|0 – |3|6|1
W – Herrand (1-0); L – Corns (0-1).
2B – De La Rosa (B); Johns (A). Records – B (1-0); A (0-1).
•••••
Freedom 6, Spoto 5
Freedom rallied late and held off Spoto to claim a one-run victory at home. Gabriel Pollard's bases clearing triple highlighted a four-run comeback in the sixth for the Patriots. Michael Walker had an RBI double and Herbert Britton singled in a run as Spoto put up four in the third inning; Cullen Cairns took the loss, despite tossing a complete game with seven strikeouts.
S 004|000|1 – |5|7|0
F 001|014|x – |6|12|3
W – Chastain (1-0); L – Cairns (0-1); S – Doxtater (1)
2B – Walker (S); 3B – Pollard (F). Records – S (0-1); F (1-0).
•••••
Robinson 7, Steinbrenner 3
RBI singles from Robert Chatfield, Cameron Duss and John Anderson (two) keyed a five-run third inning for Robinson as the Knights topped Steinbrenner. Knights sophomore Robert Satin earned the win, as four Robinson pitchers limited the Warriors to five hits. Steinbrenner senior James Strom had a solo shot homer in the loss.
R 205|000|0 – |7|9|1
S 100|100|1 – |3|5|3
W – Satin (1-0); L – Dorrell (0-1); S – (0)
2B – Blowers (R); HR – Strom (S). Records – R (1-0); S (0-1).
•••••
Gaither 4, Plant 2
Gaither senior Austin Grause tossed a complete game, allowing two runs (one earned) and striking out eight on just five hits, as the Cowboys scored four in the fourth with Nico Dimillo and Miguel Pina (two) singling in runs. For Plant, Matt Cedola was 2-for-4 with a run scored, and Nick Lee had an RBI.
P 000|110|0 – |2|5|1
G 000|400|0 – |4|3|0
W – Grause (1-0); L – Caglianone (0-1).
2B – xxxx (x); xxxx (x); 3B – xxxxx (X); xxxxx (x); HR – xxxxx (X); xxxxx (x). Records – X (0-0); X (0-0).
•••••
Jesuit 9, Largo 1
A leadoff double from Bradke Lohry (scored on an error) and an RBI double by Nick Rodriguez gave Jesuit starter Alden Segui all the support he would need as the Tigers took the opener against Largo. Lohry finished the night 3-for-4, with a triple and two runs scored, and Jake Kulikowski had a three-run blast in the fifth. Segui struck out six in his two innings on the mound, before Jamie Arnold and Gavin Sissel provided five shutout innings.
J 210|231|0 – |9|10|0
L 001|000|0 – |1|4|3
W – Segui (1-0); L – Long (0-1).
2B – Lohry, Rodriguez, Russo (J); 3B – Lohry (J); HR – Kulikowski (J). Records – J (1-0); L (0-1).
•••••
Lakeland Christian 6, Seffner Christian 2
SC 020|000|0 – |2|4|0
LC 200|310|x – |6|6|1
W – Toney (1-0); L – Jensen (0-1).
2B – Ura (SC); Byrd, Donay (LC). Records – SC (0-1); LC (1-0).
•••••
Leto 4, Middleton 2
Records – L (1-0); M (0-1).