Hillsborough holds off King comeback, takes win in extras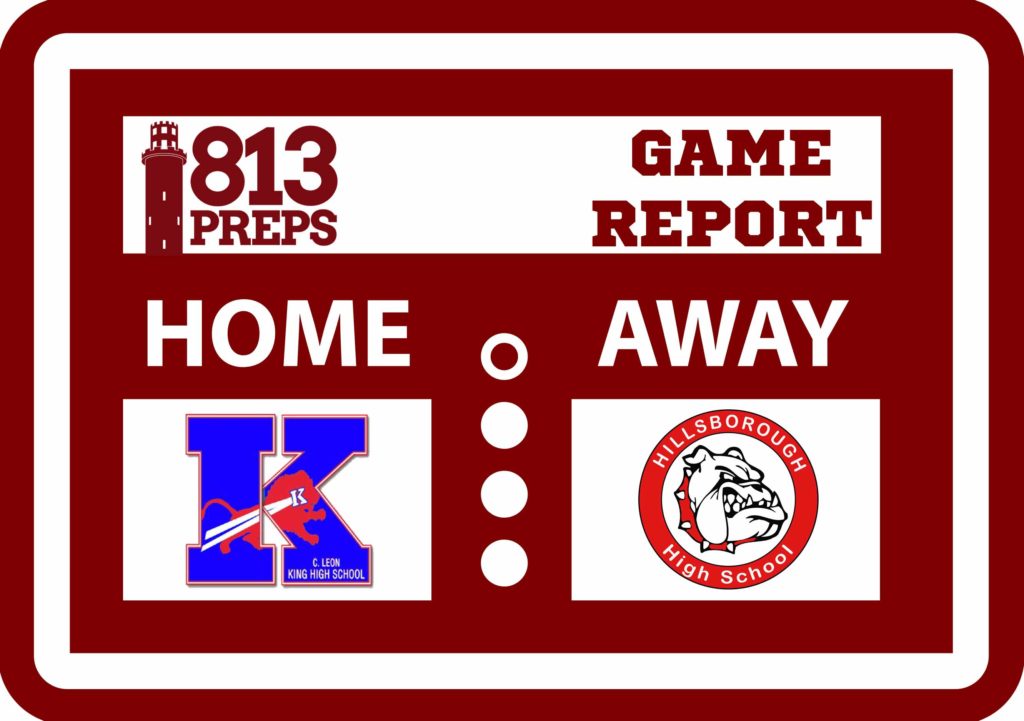 By Dylan Rudolph
813Preps Correspondent
TAMPA – For a young team like King, one inning can swing the momentum back in their favor. No matter how out of it they may seem.
In the fifth inning of Saturday's contest, Hillsborough pitcher Branson Angel gave them that chance. After struggling to locate his pitches, the cracks began to show, as King hit two quick singles and loaded the bases on a throwing error before the flood gates opened. A walk with the bases loaded and singles from Hunter Keding and David Twiddy drove in the four runs needed to tie the game.
"King is always giving us a good fight," Hillsborough head coach Bryan Burgess said after the game. "They're well coached. They play for their coaches. They listen. It's always a dogfight no matter the talent level on the teams."
But the comeback was all for naught as Hillsborough rallied in extra innings to beat the Lions, 6-5 after nine innings on King's diamond.
But before the comeback, there was the deficit. Hillsborough (2-0) got started early with a lead-off hit from Cam Mallo, who stole second and scored on a wild pitch by King pitcher Christian Cabina for the game's first run. Mallo – a freshman second baseman – finished Saturday's game 2-for-5 on the day and scored three of his team's runs. Mallo's run was swiftly followed up by junior Salvy Urso in the second inning, who hit a double before scoring on another wild pitch by Cabina to make it a two-run lead contest.
The Terriers seemed to be separating things for good after Tanner Jones's two-run single in the third gave Hillsborough a four-run lead, but King (0-2) kept it close after a bases-loaded walk worked by Elias DeJesus. But the jam resulted in just the one run, matched later in the top of the fifth with a sacrifice fly by Terriers senior Brady Burgess.
King's fifth-inning, four-run comeback to tie the game at five-apiece came after Angel replaced Skyler Netolicky, who impressed in his three innings with seven strikeouts and one run surrendered.
The game stalemated after the eventful fifth, with both teams working out of jams until the ninth, where Dominic Reaves hit a soft groundball to third baseman Bennett Weinard, forcing a rushed throw home and gave up the run on an error.
The lone run would be enough as Urso – who was given the ball for the final third of the game – pitched a clutch ninth inning to put it away for Hillsborough's second win of the season.
"(Urso) can go anytime I need him," Coach Burgess said. "He barely warms up and gets out there and does it. His pitch ability and mound presence is unmatched."
The spoiled comeback was a gut-punch for King, but the close game could be a sign of better days for the Lions, who were thought to be underdogs going into Saturday. For the Terriers and their experienced bunch, the tight win was one that will hopefully translate into more success in the coming weeks.
HHS will play their first district game of the season on Monday against Blake. For the Lions, another home matchup, this time against Alonso on Tuesday, where both teams will be looking for that second win of the 2021 spring season.
•••••
Hillsborough 6, King 5
H 112|010|001 – |6|7|1
K 001|040|000 – |5|12|3
W – Urso (1-0); L – Leever (0-1).
2B – Urso (H); Twiddy (K). Records – H (2-0); K (1-1).