813Preps Week 1 ⚾ Notebook: First things first for Sumner

By Bob Bellone
Senior Staff Writer
GIBSONTON – Nate Jackson works off the mound for East Bay High School, but his introductory pitch of the season Feb. 17 was more significant for the visitors camped along the right side of the infield. First to emerge from the dugout with a bat was Alex Collura, who redirected the ball over his teammates and into the darkness at precisely 7:02 p.m.
Turn on the lights; Sumner High is in the baseball business.
Collura eventually popped out to Indians second baseman Riley Linne, but the sophomore outfielder recorded two more firsts for the new Riverview club – splendidly adorned in victory blue, Kelly green and silver uniforms – an infield single and a stolen base with one out in the third inning. The Stingrays did not produce another hit in their inaugural game, a 9-0 loss.
"We're going to sneak up on some people due to the fact that we're young, a little underrated," 'Rays coach Kennedy Duran said beforehand. "Nobody really knows the kids. There's not a book out on them yet. Hopefully, people take us lightly and kind of us let us sneak in there."
Duran honored right-hander Jayden Brown – one of only five upperclassmen on the senior-free roster – naming him the first starting pitcher in school history. His first two offerings were taken for strikes by Alek Mangual, who went down swinging on a 2-2 count. Brown was saddled with an unearned run in the second, but he didn't allow a hit until Linne broke through with a one-out single in the fourth.
Two nights later, Sumner celebrated a 10-4 triumph at Spoto in its Class 5A-District 8 debut. Among many firsts to come will be the March 2 home opener against Tampa Bay Tech.
The book on the Stingrays is open.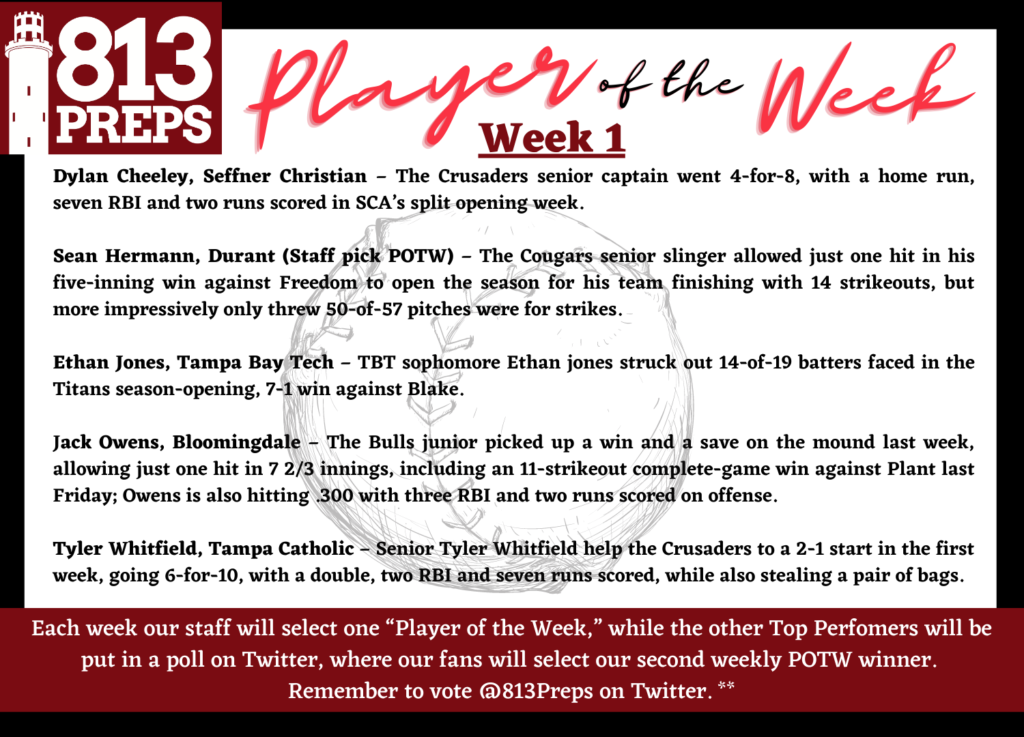 Tampa Bay Tech honors AD Carmody with first-pitch sendoff
TAMPA – After 33 years in education, longtime Tampa Bay Tech athletic director Marisa Carmody will retire from her position next week. Titans baseball coach Brett Goodrich did not want to let that happen before he and his student-athletes had a chance to honor Ms. Carmody for her years of dedication and service. Prior to TBT's home game against Armwood on Monday, the Titans diamond welcomed Ms. Carmody to the mound to throw out the game's ceremonial first pitch. Carmody, a three-sport MVP (basketball, volleyball & softball) and 2015 inductee to North Carolina's Lenoir-Rhyne University's athletics Hall of Fame, composed herself atop the mound, gave an intimidating stare over her right shoulder toward the Armwood dugout, then fired a strike across the plate.
"Ms. Carmody is extremely passionate about all sports and worked tirelessly with the coaches and players on campus to make sure we always had what we needed," Goodrich said. "Her dedication to the Tech family was unwavering and she we truly be missed by all coaches, players, and TBT staff."
– Jarrett Guthrie
Bloomingdale, Plant no strangers to heated competition
VALRICO – A local rivalry has been heating up with some unusual twists and turns.
Oddly, each of the past four Bloomingdale baseball seasons abruptly ended with Plant providing the opposition. The first three matchups went to the Panthers in the playoffs. Last year, the Bulls scarcely had time to celebrate their rebound with an 8-0 victory when the season was halted by, well, you know.
The series resumed Friday night with another shutout win for host Bloomingdale – No. 200 in the career of Bulls coach Kris Wilken, who would relish another opportunity to face the Panthers in an elimination game.
"Honestly, when we get to that point at the end of the year, I want nothing less than for it to have to go through Plant," Wilken said. "They're a great team, they're well-coached, they're always prepared. And if you beat them, you know it meant something."
Panthers coach Dennis Braun also is looking forward to their April 16 rematch in Tampa.
"It's always good to play Bloomingdale," he said. "That's why we decided to play twice this year."
– Bob Bellone