McDonald's homer sparks huge comeback win for Wharton
By Dylan Rudolph
813Preps correspondent
TAMPA – Entering Saturday's matchup, both Durant and Wharton sported impressive defenses with solid arms in both bullpens. Durant had allowed just one total run in its first three games to start the season, and the Wildcats — who have struggled a bit on offense — used two shutouts to help capture its first three wins of the year. So, a pitchers' duel was thought to be on the horizon when the two teams clashed Saturday morning. But that is not how things went down.
Both team's bullpens, after a long week of games, showed signs of fatigue, and the result was a flurry of scoring by both teams that ended with Wharton on top at home after a dramatic comeback to beat Durant 8-7.
The theme of the game was hitting with runners in scoring position.
Wharton (4-1), as it has most for of the season, struggled early to bring runners home, loading the bases twice in the first two innings but failing to score any runs thanks to clutch pitching from Durant's Zander Fisk, who blanked the Wildcats in his three innings pitched.
"We don't normally play well on Saturday's," Wharton head coach Scott Hoffman said after the game. "I said to the guys that if we could control the intake in the beginning, we could hang with them. But we didn't."
Durant (3-1), on the other hand, saw no struggle to find runs early in the game. Senior Javy Quintana hit a monster home run in the second inning past the Wharton scoreboard in right field for his team's first hit and the game's first run. The Cougars lead was extended in the fourth inning thanks to solid hitting from the bottom of its lineup. Eighth-hitter Aidan Welsh drove in Austin Sewell, before Thomas Allen's single brought home Welsh. A wild throw on a steal, a two-run poke to right field by Dean Hotz helped make it a 7-0 lead for the Cougars, and that appeared to be that.
But the lead Durant's six-run fourth inning provided was short lived. With Fisk now out and the bases again loaded, the wheels began to fall off, and the momentum began to shift.
The confidence remained in the Durant dugout even after a David Limbach sacrifice fly. It even remained after another walk to again load the bases and a two-run double by Quentin Meadows. But it was all gone after a monster three-run home run by Dylan McDonald.
"My eyes lit up," McDonald said. "High and in, and I just got my hands to it."
Editor's Note: Be advised, there is a little bit of colorful language at the end of the clip.
3-RUN HR: Dylan McDonald over the net to cap off a 6-run fifth inning for @Whartonbaseball pic.twitter.com/yexbnj148s

— Dylan Rudolph (@dyrudolph) February 27, 2021
The switch was flipped, and the inning's final two runs to give Wharton the lead — coming off a pair of doubles from catcher Frank Micallef and first baseman Billy Eich — seemed a mere formality.
"Hitting's contagious," Hoffman said. "We started doing what we were supposed to do."
Despite the burst of scoring, the defense was still needed to help put it away. Quintana would have had his second home run of the day if not for a robbery on the right-field fence by right fielder Tyson Sutton. A couple of nice plays in the sixth inning by outfielders Limbach and Braeden Hernandez — who made a diving play to save a possible extra-base hit — helped seal the game for Wharton's fourth win of the season.
"Those plays our outfielders made were just amazing," McDonald said. "Our defense, I believe, is the best in the county, and it just showed right there."
There will be no rest for the weary for either team as both play again on Tuesday. The Wildcats will face Alonso at home, while Durant will try to avoid its first losing streak of the season against Middleton. Both teams will be looking to use the next game as motivation for success as the season continues.
"They're high school kids," Hoffman said. "They're not perfect all the time. Sometimes they're guilty of doing too much. They're young. They're going to make mistakes. But, a senior-laden team, we expect them to do good."
The win marked a bit of a milestone for Hoffman, as the Gaither alum and one-time Leto skipper picked up win No. 250 for his career.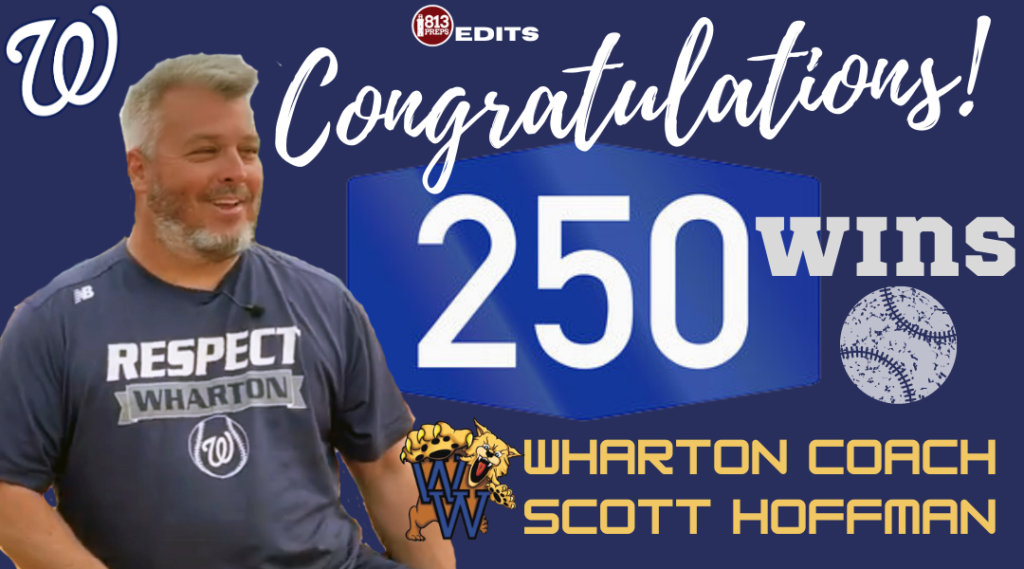 ⚾⚾⚾⚾
Wharton 8
Durant 7
D 010|600|0 – |7|7|2
W 000|080|x – |8|11|2
W – Glover (1-0); L – Sanchez (0-1); S – Ehrhard (1)
2B – Sewell (D); Eich, Meadows, Micallef (W); HR – Quintana (D); McDonald (W). Records – D (3-1); W (4-1).