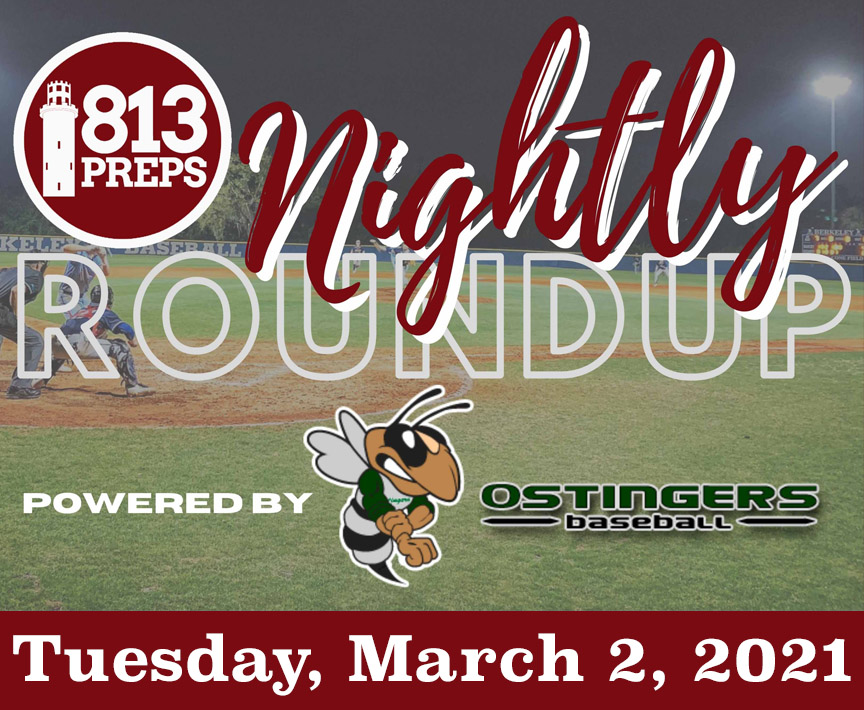 Jefferson 12
Countryside 1 – five innings
An emotional start to the evening where Jefferson honored the legacy of longtime area coach Pat Nunez, whose sons Spencer (head coach) and Casey (assistant coach) are in their first seasons leading the Dragons, led to a decisive offensive showing as the West Tampa J-Boys put it on visiting Countryside. Doubles from Javier James and Jaiden Duarte kicked off an 11-hit night for the Dragons, as four hitters notched multi-hit games. Duarte added a triple, two runs and two RBI to his three-hit night, while Yadiel and Yaidel Perez each had a pair of hits. Carson Moore worked three scoreless innings on the mound to pick up the win, and James finished the final two innings.
C 000|01x|x – |1|6|3
J 512|4xx|x – |15|11|1
W – Moore; L – Evans.
2B – Degusipe, Duarte, Fritz, James, Yad. Perez (J); 3B – Duarte (J). Records – C (1-4, 0-2 in 5A-7); J (1-1, 1-0 in 5A-7).
⚾⚾⚾⚾
Foundation Christian 7
Bayshore Christian 0
Foundation Christian senior Shane Saunders spun a complete-game, two-hit shutout, while striking out 13 against Bayshore Christian. Saunders also drove in a run and scored twice, with Carson Kull and Dylan Carlos each providing a pair of hits in the win.
BC 000|000|0 – |0|2|4
FC 202|111|x – |7|7|0
W – Saunders (1-0); L – Fernandez (0-1).
2B – Fraraccio, Corn, Saunders (FC). Records – BC (0-2); FC (4-0).
⚾⚾⚾⚾
Cypress Creek 10
Tampa Catholic 8
Tampa Catholic's Baraka Andrew's two-run home run keyed a five-run first for the Crusaders in a back-and-forth game against visiting Cypress Creek, but the Coyotes finally finished things off with a pair of late runs. Anthony Menendez paced the offense for Cypress Creek going 2-for-3 with a home run and four RBI, while also earning the win in relief; Max Menendez had a home run, Zach Buelk doubled in a four-hit night driving across three, and Ethan Petry was 3-for-4 with a pair of runs scored. For the Crusaders, Tyler Whitfield was 2-for-2, with a double, two stolen bases, two runs and an RBI, with MJ Bundick (2-for-4) and Brian Canasi (3-for-4) driving in runs.
CC 204|002|2 – |10|10|1
TC 500|102|0 – |8|9|2
W – Menendez; L – Ledo; S – Buelk.
2B – Petry, Buelk (CC); Docobo, Whitfield (TC); HR – M. Menendez, A. Menendez (CC); Andrews (TC). Records – CC (4-1); TC (3-3).
⚾⚾⚾⚾
Brooks DeBartolo 10
SLAM 1
Brooks DeBartolo won its second-straight as a three-run third innings started with a JJ Barreto double and helped along by an RBI double from Ryan Martin (2-for-2, two doubles, two runs, three RBI) pushed things in the Phoenix favor against SLAM. Ethan Corscadded struck out eight over 5 2/3 innings for the win, before Martin finished off the game. Jimmy Curtis (two doubles, three RBI) and Jace Hoffman (double, RBI) each had two hits, and Nick Tomsich was 2-for-4, with a pair of runs and a stolen base.
SLAM 000|010|0 – |1|3|4
BD      003|040|x – |10|11|2
W – Corscadden (2-0); L – Grinder.
2B – Diginaro 2 (SLAM); Hoffman, Curtis 2, Martin 2, Barreto (BD). Records – SLAM (1-3); BD (2-4).
⚾⚾⚾⚾
Academy at the Lakes 3
Cambridge Christian 1
AATL stays perfect with a 3-1 win over a pesky Cambridge team. A Carmichael 2-3 w/RBI. J. Syversen (W 1-0) 5IP, 10K, 0BB. T. Pelaez (S 1) 2IP, 4K, 0ER. Wildcats host Brooks on Thursday and IMG on Friday. @813Preps @AATLWildcats @HSSportsFL

— AATL Baseball (@AATLBSBALL) March 2, 2021
AATL 000|200|1 – |3|7|1
CC    001|000|0 – |1|4|1
W – J. Syversen (1-0); L – Taylor (0-0); S – Pelaez (1)
2B – Pelaez, Teeter (AATL); Morin (CC); 3B – Carmichael (AATL). Records – AATL (4-0); CC (1-3).
⚾⚾⚾⚾
Durant 4
Middleton 1
Durant's Ronnie Galletti struck out seven to earn the win against Middleton, with Sean Hermann picking up the save. On offense for the Cougars Carlos Morales hit a double and drove in a pair.
M 000|001|0 – |1|1|2
D 000|000|0 – |4|5|0
W – Galletti (2-0); L – Brown; S – Hermann (1)
2B –  Morales (D). Records – M (2-3); D (4-1).
⚾⚾⚾⚾
Strawberry Crest 17
Armwood 0
Colby Fanning earned a three-inning win, allowing just one Armwood hit and striking out three, the senior also had a double and singled. Ray Allen Vazquez was 2-for-2 with a double, triple and RBI, JT Hancovsky and Trenton Emerson drove in a pair.
A   000 | xxx | x.     – |0|1|3
SC 00(17)|xxx|x – |17|14|0
W – Fanning; L – Corns.
2B – Fanning, A. Nimmala, Vasquez (SC); 3B – Vazquez (SC). Records – A (1-5, 1-2 in 6A-8); SC (4-1, 2-0 in 6A-8).
⚾⚾⚾⚾
Riverview 6
Robinson 3
Don't run on our OF. We got cannons ?? Got the dub tonight against Robinson 7-3 @RiverviewBaseb1 pic.twitter.com/2itdYEIVnS

— Lukas Chunn (@LukasChunn) March 3, 2021
Ronnie Brandon tossed 3 2/3 innings to earn the win for the Sharks, before Kipp Kochera earned his second save in as many days. Riverview's Christian Tavarez was 2-for-3, stealing three bases and scoring twice, Caden Santucci scored three times, and Kochera drove in two. For Robinson, senior Ben Kim was 3-for-4, with two doubles and a run scored, and Robert Chatfield drove in a run.
Riv 201|100|2 – |6|5|4
Rob 201|000|0 – |3|8|3
W – Brandon (1-1); L – Brown; S – Kochera (2)
2B – Blowers, Kim 2 (Rob).. Records – Riv (3-2); Rob (2-3).
⚾⚾⚾⚾
Wharton 5
Alonso 3
Wharton's Ryan Fry struck out 15 to earn his first win of the season, and Elijah Dukes (2-for-3) singled in a run in a three-inning for the Wildcats. Senior Dylan McDonald was 2-for-4 with a double, two runs and a stolen base, and Zach Ehrhard stole a pair and scored twice. Alonso's Zen Hiatt hit his second homer of the season, and also had an RBI single.
@Zen_Hiatt26 solo home run in the 6th for @alonsohigh #PGHS @Florida_PG @813Preps @goraven7 #GoRavens pic.twitter.com/3e4C2IejLz

— travis daily (@iamtravisdaily) March 3, 2021
A  000|002|1 – |3|6|2
W 200|030|x – |5|6|1
W – Fry (1-0); L – Montilla (2-1); S – (0)
2B – McDonald (W); HR – Hiatt (A). Records – A (4-2, 1-1 in 7A-7); W (5-1, 2-1 in 7A-7).
⚾⚾⚾⚾
Mitchell 3
Gaither 1
M 300|000|0 – |3|2|3
G 100|000|0 – |1|2|3
W – Crowther (0-0); L – Grause (1-1); S – Miller.
2B – Howard (M). Records – M (3-2, 1-0 in 6A-9); G (1-1, 0-1 in 6A-9).
⚾⚾⚾⚾
Fivay 14
Chamberlain 4
Records – C (0-2, 0-1 in 5A-6); F (1-3, 1-0 in 5A-6).
⚾⚾⚾⚾
Pasco 10
Freedom 1
F (2-4); P (2-3).