Sumner bows to Tampa Bay Tech in inaugural home game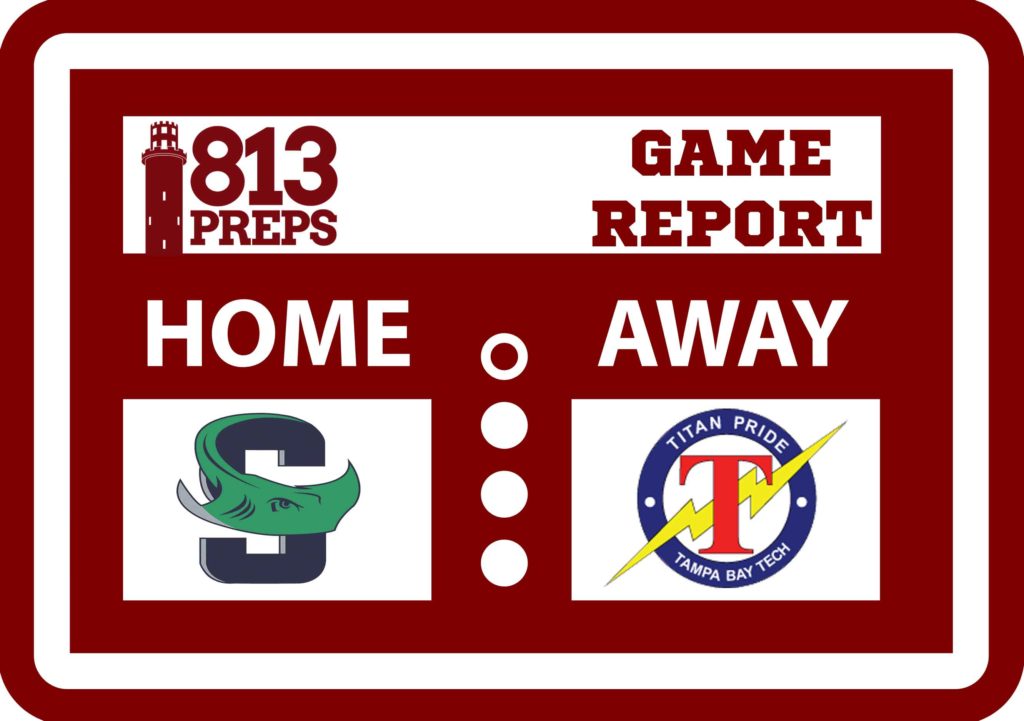 By Bob Bellone
Senior Staff Writer
RIVERVIEW – Sumner rolled out the welcome mat for Tampa Bay Tech on Tuesday night. Perhaps the Stingrays were overly gracious hosts in their first home game in school history – a 6-1 loss.
"It didn't even cross my mind that we were actually their first game," Titans coach Brett Goodrich said. "I didn't know that until we got here tonight. I kind of feel bad spoiling it, but at the same time I love winning."
Tech (2-3) didn't exactly put on a defensive clinic itself, committing five of nine errors in the non-district contest.
The Titans were first to capitalize on all this generosity, scoring twice without a hit in the third inning. Rays starting pitcher Jayden Brown issued a leadoff walk to Christian Davis. Next up was Javion McKay, who followed pinch runner Reshea Thomas into scoring position on a two-base throwing error.
Thomas recorded the historic first run on the diamond off a fielder's choice. McKay advanced to third base on shortstop Manny Ramos' throw to first and crossed with the game winner on a wild pitch.
Sumner (1-2) also got on the scoreboard in the third without benefit of a hit. Vince Diballa drew a one-out pass from Tech starter Ethan Jones and moved from station to station on a stolen base and the first two of three infield errors.
Diballa, a sophomore second baseman, was pleased to be the first Stingray to swipe a base and to complete a round trip from home plate. What he missed in the scorebook was a W.
"As a new team that's something you want to think about because it's all about making history," he said of his milestone contributions. "Unfortunately, we didn't get the dub tonight, but we played our hardest."
The Titans added an insurance run in the sixth and three more in the seventh, improving to 2-0 on the road. Jones had seven strikeouts and allowed only three hits before fellow right-hander Evan Mobley moved from shortstop to the mound, earning the save with two hitless innings.
"I just had to pound the zone. I knew we had to play it like it was a 2-1 game," said Mobley, whose leadoff infield single and ensuing theft of second base in the second inning were ballpark firsts.
Sumner didn't have to wait long for its initial hit, a double by sophomore left fielder Alex Collura leading off the first.
"I was worried the whole day. I'm like, you know what. What if I strike out, first at-bat on this new field in history," he said, "and I got up to bat and just let it go."
Rays coach Kennedy Duran quickly let go of the frustrating defeat of his young team, coming off an extended layoff since a 10-4 triumph at Spoto in its Class 5A-District 8 debut Feb. 19.
"We're tied for first in the district," he said, bursting into laughter. "We'll do with small victories."
– Bob Bellone, with a half-century of experience in sports reporting, is in his fourth year with 813Preps.com.
⚾⚾⚾⚾
Tampa Bay Tech 6
Sumner 1
TBT 002|001|3 – |6|4|5
S     001|000|0 – |1|3|4
W – Jones (2-1); L – Brown; S – Mobley
2B – Collura (S). Records – TBT (2-3); S (1-2).