Hutchinson's love of baseball and service to others lives on
By Jarrett Guthrie
Editor
There are always people who go slightly unrecognized as the gears that turn the wheels for any major event or undertaking. The "go-to guy" who shows up early, stays late and gets the job done. For nearly 30 years, that guy for Tony and Bertha Saladino's annual Saladino Baseball Tournament was Norm Hutchinson – and really, he was that guy for anyone he knew, who needed anything at all. Greeting guests under the hospitality tent each year with a ball cap tipped back on his head, wearing a beaming smile with a booming and welcoming voice.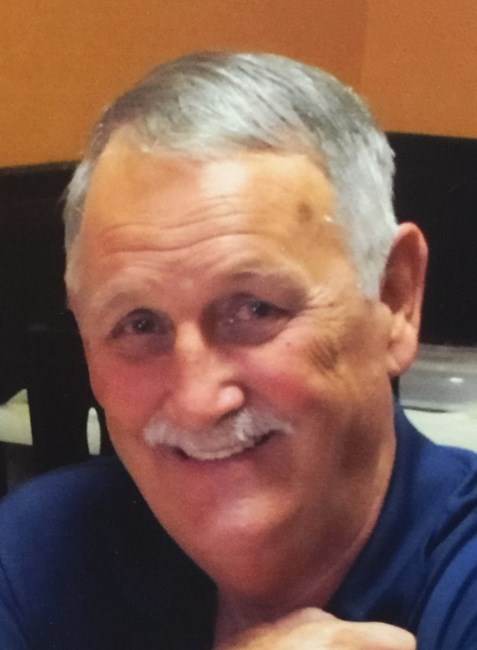 This year, amidst a number of changes due to the Covid pandemic, the biggest change will be one huge and sad missing piece of the beloved yearly tournament.
Norman Hutchinson passed away on January 2, 2021 after a battle with cancer, he was 79 years old.
In 1991, Tony Saladino chaired a board setup to build a statue to honor Tampa baseball legend and MLB Hall of Famer Al Lopez, and placed an ad asking for members to join the planning committee in the local newspaper and Mr. Hutchinson (then serving on the board for the Tampa Tarpons) answered the call.
From there, Mr. Hutchinson was the Saladino's right hand man. He served the tournament for years running the operations, from dealing with putting up and maintaining the temporary facilities, to meeting and working with vendors, to adding greeting all he met with a huge amount of energy. He was literally the first man at the host site in the days leading up to the event, and the last one to leave after the annual championship had been completed.
"Norm made mine and my wife's life so much easier," Tony Saladino said. "In the early days we did it all, but from the day he joined us he took that role on and we knew we never had to think about it again. He was worth a million bucks."
Baseball was a lifelong love for Mr. Hutchinson. Born in Maryland, he and his family moved to Florida in the late 1940s, and he graduated from Plant High before joining the U.S. Air Force and spending some years with his family in California. He relocated back to Tampa for good in 1970.
He and his wife of 38 years Pat, have been dedicated volunteers for the tournament for years, both sharing a love for the event and the latter supporting her husband's love of baseball. Mr. Hutchinson was a hero to his family, which includes four daughters and four grandchildren, for whom he was every bit the reliable guy he proved to be to those of us in the community.
"He loved doing things for others," grandson Dane Moore said. "He was known in our family for being the person who never wanted recognition for anything, but he wanted to do anything he could to help others be great."
For Moore, currently in his second season as an assistant coach at his alma mater Freedom High, baseball was a shared love that the two had for his entire life. And the Saladino tournament was an experience that because his grandfather loved it so much, drew him closer and deeper into the game. Moore first attended the event with his grandfather as a young boy, and knows well the pride it brought Hutchinson to see him play for the Patriots in the event for three years (2008-10).
"It was always baseball, any form of the game, he loved it all," Moore said. "Once he realized I was really into the game, it was his goal to see me play in the Saladino, and in 2008 he was very happy to see me there in the tournament."
Sadly, with the cancelation of the 2020 edition of the tournament, Mr. Hutchinson was unable to witness his grandson take on a new role at the tournament as a coach, manning the first base box for the Patriots, but Moore said this season he'll be proud to represent his family's legacy at the Saladino in a new way.
"Last year would have been a storybook ending for him to see me coaching in it, you know kind of full-circle, but unfortunately that didn't happen," Moore said. "But I know he'll be with me and very happy this year."
813Preps will be proudly dedicating our coverage of the 2021 Saladino Baseball Tournament to the memory of our friend, Norm. #PlayBall4Norm
•••••
⚾

2021 Saladino Baseball Tournament

⚾
When: Saturday, March 13; Monday, March 15 – Wednesday, March 17.
Where: Brandon (host site), Bloomingdale Durant, Jesuit, Plant City and Strawberry Crest.
Tournament Format: As with last season's planned, but cancelled edition of the Saladino Tournament, the event has changed a bit from previous season's events. The schedule and bracketing, which was picked by the Hillsborough County Schools Athletic Department, features two tournaments: a 16-team Gold Division tournament, and an 8-team Silver bracket, with each team involved guaranteed four games on the week. The schedule and rankings were carried over from the county's choices for the 2020 event as last year's shortened season and tournament cancellation was deemed too small a sample size for reseeding. Another change to this season, due to the pandemic and safety precautions involved, is that the county required the addition of two more sites to the event, up from four as its been in recent history to six locations. For the Gold Division, the tournament final will be held Wednesday, tentatively set for a first pitch at 7 p.m. from Brandon High's Don Powell Field.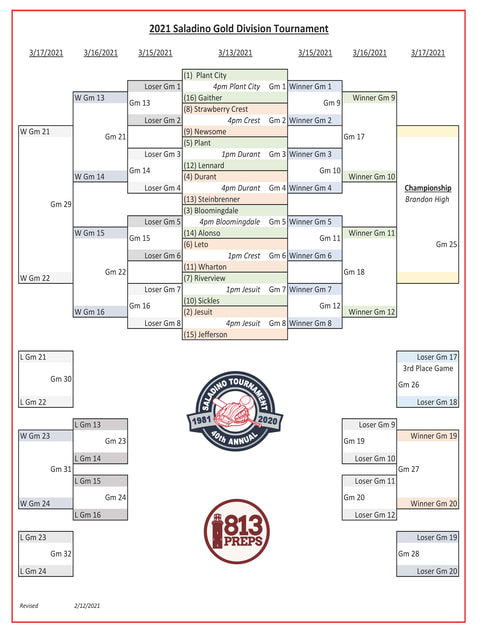 The Saladino website will be your best source for tournament announcements (click here to be directed there), and the event's board is asking for some patience this year, as due to the changes and the fact that there have been additions of two more game sites (where teams do most of the pregame preparations to the field) the schedule will be a bit in flux. The only set schedule at this point is for Saturday's slate of games. The Silver bracket's schedule of game opponents is a little bit more set in stone, however, the dates and locations of games will be amended as the Gold Division plays out on a night-by-night basis.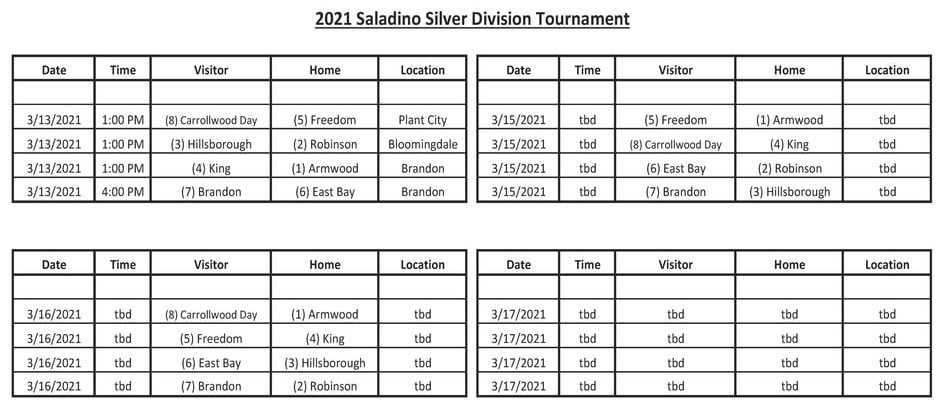 **IMPORTANT NOTE: As with all public school games this season, the Saladino Tournament will be a cash-free event and tickets will need to be purchased online prior to arrival at the game. Again, follow the event website for more details and links to the ticketing options.
⚾⚾⚾⚾

Ryan Fry, Wharton

(staff pick Player of the Week) – The Wildcats junior righty struck out 15 in 5 2/3 innings on the mound in a win against Alonso. And followed that start up last night with another 15 K's – this time to go along with a complete game no-hitter against East Bay.

J

aiden Duarte, Jefferson

– The Dragons senior was 5-for-5, with two triples, a double, three RBI, four runs scored and two stolen bases in a pair of wins last week.

Colby Fanning, Strawberry Crest

– The Chargers senior was 6-for-11 at the plate with three RBI, five runs scored and three stolen bases in three Crest wins last week, while he also pitched in two games, earning one win and striking out eight in eight shutout innings.

Kohl Robertson, Sickles – The senior was 6-for-8 last week with a home run, a double, four RBI, six runs and three stolen bases in a pair of big district wins for the Gryphons in Week 3.

Cole Russo, Jesuit – The Tigers senior slugger cracked a pair of home runs for his team last week, including a 2-run liner to right as Jesuit avenged its previous night's loss to Venice on Saturday night.
⚾⚾⚾⚾
813NextLevel: Hillsborough High alum Tim Elko had a pretty solid week for Ole Miss if you like offense. Elko had 10 hits, 13 RBI, five homers, scored eight and walked six times in five wins for the Rebels last week. The offensive output netted the Ole Miss senior Collegiate Baseball's National Player of the Week honors … In the ACC, Plant City state champion and 2019 All-813Preps MVP Parker Messick earned conference Pitcher of the Week honors after last Friday's eight inning, 11 strikeout performance in Florida State's 2-0 victory against No. 16 Virginia … Jesuit alum Bennett Lee hit his first collegiate home run for Tulane on Sunday and followed it up with an RBI double later in the game, while former teammate Josh Mallitz made his first start on the mound at Ole Miss last night, pitching four shutout innings, earning a win and striking out six … Berkeley Prep alum Julian Bosnic fanned nine for South Carolina, earning a win with 5 2/3 innings on the mound against Mercer … King alum Justice Thompson is flat-out raking at UNC, hitting .405 (17-for-42) with four homers, four doubles, 12 runs and eight RBI and stole home in a game this year.