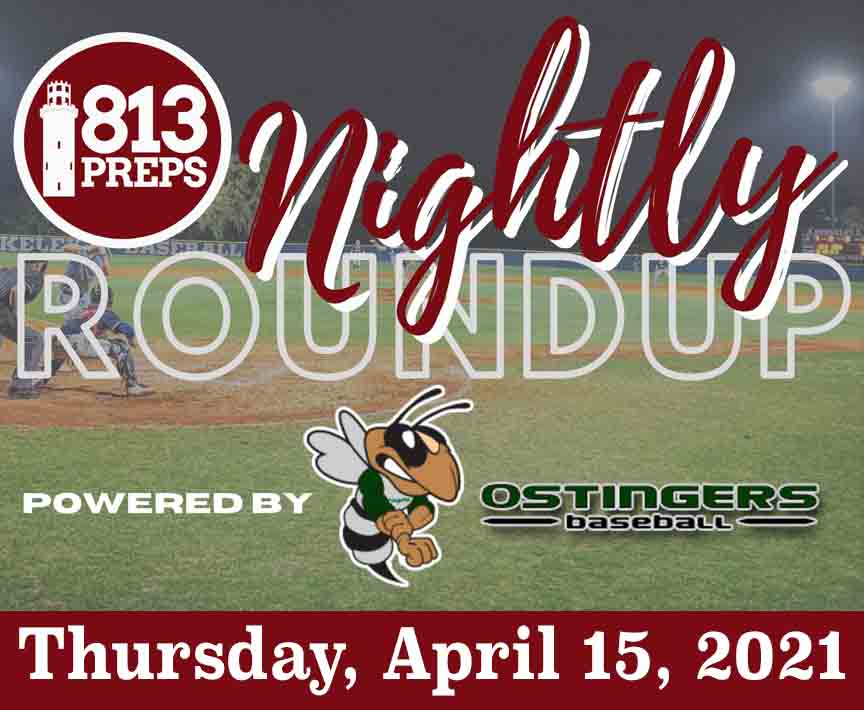 Tampa Catholic 9
Academy at the Lakes 2
Tampa Catholic senior Tyler Whitfield lead off the home-first with a double, eventually scored on a fly ball error, before MJ Bundick singled in two of his five RBI in the Crusaders win against AATL. Brian Canasi had a triple and two RBI, while Whitfield (3-for-4, two runs), Bundick, Vashawn Dukes and Josh Batteese each doubled for TC. Danny Lazaro earned his third win of the season on the mound. For the Wildcats, Tanner Pelaez had a double and David Scamporino singled in a run in the fourth.
AATL 000|200|0 – |2|3|1
TC     302|400|x – |9|10|0
W – Lazaro (3-3); L – Pelaez (0-0).
2B – Pelaez (AATL); Whitfield, Bundick, Dukes, Batteese  (TC); 3B – Canasi (TC). Records – AATL (6-12); TC (9-8).
⚾⚾⚾⚾
(7) Sickles 3
Riverview 2 – eight innings
Luke Fikar's RBI sac bunt drove in a run as Sickles defeated Riverview in the eighth inning. The walk-off effort supported an excellent, complete-game effort from Holden Wade who struck out 11. Senior Adrian Gutierrez was 2-for-3 with a double and a run scored for the Gryphons. Farah Castillo went 2-for-3 with a double and an RBI, Caden Santucci scored both runs and John Smith was 2-for-3 with a double.
R 101|000|00 – |2|0|0
S 000|200|01 – |3|0|0
W – Wade (5-3); L – Tishman (0-1).
2B – Castillo, Smith, Kochera (R); Gutierrez, Yost (S). Records – R (11-10); S (13-8).
⚾⚾⚾⚾
Alonso 3
(6) Strawberry Crest 1
Alonso scored two runs in the third as Sammy Seplowe doubled and eventually scored the deciding run in a low-scoring game. Chris Morgan and Keenan Rutledge singled in runs for the Ravens in support of five innings from starting pitcher Haile Daley, who allowed one unearned run and struck out five. Seplowe pitched two no-hit innings, also striking out five to earn his sixth save. Strawberry Crest scored in the second as Zach Redner singled and scored on an error, and senior Bryan Boully pitched a complete-game, striking out 11.
A    002|001|0 – |3|5|2
SC 010|000|0 – |1|4|1
W – Daley (4-3); L – Boully (4-5); S – Seplowe (6)
2B – Seplowe (A). Records – A (12-9); SC (14-8).
⚾⚾⚾⚾
King 5
Sumner 1
Lions senior Dontavious Johnson was 2-for-3 with a double, triple and three RBI to support his own effort on the mound, striking out seven in a complete-game effort. Bennett Weinard doubled and scored twice, while Elias DeJesus went 2-for-3, with a run and RBI for King. Sumner scored its run in the second on an RBI double by Jamal Roche (2-for-3).
S 010|000|0 – |1|4|2
K 100|040|x – |5|7|1
W – Johnson (5-3); L – Nedd.
2B – Roche (S); Johnson, Weinard (K); 3B – Johnson (K). Records – S (3-12); K (8-12).
⚾⚾⚾⚾
(10) Jefferson 7
Spoto 0
Jefferson broke open a scoreless game with Spoto in the third as RBI doubles by Javier James and Matthew Johnson started things before Nathan Reta pushed the game far out of reach with a grand slam. Myles Diaz pitched four no-hit innings to earn the win for the Dragons in his first varsity pitching performance.
S 000|000|0 – |0|2|2
J 007|000|x – |7|6|2
W – Diaz (1-0); L – DiNova.
2B – James, Johnson (J); HR – Reta (J). Records – S (1-16); J (12-8).
⚾⚾⚾⚾
(T-12) Plant City 16
Tampa Bay Tech 0 – four innings
Ryan Robinson hit his third homer of the season – a grand slam – to pace the Raiders to a district win in three innings. Jack Brosky doubled and drove in three for Plant City, and Griffin West pitched one scoreless inning, before Chase Mobley struck out four in three scoreless innings to earn the win
TBT 000|0xx|x – |0|1|6
PC  790|xxx|x – |16|8|1
W – C. Mobley; L – E. Mobley (0-0)
2B – Brosky (PC); HR – Robinson (PC). Records – TBT (3-14, 0-8 in 6A-8); PC (13-8, 5-3 in 6A-8).
⚾⚾⚾⚾
(5) Durant 10
Armwood 1
Durant senior Luke Scolaro got the Cougars on the board with an RBI sac bunt in the first, and later added the deciding run with a home run to right. Austin Sewell had a two-run homer in the fifth, while Thomas Allen (double) and Dylan LaPointe (triple) each had two hits. Ronnie Galleti earned the win, allowing one unearned in three innings, with shutout innings by Sean Pikulski (2 ip) and Weston Sanchez (2ip, five K's).
D 101|150|1 – |10|11|3
A 001|000|0 – |1|2|1
W – Galleti (2-0); L – Johns.
2B – LaPointe (D); 3B – Allen (D); HR – Scolaro, Sewell (D). Records – D (16-4); A (5-17).
⚾⚾⚾⚾
(4) Wharton 6
Freedom 2
When my team needed me most i came through 🤘🏾❤️ @Florida_PG @813Preps @TieGoes2Runner @tedtomjr @WhitsonKarsten @USF_CoachMohl @CoachTJ_Lanning @BenHallbsb16 @BUSShowcase @PBRFlorida @C_Hatcher_PBR @JeredGoodwin3 pic.twitter.com/MrUs9gYVMs

— Elijah Dukes (@ElijahDukes4) April 16, 2021
Elijah Dukes solo home run started a comeback for Wharton, and he added an RBI single an inning later. In between, the Wildcats got a solo homer from Zach Ehrhard, and RBI doubles from Frank Micallef and Billy Eich to defeat neighborhood opponent Freedom. Senior Michael Rivera earned the win with two innings of relief. Gio Mendoza drove in both Freedom runs, and EJ Reyes went 2-for-3.
F  101|000|0 – |2|4|1
W 000|015|x – |6|9|2
W – Rivera (1-1); L – Morrison (3-5).
2B – Eich, Hernandez, Micallef (W); HR – Dukes, Ehrhard (W). Records – F (10-10); W (17-4).
⚾⚾⚾⚾
(T-12) Leto 10
Blake 0 – five innings
Senior Shabazz Brumley hit an inside the park home run for his first career dinger, and RJ Gutierrez was 4-for-4 with two doubles and two RBI for Leto. Christian Gonzalez pitched four no-hit innings to earn the win for the Falcons.
B 000|00x|x – |0|1|2
L 313|3xx|x – |10|7|0
W – Gonzalez; L – Woods.
2B – Gutierrez (L); HR – Brumley (L). Records – B (1-13); L (12-7).
⚾⚾⚾⚾
Middleton 4
Brandon 2 – 10 innings
Middleton tied the game in the seventh on RBI from Cameron Williams and Remer McIntyre Jr, pushing it to extra-innings against Brandon, where the Tigers got a two-run hit from Nathan Vong in the 10th and held on for a win. Malikk Brown pitched nine innings and struck out seven for the Tigers. For Brandon, Kendal Spencer went 2-for-3 with a double and triple.
M 000|000|200|2 – |4|4|2
B 200|000|000|0 – |2|4|3
2B – Williams (M); Spencer (B); 3B – Spencer. Records – M (5-12); B (9-12)
⚾⚾⚾⚾
Brooks DeBartolo 6
Hudson 5
Ryan Martin and Jaeden Johnson singled in runs in the fifth to push the Phoenix lead out far enough to weather a Hudson comeback attempt in the seventh. Martin finished the game with three RBI, Miller Raeckers drove in a pair, and Austin Stirling was 1-for-3 scoring twice. Ethan Corscadden earned the win, while Jace Hoffman entered with no outs and a runner on third and closed the door, including making an out at home, fielding a comebacker.
BD 022|020|0 – |6|8|4
H   111|000|2 – |5|9|1
W – Corscadden (4-1); L – Larked; S – Hoffman (1)
2B – McElreath (H). Records – BD (6-12); H (10-8).
⚾⚾⚾⚾
SLAM 7
Carrollwood Day 2
SLAM 000|100|6 – |7|7|2
CDS   100|000|1 – |2|6|2
Records – SLAM (4-13); CDS (5-13).
⚾⚾⚾⚾
Lakeland Santa Fe Catholic 8
Foundation Christian 1
FC 000|100|0 – |1|6|2
SF 311|201|x – |8|12|0
Records – FC (12-4, 0-3 in 2A-8); SF (16-5-1, 3-0-1 in 2A-8).
⚾⚾ Wed, April 14 ⚾⚾
(2) Bloomingdale 9
Blake 2
Junior Makye Hayes went 4-for-5, leading off the game with a solo home run and adding three RBI singles in the Bulls road victory, and Alex Vazquez doubled in a pair. Trey Chilton earned his first win on the mound, and Jake Nolte pitched four innings of relief and struck out nine. Blake's Jake Montgomery singled in a pair in the first inning.
Bloom 130|400|1 – |9|10|0
Blake  200|000|0 – |2|5|3
W – Clinton (1-0); L – Vassar; S – Nolte (2)
2B – Magadan, Rosario, Vazquez (Bloom); HR – Hayes (Bloom). Records – Bloom (15-5); Blake (1-13).
⚾⚾⚾⚾
Bell Creek 5
Academy at the Lakes 4
A Dante Portillo RBI single in the third proved decisive as Bell Creek held off a late rally at Academy at the Lakes. Tyler Fritsch held the Wildcats to one run and struck out six to earn the win for Bell Creek, and Isaac Martinez was 2-for-4 with an RBI. Back-to-back RBI doubles by Josiah Bayona, Jacob Syversen and a run-scoring singly by Tanner Pelaez mounted a comeback for AATL, but Caleb Rodriguez finished off the game stranding the tying run at third.
BC 122|000|0 – |5|6|1
AL 000|010|3 – |4|8|2
W – Fritsch; L – Bringgold; S – Rodriguez.
2B – Bayona, Carmichael 2, Jac. Syversen (AL). Records – BC (10-6); AL (0-0).