Indians still on comeback trail: East Bay rallies past Newsome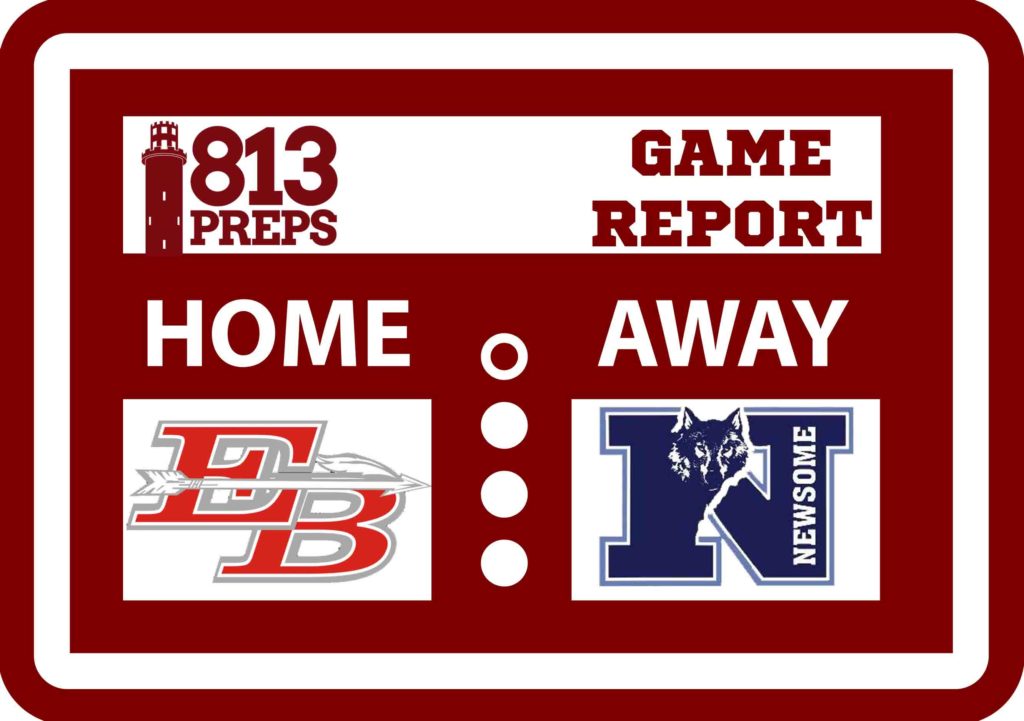 By Bob Bellone
Senior Staff Writer
GIBSONTON – East Bay is developing a knack for staging late comebacks. In their home finale Thursday night, the Indians worked their magic for the fourth consecutive game with a 5-3 victory against Newsome.
East Bay (15-6) entered the non-district contest on the heels of similar rallies in the fifth inning or later against Brandon, Hillsborough and Robinson.
This time, Newsome (11-9) set the stage with three runs in a wild top of the first.
Evan Dempsey led off with a single, stole second and was joined on the basepaths when Matt Giles walked. While Indians right-hander Stephen Heslin was completing a strikeout of Kelsen Johnson, a double steal put runners on second and third.
A wild pitch during a walk to Evan Wainman, the last batter Heslin would face, enabled Dempsey to score and Giles to take third. After the second double steal of the inning made it 2-0, Fulton Lockhart greeted relief pitcher Manny Dooley with a run-scoring double.
Newsome starting pitcher Josh Pitre protected the three-run cushion until he was pulled after four scoreless innings as a precautionary measure. The right-hander shrugged off his lost opportunity for a victory.
"No big deal," he said. "I trust my teammates with my life. They battled the whole way. I couldn't be more proud of my team."
The pitching change was a big deal to East Bay coach Cody Crouse.
"I thought that was the breaking point of the game," he said. "I think what gave us a boost of energy was when they took him out."
The Indians quickly tore into the bullpen, tying the score in the fifth. The inning concluded with a play that left both coaches shaking their heads afterward – and yet it didn't figure in the final outcome.
Hans Walker opened the fifth with a base hit and Deshaun Manuel drew a walk. A wild pitch set up a two-run double by Javy Lopez, who crossed with the tying run on a one-out single by Jeremy Galen.
After Galen swiped second and Ethan Sillart walked, things unraveled.
He can't be stopped! UNCOMMITTED Senior Jeremy Galen @JeremyGalen1 strokes a single to RC to knock in the game-tying run! In the 5th, score is 3-3 vs Newsome. @813Preps @HSSportsFL @AllOnBaseball @StreamLiveTampa @UNCOMMITTEDBSB @BUncommitted @now_d1 pic.twitter.com/0abSfkrDza

— East Bay High Baseball (@EastBayHighBas1) April 16, 2021
Riley Linne hit a pop-up that fell from the glove of Wainman along the third-base line. The infield fly rule reportedly had been called, but seemingly no one on either team came to that realization.
Linne was ruled the second out. Galen, meanwhile, took the unoccupied bag at third, then unknowingly gave himself up for the third out by heading off to the dugout.
East Bay redeemed itself with a pair of unearned runs in the sixth, when Lopez singled for his second straight hit after striking out in his first two plate appearances. The senior was grooming the mound after the game when he was asked about his crucial two-base hit.
"Two ugly first at-bats," Lopez said. "I had to make up for it late in the game."
Newsome coach Dick Rohrberg could have stood less ugliness from his defense.
"We made a bunch of errors," he said. "We had players try to make plays that weren't their plays at first base twice. That was both innings they scored runs. It's inexcusable. We work on that stuff all the time."
⚾⚾⚾⚾
(8) East Bay 5
(9) Newsome 3
N   300|000|0 – |3|5|3
EB 000|032|x – |5|8|1
W – Dooley; L – Schlarbaum; S – Potsic
2B – Lockhart (N); Lopez (EB). Records – N (11-9); EB (15-6).