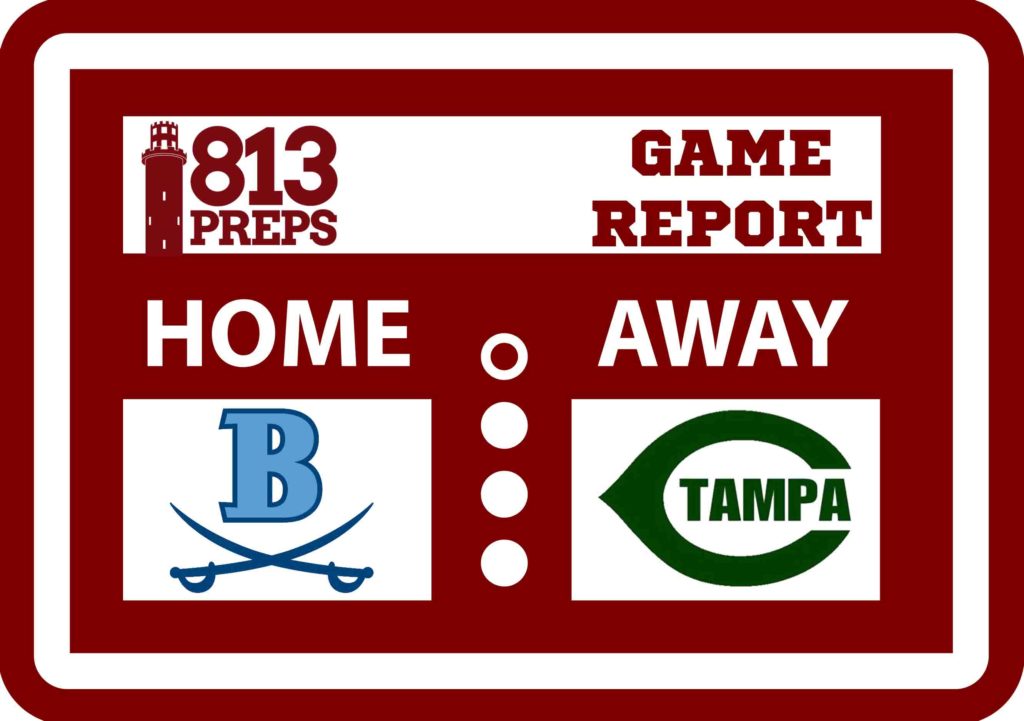 By Rick Cantor 
Correspondent
TAMPA – Berkeley Prep's offensive firepower was on display Wednesday night as the Bucs scored early and often en route to a 13-3, six inning victory over Tampa Catholic in a 3A-District 8 semifinal at Carlson-Cone Field.
The win sets up a grudge match in the district final game versus Calvary Christian (winners 20-5 against Brooks DeBartolo in the other 3A-8 semifinal) on Friday night as the intercounty rivals split their two regular-season contests.
The Buccaneers (21-4) jumped out to an early lead as sophomore Cade Kurland (1-for-3, two RBI, three runs scored) led off the game with a solo blast to left. Berkeley added another pair of runs on sacrifice flies by Johnathan Bruno (two walks, two RBI) and James Hankerson for a quick lead.
District Semi-Final win tonight. ? @813Preps @BPBucBaseball @Rickcantor76 @rocco_iervasi @PG_Scouting @JBrownPG pic.twitter.com/AdUbbKsDpV

— Cade Fox Kurland (@CadeFox4) April 29, 2021
In the third, it was Hankerson (1-for-3, three RBI) striking again, this time with a two-run double. Troy Reader followed with an RBI single as the Bucs increased their lead to six.
Tampa Catholic (10-12) had runners on the basepaths in each of the first three innings and broke through in the top of the fourth, when Josh Batteese singled up the middle to score a run, and MJ Bundick scored on a throwing error to cut the lead to four.
That would be as close as the Crusaders would come as lefty Will Parkinson reasserted control. The senior Columbia commit was solid, scattering five hits and two earned runs over five innings, while striking out six.
"I just wanted to come out and play loose and if I was loose, it would transfer to the offense," said Parkinson. "Tampa Catholic had a really good approach tonight looking to go oppo on me with two strikes and even early in the count."
The Bucs would add to their lead in the bottom of the fourth on a bases loaded walk drawn by Bruno, and a single by senior hit-machine Andrew DiMisa (3-for-4, two RBI).
"I was trying not to do too much. Keep it simple and hit some singles. I wasn't seeing the ball too well early, but I adjusted," said DiMisa. "John Bruno got on base the majority of his at-bats. Anthony Castillo always gets on. A lot of guys are always on base. It's a real team effort."
Andrew Dimisa, 2021 Uncommitted, with his third hit in Berkeley's District Semi-Final game. How in the world is he uncommitted?@813Preps @BPBucBaseball @PBRFlorida @DiamondProMedia @FlatgroundBats @Florida_PG pic.twitter.com/lk536shYLb

— Ed Parkinson (@Ed_Parkinson3) April 29, 2021
Berkeley still wasn't finished scoring, adding late runs on a no doubt two-run home run by Gunnett Carlson, another RBI single by Dimisa, and finally with Bruno and Kurland each hit by pitches with the bases loaded.
District Semis?? pic.twitter.com/ZpSC95SNgY

— Gunnett Carlson (@CarlsonGunnett) April 29, 2021
In Friday's showdown with Calvary, DiMisa – who notched the save against the Warriors in the Bucs' March 26th win, is expecting a tight contest.
"Long standing rivalry with those guys," he said. "We are neck-and-neck with them with talent this year. Bring the spectators out, its gonna be a good one".
⚾⚾ 3A-7 Semifinal ⚾⚾
Berkeley Prep 13
Tampa Catholic 3 – six innings
TC 000|210|x – |3|6|1
BP 303|241|x – |13|9|2
W – Parkinson (7-1); L – Lazaro (3-5).
2B – Hankerson (BP); 3B – Dukes (TC); HR – Kurland, Carlson (BP). Records – TC (10-12); BP (21-4).