Carlson drives in five as Bucs play Top Dog against Vikings
By Mike Camunas
Creative Director
TAMPA — There's a lot of ways to call what happened on the sprawling campus of Berkeley Prep, with its baseball complex nestled towards the back.
Call it a fluke.
Call it as it was meant to be.
Call it that what happened was exactly supposed to happen.
But there's one thing it definitely won't be called on said campus.
(Lowers voice) … an upset …
"We didn't think we were the underdogs," said Buccaneers pitcher Will Parkinson, who allowed just a hit over 2 1/3 innings pitched.
"No," catcher Gunnett Carlson said bluntly after driving in a game-high FIVE RBI. "We knew who they were, but we know who we are, too."
"(It's probably an upset) to people outside of our community," seventh-year Berkeley Prep coach Richie Warren said. "Our kids don't believe that (we're ever the underdog)."
Admiration should be given to the Buccaneers (24-4) and their confidence because plenty of evidence (rankings, statistics, trash talking, etc.) said otherwise and that with Lakeland Christian, a nationally-ranked team with just one loss, had the upper hand and, on paper, would be the team moving on to the Class 3A regional final next Wednesday.
But that wasn't Berekely's narrative. Not from the moment the Bucs stepped into the batter's box in the bottom of the first inning and would amass 16 hits and never let off the throttle to defeat the Vikings 14-8 in front of a jubilant crowd on Tuesday night.
"In the end," Warren added, "rankings are just numbers on paper and you have to go out and win it on the field and to be one run better than the other one and we were that tonight."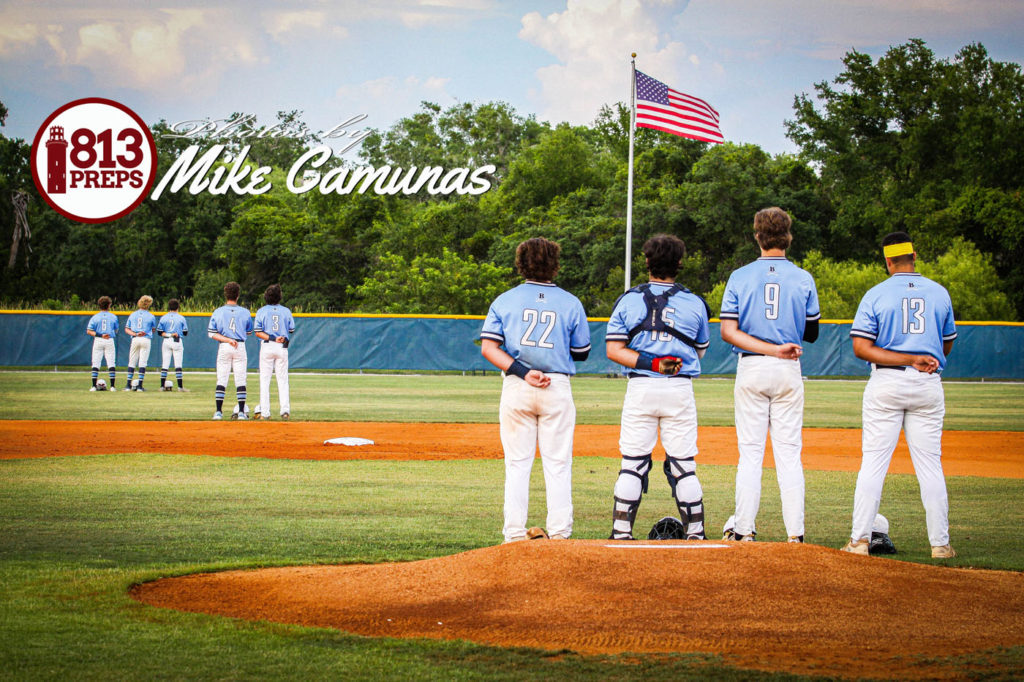 To be fair, the Buccaneers were much better than just one run over a Lakeland Christian (26-2) team outscoring opponents 262-38 entering the game. In fact, no team the Vikings faced this season dropped double-digit runs on them, nor even scored more than four runs.
"We went in knowing that they had bats — god, did they have bats!" Parkinson said. "We were right there and came in prepared, yet that six-run lead never felt safe, but we got it done tonight."
Indeed, right out the gate, it seemed like everyone's predictions would come to fruition, and the Vikings would dominate, especially since they scored two in the bottom of the first off stater JT Quinn, who would pitch just two-plus innings and give up five runs on five hits before giving way to Evan Parmer and Parkinson.
"You know," Carlson said, "when JT is on the mound, we know we always have a shot, even when he doesn't have his best stuff. But Evan and Will are going to come in and do their stuff and, boy, did they ever tonight."
Parmer and Parkinson would combine to pitch the final five innings, though allow three runs, including a two-run homer off Quinn from the big bat of Lakeland Christian's Brody Donay, a 6-foot-5 junior catcher who is committed to Virginia Tech and would go on to have a team-high four RBI.
"The top of their lineup," Warren said, referencing Donay, who was the Vikings clean-up hitter, "is some of the best we've ever seen."
Though the Buccaneers had other plans.
Right after Lakeland Christian would score two in the first, Berkeley Prep turned right around and batted through its order in the bottom of the inning, scoring four, then do the same in the bottom of the second.
This was all led by Carlson, who drove in four before the end of the second.
"Gunnett is really the catalyst for us and has gotten it going in the postseason," Warren said. "He's gotten hot at the right time and it seems like every time he's up, he's got runners in scoring position, so we'll take five RBI every time (laughs)."
Postgame interview with @BPBucBaseball coach @rawarrenjr on the Bucs HUGE 14-8 3A regional semifinal win over nationally-ranked Lakeland Christian that saw his team with 16 hits and the most runs scored on the Vikings this season. @813Preps pic.twitter.com/27yiENZ6FX

— Mike Camunas ??⚾️ (@MikeCamunas) May 12, 2021
"When he goes," Parkinson added, "we go. He really is our firecracker because he makes us pop — it's like he's livid the whole (game), but it's fun to watch. And when he does what he does tonight, we're going to definitely win."
Carlson would finish the night 2-for-2 with FIVE RBI, a walk and a sac fly, yet he was hardly alone in the hit-fest. Senior outfielder Knox Meier would go 4-for-4 with an RBI, while Cade Kurland, Andrew DiMisa, Anthony Castillo, Johnathan Bruno and James Hankerson would all drive in a run. Drew Canody, the No. 9 hitter, went 2-for-4 with two RBI.
"We prepared for anything they threw at us and our great coaching staff had us prepared for that, too," Carlson said. "We knew those would be big arms, but we would be ready for whatever those big arms threw at us."
And finally, postgame interview with THE MAN himself, @CarlsonGunnett, who went 2-for-4 with FIVE RBI in @BPBucBaseball's 14-8 win over Lakeland Christian in the 3A regional semifinal on Tuesday night. @813Preps pic.twitter.com/idUhPjJcMe

— Mike Camunas ??⚾️ (@MikeCamunas) May 12, 2021
Now, Berkeley will host one of the four 3A region finals, with the Bucs facing off against ANOTHER one-loss team: the 28-1 First Academy Royals from Orlando.
Perhaps, though, as the Bucs play host again, that's their winning formula: having the largest crowd of the season seemed to play the 10th man at the semifinal game.
"I think our players expect to win these games and expect to be in these games," Warren said, "but I think they love playing in front of a great crowd like tonight and, just, what a great win for our community and our fans keep coming out in droves — the student section was incredible and parents had the bleachers rocking and our boys responded."
"That adrenaline I got from the crowd," Parkinson said as blue-painted, shirtless fans cheered in the background of his postgame interview, "as everyone just showed up, was huge and incredible, so I'm just really proud of our guys and our school."
Postgame interview with @BPBucBaseball pitcher @WillParkinson10 on the Bucs' 14-8 3A regional semifinal win over Lakeland Christian and how he, @EvanParmer and @quinnjt1 combined to hold the Vikings bats at bay. @813Preps pic.twitter.com/GSvTqTqIeJ

— Mike Camunas ??⚾️ (@MikeCamunas) May 12, 2021
Correction: A previous edition of this story incorrectly attributed a pitcher allowing an extra run. This story has been revised with the correct information.
Berkeley Prep 14
Lakeland Christian 8
LC 212|210|0 – |8|13|0
BP 440|600|x – |14|16|1
W –  Parmer (5-1); L – Willis (4-1).
2B – Jenkins, Collins, Galberaith, Laurell (LC); DiMisa, Kurland, Hankerson (BP); HR – Donay (LC). Records – LC (26-2); BP (24-4).