Fifth time's the charm as Dragons advance vs rival Jesuit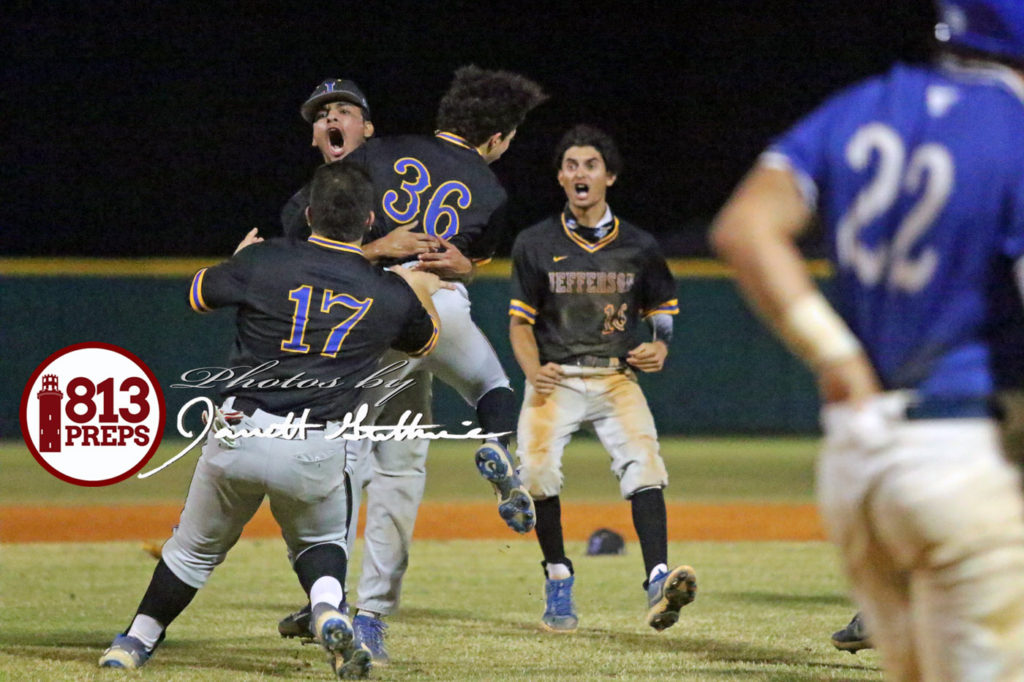 By Jarrett Guthrie
Editor
TAMPA – Never play a team five times in a year, that's the old high school baseball adage, right?
Jefferson came into Hyer Family Park for the Class 5A-Region 2 semifinal on Tuesday, set to square off against host Jesuit, having gone 0-4 thus far this season against the Tigers.
"But this is the only game that mattered," Dragons junior Julian Vargas said postgame, "win or go home. And we won."
Jefferson did just that answering a two-run fifth where Jesuit tied the game, with a decisive, squeeze-bunt run in the sixth to support a fantastic start on the mound by Dragons senior Matthew Johnson, with Vargas slamming the door on the 3-2 victory with a strikeout to end the game.
Johnson was impressive, scattering five hits and allowing two runs, while striking out 10 in six-plus innings of work. The senior righty left seven Tigers runners on base in the win, while working around three doubles with one out or less.
Asked after the win (just his third of the season) if it was his best game he's ever thrown, Johnson replied: "For sure, 100%. From pitch one to pitch 106 when Julian came in, I was confident that was what I would do."
Jefferson (18-10) took the early advantage in the second when junior Dylan DeGusipe's RBI sac fly scored Jaiden Duarte, and the Dragons added to its lead an inning later when Alejandro Montada singled up the middle to plate Javier James.
In the fifth, Jesuit (26-3) got back into it with an RBI single by BJ Graham (2-for-4, run) and tied the game on an odd play as Nick Rodriguez sent a liner out to Duarte in center with the bases loaded, while the runner at second never tagged up. Graham hustled home on the play and Duarte's relay into second saw James step on the base for the third out. The ruling from the umpire was that Graham scored before the out was made, and because a tag-up play is a timed out and not a force out, the run was allowed.
Understandably, the Dragons faithful was not pleased, but the Jefferson players used it as fuel.
The sixth began with a four-pitch walk drawn by Yadiel "Flaco" Perez, DeGusipe did his job again with a sac bunt, and a balk moved him to third, before twin brother Yaidel "Pollito" Perez put down a squeeze to bring in his brother and give the Dragons the lead.
"In the fifth inning they took an out from us, and we had to get that (run) back," Pollito said. "When I saw my brother at third, I was going to score him no matter what.
"I knew he'd get a good jump, I did the job and that's how it goes."
Asked to put a number on how many times throughout their lives the two seniors have driven each other in, Flaco said: "Probably 100. Maybe more."
Added Pollito, "None bigger than that one, though."
The home-sixth saw Duarte make the play of the game, leaping and crashing on the warning track and robbing Tyler Corish of a leadoff double, if not triple; Pollito Perez handled a skied foul-pop off third the next pitch, and after a walk, Johnson finished the frame with a punchout.
"I've got to give a shoutout to Matthew Johnson, he's been a dog the whole year," Pollito Perez said. "We've been letting him down with runs lately, but he's never let us down. I'm so glad we did this for him."
Johnson returned to the mound for the seventh, with just four pitches left to start a hitter, and walked Tigers leadoff hitter Bradke Lohry to end his night, before the Dragons turned to Vargas to try and close out the win.
Vargas had a bit of revenge on his mind. He got a popup to left where Sebastian Lopez made a huge diving catch, and Lohry seemingly unsure of the umpire's call, stood frozen just shy of second and again the Dragons doubled off a runner. From there, the night came down to Tigers senior Cole Russo, who two seasons ago walked off the region semifinal on a then-freshman Vargas on the way to a Jesuit state title. It took seven pitches, but Vargas exacted his revenge with a game-ending strikeout.
"I came in my freshman year, with Cole actually up," Vargas said. "He worked the count, I thought I got him on a close pitch, but the next one he walked it off.
"But the team needed this one, I need this. What a great team win overall."
Similarly, the last victory for the Dragons over Jesuit came in 2018, a season Jefferson claimed its first title in the program's history.
Asked if that is something he thinks his team can accomplish, Vargas said: "With this team? I think so, no, I know so."
The Dragons region final opponent is still undecided as Tuesday's game between Land O'Lakes and Ocala Vanguard was postponed until Wednesday due to weather.
Jefferson 3
Jesuit 2
Jef  011|001|0 – |3|0|0
Jes 000|020|0 – |2|0|0
W – Johnson (3-4); L – Sosnowski (7-1); S – Vargas (1)
2B – Russo, Corish, Lohry (Jes). Records – Jef (18-10); Jes (26-3).