By Jarrett Guthrie
Editor
PLANT CITY – Dylan LaPointe said he was unsure how much of his fourth inning flyball he got, but Durant head coach Butch Valdes never had a doubt.
"Absolutely, my hand went straight into the air," Valdes said. "There wasn't a doubt, (I was) out here for BP today, and his power is to right-centerfield. We knew it. It wasn't a question."
The "it" was a solo blast over the fence in right-center that put the Cougars up a pair, as Durant held off a tough Kissimmee Osceola squad, 2-1, in Saturday's Class 7A-Region 2 final – booking the program its first trip to the FHSAA final four since 2015.
"I had no idea, as soon as I hit it, I just ran like the wind," LaPointe said. "I felt like I had burned him so I was just trying to get on three, I looked up and saw it go over when I rounded first. Then it was all jumping and yelling, because that's my first one."
A monumental first career homer for the sophomore, which pushed his RBI total up to a team-leading 23.
Durant (22-5) answered the bell swinging in the home-first as Thomas Allen lined a first-pitch single to center. Luke Scolaro pushed Allen to third with his butcher-boy single and the Cougars took the early lead on Dean Hotz RBI sac-fly to right.
Alex Canney's senior year did not go as the righty had hoped, being sidelined the entire regular season after a broken ankle. But the University of Tampa signee battled his way back for the post-season and has pitched in four-straight for the Cougars and took the mound against the Kowboys in the region final. Canney worked around a single and walk in the first, answered a second inning leadoff single by Edwin Melendez by sitting down the side, while Melendez stayed pat. He punched out the first two he saw in the third (five straight) before a walk and single (by Jose Perez) chased him from the game.
"My job right now is to go out and set the tone," Canney said. "I'm just trying to get my guys back in the dugout and to the plate, and get the ball to Herm (fellow senior Sean Hermann) and let him close it out.
"That was a good hitting team, one-through-nine and this was a battle."
Osceola (20-8) may have momentarily breathed a sigh of relief to chase Canney from the game, but that thought was fleeting as Hermann came on in relief and struck out the next batter to end the threat. Hermann added two more K's in the fourth, before LaPointe's home run gave his team a bit of a cushion.
The home run proved pivotal in the fifth, where Hermann fired a pair of wild pitches that allowed the Kowboys to plate a run as Sebastian Burgos scored on the second ball in the dirt. Prior to Burgos reaching on a walk, Izaiah Jean-Baptiste had singled with one out in the inning, only to be quickly erased by LaPointe firing a throw from behind the plate to second to catch the runner. The two outs in pocket proved crucial as Hermann returned to form after the run allowed, striking out the next hitter and stranding a runner in scoring position.
"He did a heck of a job there, making sure that was it, that it was all they got," LaPointe said of his battery-mate. "He kept it low, made sure they couldn't do anything with it."
Osceola battled the whole way, starting the sixth with singles from Danny Ramirez and another from Melendez, but again Hermann tightened his belt and wiggled out, helped by LaPointe whose impressive night included a hustle grab of a foul pop, followed by a groundout and pop out to hold the runners at bay. The University of South Florida committed senior, and county-leader in strikeouts finished the game with two more strikeouts in the seventh, and secured the first win of the year for his fellow senior, Canney.
"I don't say it's nine on the field, it's all 25 of us out there every moment," Hermann said. "The whole time Alex was hurt, he was with me out on the field. We love seeing him back out there, it doesn't matter if he was on the field or off, every one of us is a part of every play. It's something special."
Canney echoed Hermann's thoughts, saying he may not have been on the field, but he was in every game the whole way.
"It was really hard sitting there watching these guys," he said. "Don't get me wrong, it's a blast watching this team play baseball … but the dog in me wanted to be out here and playing. This is a family and we all do what we have to when we can, and that's a big deal."
Hermann, who has made nine starts, but on Saturday earned his third save of the season couldn't pick a favorite scenario to climb on the hill for his team.
"I'm going to do what I have to do for this team," Hermann said. "I almost like it (relieving) more. Don't get me wrong, I definitely like starting the game, but there is something to coming in, in a tough situation, and getting the team hyped up."
Hyped up, and Fort Myers-bound as the Durant reaches the state semifinal for the third time in program history (region champion in 2013 and 2015), where the Cougars will face Port Orange Spruce Creek in next Friday's 7A state semifinal at 10 a.m. from Hammond Stadium, the Spring Training home of the Minnesota Twins.
Like the Cougars, Spruce Creek (22-8) battled through the region tournament as a district runner-up, with the Hawks defeating Altomonte Springs Lake Brantley, 5-1 in Saturday's Region 1 final.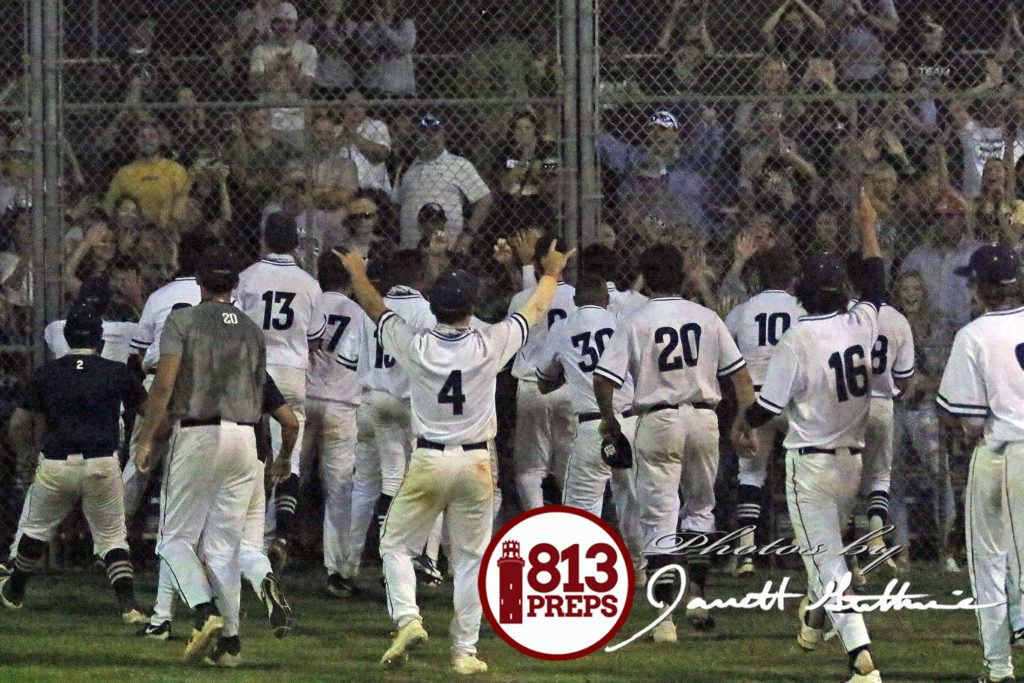 Durant 2
Kissimmee Osceola 1
O 000|010|0 – |1|6|1
D 100|100|x – |2|6|1
W – Canney (1-0); L – Lopez (5-2); S – Hermann (3)
2B – Fernandez (D); HR – LaPointe (D). Records – O (20-8); D (22-5).