Scolaro and son: A Durant legacy, three times over
By Jarrett Guthrie
Editor
PLANT CITY – It's a common theme preached by coaching staffs of most successful teams, but for Durant head baseball coach Butch Valdes it's as true for this current group of Cougars players as any he's had in his 13 seasons.
"Family," Valdes said, "it's the most important thing. They know that we are family. It's not just a player-coach situation. We've always tried to nourish that we're there for them for more than just on-the-field stuff."
For Durant's 14 seniors, knocking on the door of the program's first baseball state title, this is a group that has grown up on the dusty diamond, with its swirling winds, laid among open farm fields off Turkey Creek Road.
The "family" for assistant coach Donny Scolaro takes an even deeper meaning as the 11-year Durant coach heads to the FHSAA state final four for the third time in eight seasons, and accompanying his third son, Luke, through the program, now with a shot at state glory. But he also counts the players he has coached, many for nearly a decade, as family.
"Eleven of the 14 seniors, I started coaching when they were 8 or 9 years old," Donny Scolaro said. "This whole stretch this season, they have truly, truly felt that it isn't just about the nine guys on the field. It has felt that amongst all of them, they are tight, and when you have that kind of a group together it's something special."
For Luke, the aforementioned "grow up" is quite literal. He was 10 when his eldest brother Jacob played for the 2013 state runner-up, and he remembers a bit more from the 2015 state semifinal run enjoyed by his brother Jonah, now a senior pitcher at Florida State.
"Remember, Luke has been around this program, driving a golf cart out here from when his oldest brother was here," Valdes said. "He's been out here since he was a little runt. … I've known his family since I was 14 years old and way before he was born."
Though pressed for his first memory about Durant, it's the Cougars softball team that sticks out for Luke.
"I remember the night before Jacob's junior year [region final game], I watched he and all his friends in their trucks backed into the fence at the softball [playoff] game," Scolaro said. "And that was something I remember saying, 'I want to do that someday.'"
Luke joined many of his teammates, as well as his father and Coach Valdes in the beds of trucks last Friday, cheering loudly as Durant softball played in the region final game against Viera. A lasting memory for his time there, but one he hopes he'll have a chance to top when he and his teammates take on Port Orange Spruce Creek in the FHSAA Class 7A state semifinal Friday at 10 a.m. at Fort Myers' Hammond Stadium.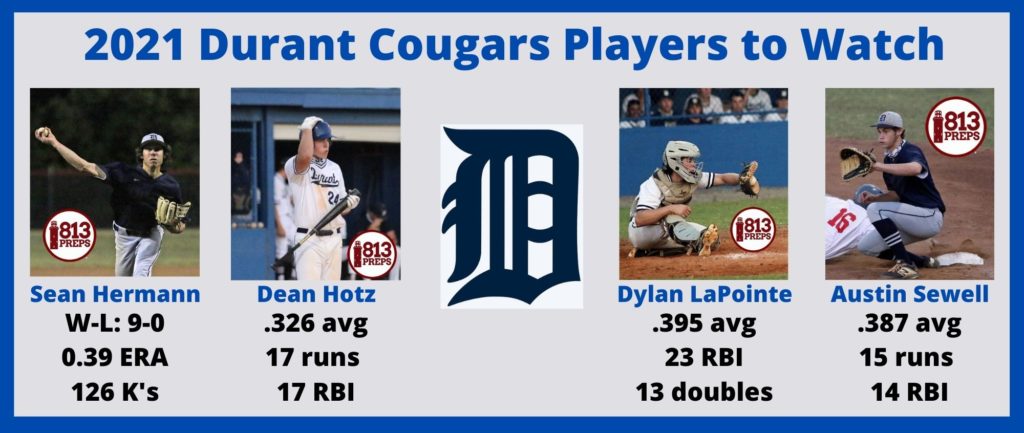 Where brothers Jacob and Jonah exceled on the mound for Durant, Luke has carved a different path for himself, taking a bit more after his father, a standout for Brandon High, who spent parts of three seasons in the Houston Astros organization as a second baseman. According to Donny, that is not the only similarity between him and his youngest offspring.
"Luke has definitely always been more that gritty, that get-dirty, willing-to-do-anything kind of player like I was," Donny said. "He definitely has more of that fire. My other two were a lot more relaxed and laid back. It's not always good, but I can't question his intensity level."
For his part, Luke found his role the old-fashioned way and has proven to be one of the area's best at a forgotten art: bunting.
"That has come through Durant? He's the best, that's for damn sure," Valdes said of Scolaro's bunting ability. "He's those two wonderful words we all love to say – he's old school. He knows how to lay it down, he knows how to run, he just gets it done.
"That's how this game is played. It's not just one way. You find every opportunity, and you find a way to come through."
The 5-foot-9, 165-pound Scolaro is batting .284, with 17 runs scored, two home runs and a triple this season. He also has eight sacrifice bunts, and he and his coaches estimate most of his hits this year have been off bunts or from his fake, butcher-boy swings – including his pull-back grand slam against Lakewood Ranch in the district semifinals.
"It was definitely necessary because of my size to make that [a part of my game], and I'm fast, so I had to find a way to take advantage of those things," Scolaro said. "I'm not going to say I've perfected it, because I'm far from perfection, but I've definitely worked to get better at the bunt and slash."
"It makes a big, big difference, and kids just don't know how to do it anymore," Donny said. "It's a lost art, and he takes a lot of pride in being able to do that for his team."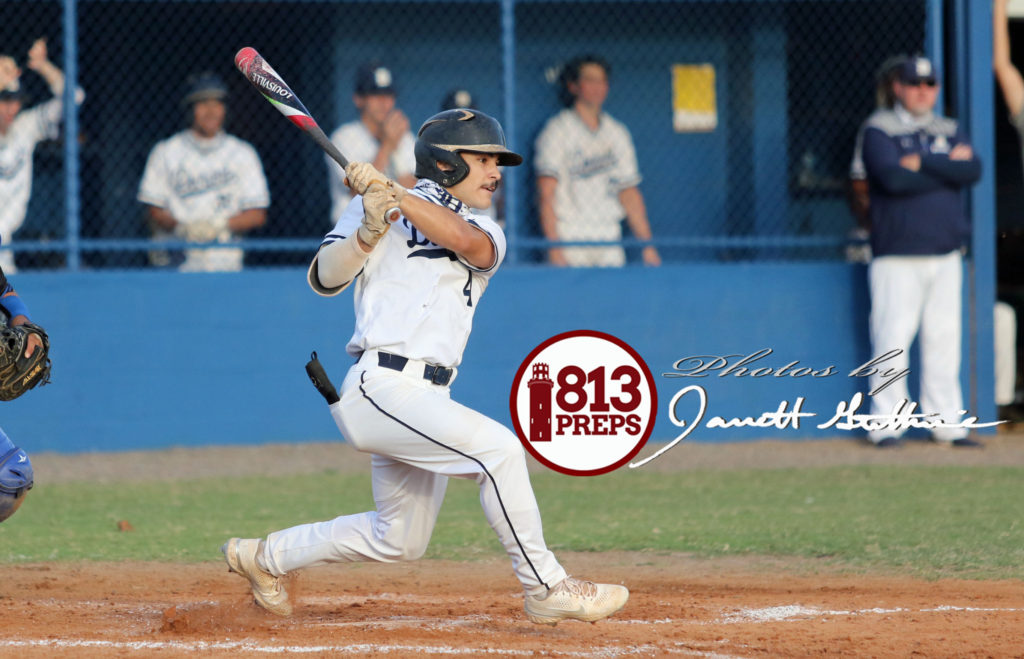 Not alone in his legacy return to the state final four, Cougars ace Sean Hermann (9-0, three saves, 0.39 ERA and 126 strikeouts) is hoping to build on what his older brother Jonathan started in his 2015 state semifinal visit along with Jonah Scolaro.
"They were a good example of what a good team looks like," Luke said. "We were definitely blessed to be around them as much as we were, and we try to incorporate the things they did into our team. We definitely look up to them in that way."
For Donny, he was non-committal on if Luke's graduation means his time as Valdes' assistant is 100 percent done, but if time is running short on his reign as the self-proclaimed "King of the I/O Foul Pop" as Scolaro prides himself on ending the fungo round with a pinpoint pop to the catcher, his confidence is not thinning in the slightest. Asked to put a percentage on his success rate, he modestly said, "It's pretty high," and quickly pointed out his dominant showing in a one-off against Wharton assistant coach Wade Boggs in the pregame infield-outfield of the two teams' region quarterfinal game.
"Once I one-upped Wade Boggs, the rest of the season is gravy," Scolaro said. "That was my Super Bowl. After that, I don't even care about them anymore."
Luke said the number of successful attempts is probably a little closer to the 50-50 mark, but he did back up his father against the MLB Hall of Famer earlier this month.
"Maybe that high number was right in his prime," Luke said with a laugh, "but now, let's say like 55 percent of the time, but he did get that one (against Wharton) done."
For the elder Scolaro, trips with each of his sons have been special, but he's hoping the one this weekend will have a little something extra to remember.
"It's awesome that they all got to experience this – and this is the Dad side of me, not the coach side – but I'm glad that my son who has been dragged along with his older brothers, gets to experience this himself," Donny said. "It's definitely fate that we are going out this way, and now it would be great for that to also include a championship."
Class 7A State Semifinal
Who: Port Orange Spruce Creek (22-8) v. Durant (22-5)
Where: Century Link Sports Complex at Hammond Stadium – Fort Myers, FL
14100 6 Mile Cypress Pkwy, Fort Myers, FL 33912
When: Friday, May 21, 10 a.m.
Tickets: Parking for the event is $10 cars/$50 buses and is CASH ONLY; admission is $9 in advance/$12 day-of, and tickets can be purchased by clicking here.
About Spruce Creek: Like the Cougars, the Hawks advanced to the region playoffs as a district runner-up, defeating Bartram Trail, 1-0 in extra innings in the quarterfinals, before avenging its district final loss and defeating Lake Mary, 6-1, and claiming the region title by topping Altomonte Springs Lake Brantley, 5-1. Senior SS Evan Mastromauro (Stetson signee) is hitting .394, with 17 RBI and 23 runs, OF Corey Robinson (Florida) leads the Hawks with 30 runs scored, and Dalton Hurst (FIU) is hitting .353, with 23 runs, 25 RBI, and 12 doubles. RHP Brandon Neely (Florida) has 72 strikeouts in just 55-plus innings of work and a 0.75 ERA.
The other 7A state semifinal: Parkland Stoneman Douglas (26-2) v. Miami Columbus (27-4), Fri, 1 pm