Success: One Thing at a Time for Bloomingdale's Bowen
By Jarrett Guthrie
Editor
VALRICO – One thing at a time. A focused approach, a minor adjustment, making one aspect of his game a fraction better each time out, this has been the plan for Bloomingdale's Marlon Bowen, since early-evening practices with his father dating back to tee-ball.
Bowen, now a senior, hitting in the heart of the Bulls lineup and staring down a state semifinal showdown with Palm Beach Gardens Dwyer in Friday evening's Florida High School Athletic Association Class 6A state semifinal, said though so much has changed for him since those days on youth fields in South Brandon, the focus on one thing at a time never has.
"My Dad and I always practiced when I was young," Bowen said. "And every time we would go out, he would say, 'I have goal, a mindset for the one thing you are going to work on for this practice.' I still do that today."
Sadly, his father Rawle Bowen passed away from a heart attack in the summer of 2019, prior to Marlon's sophomore year in school, while he vacationing with family in Maryland.
Bowen admitted going to the funeral was overwhelming, but he said it was a conversation with his uncle, Conrad Samuels that sticks out most from that time.
"One of the things that I believe really helped shape me was after the funeral, talking with my uncle and he told me that my father would always be proud of the man I was becoming," Bowen said.
"And," he said, Samuels added, "to, 'play baseball for as long as you can.'"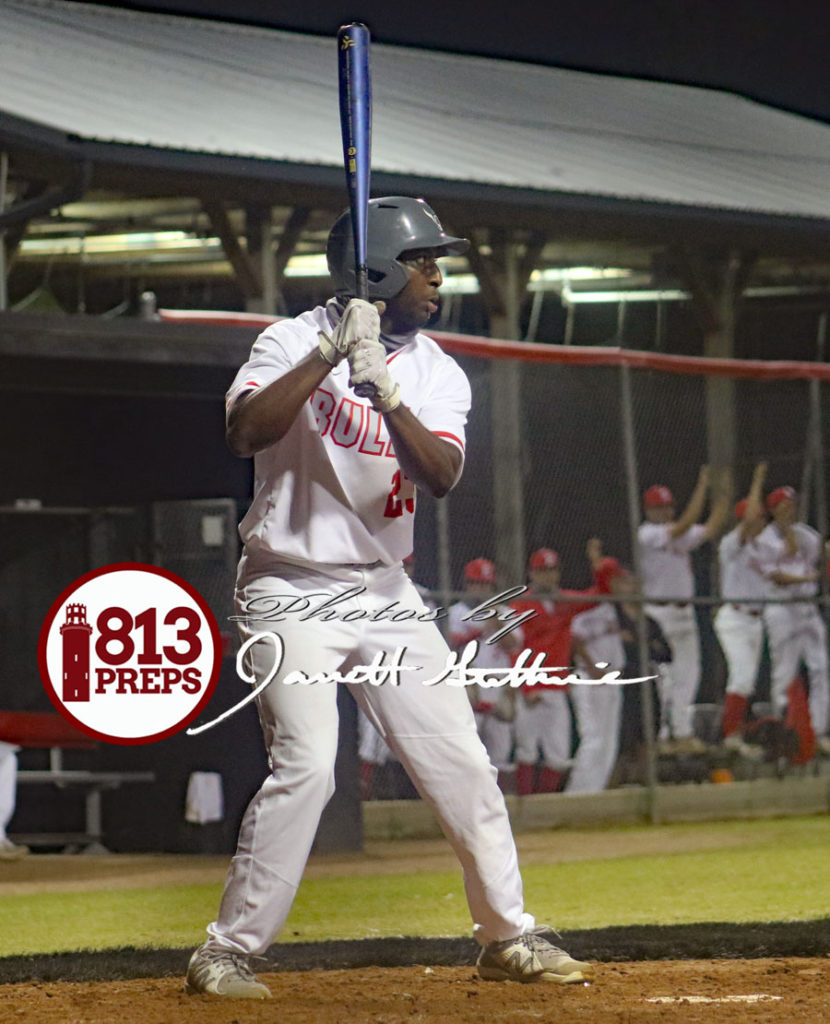 Bowen heeded the advice and went to work as he entered his second season within the Bloomingdale High program. However, things didn't translate to immediate success on the diamond. His role with the Bulls would be a little bit of a slow burn. Waiting behind a strong group of upperclassmen, including 2020 seniors Dominic Gonnella and Antonio DeJesus ahead of him in the outfield, Bowen would have to wait for his opportunity to crack the lineup.
"Playing behind two great seniors last year, I learned a lot of things, but with Covid shortening the season, the thing I got from them the most was when you get your shot," Bowen said, "don't waste it."
Bulls head coach Kris Wilken said the physical talent was apparent from the first time he saw Bowen, but it took some time for his technical skills to catch up. Wilken said Bowen was given some chances the previous two seasons, but as a senior, the coach said he didn't know it would turn out as well as it has.
"Marlon is a guy who, when he came in as a freshman, we could all see that he was crazy-athletic, but a little bit raw from a baseball standpoint," Wilken said. "He got some chances as a sophomore and even last year, but I think he might have put too much pressure on himself.
"This year though, he started the year in the eight- or nine-hole, but it didn't take us long to see, hey, we need this dude in the middle of our lineup."
Bowen, who had just four at-bats prior to this season, has leapt into the heart of the Bulls order hitting .359, with 22 RBI and 17 runs. His second home run of the season – a three-run shot to left – gave his team the lead in its region quarterfinal win against Gaither.
The approach in that game against the Cowboys was also singularly focused.
"The mindset the last two weeks is to try find a way to make the pitcher regret throwing that one single pitch," he said.
Bowen is quick to give out credit, but said a friendly competitive rivalry with DeJesus last season really sparked growth in his game.
"Antonio, if he ever got in a slump, he'd spend hours hitting off a tee and then send me videos," Bowen said. "I've done that [hours hitting off the tee] all season … it helps with muscle-memory, but also focuses the mind."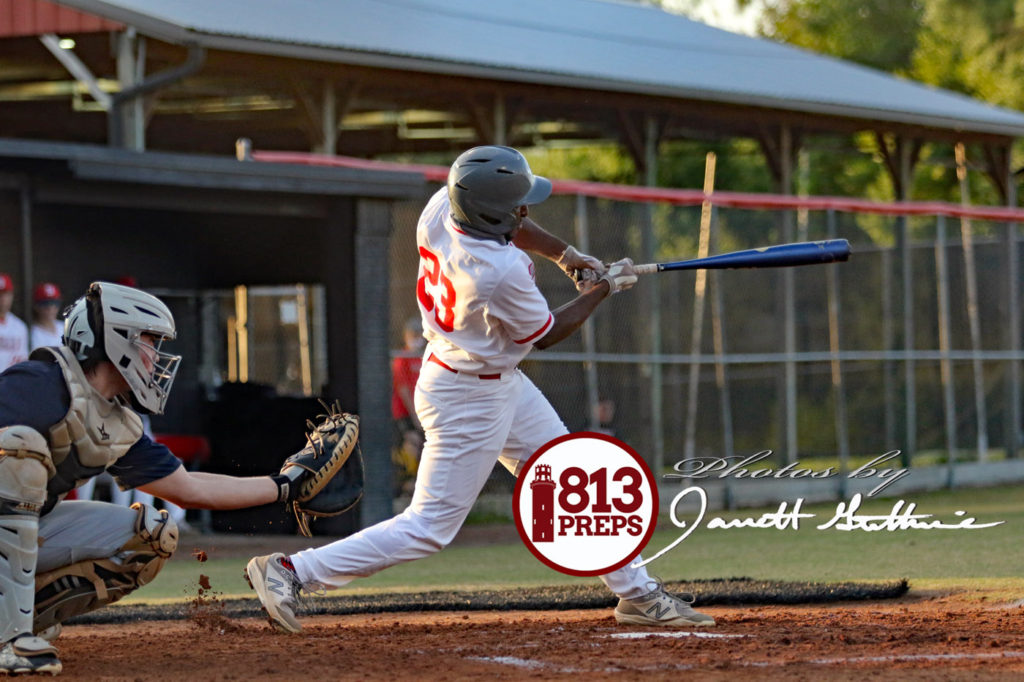 Asked if there were any other people to credit with his success, Bowen said his mother, Betty Bowen, deserves a lot of credit for helping him on the field and pushing him while off of it, which includes being named to the school's honor court for students with 4.0 GPAs or higher, and the completion of four advanced placement classes this school year.
"She's put in a lot of hours helping me, not just around baseball, bringing me to games or travel ball," he said. "With school she keeps me focused, and always sits and talks with me about schoolwork or anything else."
Focus on the field hasn't been an issue for Bowen this season. Through the roughest patch of the year for the Bulls in the final three weeks of March, where Bloomingdale went 5-5, Bowen stayed hot. After an 0-for-2 showing in a loss to Plant City, Bowen ripped off a nine-game hit streak, hitting .500 over the stretch and driving in 13 runs.
Wilken said he wasn't aware of that particular run this season, but said consistency has become expected for his senior.
"I feel like he's been consistent the whole way," Wilken said. "We've had guys who have had a one or two-week stretch where I felt like, man, they need to pull out of this, but Marlon never had that."
But the unexpected part?
The veteran skipper, who among the numerous team accomplishments this season eclipsed the 200-win mark as Bloomingdale's coach, said Bowen has found ways to make an impact in larger ways as well.
"He's a very quiet kid, but I started the year putting our bench players in the bullpen during our games as a Covid precaution," Wilken said. "But he was the one who came in and said, 'Coach, it's too dull, there is not enough energy and we need to fix this.'
"And we made the adjustment, took the chance and moved guys back in, and he was right. He goes about his business and plays, and he is quiet, but if he thinks it is a time where something needs to be addressed with me or another player, he isn't afraid to do that."
Bowen's 22 RBI has him tied for the team lead with junior shortstop Colby Shelton (.403 avg, with 20 runs, six double and five home runs), and hitting in the lineup ahead of Bowen are terrific table-setters Drake Harman (.405, 26 runs, six double) and Gabe Garrett (.321, 21 runs, 10 stolen bases), so the senior said he knows he's setup of for success nearly each time he steps to the plate. Doing that, he said is as simple as making sure you get the last man in, and the next man up.
"I feel like we all have a job to get our part of the whole thing done, get that next guy to the plate," Bowen said. "If those guys are on base, I'm doing all I can to get them in."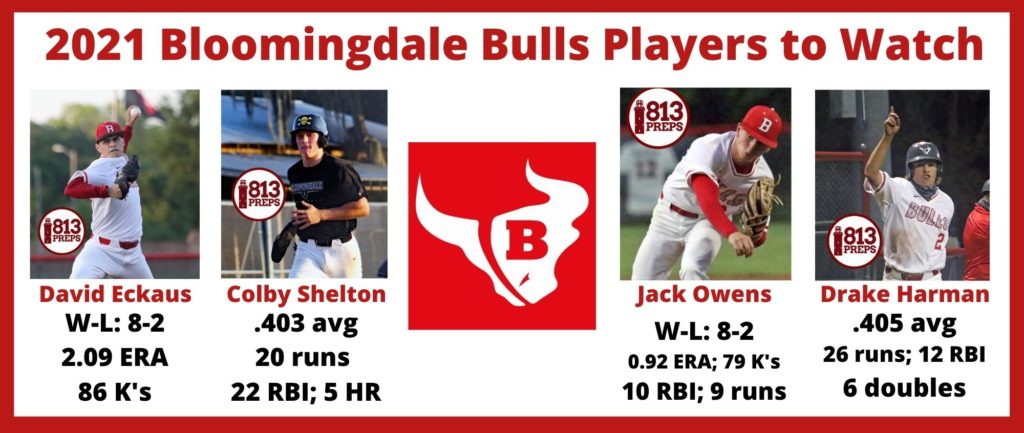 Bloomingdale fought its way to this point with a pair of one-run wins over Mitchell and Naples Gulf Coast in region semi and final games last week, and the Bulls make a fifth-ever trip to the FHSAA state semifinals on Friday, in search of the program's first state baseball title. The Bulls reached the semifinals in 1991, 2002 and 2004, and finished as the state runner-up in 2014, falling to South Dade, 3-1 in the championship game.
The Bulls will face Palm Beach Gardens Dwyer on Friday, in the Class 6A state semifinals on Friday at 7 p.m. from Fort Myers' Hammond Stadium.
Class 6A State Semifinal
Who: Bloomingdale (22-6) v. Palm Beach Gardens Dwyer (18-9)
Where: Century Link Sports Complex at Hammond Stadium – Fort Myers, FL
When: Friday, May 21, 7 pm
Tickets: Parking for the event is $10 cars/$50 buses and is CASH ONLY; admission is $9 in advance/$12 day-of, and tickets can be purchased by clicking here.
About Dwyer: The Panthers reached the final four with a 2-0 win over Doral Academy as senior righty Drew Jaloski struck out 15 in a complete-game one-hitter. Dwyer junior RHP/OF Drake Flowers (Florida State) is hitting .403, with 18 RBI and 16 runs, and has struck out 67 in 44 innings on the mound; junior OF Jack Savery is batting .388, also with 18 RBI; and catcher Raul Feliz is hitting .324, with 11 RBI and 27 runs scored.
The other 6A state semifinal: Orange Park Fleming Island (24-5) v. Viera (20-6), Fri, 4 pm