Despite Hermann's best, Durant falls in 7A semifinal

Story by Jarrett Guthrie
Editor
Photos by Mike Camunas
Creative Director

FORT MYERS – Finding a way to come through was Durant's offensive staple all season.
Almost.
After winning 12 games by a margin of two runs or less on the year, a state semifinal game in which runs would, most likely, be at a premium sparked no added pressure for the Cougars.
But unlike those 12 previous victories, the things that made Durant so good — small ball, getting the timely hit, taking extra bases — fell short in Friday morning's Class 7A FHSAA state semifinal as the Cougars lost 1-0 to Orange Park Spruce Creek in eight innings.
What didn't fall short, as it hadn't all season, was the work of the Cougars lanky, senior ace Sean Hermann, who spun another classic holding Spruce Creek to just four hits in 7 1/3 innings of work.
"Sean put up the fight he always puts up," Durant coach Butch Valdes said, "he's a bulldog on the field … it's never been about him, it's always about the team."
After striking out his ninth batter of the game, Hermann was forced to exit due to pitch-count rules, and with two outs, the Hawks found a way to manufacture the run needed. Corey Robinson singled to left, used a delayed steal to take second, and scored on the very next pitch as Dalton Hurst flared a ball to shallow right to plate the decider.
For Durant (22-6), a runner reached second base just three times in the game. With leadoff batters reaching in the third and fourth, the Cougars struggled to accomplish the things that had made them successful all season: a failed hit-and-run and missed bunt each resulted in double-plays to spoil the chances.
"We knew (Spruce Creek starting pitcher Brandon) Neely was going to be tough and we knew we were going to have to play small-ball," Valdes said. "We didn't execute. There were a couple of opportunities where we didn't perform well, and we've said it all year, 'He who makes the fewest mistakes is going to win the game.'"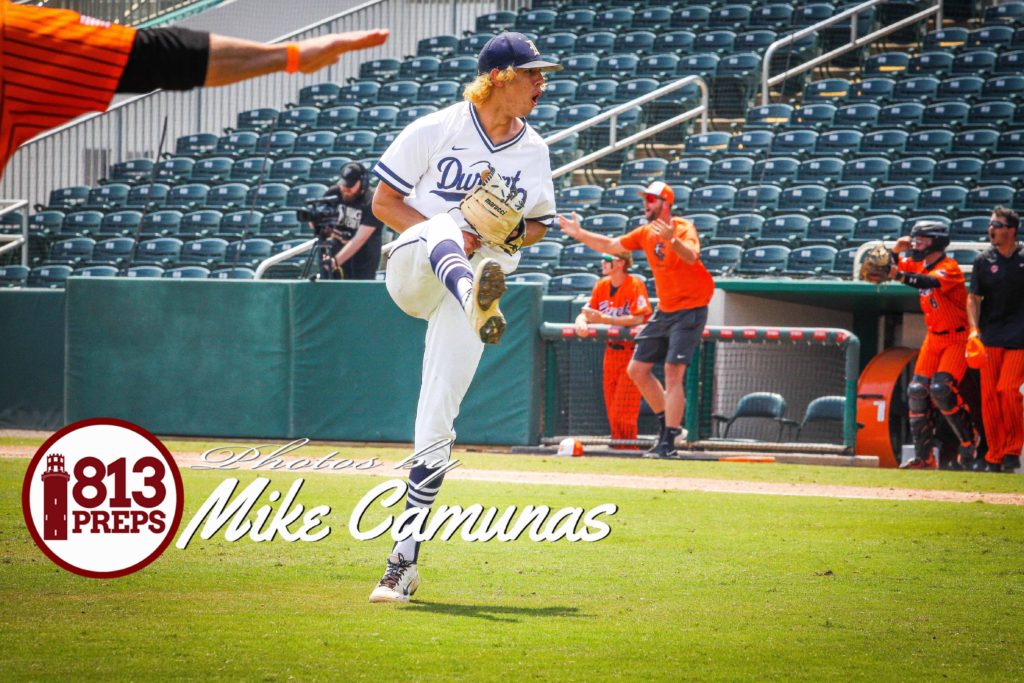 Hermann, who finished the season 9-0 and second in the state with 135 strikeouts, scattered just four singles in the game and hit one batter. But as he has all season, the University of South Florida signee, deflected any notion of personal success in the postgame.
"I was going to battle for the team," Hermann said. "I feel like when I'm on the mound, my whole team is on the mound."
In the home-eighth, Oscar Fernandez doubled to centerfield for the game's lone extra-base hit, but pinch-runner Devin Suero remained in place as the Cougars went down on strikes in the team's final at-bats.
Those two strikeouts made 10 for Spruce Creek senior, University of Florida signee Brandon Neely, who pitched all eight innings, allowed three hits and two walks.
After the game, Valdes spoke about the team's 14 seniors and said what stands out most about said group was that there was no class division for his diverse team.
"It's just how close they are – now you say that about every group, but this group has been together for a long time," Valdes said. "… there is a tendency as groups come in to have your senior group and your underclassmen, and they kind of kick them to the side. But this one has taken them in, even going to work with the JV kids.
"When you talk about a close-knit family, this is it."
Hermann's effort was backed by stout defense from the Cougars, notably from sophomore shortstop Aidan Welsh, who made a trio of flyball catches in the game and two strong catch-and-throws in the seventh. The Cougars first hit of the game was a single from freshman Carlos Morales in the third, while the junior Fernandez, whose double gave Durant late hope, already had eyes on next spring.
"This just means we have to train harder next year," he said.

Orange Park Spruce Creek 1
Durant 0 – eight innings
SC 000|000|01 – |1|6|2
D   000|000|00 – |0|3|0
W – Neely; L – Canney (1-1).
2B – Durant (D). Records – SC (23-8); D (22-6).