Bloomingdale breaks through late, advances to 6A final
Story by Jarrett Guthrie
Editor
Photos by Mike Camunas
Creative Director
FORT MYERS – Bloomingdale came out swinging from the start of Friday night's FHSAA Class 6A state semifinal game against Palm Beach Gardens Dwyer.
Bulls starter Jack Owens though? He took to the mound a bit tight and watched as Dwyer answered his team's two-run lead in the first inning.
But when Owens found his stride, and the strike zone – did the junior ever deliver.
Despite 50-plus pitches in the first two innings, Owens settled in for six strong innings, striking out 10 and holding on as his teammates came through late and the Bulls advanced to Saturday's state final with a 3-2 win over the Panthers.
"The first inning, it was just all nerves," Owens said. "All it takes is someone to calm me down and once that happened, we started rolling."
After the first inning ended with the two teams tied at two apiece, Bloomingdale (23-6) and Dwyer (18-10) played through the next five innings of scoreless baseball. But the top of the seventh changed all that as sophomore Dawson Harman sent a ground ball single into left to lead things off, pinch-runner Makye Hayes swiped second, and after a strikeout, Gabe Garrett slapped a single into the middle of the diamond and the speedy junior Hayes slid safely across the plate.
"That feeling was amazing," Garrett said. "Just to be here, see all the people here, the stadium, the lights, to have that moment – it's just awesome."
Owens was pleased as the beneficiary on the mound of the come-through run.
"Gabe did a hell of a job there," Owens said. "He knows his role, he knows what he has to do and a chop of the middle and it cost [them] the game."
"Gabe is our heart and soul," Bulls coach Kris Wilken said. "He went through it, being quarantined early in the year, but Gabe is a dude, and we knew he was going to come through."
Spending the entire game in the bullpen after Owens first-inning struggles, junior Chase Chappell took to the mound in the seventh and despite allowing a one-out single, punctuated his second save in as many games with a game-ending strikeout to send the Bulls to tonight's 6A championship against Fleming Island from Fort Myers' Hammond Stadium at 7 p.m.
"[Senior David] Eck[aus] and Chappy were down there in the bullpen the whole game, again," Wilken said. Adding with a laugh: "Ready to go the whole way, and maybe that's what I do from now on, just have those guys spend the whole time out there."
The Bulls first inning saw leadoff hitter Drake Harman single on the third pitch of the game, move to second on a productive Garrett ground ball, before back-to-back doubles from junior Colby Shelton and senior Marlon Bowen spotted Bloomingdale to an early lead.
"We punched them right in the face in that first inning," Shelton said. "It was definitely an energy builder."
The energy may have been up in the visiting dugout but the Panthers were not ready to go quietly. In the home-half of the first, Dwyer got a leadoff walk, before Shelton at shortstop started a 6-4-3 double-play only to see the Panthers score two on two singles (including and RBI hit from Matt Davis), two more walks and a wild pitch.
"Kudos to Dwyer for answering those first-inning runs," Wilken said. "But man, kudos to Jack for settling in for the next five innings."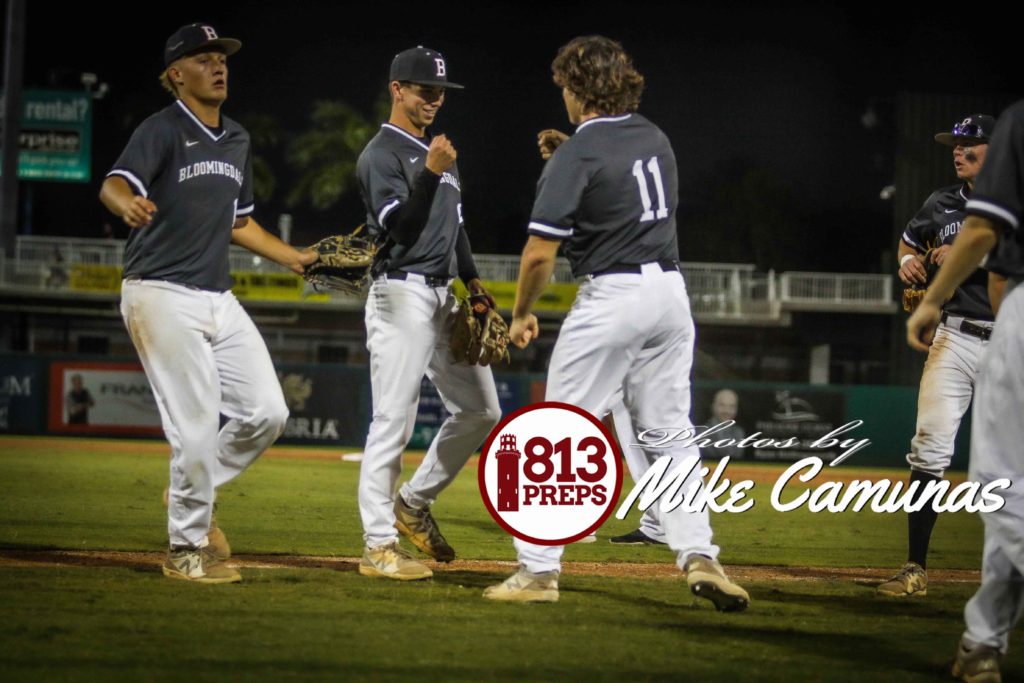 Owens walked six in the first two innings and then allowed just a Jack Savery single in the fifth through the rest of his six-inning performance. The junior and Stetson verbal commit improves 9-2 on the year, finishing with a 1.04 ERA and 89 strikeouts.
"For him to battle back like that was in no way surprising," Garrett said of Owens. "He's showed that level of intensity the whole year. I knew he would come back and shove like that, no doubt in my mind."
Bowen and Shelton also added singles at the plate, with Bowen adding two walks and a stolen base to his sheet. The Bulls would tally 10 total hits, including loading the bases in the third with no outs, but Dwyer junior pitcher Drake Flowers also worked around his early struggles to finish with six innings pitched in a no-decision, striking out seven and allowing one walk.
In the program's fifth trip to the final four, Bloomingdale reaches the championship game for just the second time (finishing as the then-8A runner-up in 2014) and is after the baseball team's first state title.
Orange Park Fleming Island (25-5) defeated Viera 6-0 on Friday afternoon in the Golden Eagles first-ever final four appearance.
Bloomingdale will look to senior David Eckaus (8-2, 2.09 ERA, 86 K's) to make the start in the final.
"David has the bump tomorrow, so all I can say to him is good luck," Owens said. "But my feeling – I know he's going to do a great job."
ICYMI: postgame interview with @Bdalebullsbase1's @JackkOwenss who pitched six innings and struck out 10 to help lead the Bulls to the Class 6A championship game tonight be Fleming Island. @813Preps pic.twitter.com/1qmvqlESKa

— Mike Camunas ??⚾️ (@MikeCamunas) May 22, 2021
Shelton said confidence is high for his team's chances.
"Honestly, we haven't even played our best game and we are in the freaking state championship," Shelton said. "If we play how we are supposed to, I have no doubt we'll bring it home."
The senior Garrett was similarly confident: "For sure, 100 percent," he said, "we're ring chasing."

Bloomingdale 3
Palm Beach Gardens Dwyer 2
B 200|000|1 – |3|10|1
D 200|000|0 – |2|4|0
W – Owens (9-2); L – DeCardenas; S – Chappell (3)
2B – Shelton, Bowen (B). Records – D (18-10); B (23-6).