It's No Bull: Bloomingdale Claims State Title
Story by Jarrett Guthrie
Editor
Photos by Mike Camunas
Creative Director
FORT MYERS – A gold medal dangling from his neck, words escaped Bloomingdale's reserved, senior cleanup hitter Marlon Bowen after the Bulls claimed the program's first baseball state title defeating Orange Park Fleming Island, 5-1 in the FHSAA Class 6A championship final.
"Words can't even describe this, I'm lost right now," Bowen said. "This is simply amazing."
Though briefly lost for words, Bowen was right where he needed to be in Saturday night's game driving in a pair, beating out a bunt single and scoring an insurance run, capping a 4-for-5 state series weekend, reaching six times in the two state series games from Hammond Stadium.
"He literally played like he is the best player in Florida these last two games," Bloomingdale head coach Kris Wilken said. "When it mattered the most, he took it to another level."
Bowen's wheels were spinning as he burned around the bases for a two-run triple in the third inning, and as the throw-in missed the cutoff, they spun a bit out of control just in front of the plate and he was tagged out.
The out? The most acceptable one of his season.
"Yes, absolutely," Bowen said. "That's one I'll take every single time."
Bloomingdale (24-6) had its leadoff batter aboard in the first three innings, with Donovan Dubuisson walking to start the third. Dawson Harman sacrificed him to second, before brother Drake Harman started a chain of singles, ahead of Gabe Garrett and Colby Shelton who each drove in a run, and both scored on Bowen's line drive to left.
"I just saw a nice pitch and got a chance to swing," Bowen said. "I knew I might not get too many opportunities to do that tonight, so I had to take advantage of it."
The senior sat in waiting in previous seasons and was an unknown for the Bulls entering this season with a tenuous, upperclassman hold on his outfield job and slotted near the bottom of the order. He ended things in the meat of it, and with his two RBI in the title game, the uncommitted Bowen finished the year with a team-leading 25 driven in.
"It's a shame that he is uncommitted right now," Wilken said. "People are really missing out, someone is going to get a great player."
Bloomingdale (24-6) had its leadoff batter aboard in the each of the first three innings, with Donovan Dubuisson walking to start the third. Dawson Harman sacrificed him to second, before brother Drake Harman started a chain of singles, with Gabe Garrett and Colby Shelton each driving in runs and both coming in on Bowen's line drive to left.
CONGRATULATIONS to the Bloomingdale Baseball Program @Bdalebullsbase1 for winning the 2021 Class 6A STATE CHAMPIONSHIP down here at Hammond Stadium in Ft. Myers! Horns up, Bulls! @FHSAA @813Preps pic.twitter.com/LqQnl1vPKo

— Mike Camunas ??⚾️ (@MikeCamunas) May 23, 2021
Senior starting pitcher David Eckaus worked three scoreless innings, before running into a little bit of trouble and being relieved in the fourth inning by Chase Chappell.
Fleming Island (25-6) cut into the lead with a Jacob Broussard RBI sac fly, but Chappell left two runners in scoring position to end that frame and fired off three more scoreless frames.
"I know Eckaus got yanked a bit earlier than he would have liked, but he absolutely did his job," Bowen said. "And Chappell ran into a little bit of trouble for not even half an inning, but shut it down after that. They were both, oh man, they were both outstanding."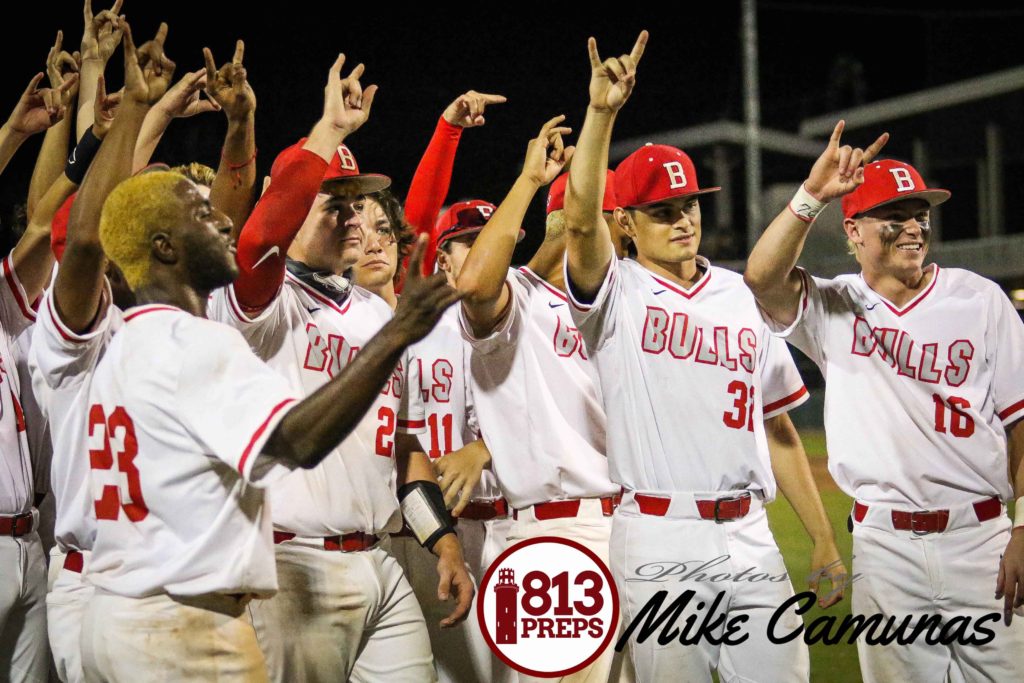 Bowen wasn't done coming through for his team with just the triple, his fifth-inning at-bat saw him again show off his speed, laying down a bunt to the third base side, diving head-first into the bag for a single, and taking second as Fleming Island's defenders allowed the ball to stay in the grass just in front of first base. Bowen would steal third and Jack Owens would drive him in for an insurance run.
Chappell, who earned the save with an inning in the Bulls semifinal win against Palm Beach Dwyer on Friday, allowed just three total hits in his four innings of work, letting the Bulls stellar infield defense do the work behind him.
"I knew going out there that I had to do this for the team," Chappell said. "This team, these coaches give it all and I had to come through for them."
That defense turned in a double play in the second when Shelton fielded a ball at short, stepped on second and threw to first, and first baseman Carlos DeJesus ended the bases loaded threat in the fourth starting a 3-6-1 double play with Chappell covering the base on the end.
Catcher Wyatt Strickland was 2-for-2 with a walk in the game, the senior finishing the season with a .342 average and as one of five Bulls hitters with at least 27 hits on the year.
Bulls first-base coach Jim Masson, in his 20th season with the team said Strickland made an early season statement that stuck out to him.
"I have to take this back to Strick, after like the second game of the season he said, 'we all treat each other like we are all the best player on this team,'" Masson recalled. "Really, that sums up this whole team. No one treated any one any less than they were each the most important member of this team. That's why we are here right now."
The Bloomingdale Bulls are State Champions!!!@Bdalebullsbase1 5@FIHSBaseball 1

Marlon Bowen 2-3, 3B, 2 RBI, R; @ColbyShelton9, @Gabe151515 & @JackkOwenss with RBI singles. @DEckaus 3ip, 1R; @chasechappell14 4ip, 3 H, 0 R@HCPSAthletics pic.twitter.com/2Ys3irtQxw

— 813Preps (@813Preps) May 23, 2021
In his 14th year as the head coach, Wilken happily stood arms spread and wore a water cooler shower in the outfield grass. The Bulls reached the final in 2014, finishing as the runner-up and knowing how tough it was then, Wilken said he knows very well that these chances don't come with ease.
"In 2014 it was one of those, 'are we ever going to get there,' kind of things," Wilken said. "Then we got there, got so close and fell short and you don't know if you are ever going to get here again.
"As this postseason rolled on against some really good teams and we kept winning, you start to think this is real. This could happen. And it did because I have a really gritty and great group of guys here this year."
Gritty. Great. Champions.
Bloomingdale 5
Orange Park Fleming Island 1
FI 000|100|0 – |1|5|1
B  004|010|x – |5|10|0
W – Eckaus (9-2); L – Dudones (8-2); S – Chappell (4)
2B – Mastantuno (FI); 3B – Bowen (B). Records – FI (25-6); B (24-6).