Unconventional team in unconventional times:
Why Not Jefferson?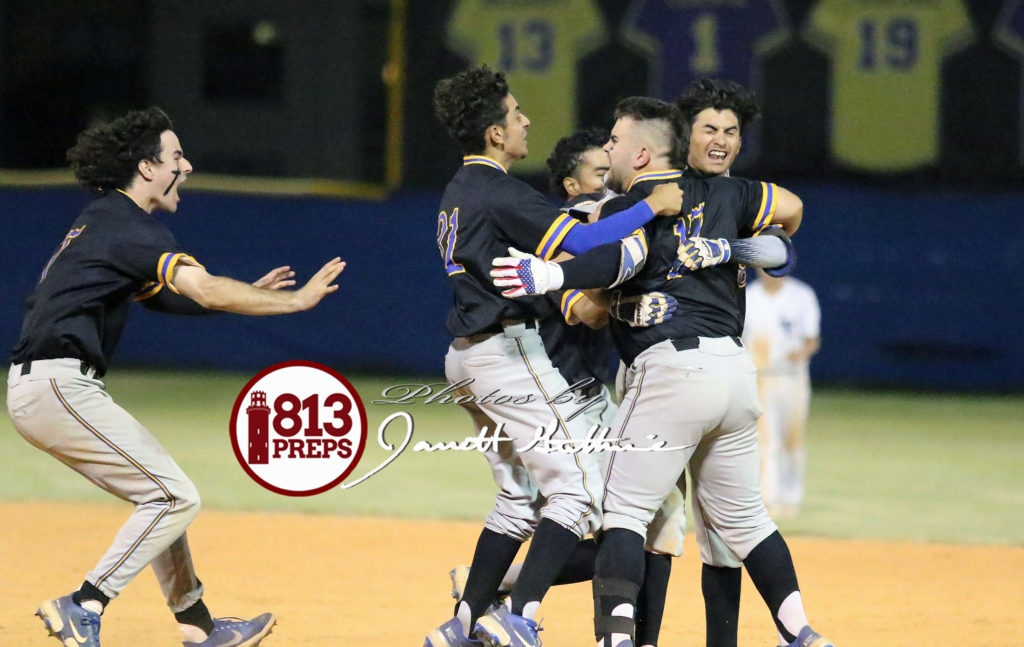 By Jarrett Guthrie
Editor
TAMPA – Far from normal – a common theme for the many high school sports team this school year, but that has suited Jefferson first-year head coach Spencer Nunez just fine. The Dragons skipper said every coach enters the season with expectations and hopes that their team can be a championship one, but that as March ended and his team found itself with a middling, 6-7 record he didn't know what to expect.
At that point, injuries started to stack, COVID-quarantines struck again and depth became in issue. But rather than folding, the Dragons flourished ripping off five-straight wins, finishing the season on a 13-3 run, while toppling district foe and FHSAA top-ranked Jesuit in region play, and finding itself on Tuesday morning knocking on the door of the state's Class 5A state title game.
Jefferson (19-10) travels to Fort Myers' Hammond Stadium for a state semifinal showdown with Lynn Haven Mosely (25-5) in a game Nunez said he wished for in a year that has been far from ordinary.
"Every year as a coach, you hope your team is going to be successful," Nunez said. "But we lost the first game to Alonso, we were shut down for contact-tracing and we had some struggles on and off the field.
"But then we ripped off five wins, and you start to get fired up again. We won 13-of-16 and again you start to think, 'wow, maybe.'"
Nunez spoke on a number of topics with 813Preps on Monday as he prepared for a team practice, team meal and trip south chasing gold-medal-glory, here are four storylines to follow for the 2021 Jefferson Dragons' bid for the title.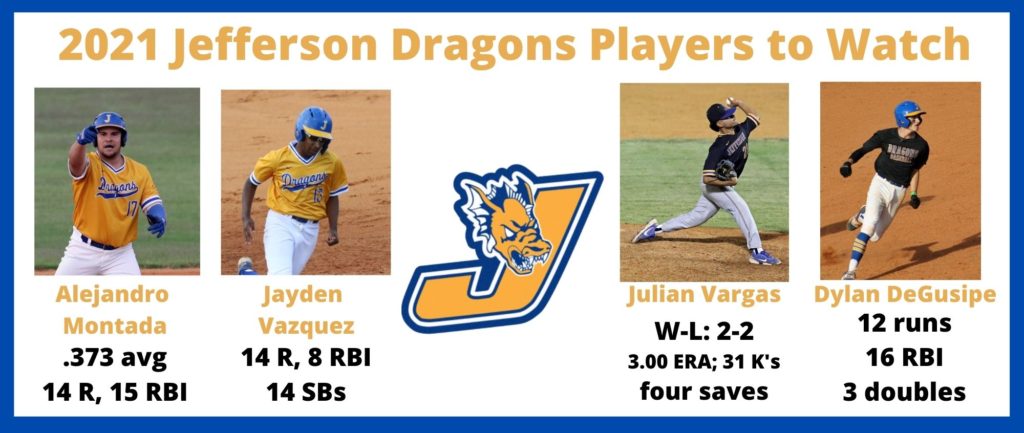 Duarte the Dragons' fire on and off the field: Of the many successes for Jefferson senior Jaiden Duarte this season, it was a hitless game in mid-March that Nunez said sticks out most when he thinks about his senior captain. Down seven runs to Leto on the road, four of those runs tagged on Duarte's pitching tally, the Dragons came charging back to top the Falcons, 8-7. For Nunez though, it was then that Duarte took over as a leader during the comeback, challenging his teammates, encouraging every one through each at-bat and pushing opposing pitchers tallies up drawing three walks in the game.
"I don't even know what his stat line was in that game," Nunez said. "But every time I looked down he was picking somebody up, coaching them up, telling them that this game wasn't over. He's had a number of those moments this season, but that was one that really sticks out."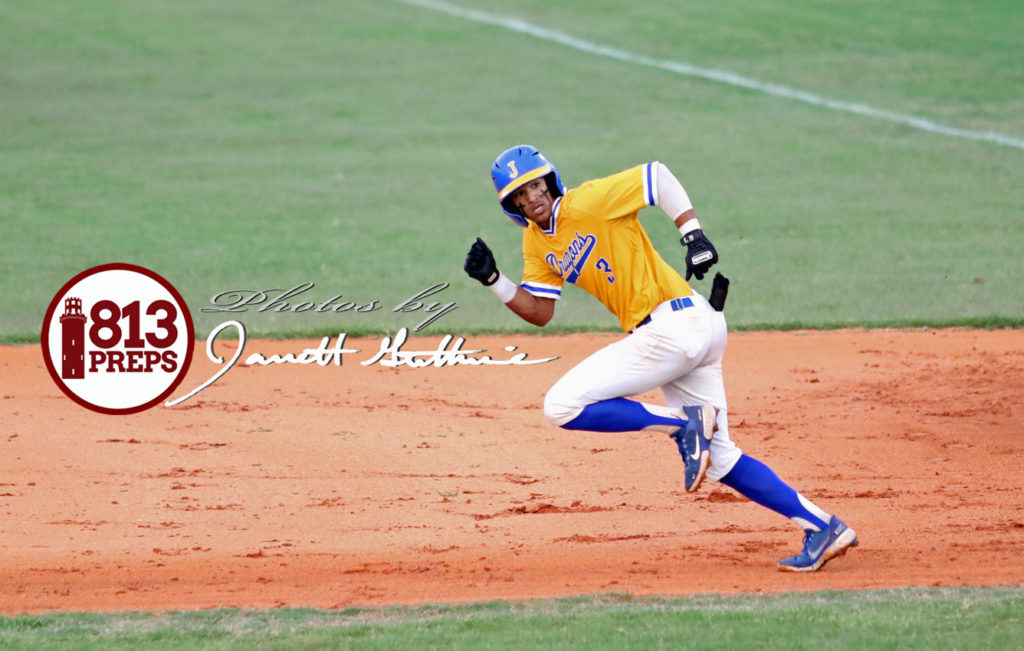 Duarte, a Northwest Florida State College signee, is hitting .333 on the year, with 20 runs scored, 14 stolen base, four home runs and 16 RBI, while playing strong defense in the outfield for the Dragons.
"He's the ultimate team guy," Nunez said. "In my first year, there were challenges but when you have senior who holds his teammates accountable, as a coach you're able to count on him to say something when it needs to be said, it gives us another coaching voice. That is everything."
Flaco y Pollito, the left side on lockdown: The left side of the Dragons infield has been strong for three seasons as that half of the diamond has been manned by twin brothers Yadiel "Flaco" Perez at shortstop and Yaidel "Pollito" Perez at third. The fraternal twins years of playing together has led to a seamless, often wordless fluidity on defense for their tenure in gold and blue, and the chance to coach twins is something Nunez, who though not twins, counts his own brother Casey among his assistant coaches, its something he was exited about taking over the team last fall.
"They communicate in a different way than anyone else on the field can, no one has that chemistry like they do playing together literally all their lives," the coach said. "I can speak on that a bit growing up with Casey, I can't even imagine how much tighter that is with twins. It's very cool to watch. I'm glad I get to coach these guys."
Nunez said the brothers definitely have different on-field approaches with Pollito, nicknamed after a childhood family pet chicken, is constantly "heavily focusing on detail things, is always asking us questions, and constantly worried about what we are doing next." While Nunez said Flaco, who as his nickname implies is the taller and lankier of the duo, is, "calm, cool and collected and never outwardly appears to worry about anything."
Asked which style works better, Nunez said: "Honestly, they both have their own way, their own style. And I wouldn't think about changing either one of them. I just wish they were freshman, so I could have three more years of them on this team."
Unconventional staff on the mound: In a true case of stats don't tell the story, the Dragons starting pitching may be the most incredible surprise of the team's run the last month-plus. In mid-April senior Matthew Johnson's record sat at 0-4, while he bounced from first base to the mound and back while pacing the Dragons on offense. Since then, he has looked unstoppable pitching 20 innings across four appearances, allowing just three earned runs, going 3-0 and striking out 26.
"Matthew two weeks ago was leading our team in hitting, he's hitting in the three-hole, and he's our fastest guy," Nunez said. "But what he has done these last three weeks as our No. 1, has proven how dedicated an athlete he is."
Fellow senior Javier James, who leads the team with 31 runs scored, 10 doubles and 20 stolen bases, now finds himself slotted into the rotation as well, mixing in from second base with a 3-1 record on the bump, a 2.89 ERA and 40 strikeouts.
"We're in a time of a lot of PO's (pitcher's only)," Nunez said. "You don't often see that, where a team's No. 1 and No. 2 are also top hitters, and two of your top position players. It's not traditional at all, but they find a way to make it work.
"Their bodies are likely beat up from it at this point, but they still give it everything and it's fun to watch."
Locking things down for the Dragons from the bullpen has been junior Julian Vargas, who has gone 2-2 on the year in 16 appearances, 31 strikeouts, and big-time performances with a save against Jesuit in the region semifinal and picking up the win in the final against Land O'Lakes. Just to add a humorous tilt on the Dragons unconventional symmetry, last Wednesday night in a tie game in the seventh inning, Vargas' first hit of the season, a single moved the winning run to third – meaning the Dragons de facto closer is batting 1.000 on the year.
In search of 21 for 21: Being named the new coach at Jefferson after nearly a decade as an assistant coach at Hillsborough, and the team's success in his first year certainly has been a high point for Nunez's baseball career. But this year has also had personal hardships as well, most importantly the death of his father Pat Nunez at the end of 2020. On March 2, the Jefferson program dedicated its season to the former area youth baseball coach and his No. 21 jersey has hung in the dugout the entire season as a reminder and inspiration. With his players huddled on a knee in the outfield after the region final win against Land O'Lakes, Nunez spoke about the upcoming trip south to the state series for the 19-win Dragons. He reminded his team that two more wins made 21 on the season, a mark that would mean Jefferson would claim its second-ever state crown, while having the added bonus of honoring the man who inspired two of their current coaches to follow in his footsteps.
"We dedicated the season to him and keep his jersey in his dugout, making this run that much more special for Casey and I," Nunez said. "Spending it with my brother, makes it 100-times better to step on the field with him every game. Winning it in a year dedicated to my Dad would make it even better."
Class 5A State Semifinal
Who: Lynn Haven Mosley (25-5) v. Jefferson (19-10)
Where: Century Link Sports Complex at Hammond Stadium – Fort Myers, FL
When: Tuesday, May 25, 10 am
Tickets: Parking for the event is $10 cars/$50 buses and is CASH ONLY; admission is $9 in advance/$12 day-of, and tickets can be purchased by clicking here.
The other 5A state semifinal: Naples Barron Collier (21-10) v. Southwest Ranches Archbishop McCarthy (20-8), Fri, 4 pm