Durant's Hermann named Saladino Award winner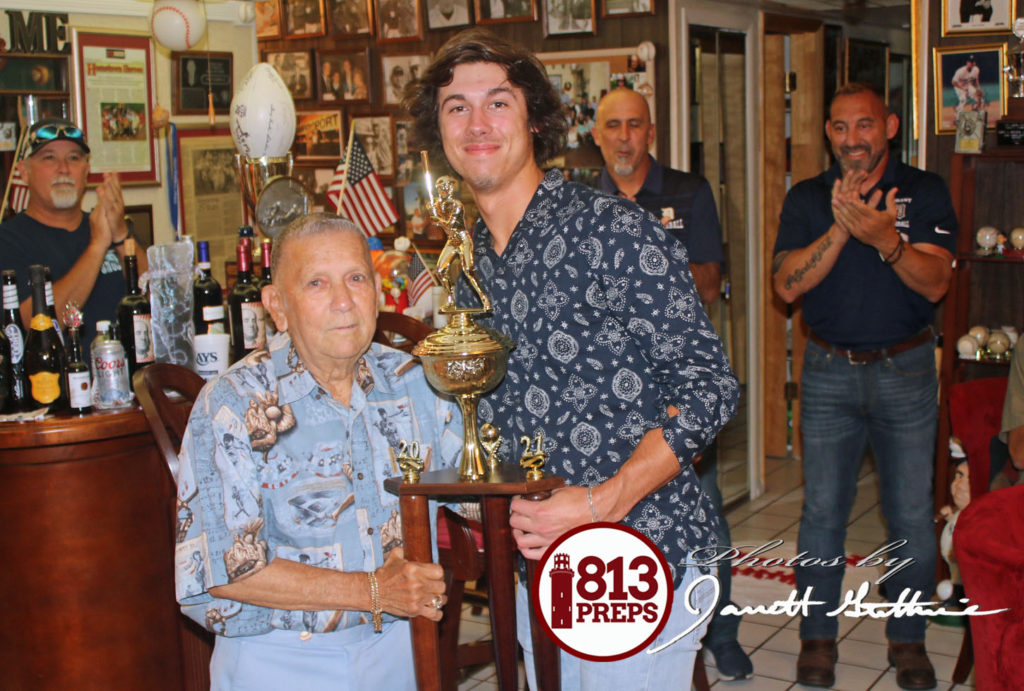 By Jarrett Guthrie
Editor
BRANDON – Traditions are hard to maintain in what has been labeled "unprecedented times," so why should the Saladino Award – now in its fifth decade of existence – be immune to adaptation. An award that for years has seen a bit of subterfuge in its bestowing, like many other things saw a bit of a shake-up this year as it's awardee wasn't quite caught off guard.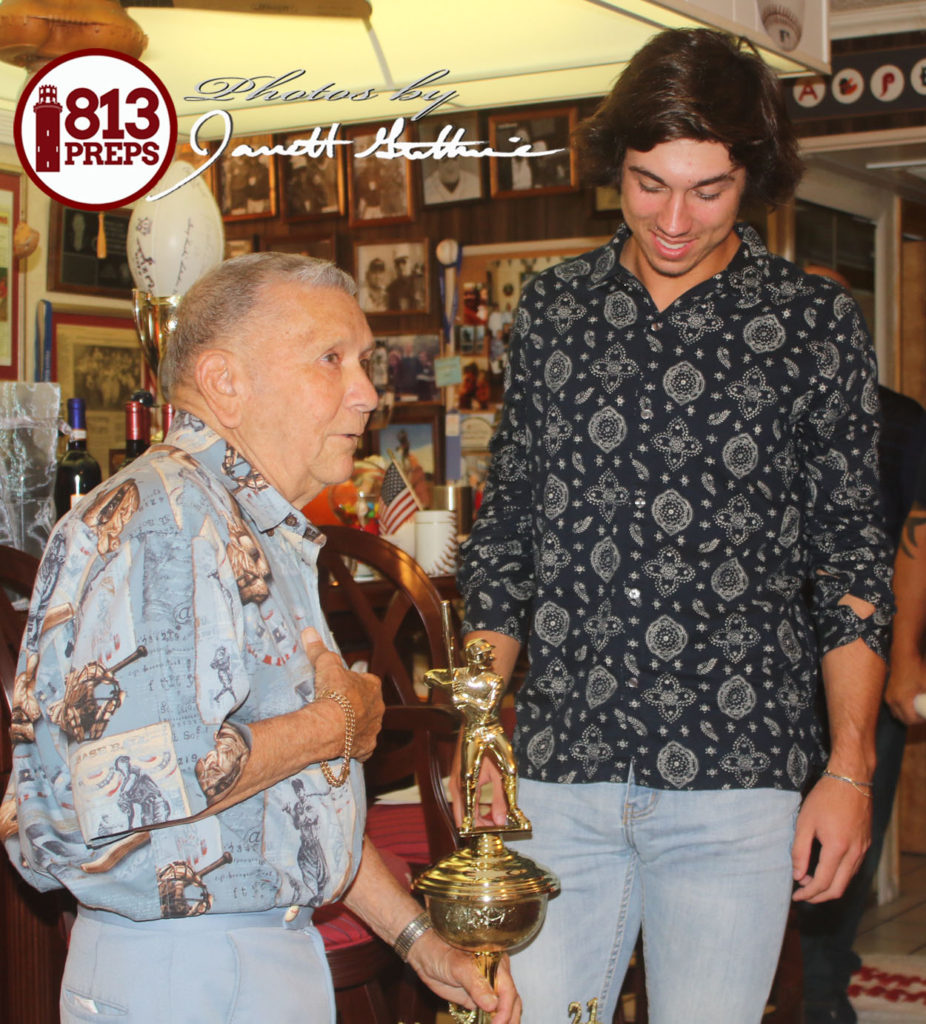 But what didn't change was the importance for this year's recipient, Durant alum Sean Hermann. The University of South Florida-signed pitcher has known he was the 2021 recipient of the Saladino Award, given annually since 1971, since the Cougars region final win over Kissimmee Osceola, but the actual bestowing at the Saladino Family home in late June held every bit the regality and importance for a player who has been racking up awards in recent weeks. Speaking to the assembled crowd, including family and friends, Hermann was a bit caught off for a brief moment, but said that winning this award was something that will standout as a perfect way to finish his preps career.
"I'm a big hometown guy, that's why I can't wait to compete for USF," Hermann said. "But this is the big one. This is the award, the hometown one. Tampa baseball can't be explained to anyone who isn't a part of it. The culture, the experience – it's something that I will always treasure."
Hermann, who dominated his senior campaign and helped Durant to a 22-6 record, a Saladino Tournament runner-up finish, and more importantly a 7A region title and state semifinal berth, acknowledge the importance of his moment in the homestead of the Hillsborough County Baseball icon.
"You can't explain this to anyone, even hearing the stories about this place," Hermann said. "This is why I love baseball around here. The culture he's created, when you hear the Saladino name, you realize tonight the history that this award has, the names that have won this award, it's an amazing achievement."
The Cougars ace posted a 9-0 record in 2021, while leading the county with 135 strikeouts (ranking him No. 9 in the country according to MaxPreps.com). Hermann was named to the 2021 Saladino All-Tournament team in March, was a All-Western Conference first team selection, was named the Class 7A Florida Dairy Farmer's Player of the Year, and was recently named our All-813Preps Most Valuable Player.
RELATED: To read more about Sean Hermann, our All-813Preps Most Valuable Player for 2021, click here.
In his final pitching appearance of the season, Hermann tossed 7 1/3 innings of scoreless baseball in Durant's extra-inning loss to Spruce Creek in the FHSAA 7A state semifinal game.
Hermann becomes the 52nd recipient of the annual award first given in 1971 (two honorees in each 1971 and 1972), and the fourth winner from Durant – with former Cougar Tyler Danish claiming the honor in 2013. Hermann joins a list of Saladino winners that includes former MLB All-Stars Tino Martinez (Jefferson) and Gary Sheffield (Hillsborough), former National League Rookie of the Year, the late Jose Fernandez (Alonso), and 2017 World Series champion Lance McCullers Jr (Jesuit), and current Astros outfielder Kyle Tucker (Plant), who won the award in 2015.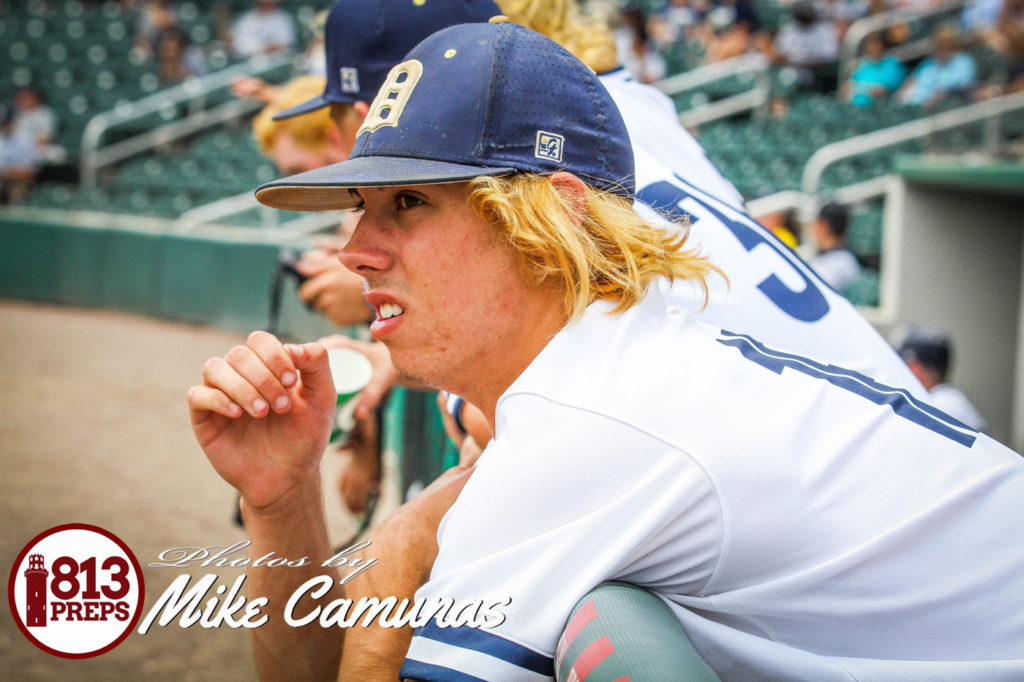 TONY SALADINO AWARD WINNERS
1971 – DAVIAN MENENDEZ (TAMPA CATHOLIC) & RICK FAULKNER (PLANT)
1972 – ANTHONY LAZZARA (TAMPA BAY TECH) & DAN BAZARTE (LETO)
1973 – MIKE HEATH (HILLSBOROUGH)
1974 – NICK RAY (ROBINSON)
1975 – JOHN SHOUSE (CHAMBERLAIN)
1976 – SAMMY SPENCE (BRANDON)
1977 – DANNY PICKERN (PLANT CITY)
1978 – LENNY FAEDO (JEFFERSON)
1979 – RICK FIGUEREDO (PLANT)
1980 – DAVID MAGADAN (JESUIT)
1981 – VANCE LOVELACE (HILLSBOROUGH)
1982 – RICHARD MONTELEONE (TAMPA CATHOLIC)
1983 – JOHN RAMOS (PLANT)
1984 – CHUCK DONAHUE (ROBINSON)
1985 – TINO MARTINEZ (JEFFERSON)
1986 – GARY SHEFFIELD (HILLSBOROUGH)
1987 – CHRIS MYERS (PLANT)
1988 – MIN PARK (LETO)
1989 – KIKI JONES (HILLSBOROUGH)
1990 – SALVY URSO (PLANT)
1991 – BRUCE THOMPSON (BRANDON)
1992 – TROY KENT (JESUIT)
1993 – TROY CARRASCO (JESUIT)
1994 – SCOTT GLASER (BRANDON)
1995 – MIKE VALDES (BLOOMINGDALE)
1996 – GREG HOWELL (BRANDON)
1997 – JASON ROMANO (HILLSBOROUGH)
1998 – JEREMY GOMER (DURANT)
1999 – RYAN GLOGER (JESUIT)
2000 – PAUL WILLIAMS (GAITHER)
2001 – RYAN ANDERSON (GAITHER)
2002 – JOSH SAWYER (BRANDON)
2003 – BRANDON McARTHUR (ARMWOOD)
2004 – RYAN STRAUSS (BLOOMINGDALE)
2005 – CALEB GRAHAM (GAITHER)
2006 – CARMINE GIARDINA (DURANT)
2007 – TOMMY TOLEDO (ALONSO)
2008 – ALEX PANTELIODIS (ALONSO)
2009 – ROBERT BENINCASA (ARMWOOD)
2010 – JAMES RAMSAY (BRANDON)
2011 – JOSE FERNANDEZ (ALONSO)
2012 – LANCE McCULLERS (JESUIT)
2013 – TYLER DANISH (DURANT)
2014 – ALEX FAEDO (ALONSO)
2015 – KYLE TUCKER (PLANT)
2016 – ANTONIO VELEZ (BRANDON)
2017 – DREW EHRHARD (WHARTON)
2018 – ROBBY MARTIN (JEFFERSON)
2019 – DYLAN ESKEW (SICKLES)
2020 – No award given (COVID-19)