Phoenix win district tilt with Carrollwood Day
By Rick Cantor
Staff Writer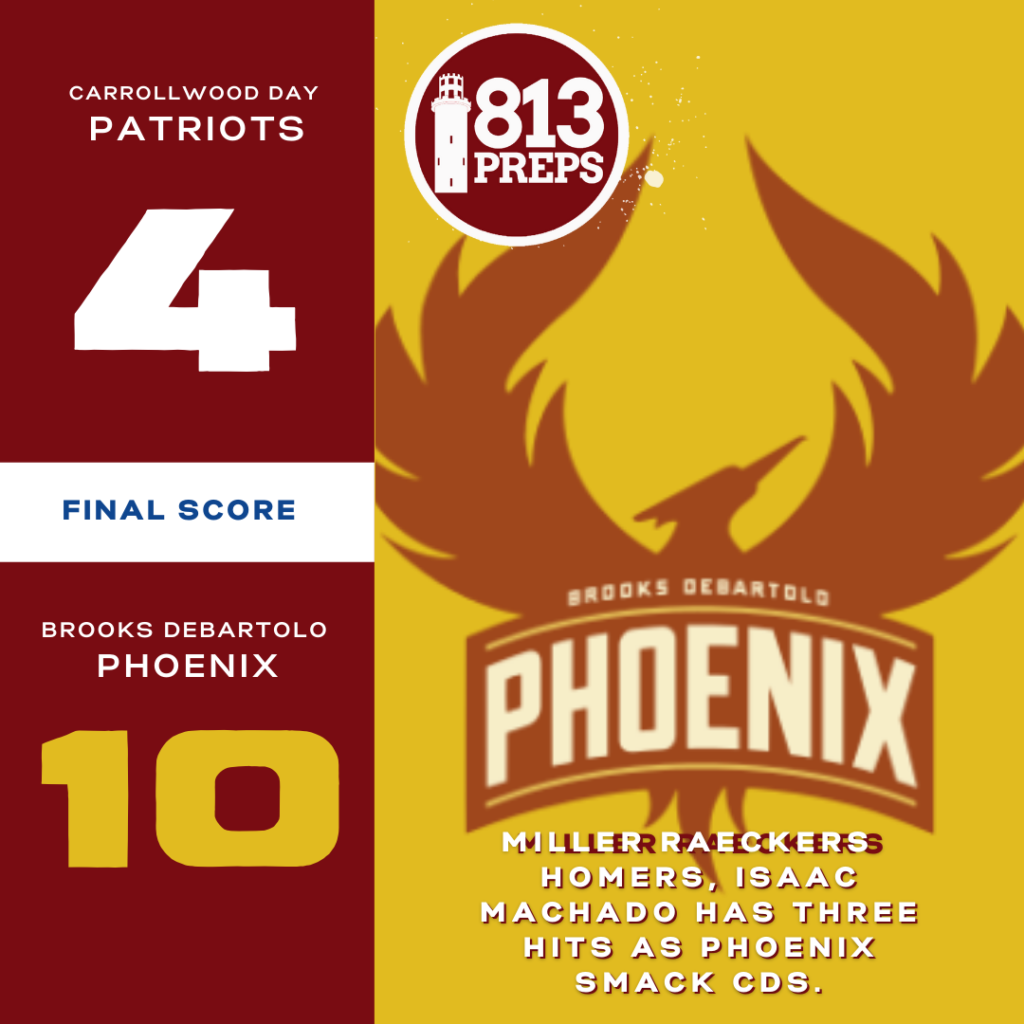 TAMPA – In their first game of the season, Brooks-DeBartolo was on the receiving end of a four-run defeat at the hands of Carrollwood Day. To make matters worse, the Phoenix were no-hit, and the game resulted in a district loss.
What a difference a matter of a month can make.
A two-run bomb by Miller Raeckers and a three-hit night from Isaac Machado led an offensive explosion as Brooks-DeBartolo avenged the early season defeat with a 10-4 victory over the Patriots.
Early on it seemed Carrollwood Day (7-2) would continued its hot start to the season as junior 1B Brennan Leonhardt (2-for-4, two RBI) roped a two-run double just beyond the outstretched glove of Phoenix left fielder Cole Flahart in the first.
Brooks DeBartolo (4-5) answered back and then some in the bottom of the frame.
Cade Hoffman (2-for-4) and Ethan Corscadden (2-for-2, two BB, two runs, RBI) singled to start the inning, followed by a walk to Van Gannon.  Freshman DJ Valley then tied the game with a solid single to left.  The rally continued when Machado (3-for-3, two runs) singled, and along with Valley would eventually score on a wild pitch. Flahart capped the early onslaught with an RBI single to center.
On the mound, Phoenix starting pitcher Jimmy Curtis wiggled out of trouble early and often, stranding two or more runners on base in each of the first four innings, keeping the Patriots at bay and grinding out 4 1/3 innings, surrendering three runs and three hits while walking nine batters and striking out five.
"I was kind of overthrowing. I was trying to gas them up," said Curtis. "But once I got it into my mind to just allow them to put it in play and throw strikes, I found my groove and was able to get out of those innings."
After scoring a run on an error in the third inning, Brooks DeBartolo put together another big inning in the fourth, courtesy of an RBI single by Corscadden, an RBI groundout by Curtis, and a no-doubt two-run homer off the bat of senior captain Raeckers.
"As a team we have a simple approach at the plate, and that's to hunt the fastball. I was just trying to find a pitch to drive, and he left one fat and I drove it," said Raekers. "He (Carrollwood Day P Logan Babb) is a really good pitcher. His pitches have a lot of tail. I was fortunate the inning before I saw a few pitches before our runner was caught stealing, so I was able to time him up a little bit."
Carrollwood Day looks to get back on track Thursday when it hosts St. Pete Catholic while Brooks DeBartolo will travel to Clearwater to face Calvary Christian, ranked 13th nationally by MaxPreps.
Great win today at the Birdcage. Hit 3-3 with this double off the fence and 2 stolen bases! @813Preps @Rickcantor76 @FLBanditos pic.twitter.com/TLiaNSHp8b

— Isaac Machado (@IMachado9) March 23, 2022
Brooks DeBartolo 10
Carrollwood Day 4
CDS 200|100|1 – |4|4|1
BD   501|400|x – |10|11|3
W – Curtis (1-0); L – Riedel
2B – Leonhardt 2, Clark, Mazur (CDS); Machado, Flahart, McGreal (BD); HR – Raeckers (BD). Records – CDS (7-2); BD (4-5).