Robinson squash rally, win big against Armwood
By Jarrett Guthrie
Editor
April 12, 2022
TAMPA – Robinson coach Alex Barron said he doesn't have to look very far back in his four years to see a Knights team that struggled in tough moments. That let a bad inning snowball and spin out of control. Now however, Barron said he believes the Knights have turned that corner and are heading in the right direction.
Case in point: In the top of the sixth inning, with a commanding six-run lead, Robinson allowed Armwood to claw back and trim the lead down to two runs. But instead of letting up, Robinson turned up the pressure, stacked hit upon hit and plated a big total, earning the mercy-rule stoppage an inning early and taking a 14-4 victory.
"They got a little kick in the butt there, and they realized, 'you know what? We should be doing better than this,'" Barron said. "Whereas last year that inning could have gone either way, maybe we eke out a win, maybe not. But it is just a whole different temperament with this group and I love it."
Two-hole hitter Joe Whitaker started the night off with an 11-foot, dribbler base hit down the third-base line in the bottom of the first and got Robinson (11-6) on the board, scoring on a passed ball. But it was just the first of a highly productive night for the senior. He would add a leadoff homer in the fourth, and reach on an error and later singled in a pair in the Knights' eight-run final frame, while also adding a stolen base to pace Robinson's offense, finishing 3-for-5 and scoring three times.
"It didn't start off so great with a weak ground ball and a flyout, but it's a game of failure and you can't dwell on it," Whitaker said. "You just keep going, put the ball in play hard somewhere and end the day strong."
Barron said he was pleased with all of Whitaker's at-bats finding success in a variety of ways on the night.
"The big thing for Joe is staying on a line," Barron said, "and when he does that, and gets the soft contact he has good enough speed to make them rush a throw. When he is on a line, he is going to make the outfielder move his feet, which in high school can lead to an error.
"He trusted his approach and it came up huge tonight."
For five innings, senior lefty Lamont Akins III was spectacular, limiting Armwood (8-8) to a single hit and ending the fifth inning with a huge turn-and-fire to second base, starting an inning-ending double-play.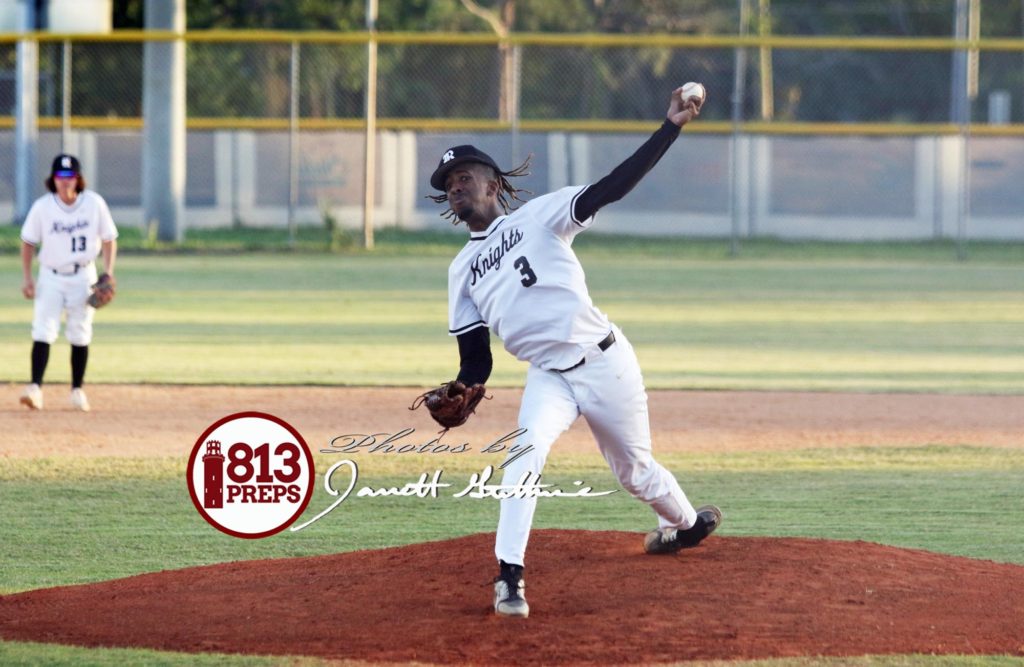 Akins ran into a bit of trouble in the sixth, admittedly overthrowing a bit as Armwood loaded the bases on three walks, got an RBI single by Jacob Johns, a two-run double to left by Antonio Rodriguez, and added a fourth run on an Austin Leever RBI groundout.
"I started to see the win, started to see the victory at the end," Akins admitted. "I kind of forgot that I need to relax and throw strikes there."
After a fourth walk put runners on the corners, Robinson turned to reliever Harris Skipper, who fired in three strikes to end the threat, and earn the save despite the Knights' lopsided win. Cameron Duss started off the sixth with a double, scored on the error in center off the bat of Whitaker, and Jeremiah Henderson highlighted the inning with an RBI triple.
"We couldn't let it fall apart, up six runs and let them back within two," Whitaker said. "We just had to come back strong and turn it around to get the momentum back."
Akins earned his fourth win of the season, striking out eight and allowing four runs on three hits. The senior, who is hitting .419 on the season with 11 RBI, said that it took some time but he is adjusting to being a pitcher-only on games he takes the mound.
"It definitely helps to not have to take a bad at-bat back to the mound," Akins said. "It helps me focus on just delivering pitches … but that final inning really made me want to put a bat in my hands."
For Armwood, Rodriguez turned in a pair of defensive gems at two positions in the loss. Starting the game at third base, the junior fielded a groundball and made a diving tag of a runner trying to retreat to the bag. Rodriguez moved to second base later in the game, where he made a great diving catch of a line drive in the fourth.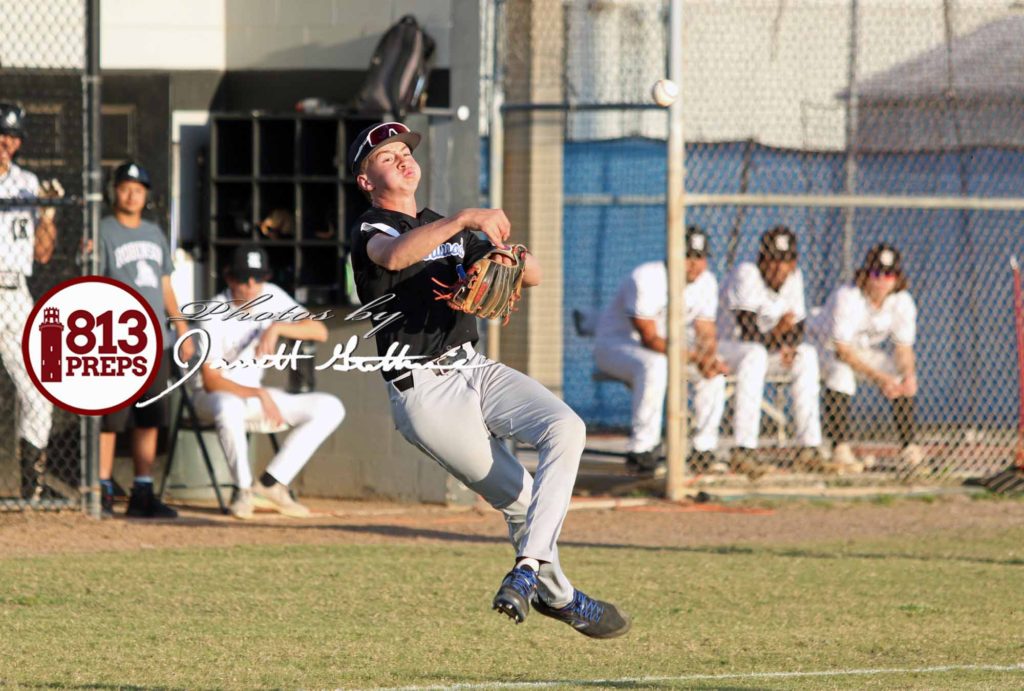 Robinson first baseman Aleks Yarich (2-for-4, RBI, two runs) started the game with a first-inning double-play, catching a liner and throwing to second to correct an earlier error in the. While Jan Gonzalez, Tucker Wehrman and Garrett Hudson each had RBI for the Knights in the win.
⚾⚾⚾⚾
Robinson 14
Armwood 4 – six innings
A 000|004|x – |4|3|4
R 113|108|x – |14|12|1
W – Akins (4-0); L – Johns (3-3); S – Skipper (1)
2B – Rodriguez (A); Duss (R); 3B – Henderson (R); HR – Whitaker (R). Records – A (8-8); R (11-6).